How To Get a Divorce in GA—The Ultimate Guide
Getting divorced is a difficult process that's both emotionally straining and technically tricky if you don't know your state laws.
DoNotPay is here to make things easier! We'll show you how to get a divorce in GA without even hiring a lawyer and end your marriage amicably!
Georgia Divorce Requirements
To get a divorce in Georgia, you or your spouse must have lived in the state for at least six months before filing the papers. Another requirement is that you need to have grounds for divorce. You can either file for a:
Georgia Fault Divorce
Couples who opt for a fault-based divorce need to have grounds (reasons) for getting separated. Grounds for divorce in Georgia are:
Adultery
Being too closely related (cousins)
Impotence or sterility
Pregnancy of the wife by a man other than the husband
Wilful desertion of one spouse for one year
Conviction of a spouse for an offense involving immoral behavior resulting in imprisonment for two years or more
Abuse of alcohol or drugs
Physical or mental cruelty
Incurable mental illness
No-Fault Divorce in Georgia
A reason for a no-fault divorce in Georgia is that the marriage must be irretrievably broken. Both parties agree they can't fix their marriage and that it must end. More people opt for this type of divorce as it will be cheaper and faster than a fault-based divorce.
How To File for Divorce in GA Without a Lawyer
If you want to file for divorce in Georgia without a lawyer, you will need to opt for a no-fault uncontested divorce.
To file for an uncontested divorce, you have to agree on these issues with your spouse:
Division of assets and debts
Child custody and support
Parenting time
If the couple is unable to agree on any of these issues, divorce mediation can help. The mediator will help the parties reach an agreement, enabling them to file for an uncontested divorce.
Filing for Divorce in Georgia—A Step-By-Step Guide
If you're getting divorced without a lawyer in GA, you need to understand the divorce steps, including:
Step
Details
Completing the divorce forms
The forms you need to complete depend on the county you live in. You can find the papers on your county's website or your county's Superior Court.

Check out the specifics for these Georgia counties:

You will also need a marital settlement agreement. To get this document, you'll have to:

Create one yourself
Spend big bucks on divorce attorneys so they can draw up the agreement for you
Use DoNotPay and get a tailor-made divorce settlement agreement

Filing the paperwork
Once you complete your divorce papers, you will need to file them with the court.

You'll need to deliver the documents to the Superior Court Clerk in the county where you've lived prior to filing the papers

Serving the papers
After filing the divorce papers, you need to serve (deliver) them to your spouse.

If your spouse wants to make the process easier for both of you, they can sign the Acknowledgement of Service.

In case they don't, you will need to contact the sheriff's office in your spouse's county

Finalizing the divorce
The final step of the divorce process will require you to go to a court hearing.

This step is usually brief for uncontested divorces. The judge will decide whether you've met all the conditions for the divorce and then issue the final divorce decree
How Long Does It Take To Get Divorced in Georgia?
An uncontested divorce in Georgia doesn't take long to complete if the defendant responds to the serving on time. If everything goes smoothly, the court will grant a divorce after 31 days from the serving pass.
In case the defendant didn't respond on time, you will have to wait 46 days. The waiting period could be as long as 61 days if the defendant was served by publication (meaning that the petitioner was issued by the court to post a notice of the divorce in a newspaper).
Speed Up Your Divorce in GA—Get a Divorce Settlement Agreement the Easy Way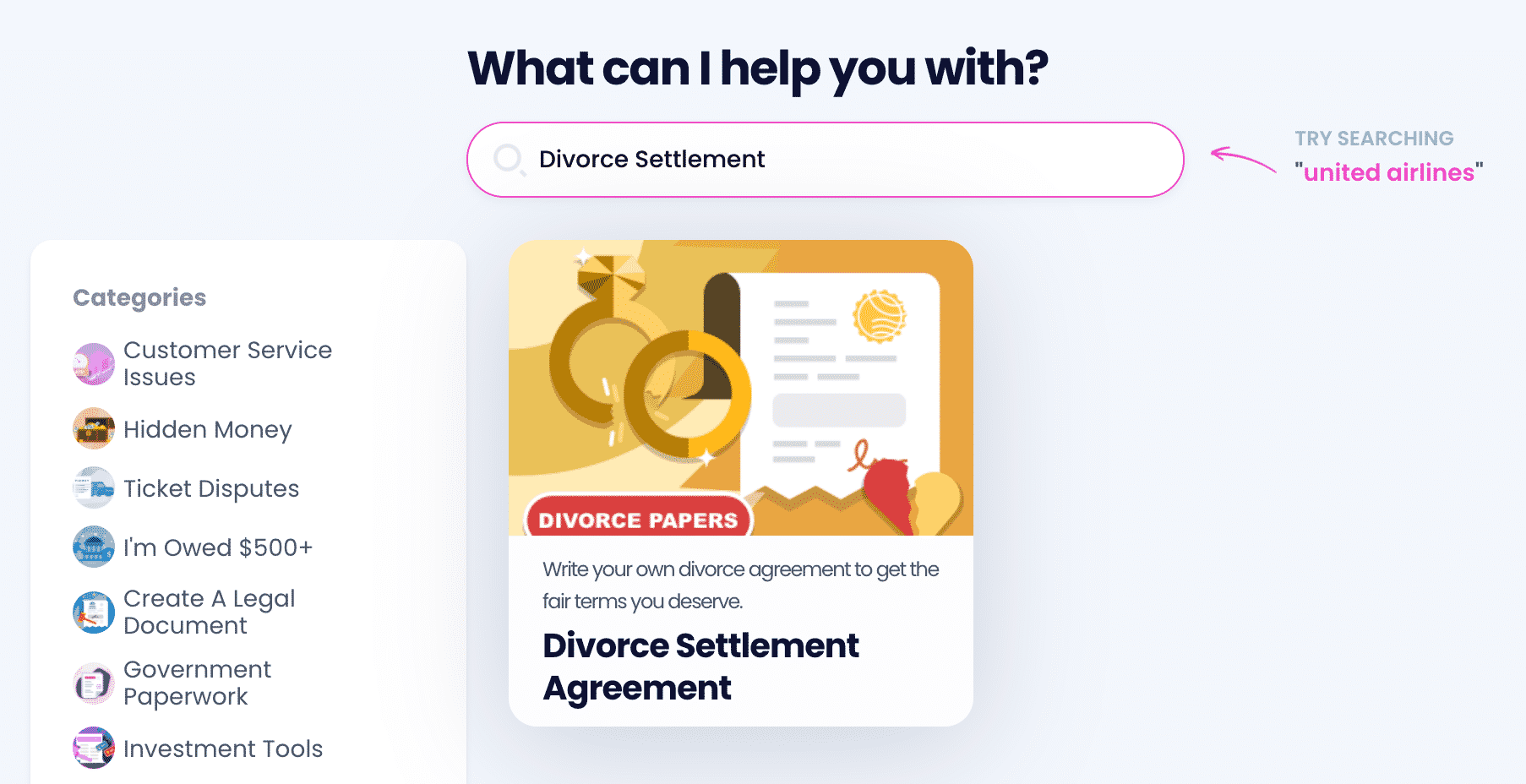 If you don't want to pay for lawyer fees to get a settlement agreement, use DoNotPay! With our Divorce Settlement Agreement product, you'll be able to get the divorce agreement in a few clicks. Here's what you need to do:
Select the Divorce Settlement Agreement product
Answer our chatbot's simple questions
Opt for notarization if you want to have your documents notarized without leaving the app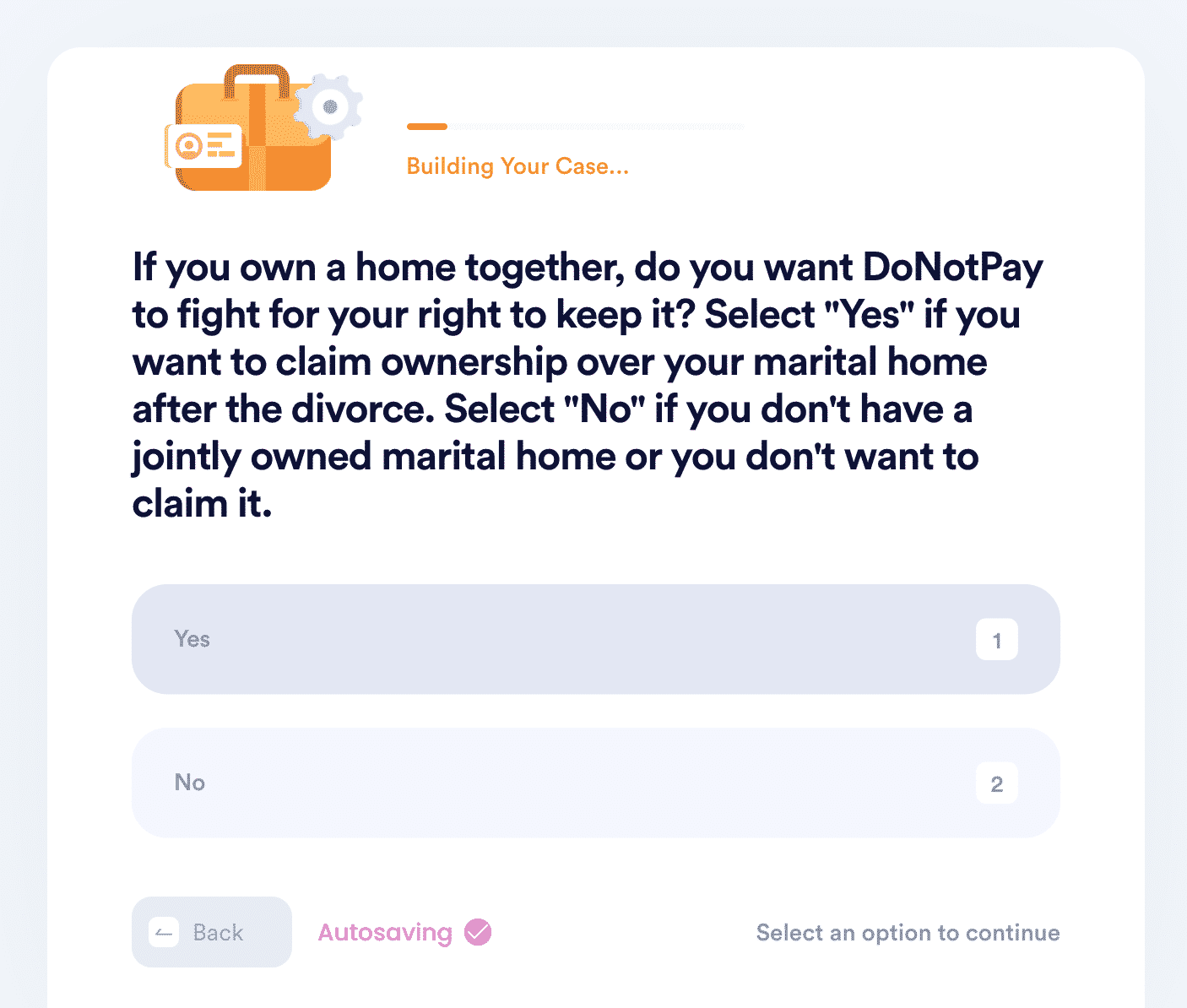 Once you submit your request, we will generate a divorce settlement agreement based on the information you've given us. If you chose to have it notarized with DoNotPay, we'll set you up with an online notary. That way, you can add legal weight to your document from the comfort of your home.
Need More Help With Divorces? Check Out DoNotPay's Learning Base
DoNotPay's assistance doesn't end with generating the divorce settlement agreement for you! We can also answer commonly asked questions, such as:
We can also tell you all about online divorces or uncontested divorces in Georgia with children.
To Sue or Not To Sue?
Hiring a lawyer to help you sue a company can be helpful, but it can also cost you an arm and a leg. Luckily, you can avoid wasting hundreds of dollars and use our robot lawyer to sue any company in small claims court instead!
DoNotPay offers you a variety of other features you will find quite useful when dealing with bureaucratic issues. Check out the list below to see what else our app can help you with:
Shopping Without Dropping
Whoever said you should shop until you drop didn't have access to DoNotPay's various features. With our app, you can make your shopping experience smooth sailing and stress-free!
Here's a fragment of what you can accomplish by using our neat features: