Divorce in Florida Simplified
Before filing for divorce in Florida, you need to get familiar with state laws, fill out various divorce papers, and learn the necessary steps. Luckily, you can get all the information you need in one place.
In this article, DoNotPay will explain all there is to know about getting a divorce in Florida. We will help you complete the divorce proceedings on a friendly note and in record time!
Am I Eligible To File for Divorce in Florida?
To file for divorce in Florida, you and your spouse have to satisfy residential requirements, such as:
Live in Florida for at least six months before filing with the court (it can apply to only one spouse)
File for divorce in a county where either of you resides
The only exception is when one of the divorcing parties who lives in Florida is a member of the military and is stationed out of state at the moment of filing.
What Are Grounds for a Divorce in Florida?
Florida is a no-fault state, which means that you and your spouse don't need to prove either party is to blame for the marriage ending. To get a divorce in Florida, you must provide evidence that one of these scenarios occurred:
Marriage is irretrievably broken
One spouse has been mentally incapacitated for longer than three years
How To File for Divorce in Florida Without an Attorney
If you and your spouse agree on all major issues—including child custody, division of assets, and child and spousal support—you are eligible to file for a so-called simplified dissolution of marriage. It provides couples with an option to have the divorce finalized in 30 days from the date of filing.
Besides fulfilling the residential criteria and jointly agreeing to this procedure, you have to follow other requirements:
You mustn't have dependents or children under the age of 18
The wife mustn't be pregnant
Alimony shouldn't be involved
Note that, by agreeing to a simplified dissolution of marriage, you renounce your rights to a trial and appeals.
Are you and your spouse candidates for a quickie divorce in Florida? Check out the table below for a detailed description of the procedure:
Steps
Description
Fill out the necessary forms
You can find the necessary paperwork on the Florida court's official website. You don't need an attorney to guide you through the divorce proceedings, but make sure to ask for a paralegal's help if you're not sure how to fill out the forms. Once entered, information on the form cannot be altered
Follow the court procedure
While a simplified dissolution of marriage doesn't require a trial, you still have to appear in court. The judge will:

Revise the paperwork and ensure it's been completed according to law
Order completing a parenting course, that is approved by the Department of Children and Families, if children are involved
Ask additional questions regarding information from the form
Sign the Final Decree, finalizing your divorce

Once the procedure is completed, make sure to file the Final Decree with the circuit clerk. You and your spouse should each keep a copy of the document for your records
One of the crucial elements of divorce proceedings in Florida is a marital settlement agreement. Instead of downloading a template and risking a mistake, you can sign up for DoNotPay and let us create this complex legal document for you!
Creating a Marital Settlement Agreement With DoNotPay Is as Easy as One, Two, Three!
A marital settlement agreement contains a detailed description of the terms you and your spouse agreed upon. That's why it's crucial to phrase and fill it out correctly.
DoNotPay knows all about individual state requirements and can generate a document that's:
Comprehensive
Professional
Compliant
Personalized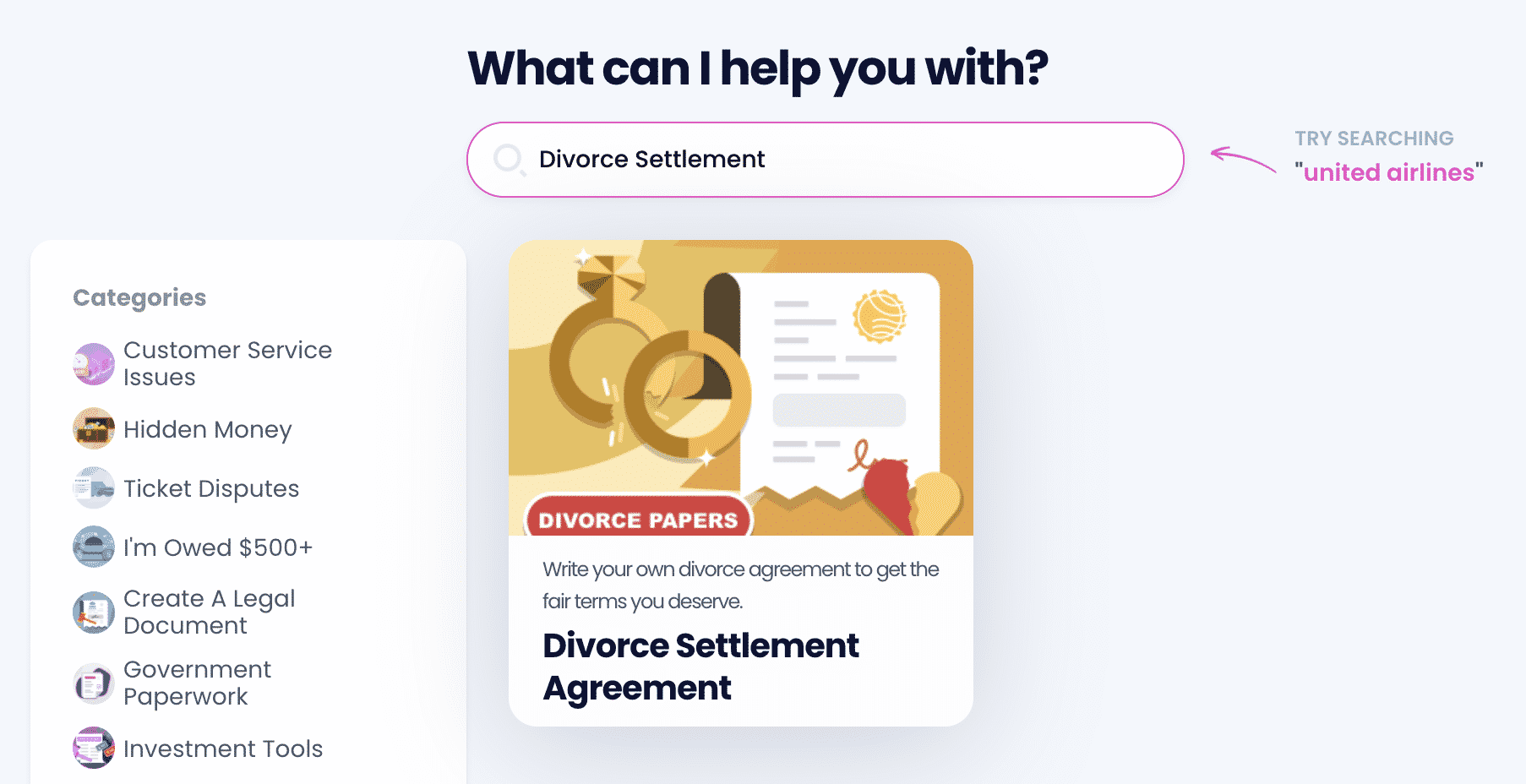 To get your divorce settlement agreement in double-quick time, access DoNotPay from a web browser and:
Search for our Divorce Settlement Agreement tool
Answer questions regarding your spouse, property, and children (if you have them)
Choose to have the document notarized
Our app will create a marital settlement agreement in mere minutes. The notarization process with our help is just as simple—we will connect you to an online notary, and you can schedule an appointment 24/7!
DoNotPay Is Your Vault of Divorce-Related Information
Divorce is a complicated process that imposes numerous questions. Whether you're interested in general or state-specific details, we can deliver! Check out the table below and find answers to the following questions:
Outsmart Big Corporations by Using DoNotPay
Our platform is always on the side of regular people, and the number one item on our agenda is fighting for your rights.
If you need help requesting refunds for faulty products, late parcels, or canceled flights, you can turn to DoNotPay for help. Protect your privacy and stay one step ahead with our spam email collector, burner phone numbers, and virtual credit cards.
We will provide you with everything else you need in your fight—online fax, mailing service, and products for drafting legal documents and having them notarized online.
Improve Your Leisure Time Too!
You can win some serious battles with the help of DoNotPay—after all, our app can even get you ready for small claims court—but we offer numerous useful features that will improve the quality of your entertainment.
Signing up for free trials doesn't come with the risk of losing money anymore, and if you get bored with that new streaming service, you can easily cancel it using our app.
If entering raffles is your idea of fun, you'll be glad to know we can help you participate in all kinds of these games of chance. You can also review your knowledge using our government test prep quizzes or retrieve any unclaimed money under your name and spend it on something fun!