Divorce in Florida With a Child From A to Z
Ending a marriage is one of the most stressful events in a person's life. It's emotionally draining and difficult for all the parties involved, especially the children. There are many aspects to handle—from telling them you're getting a divorce to deciding who gets custody. Every state has specific divorce laws about dealing with children-related issues.
DoNotPay has the most useful info on getting a divorce in Florida with a child! We can even help you write a divorce settlement agreement—all you have to do is register for DoNotPay!
Filing for Divorce in Florida With Kids—Requirements
If you want to get a divorce in Florida—contested or uncontested—first, you have to check if you're eligible. The divorce court doesn't have jurisdiction over your case and cannot proceed with the process if you don't meet residency requirements. Under Florida Statute Section 61.021, you or your spouse must have been a resident of Florida for at least six months before filing the petition.
You also need to have legal reasons to file for divorce. Florida is a no-fault divorce state, and the court accepts the following grounds:
Irretrievable breakdown of the marriage
Mental incapacity of one of the spouses
There is another requirement for all marriage dissolution proceedings with minor children involved—all parties need to go through the Parent Education and Family Stabilization Course. The parties have to finish the course before the entry of the final judgment.
What Are the Laws for Divorce With Children in Florida?
Terminating a marriage is significantly more difficult if you and your spouse have children together. There are several important matters you should discuss, negotiate, and agree on. You can do it:
Between yourselves, with the help of a mediator
In court, with a judge
According to Florida custody laws:
It's in the children's best interests to maintain regular contact with both parents
Neither parent has the advantage at the begging of the trial
Gender is not a factor in the trial—mothers and fathers have the same rights to custody
How Do Florida Custody Laws Settle Child-Related Matters?
In the table below, you can see the most important aspects of any custody case in Florida and how the state laws regulate them:
Children-Related Matters
How They're Regulated
Custody
When determining who gets custody, a judge must put the child's best interests first. The court considers the following factors when making decisions in custody cases in Florida:

Each parent's:

Desire to protect the relationship between the child and the other parent
Mental and physical health
Moral fitness
Ability to meet the child's needs and provide a healthy routine
Ability to provide a safe and emotionally stable environment

Child's:

Adjustment to the new home
Preferences (if old enough)
Age
Needs
Abilities

Other case-specific factors

Parental plan
If you and your spouse cannot resolve disputes and reach a settlement between yourselves, the court must make decisions for you. A judge will establish:

Time-sharing schedule
Visitation time
Custody schedule

With evidence of neglect, abandonment, child abuse, or domestic violence, a parent can lose their time-sharing rights

Parenting duties
Parental duties or responsibilities refer to making decisions—health, legal, religious, educational—in the child's name. If you cannot agree on this matter, a judge will determine who has the decision-making powers
Child support
Florida's Child Support Guidelines outline the amount of support a non-custodial parent has to pay. The amount of child support is based on the following factors:

Both parents' income
Child's health care costs
Standard needs for the child
Other case-specific factors
Uncontested Divorce in Florida With Children
Getting a divorce in Florida is expensive and time-consuming. When children are involved, costs and duration grow exponentially.
Having a friendly divorce can save you from all the hassle and protect your children from emotional duress. Simplified uncontested marriage dissolution is a cheaper, quicker, and almost stressless solution. To qualify for an uncontested divorce in Florida, all of the following needs to be true:
You and your spouse have agreed on:
None of you is requesting alimony
At least one of you meets residency requirements
You have a written divorce settlement agreement
How To File for Divorce in Florida With Children
Here is a step-by-step guide to filing for divorce in Florida when you have children:
Prepare the petition and other divorce papers—You can find the necessary Florida divorce forms online on the Florida Courts website. Make sure to get the packet of forms for divorce with children
File the original uncontested documents with the court—Sign the documents, make at least two copies of each, and file them at your local clerk's office
Serve divorce papers to your spouse—Have a sheriff, professional process service, or anyone older than 18 (not involved in the case) deliver the papers to your spouse
Save Time and Money—Have DoNotPay Draft a Divorce Settlement Agreement for You
If you and your spouse manage to negotiate all of the important matters regarding your children, you have to put it in writing. Having an ironclad divorce settlement agreement is important for two reasons:
The judge won't finalize your divorce without it
It will prevent any potential disputes in the future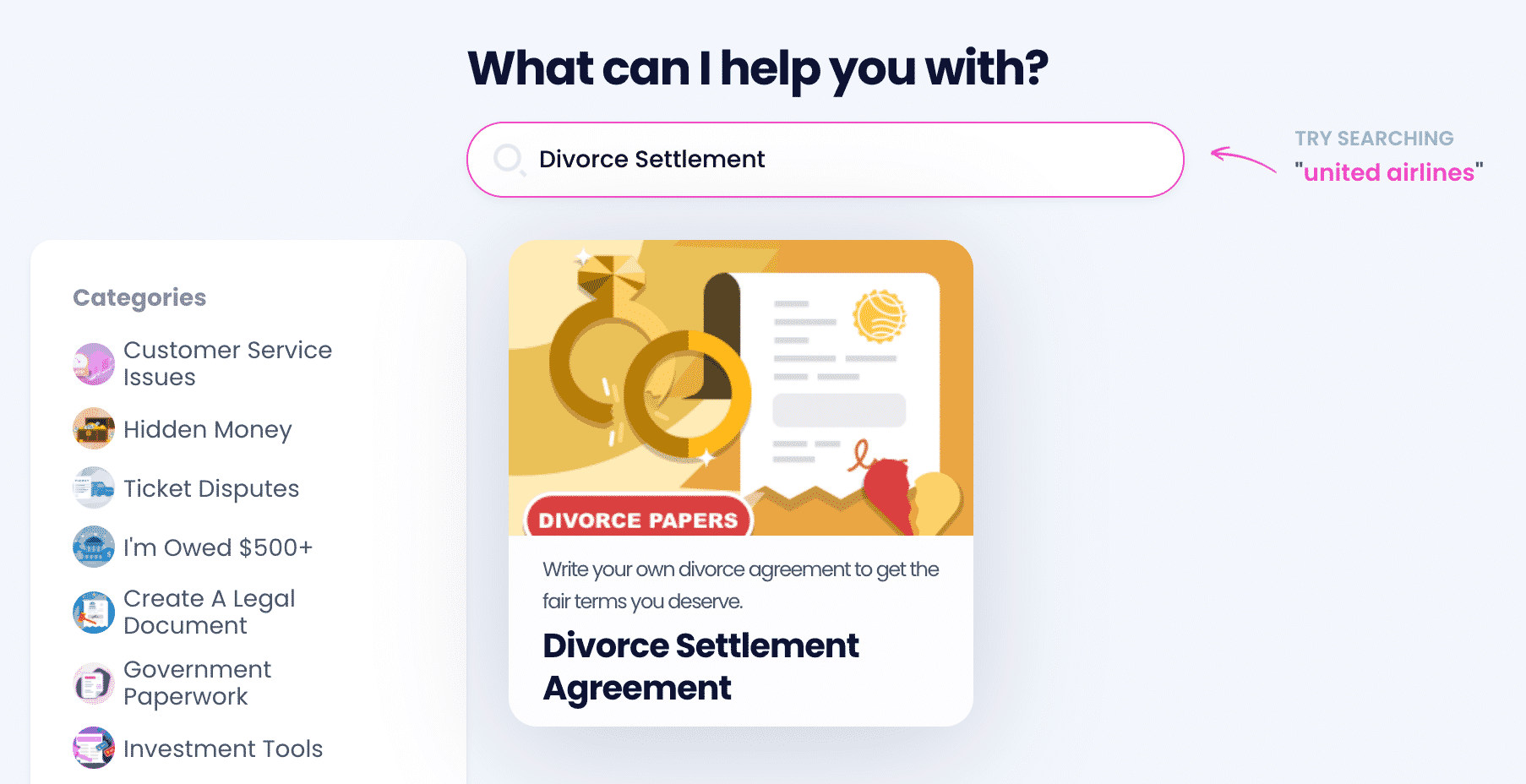 To get a professionally written divorce settlement agreement without paying the earth, open DoNotPay and follow these steps:
Choose the Divorce Settlement Agreement feature
Answer our chatbot's questions
Specify if you need us to connect you with a notary
You'll receive a personalized divorce settlement agreement within minutes! All you need to do is sign and have it notarized.
If you want to know more about divorce in Florida or in general, visit our learning center or check out the following table:
| | |
| --- | --- |
| Divorce in Florida | General |
| | |
Deal With Your Problems Like a Pro With DoNotPay
Looking for an app that's got enough features to solve any issue you're facing? Look no further—DoNotPay has got your back! Whether you can't sleep from your noisy neighbors or you want to connect with your locked-up relatives, we'll be able to help. We'll bring justice to any person or company that has wronged you and take them to small claims court for you.
The robot-lawyer app can generate numerous legal documents in your name, including:
Once you receive the documents, we can set you up with an online notary so you can get your agreements notarized from the comfort of your home.
Possibilities With DoNotPay Are Endless
DoNotPay stands out not only by the quality of products it offers but by the sheer amount of features it boasts. Check the table below out to see only some issues we can help you resolve: