No Muss, No Fuss—The Easiest Way To Get a Divorce in CT!
Getting a divorce is no picnic. It can be a mentally and emotionally draining experience, regardless of the circumstances and the relationship between soon-to-be ex-spouses.
DoNotPay is here to make the process as easy as possible, at least when it comes to the tedious paperwork. We'll give you some useful information and a step-by-step guide to filing for a divorce in CT.
Divorce Laws in Connecticut
There are two divorce options in Connecticut:
"No-fault"
"For fault"
Take a look at the following table for detailed explanations:
| | |
| --- | --- |
| Divorce Option | Explanation |
| "No-fault" | In this type of divorce, neither of the spouses has to prove that the other one is to blame for the ending of the marriage. Instead of blaming one another, at least one of the parties must prove that the marriage was broken down beyond the point of repair |
| "For fault" | A "for fault" divorce is not that common in Connecticut. One of the parties is required to provide solid and specific evidence to prove that it was the other spouse's misconduct that caused the marriage to break |
Grounds for a Divorce in Connecticut
The Connecticut divorce laws accept the following reasons for ending a marriage, depending on the divorce type:
"No-fault" divorce:

Marriage is broken down irretrievably
Spouses have lived separately for at least 18 months prior to filing a petition

"For fault" divorce:

Adultery
Habitual dissipation
Fraudulent contract
Intolerable cruelty
Willful desertion with total neglect of duty (for one year)
Seven years' absence without contact
Legal confinement in a hospital or institution due to a mental illness for at least five out of six years before petitioning for a divorce
Imprisonment for infamous crimes or a life sentence
What Does the Divorce Process in CT Look Like?
If you want to get a friendly divorce that doesn't involve going to court, you and your spouse must agree on all of the important issues, including:
Division of marital debts and assets
Child custody
Child support
Alimony (or spousal support)
Another requirement is that at least one of the spouses must have been a Connecticut resident for a minimum of 12 months prior to the date of filing the divorce papers.
Take a look at the table below to see the steps you need to take to get a divorce in the Nutmeg State:
Steps
Description
Prepare the divorce papers
The person who petitions for the divorce (the plaintiff) is in charge of collecting, filling out, and sending all of the uncontested divorce documents. You can find the necessary forms on the State of Connecticut Judicial Branch official website. To initiate the process, you'll need:

The divorce complaint
Family Action Summons
Notice of Automatic Court Ordeals

File the documents with the court
After collecting and filling out all the forms correctly, you have to bring all the documents to your local clerk's office. They will examine the forms and inform you if there's any mistake. While you're at the clerk's office, you'll have to choose a return date—the formal beginning date of the divorce proceeding
Serve the divorce papers
What's left for you to do is to serve your spouse with the divorce papers. In Connecticut, this is usually done through the State Marshal's office—connect with the marshal's office of a county where your spouse lives or works, and they'll give you further instructions
How Much Does a Divorce Cost in CT?
Getting divorced in Connecticut seems like a luxury! To start the process and file a complaint, you'll have to prepare $350. There's even a $50 fee for the service of the court paper. That's not all—the mandatory parenting education class is going to cost you $125.
Other potential fees include:
Publishing a notice in the newspaper
Filing a motion or counterclaim in court
How much the divorce will end up costing you depends on the specifics of your case and the services you need. Every additional service—lawyers, mediators, and other professionals—will make your divorce even more expensive.
With all those fees, hiring an attorney to make you a marital settlement agreement seems excessive. Register for DoNotPay and have the world's first robot lawyer create this document in no time and at the most affordable price point!
Create an Ironclad Divorce Settlement Agreement With the Help of DoNotPay
Gathering and creating all the divorce forms can drag out the process and make it even more complicated. DoNotPay can put an end to that! With our practical and budget-friendly feature, you will be ready for a new beginning in less than five minutes! We'll follow the state laws, rules, and requirements to create a top-notch personalized divorce settlement agreement according to your needs.
Here's what you need to do once you open DoNotPay:
Locate the Divorce Settlement Agreement tool
Provide the required information about your spouse and children
Answer some questions about your assets and finances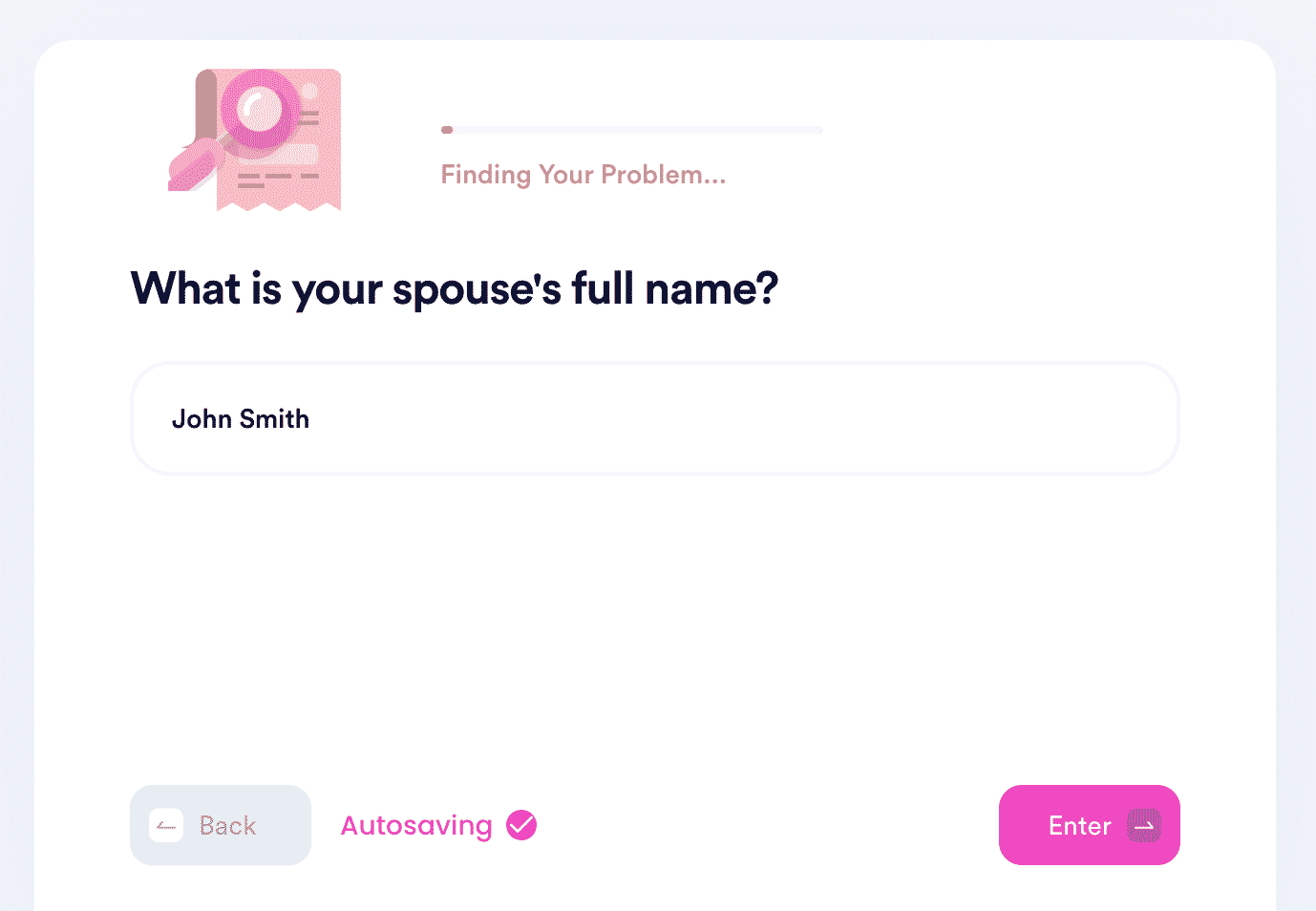 We'll generate a rock-solid divorce settlement agreement that you only need to sign and get notarized—and for the latter, we offer our help! While filling out the questionnaire, let us know if you need a notary, and we'll connect you with one promptly!
Do you have other questions about uncontested divorce? Check our learning center and find answers to many questions on this topic, such as:
Outsmart Big Corporations by Using DoNotPay
Our platform is always on the side of regular people, and the number one item on our agenda is fighting for your rights.
If you need help requesting refunds for faulty products, late parcels, or canceled flights, you can turn to DoNotPay for help. Protect your privacy and stay one step ahead with our spam email collector, burner phone numbers, and virtual credit cards.
We will provide you with everything else you need in your fight—online fax, mailing service, and products for drafting legal documents and having them notarized online.
Improve Your Leisure Time Too!
You can win some serious battles with the help of DoNotPay—after all, our app can even get you ready for small claims court—but we offer numerous useful features that will improve the quality of your entertainment.
Signing up for free trials doesn't come with the risk of losing money anymore, and if you get bored with that new streaming service, you can easily cancel it using our app.
If entering raffles is your idea of fun, you'll be glad to know we can help you participate in all kinds of these games of chance. You can also review your knowledge using our government test prep quizzes or retrieve any unclaimed money under your name and spend it on something fun!