Divorce in CT—Alimony Aspects Explained
You need to consider different areas when getting divorced. Start with gathering information about the divorce papers, filing procedures, divorce types, waiting periods, and court and lawyer fees. You should also get familiar with spousal support requirements.
What should you know about divorce in CT, alimony in particular? DoNotPay provides the details in this useful article!
Who Qualifies for Alimony in Connecticut?
The court can award alimony in CT if the requesting spouse proves:
Financial need for support
Other spouse's ability to pay alimony
Aside from these two key criteria, the judge will also consider the following factors:
Alimony Types in Connecticut
There are three types of alimony in Connecticut—temporary, rehabilitative, and permanent. To understand them better, take a look at the following table:
Alimony Type
Specifics
Temporary
This type of alimony is also called pendente lite because the court can order this alimony:

While a divorce is pending
If a lower-earning spouse needs time to adjust to the current situation

Temporary alimony helps a lesser-earning spouse make ends meet during the divorce proceedings

Rehabilitative
Rehabilitative—also called short-term—alimony is awarded if a spouse needs time and financial resources to become self-supporting and while:

Attending courses, training, or school
Gaining the required skills to find a job

The court sets an end date to rehabilitative spousal support

Permanent
The judge may order this type of alimony if a spouse can't become financially independent because of their:

Age
Disability
Poor health
Limited earning capacity
If you file for a fault-based divorce, the judge could also take into account the reasons for the divorce, including:
Adultery
Cruel treatment
Willful desertion
These grounds can influence the type, duration, and amount of the awarded alimony.
Divorce in CT—Alimony Payments
If you let the judge make a decision on the frequency of alimony payments, it will usually be settled periodically, i.e., on a bi-weekly or monthly basis.
Most courts issue an income withholding order that includes:
Details about the amount and frequency of alimony
Instructions for the paying spouse's employer to decrease the paycheck and direct the awarded amount to the receiving spouse
If the paying spouse has substantial funds, the judge might order a lump-sum alimony payment. Keep in mind that if a spouse fails to settle the ordered financial support, they can be fined or even jailed.
Can You Change or End an Alimony Award?
You can ask for a modification or termination of spousal support if some circumstances change. For instance, if the receiving spouse:
Remarries
Starts living with another partner
Doesn't have the same financial needs because of new living arrangements
Keep in mind that you cannot require any changes to the awarded support if:
The court ordered a non-modifiable alimony
You and your spouses agreed in writing that alimony cannot be modified
Negotiate Alimony Terms With Your Spouse in an Amicable Settlement
If you and your spouse negotiate and reach an out-of-court agreement on all divorce aspects—including alimony—you can file the papers for an uncontested divorce. This no-fault and friendly type of divorce saves money and time since you can:
At the same time, you don't need to appoint an expensive divorce attorney to prepare the documentation and represent you in court.
Once you agree on all relevant matters, you need to specify them in a divorce settlement agreement. The judge will review the document, and if it is fair and in compliance with state laws, they will approve it.
Do you need help creating a divorce settlement agreement? Sign up for DoNotPay to meet all necessary legal requirements in a fast and affordable way!
DoNotPay Generates Rock-Solid Divorce Settlement Agreements
You don't have to get a lawyer to prepare a divorce settlement agreement for you and spend a lot of money on this service.
Instead, you should use our AI-powered app that is familiar with all state laws and will incorporate your specific agreement details into the required legal framework.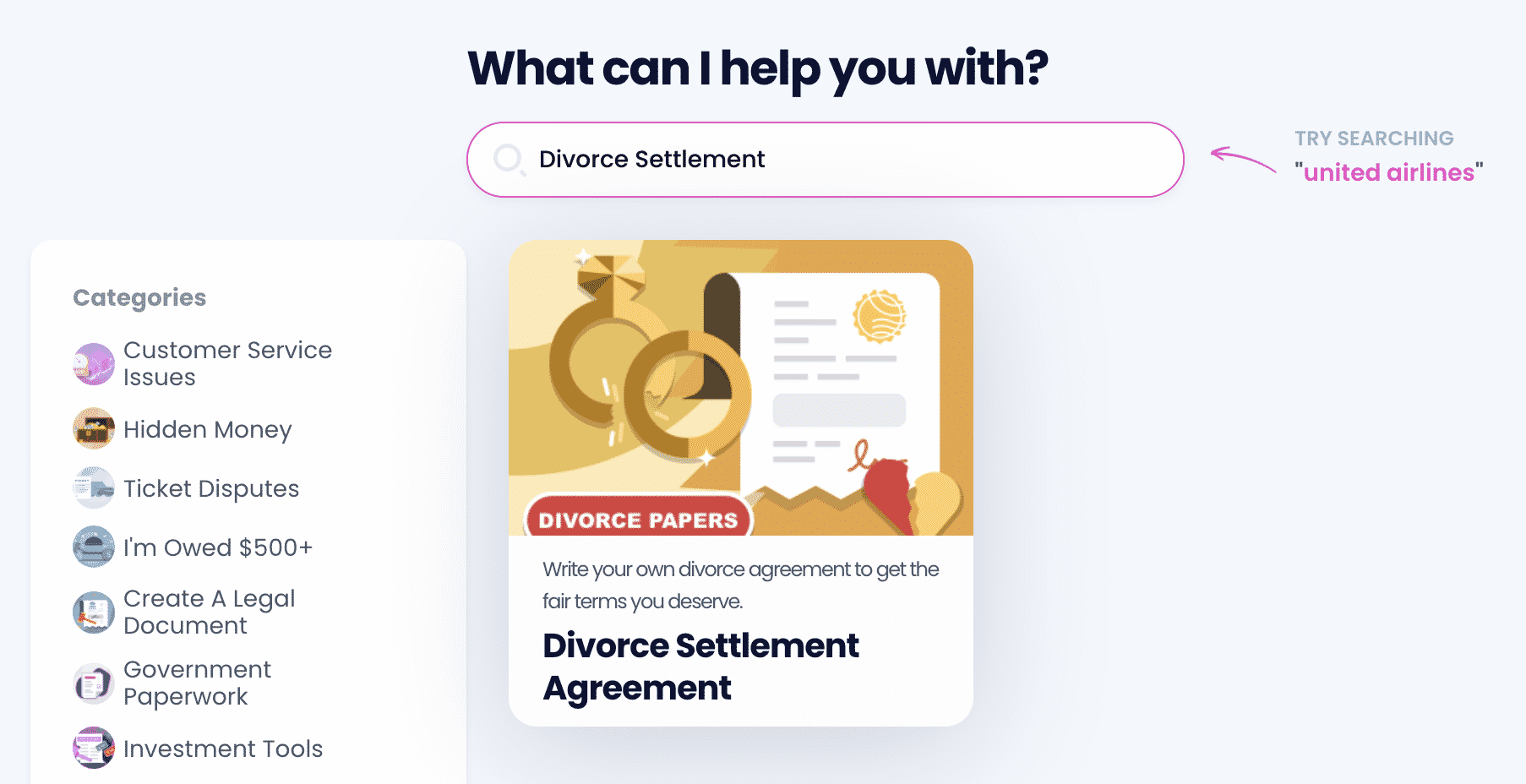 What should you do? Open DoNotPay and:
Locate the Divorce Settlement Agreement product
Answer our chatbot's questions about your child, assets, debts, etc.
Choose if you'd like to get the agreement notarized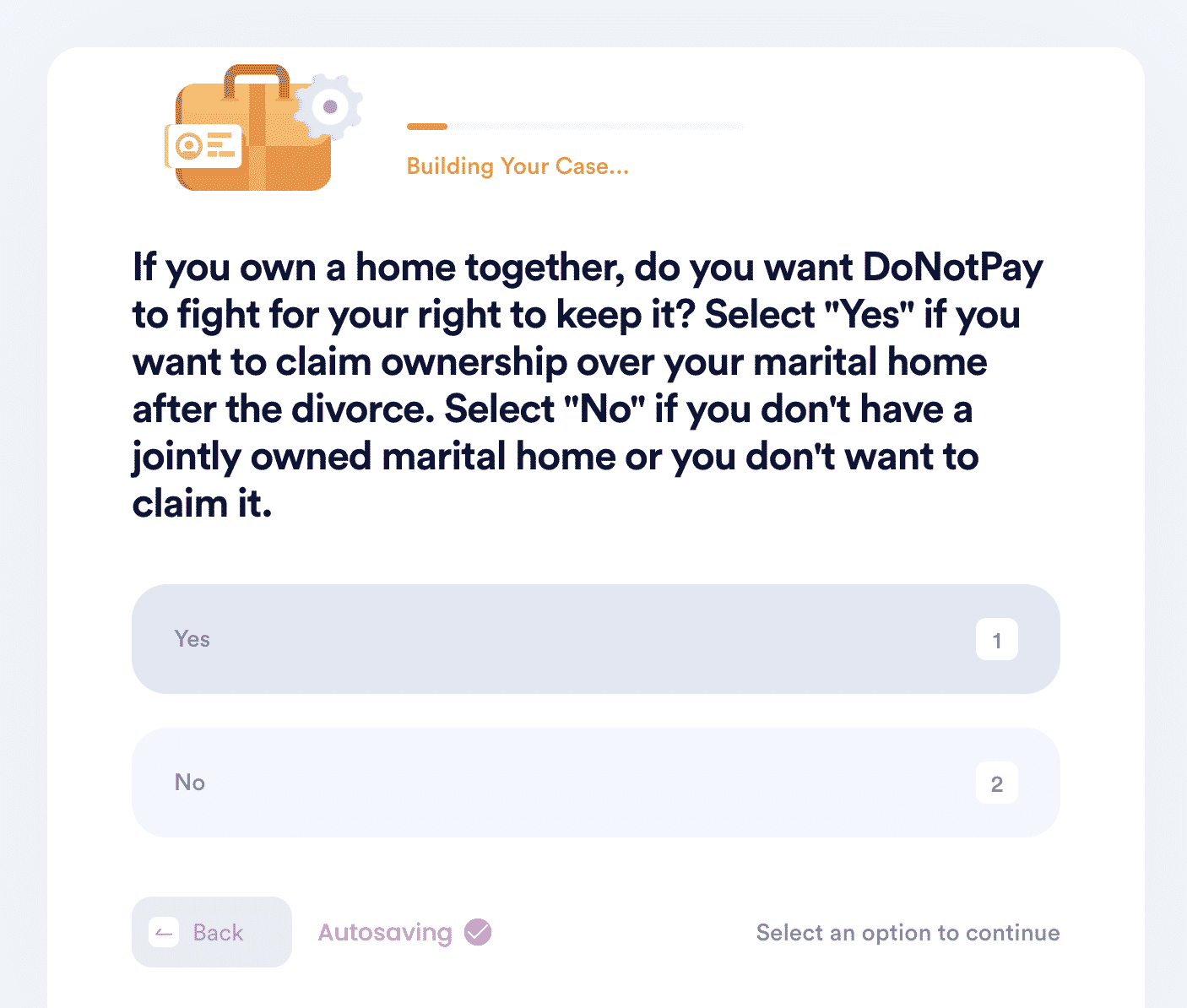 Once you've provided the necessary data, we'll generate the agreement tailored to your situation.
Explore DoNotPay's Knowledge Base 24/7
If you'd like to collect relevant information on divorce-specific topics, you could browse through our website. Here are some questions we provide answers to:
There Is No Shortage of Tasks DoNotPay Helps You With
If you find finishing administrative tasks tedious, you can rely on our app to assist you through the entire process and make it a smooth-sailing experience. Check out the table below to find out what DoNotPay can help you do:
| Deal With Companies By | Get Rid of Pesky Spammers By | Get Help With Your Studies By |
| --- | --- | --- |
| | | |
Buried in Paperwork? Not for Long!
Is creating legal documents giving you a migraine? Not everyone is acquainted with the law and legal jargon, which is necessary when writing documents, such as:
Luckily, DoNotPay can draft your legal documents in minutes! Why waste hours doing it yourself or hire a lawyer when you can have our app do it in no time?
Creating anonymous HR complaints and demand letters for your inconsiderate neighbors is also something our app does best!