DoNotPay Helps You Get a Divorce in Colorado
Getting a divorce can be emotionally draining and exhausting, especially if you don't know all the laws and info. It's easy to get lost in the complicated paperwork and the filing process. That's why DoNotPay provides a guide for you!
We'll show you everything you need to know about getting a divorce in Colorado and prepare you for the process in no time. You will also find out how to create a divorce settlement agreement in a few clicks!
Colorado Divorce Laws
Before taking any action, you should familiarize yourself with the divorce laws in Colorado, as well as some general rules. In this state:
You don't need grounds for a divorce—Colorado is a no-fault state. This means that couples aren't required to have any grounds for getting a divorce. To file for it, one party can claim that the marriage is irretrievably broken
Divorces are not 50/50—Colorado is not a community property or 50/50 but an equitable distribution state. The property will be divided by the court in a way that's fair to both parties but not necessarily equal
You can get an uncontended divorce—If the couple meets certain requirements, they can file for an uncontested divorce. These types of divorces are also called friendly divorces and are generally:

Easier
Less expensive

You don't have to visit the court to get divorced—A couple can reach an out-of-court settlement if they agree on everything. If not, the judge will order them to go to mediation
You cannot get an online divorce—While you can fill out the forms and prepare documents online, you cannot complete the divorce process online in Colorado
Filing for an uncontested divorce is also called decree upon affidavit. This means that the couple can get divorced after submitting an affidavit instead of showing up in court for a hearing. You also won't have to hire a lawyer if you agree on everything.
Basic Residency Requirements for Getting a Divorce in Colorado
To get a dissolution of marriage in Colorado, the couple needs to meet the following requirements:
At least one party needs to have been a resident of Colorado for a minimum of 91 days before filing for divorce
The State of Colorado has to have personal jurisdiction over the respondent spouse
Your children—if you have any—must have lived in Colorado for at least 181 days
You need to wait 91 days once you have served divorce papers to your spouse
Uncontested Divorce in Colorado
To get an uncontested divorce in Colorado and submit an affidavit instead of going to court, you and your spouse must:
Not have any marital property, or sign a divorce settlement agreement that addresses property and debt division
Agree that the marriage is irretrievably broken
Include the following in the divorce settlement agreement if you have any children:

Child custody
Visitation
Parenting time
Child support
Divorce Papers in Colorado
Filing for an uncontested divorce will require you to get two important Colorado divorce forms:
Affidavit for Decree Without Appearance of Parties—You can find this form in the district court in your county or on your state's government website. Ask the district court clerk for the affidavit and then file it yourself or with your spouse as co-petitioners
Divorce settlement agreement—To get this agreement, you will have to either:

Create one yourself
Spend big bucks on a lawyer to do it for you
Use DoNotPay and get an agreement in a few clicks
Serving Divorce Papers in Colorado
Once you sign the affidavit with your spouse as co-petitioners, you don't have to serve the papers. In case you file the affidavit yourself, you will need to hire the county sheriff to serve your spouse or ask the other party to sign a waiver of service.
How To File for a Divorce in Colorado
After receiving your papers, the judge will decide whether you will be granted divorce immediately or whether you'll be required to attend a hearing.
A judge might check if the spouses meet all of the requirements and make sure the divorce separation agreement is fair to both sides. This is why getting a professional agreement is important.
When the judge determines that both parties meet all the requirements and they're satisfied with the agreement, he or she will issue a decree of dissolution of marriage. The divorce will be officially completed when the dissolution is signed.
Get a Tailor-Made Divorce Settlement Agreement With DoNotPay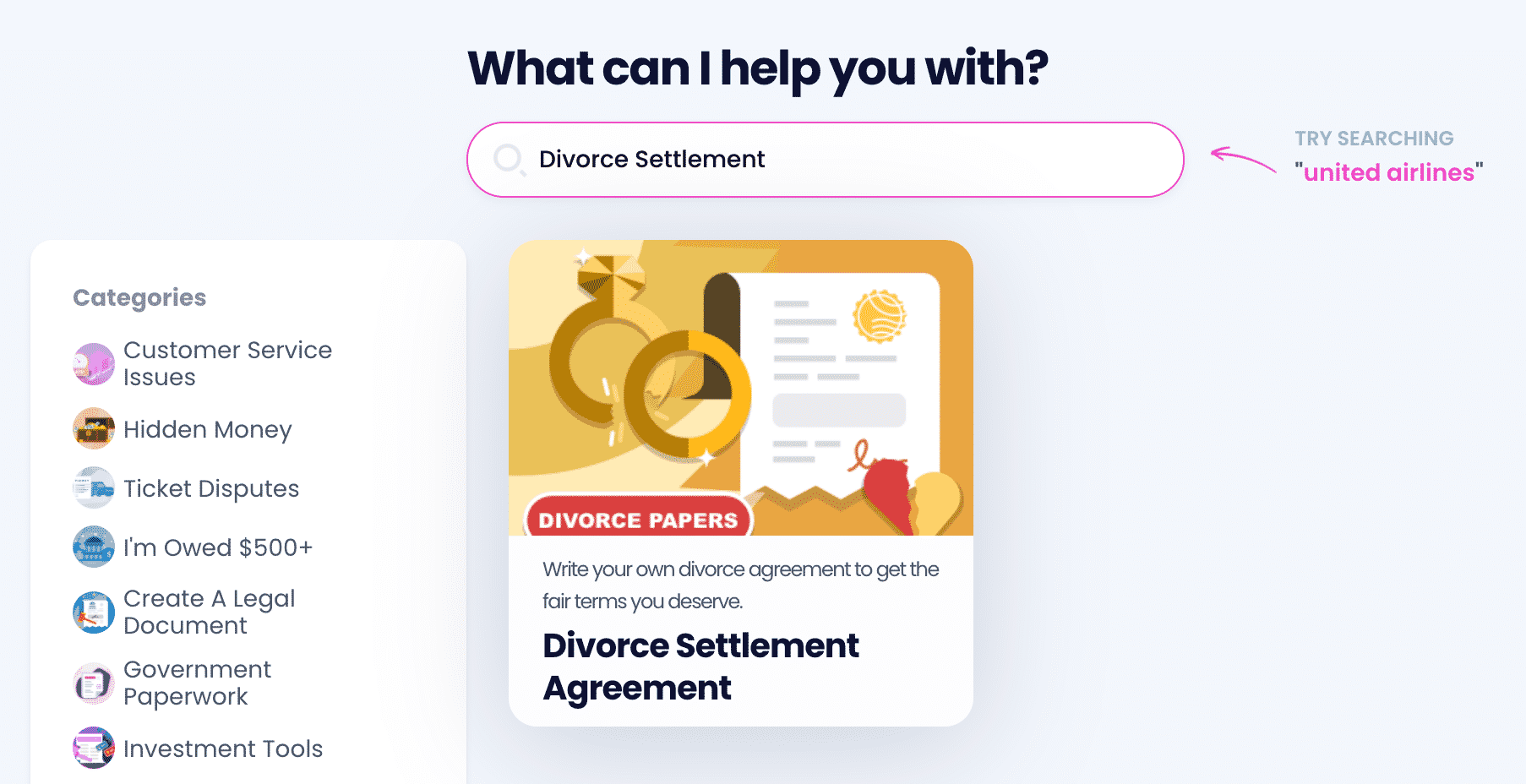 Want to lower the costs of your divorce in Colorado? Don't hire expensive lawyers to create a divorce settlement agreement for you—use DoNotPay instead! We can create this document for you in no time. Here's what you need to do:
Select our Divorce Settlement Agreement feature
Provide the necessary information about your spouse, income, assets, and children (if any)
Opt for notarization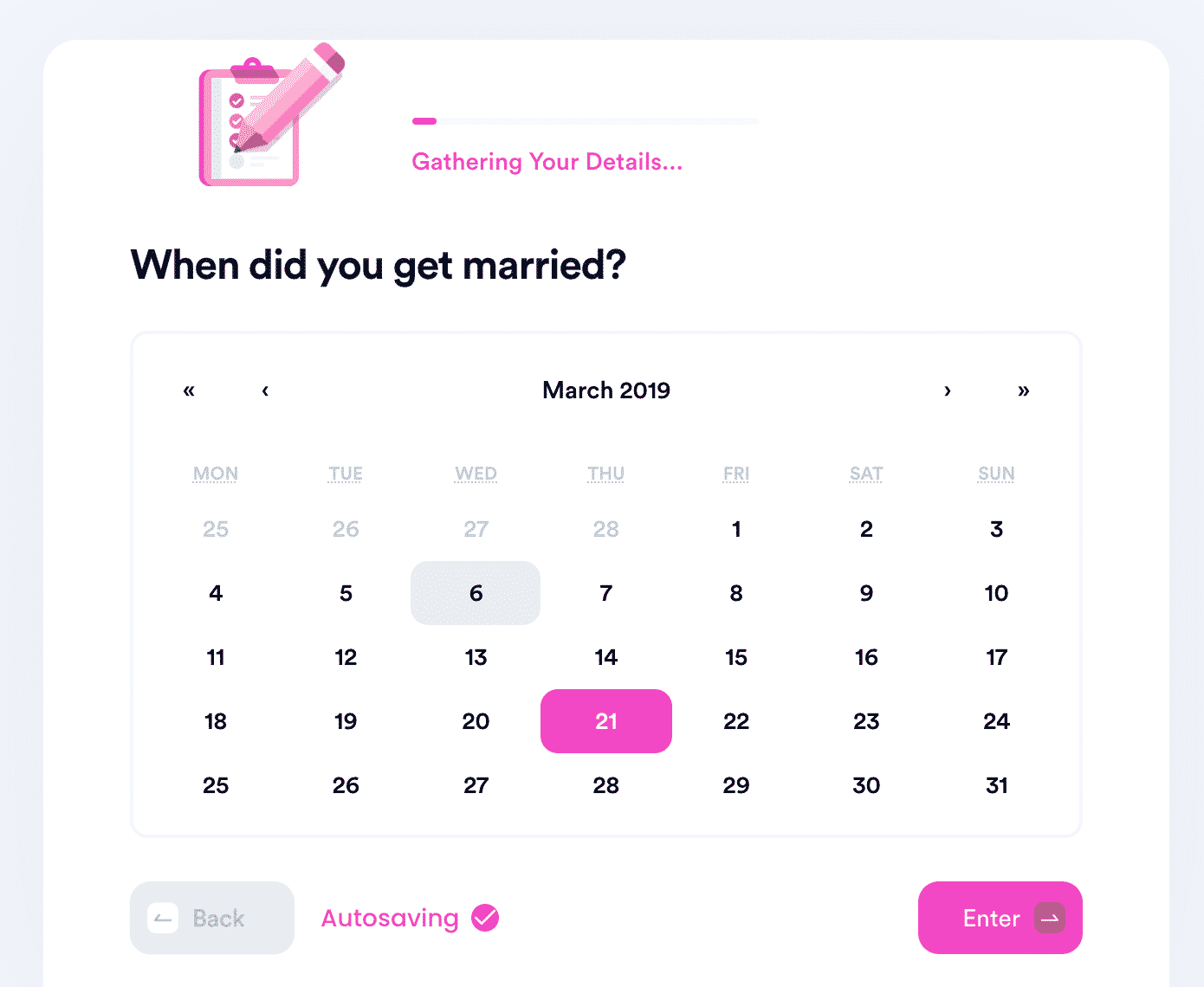 Once you submit your request, we'll generate an agreement that will suit your needs perfectly. DoNotPay can then set up an appointment with an online notary in your stead. This means that you can have your document notarized from the comfort of your home.
Need more help? Check out our county-specific divorce articles and other guides DoNotPay has prepared for you in the table below:
| | |
| --- | --- |
| County-Specific Articles | Guides |
| | |
Use DoNotPay To Resolve Administrative Tasks in Minutes!
Tired of brainstorming the easiest way to deal with administrative issues? We know how you feel, and we're here to take the burden off your back!
Once you subscribe to our app, you'll be able to resolve an abundance of bureaucratic issues with ease.
Taking a valid passport photo, reporting workplace discrimination, reducing property taxes, preparing for a government test, applying for a college fee waiver, and appealing a parking ticket are some of the many tasks we assist you with.
In case you need a quick way to draft a legal document, such as a power of attorney, divorce settlement agreement, or a child travel consent form, DoNotPay will do it for you!
Learn How To File Claims the Easy Way
Are you dissatisfied with a certain company and/or its products? You don't have to stay quiet! Use DoNotPay to file your insurance, warranty, or missing/late parcel claim effortlessly! We'll also show you how to request an item return in a few steps.
If you want to cancel a subscription or request a refund or chargeback, you can do it with our assistance without breaking a sweat. Use one app to deal with countless issues!