Divorce in Colorado—Alimony and Other Details in a Nutshell
If you're contemplating filing for divorce or have already started the process, it is crucial to get acquainted with all divorce requirements about alimony. It doesn't matter whether you're the high-earning spouse or the low-earning one—understanding Colorado state laws is essential to get fair treatment and end your marriage on a good note.
You don't need to consult a lawyer to get information about the divorce in Colorado—alimony in particular. We can guide you through the ins and outs and help you create the perfect marital settlement agreement in no time!
Alimony in Colorado Explained
Alimony—or spousal maintenance, as it is called in Colorado—is a recurring payment made by the higher-earning spouse to the lower-earning spouse for basic day-to-day expenses. There are several types of spousal maintenance in Colorado, as listed below:
Temporary—Temporary alimony, or pendente lite support, is financial assistance that is paid until the divorce process is finalized
Rehabilitative—In this case, the higher-earning spouse provides financial support to the lower-earning spouse until they can support themselves financially
Reimbursement—For this type of alimony, one spouse has to pay back the other spouse for the time and money they put into the former's education or career during the marriage
Permanent—The court grants permanent alimony if a spouse cannot become financially independent due to age, poor health, or disability. It is rare for spousal support to continue indefinitely, and there is typically a termination date to end it
Eligibility for Alimony in Colorado
It is the court's responsibility to ensure that the spousal support terms are fair to both parties. One party should prove they need support, and the other should present evidence that they can or can't provide it.
The couple needs to be married for at least three years so that one spouse can be eligible for alimony in Colorado. The following factors will determine whether one spouse can get alimony:
Financial statements of the higher-earning spouse
Financial dependency of the lower-earning spouse
The lifestyle adopted by the couple
Property distribution in the divorce
Income and assets of both spouses
Employment or employability (based on education and career training)
Age, health, and medical history of both spouses
Duration of the marriage
Amount and duration of temporary support during the divorce process
Any other factors that the court deems necessary
Once the judge decides that one spouse needs to provide alimony to the other, the next step is determining the amount and duration of support.
How Is Alimony Calculated in Colorado?
Colorado law provides a formula to determine the amount of financial support. The higher-earning spouse will provide a monthly payment of 40% of their gross income minus 50% of the lower-earning spouse's gross income. This means that if one spouse earns $20,000, and the other earns $2,000, the maintenance award would be $7,000 (40% of $20,000 is $8,000 minus 50% of $2,000 is $1,000).
Either spouse can request a judge to reconsider the formula if they feel it is unjust. You can also work out the alimony terms and conditions yourself if you want to avoid going to court.
Uncontested Divorce Is the Way To Go
To finalize the divorce with as few complications as possible, you should file for an uncontested divorce. This means you and your spouse agree on divorce matters on your own and outline the terms in a written agreement. You don't even need to pay hundreds of dollars in lawyer fees.
Do you want an even easier solution? , and let us draft a divorce settlement agreement to keep you and your spouse content!
Generate a Divorce Settlement Agreement With the Help of DoNotPay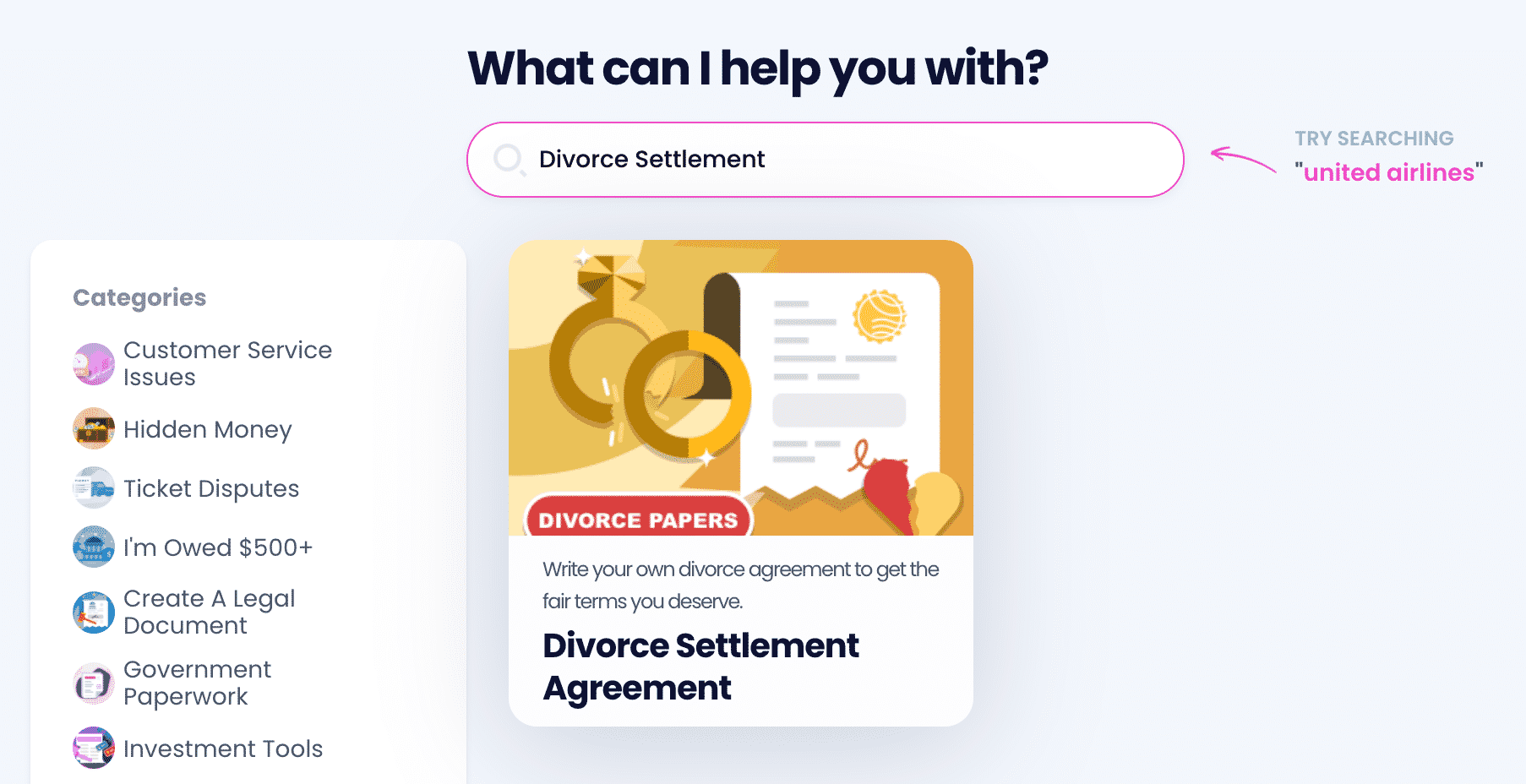 A well-drafted divorce settlement agreement should properly determine the alimony terms and conditions and help you get a divorce in no time! That's where our Divorce Settlement Agreement feature comes into play. Use it to create this useful document at an affordable cost!
Here's what you need to do:
from your web browser
Select the Divorce Settlement Agreement tool
Provide the required info to our chatbot to personalize the document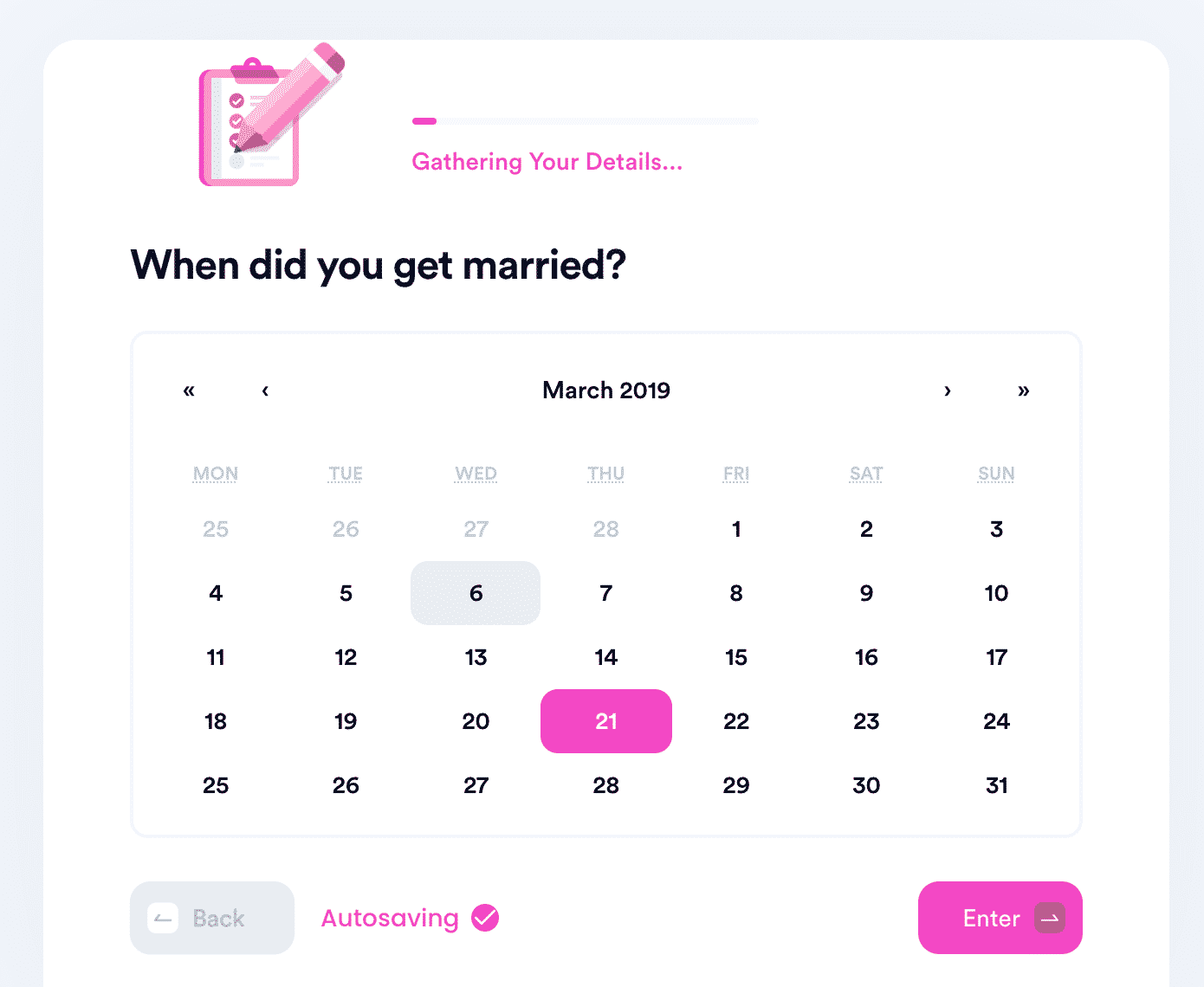 DoNotPay will create the document in no time. If you want to get your document notarized, let us know while filling out the questionnaire, and we will connect you to an online notary. You can schedule an appointment and get your divorce agreement notarized in a video call.
DoNotPay Can Provide More Divorce-Related Information
If you'd like to learn more about the divorce process before proceeding with it, explore our learning center to find helpful information on general and state-specific topics, as mentioned below:
| | |
| --- | --- |
| General Topics | Colorado-Related Info |
| | |
Tackle Any Legal Task With Our Lawyer App Like a Pro!
Why bother with tedious legal tasks on your own when you can let DoNotPay cut your work in half? No more worrying about how to draft legal documents or sue a company in small claims court—we'll guide you through it effortlessly!
There is no shortage of tasks our Al-powered app can help you with. Once you sign up, you'll learn how to:
Fight Scammers in a Few Clicks!
Is your phone buzzing incessantly, and you can't take it any longer? Use DoNotPay to stop annoying robocalls and fight scammers with ease!
Having a company spam you with unwanted emails about their products isn't uncommon, but that doesn't mean you have to put up with it. DoNotPay helps you create a burner phone number, fight email spam, and stop spam text messages in a snap!
You can also find our features super useful when requesting a refund, filing insurance claims, and locating your missing USPS, UPS, or other parcels.