Getting a Divorce in California? DoNotPay Can Help
Divorce laws are different in every state. If you're getting a divorce in California, you should know the state-specific laws and options.
Don't know where to start? Don't worry—DoNotPay has prepared an article that'll clear out any confusion! We'll show you all the legal requirements and help you get a friendly divorce without effort.
Everything You Need To Know About California Divorce Laws
Getting to know California divorce laws is a must before going into the process. The table below presents the details:
Questions
Answers
What are the grounds for divorce in California?
California is a no-fault divorce state. This means that a couple can get divorced if one spouse states that the marriage is irretrievably broken.

A divorce can also be granted on the grounds of incurable insanity with provided proof—a medical or psychiatric testimony

What are the residency requirements in California?
Either you or your spouse must have lived in:

The state of California for at least six months before filing divorce papers
The county where you're getting divorced for at least three months

How long does it take to get a divorce in California?
The divorce process in California takes at least six months.

The length depends on the complexity of the case. Some couples are aiming for uncontested divorce but are in disagreement. As a way to shorten the length of the divorce, they should try mediation.

The mediator might help them agree on certain issues, such as alimony or spousal support

How much does it cost to get divorced in California?
The average cost of divorce in California is $17,500. Multiple factors impact this sky-high amount, such as:

The length of the procedure
Whether you've hired a lawyer or not
Costs of copying and sharing documents

If you want to lower the cost of the procedure, you should opt for an uncontested divorce

How is property divided in a divorce in California?
In California, couples can divide their property and debts on their own. They can also ask the court to do it in their stead. The laws dictate that the assets and debts of spouses acquired during the marriage belong equally to both of them
Divorce Options in California
In California, you can get either:
A contested divorce—This process is for spouses who haven't reached middle ground for some or all aspects of their divorce. They'll have to go through the whole ordeal of going to trial and calling witnesses—and unlike with uncontested divorce, they won't be able to get an out-of-court settlement
An uncontested divorce—In the case of an uncontested divorce, the spouses agree on all issues regarding the end of their marriage. They don't have to go to court or even hire lawyers. This type of divorce is also faster and cheaper, and spouses have the option of an online divorce
Can You Get an Online Divorce in California?
Getting an online divorce in California doesn't mean filing your divorce forms online. You can find and complete your divorce papers online. You still have to file the forms with your local clerk.
Some agencies will offer to complete the entire process online for you, but they also come with quite a price.
Fastest Way To Get a Divorce in California
To end your marriage as fast as possible in California, you should choose the uncontested divorce option. To get an uncontested divorce, you and your spouse need to agree on:
Child custody and support
Property
Debts
Parenting time
How To Get a Quick Divorce in California
To get a quick divorce in California, you'll need to follow these steps:
Get a written agreement with your spouse—The divorce settlement agreement states that both you and your spouse agree to end the marriage. To get a marital settlement agreement, you will need to either:

Create one yourself—If you choose to do this, you need to be extra careful as to not make any mistakes
Hire a lawyer and pay for their sky-high fees
Use DoNotPay and get an affordable agreement that'll suit your needs perfectly

File a petition for divorce—You will need to get the divorce forms from the California Courts website or at your local courthouse. Once you get them, file them with with the county clerk
Serve the papers—After you submit the paperwork, you will need to serve your spouse the copies of your divorce papers. Note that a third party needs to deliver the papers. This has to be someone who is neutral to the case
Get a Pitch Perfect Divorce Settlement Agreement the Easy Way—Use DoNotPay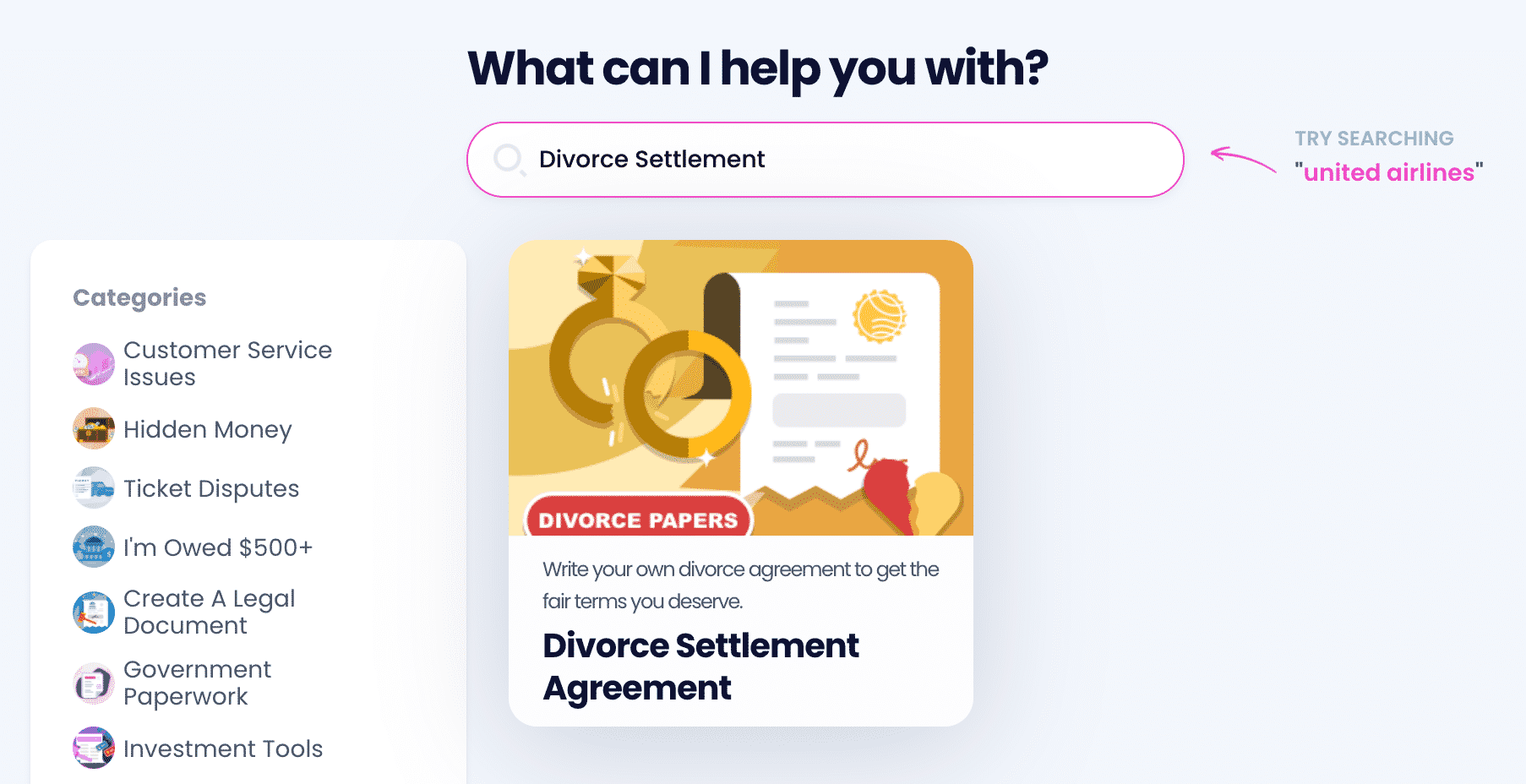 A divorce settlement agreement is a crucial document you have to file when you're getting divorced. It needs to be fair to both you and your spouse, and it mustn't contain any mistakes because you don't want to file the papers twice.
If you want to get divorced in California without hiring expensive lawyers, turn to DoNotPay for help! We can generate a professional divorce settlement agreement for you in no time! All you have to do is:
Select the Divorce Settlement Agreement product
Answer our chatbot's questions regarding your:

Spouse
Children (if any)
Assets
Income

Opt for notarization if you want to get your document notarized hassle-free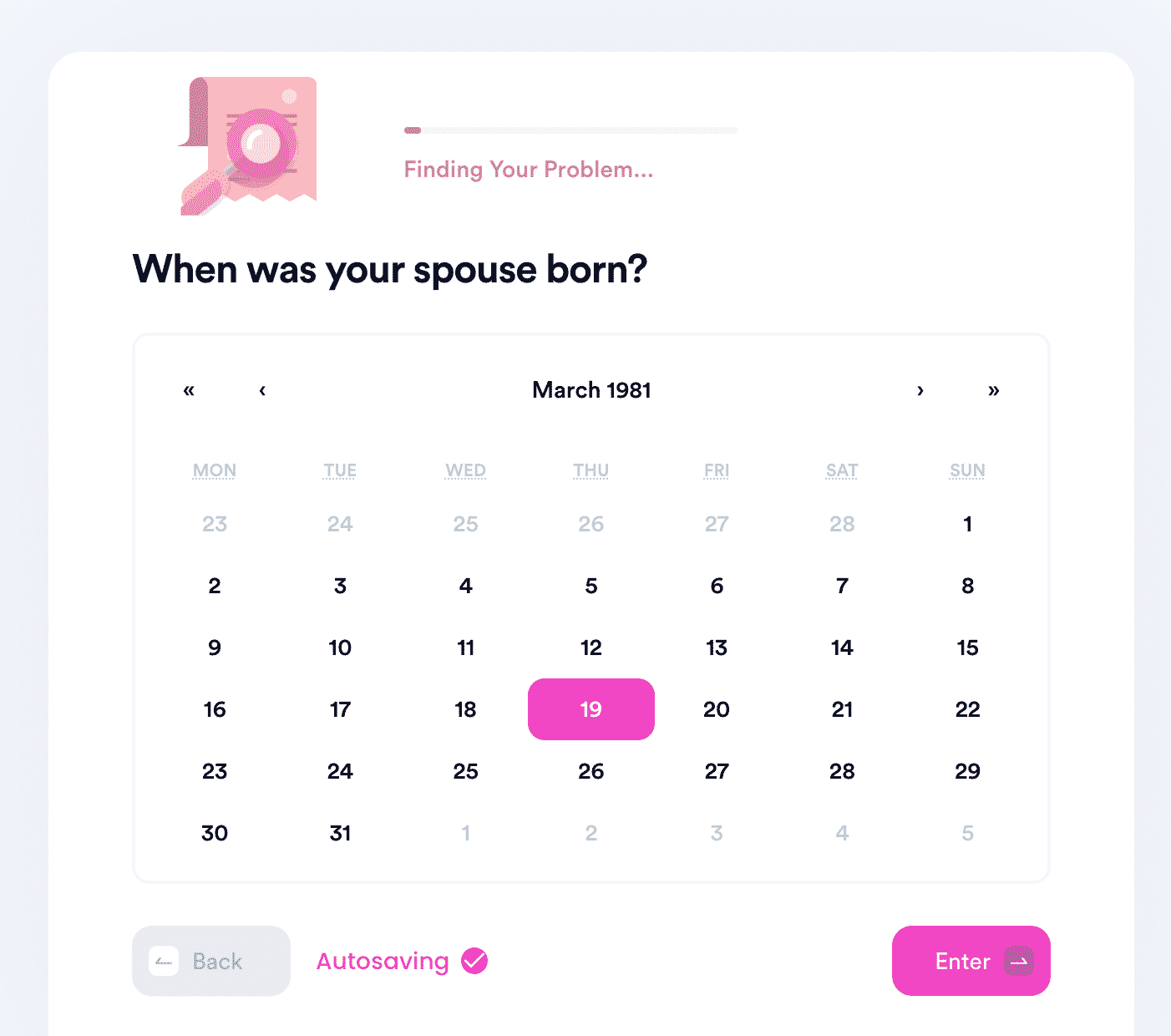 We will instantly generate a divorce settlement agreement that you can then get notarized via an audio-video call.
Need more help with the divorce process in California? DoNotPay can tell you all about divorces in California and assist you in various counties in the state. Check out the table below for details:
| | |
| --- | --- |
| California Divorce Guides | County-Specific Articles |
| | |
To Sue or Not To Sue?
Hiring a lawyer to help you sue a company can be helpful, but it can also cost you an arm and a leg. Luckily, you can avoid wasting hundreds of dollars and use our robot lawyer to sue any company in small claims court instead!
DoNotPay offers you a variety of other features you will find quite useful when dealing with bureaucratic issues. Check out the list below to see what else our app can help you with:
Shopping Without Dropping
Whoever said you should shop until you drop didn't have access to DoNotPay's various features. With our app, you can make your shopping experience smooth sailing and stress-free!
Here's a fragment of what you can accomplish by using our neat features: