How Much Does a Divorce in AZ Cost? Find Out With DoNotPay
Parting ways with your spouse requires you to prepare for the process both emotionally and financially. If you don't know where to start or what to expect, don't worry—we've prepared a guide to help you out.
DoNotPay will show you the easiest way to get a divorce in AZ, and the cost will be the least of your worries! With our generated marital settlement agreement, you'll be able to terminate your marriage hassle-free and with minimal expenses.
How Much Does a Divorce Cost in AZ?
The amount of money you'll have to set aside for the termination of your marriage depends on the type of divorce you get. On average, a divorce in Arizona costs around $20,000. In Arizona, you can file for:
A contested divorce
An uncontested divorce
Contested Divorce in Arizona Cost
A contested divorce is for couples who are unable to reach a compromise and have to take their case to court. Due to the lawyer fees and similar expenses, the cost of this type of divorce can range anywhere between $15,000 and $100,000 per spouse.
Uncontested Divorce in Arizona Cost
This divorce type is for the spouses who agree on key divorce issues and don't need the judge's help to resolve them. Also known as DIY or quick divorce, this type of dissolution costs around $7,500.
What Is the Best Way To Get Divorced in Arizona?
The best option for parting ways with your spouse in Arizona is to opt for an uncontested divorce. Besides being cheaper, an uncontested divorce comes with other benefits as well:
Greater control of the process—Because the judge won't be resolving your issues in court, you'll choose the terms of your divorce in a marital settlement agreement. This means that you and your spouse get to settle on:
No need to hire a lawyer—As you won't be going to court to attend multiple hearings, you won't need to hire a lawyer. By not paying expensive attorney fees, you will minimize the cost of your divorce
Faster divorce—The uncontested divorce is much faster to complete than a contested one. You'll only have to wait 60 days after filing for divorce before it's finalized.
Amicable relationship with your spouse—Most couples who get an uncontested divorce stay on good terms after the process. This is crucial if there are any marital children involved
Who Is Eligible for an Uncontested Divorce in Arizona?
To be eligible for an uncontested divorce in Arizona, you must:
Meet residency requirements—Getting a divorce in Arizona requires you to be a resident of the state for 90 days minimum before filing the divorce papers
File for divorce on no-fault grounds—Since Arizona is a no-fault state, you won't have to play the blame game with your spouse. You can get divorced by stating that your marriage is irretrievably broken
Agree on divorce terms—You need to meet halfway with your spouse in your divorce settlement agreement. If you're unable to reach a compromise, divorce mediation can help. The mediator will help you find solutions that work for both parties. Opting for divorce mediation in Arizona is also cheaper than hiring a lawyer
How To Get a Divorce Settlement Agreement
The divorce settlement agreement is the most important document that you file because it outlines the terms of your divorce. The judge will review it before finalizing the procedure to make sure it is:
Valid
Fair to both parties
Compliant with state laws
Consult the table below to see how you can get this crucial document:
| Method | Explanation |
| --- | --- |
| Hiring a lawyer | If you choose this method, be prepared to spend a fortune |
| Writing one yourself | This method is risky since making a mistake when writing the agreement can mean starting the process from scratch |
| Subscribing to DoNotPay | With our AI-powered app, you can get a personalized divorce settlement agreement that won't break the bank in no time |
Use DoNotPay and Get a Perfect Divorce Settlement Agreement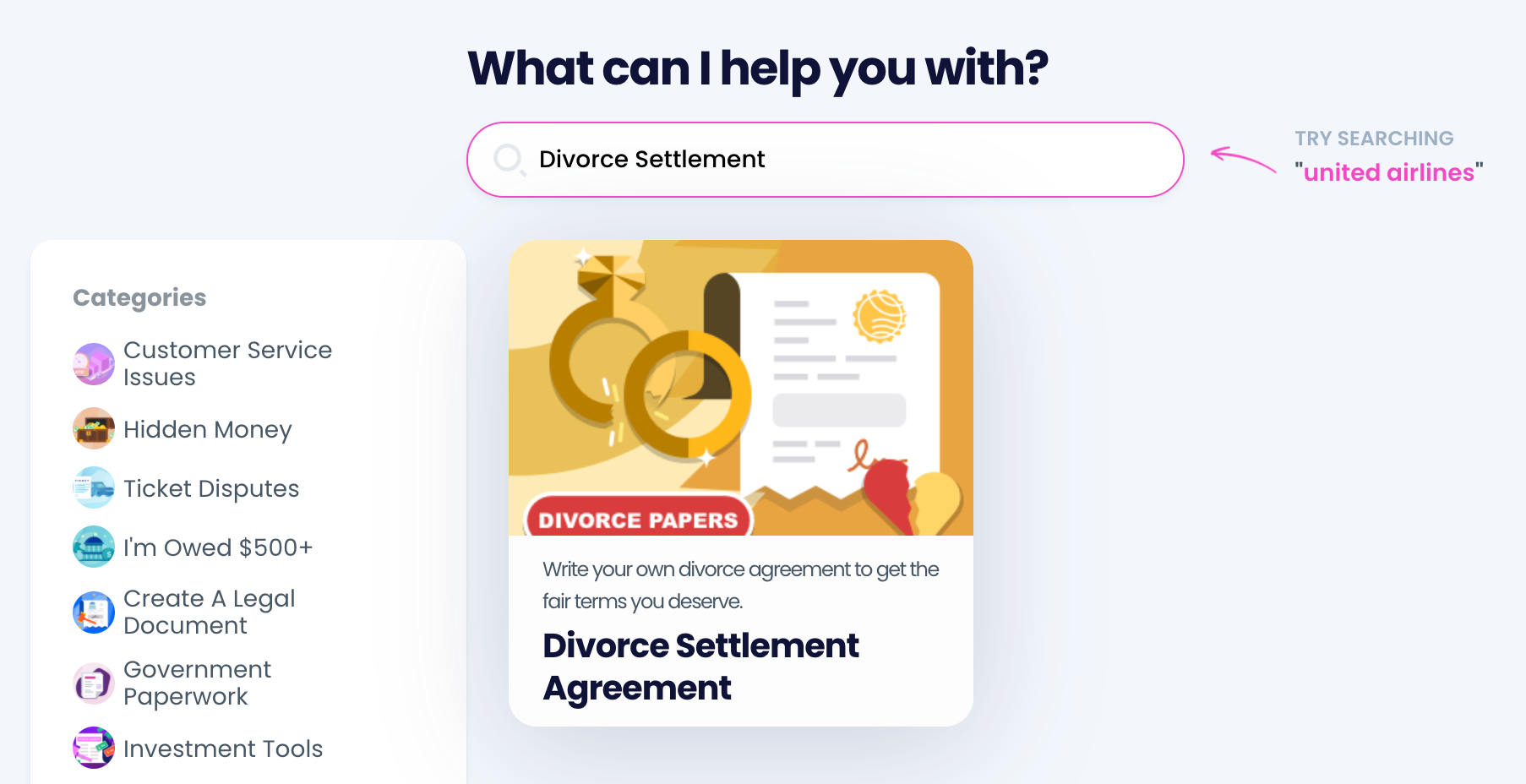 Why waste money on expensive lawyers or time trying to write the settlement agreement when you can use DoNotPay? Leave all the work to us and get this key document in a jiffy. Here's how our app works:
Select our Divorce Settlement Agreement tool
Answer our chatbot's questions regarding the terms of your divorce
Choose if you want to have your document notarized online
Hit Submit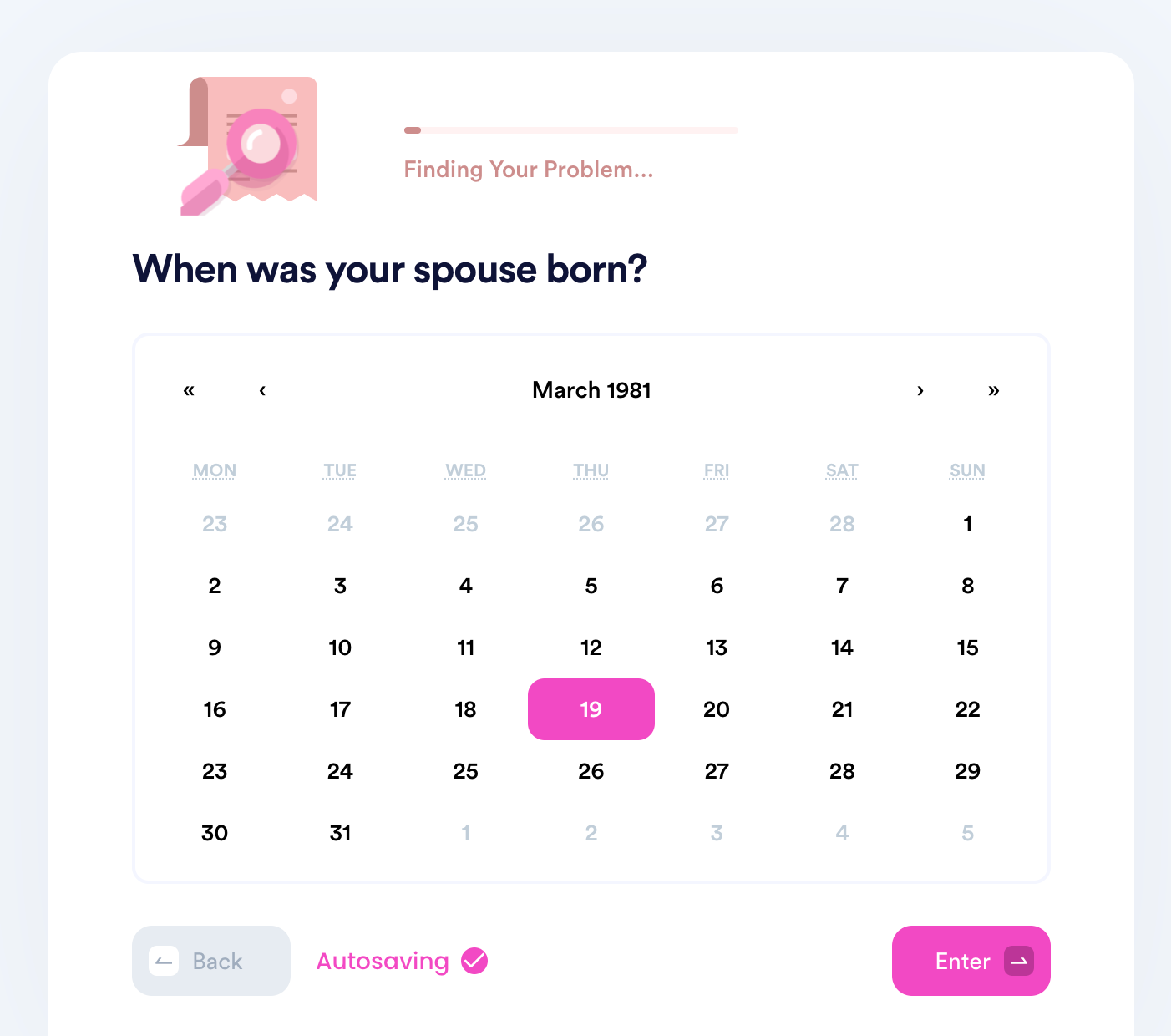 We'll process your request instantly and send you the generated agreement via email. If you want to have it notarized easily, you can do it with DoNotPay! Follow the link you receive from us and set up an online notary appointment in a few clicks.
DoNotPay can also tell you all about:
Use DoNotPay To Complete a Variety of Tasks at Any Time
Why waste time and money completing mundane tasks on your own when you can let DoNotPay assist you? Take a look at the table below to find out what our AI-powered app can do for you:
| DoNotPay Can | Services |
| --- | --- |
| Protect your safety and privacy | |
| Draft legal documents | |
| Help you get your money back | |
DoNotPay Has More in Store for You!
Since communication is key, you'll appreciate our feature that helps you get in touch with customer service reps quickly! We'll also show you how to send faxes online and have your documents notarized by an online notary with ease!
Going on vacation? Use DoNotPay to take a valid passport photo at home or get a tourist visa!