Divorce in AZ—Alimony Criteria and Other Details
If you're planning to get a divorce, alimony is one of the crucial factors you and your spouse should agree on. Before you file for a dissolution of marriage, you must get acquainted with Arizona state laws and your rights. Doing so will help you get fair treatment and end your union on a friendly note.
You don't have to hire a lawyer to get the details you need about the divorce in AZ or alimony in particular. DoNotPay will show you a way to a low-cost divorce and outline your and your spouse's terms in a top-notch marital settlement agreement!
Arizona Divorce Laws—Alimony Explained
Financial support is one of the major items to discuss when ending a marriage. If one spouse has a higher income, a judge may order them to support their lesser-earning partner financially. That way, neither spouse will struggle to pay for regular living expenses during or after the divorce.
You can get one of two types of spousal support in Arizona—temporary and permanent. The type you'll be granted depends on where you stand during the divorce proceedings. Take a look at the table below for further clarification:
Temporary Alimony
Permanent Alimony
Judges may award temporary financial support to one spouse to ensure they will remain financially stable during or for some time after the divorce. They typically grant them to spouses who have given up their jobs to:

Raise a family
Enable the other spouse to improve their career

Temporary alimony serves to give the lesser-earning spouse a chance to work on becoming financially independent. It typically lasts:

Until the divorce is finalized
For a period determined by the judge

Arizona courts allow permanent alimony when the maintained spouse is unable to gain financial independence due to:

The permanent alimony automatically ends when:

A spouse remarries
One or both spouses die
There's a substantial change in circumstances making the alimony unnecessary
Am I Eligible for the Arizona Divorce Spousal Support?
Before filing for alimony in Arizona, the requesting party must prove:
Their need for support
Other partner's ability to maintain them
The court will consider granting alimony to the requesting spouse if they:
Lack sufficient property (even after the distribution during the divorce) to be financially independent
Don't have a job that allows them to cover their day-to-day expenses
Have enabled the other spouse to increase their earning ability by contributing to their:

Training
Education
Vocational skills

Have decreased their own earrings or sacrificed career opportunities for the higher-earning spouse's benefit
Can't find employment due to old age
What Will the Court in Arizona Consider When Deciding on Alimony?
Once the judge deems that spousal support is necessary, they will have to consider specific factors before setting the amount and duration. The courts in Arizona don't have a set formula when calculating alimony—they do it based on the following:
Marriage length
Couple's standard of living
Each spouse's:

Age
Employment history
Earning ability
Physical and emotional health

Paying spouse's ability to support both parties financially
Comparative financial records of both spouses
Either spouse's potential fraudulent behavior regarding jointly-held property (concealment or excessive spending)
Cost of both spouses' health insurance
Extent to which the requesting spouse contributed to the paying spouse's earning ability
Time necessary for the requesting spouse to find employment enabling them to support themselves
Spouses' capacity to financially support their children's education after the divorce
Low-earning spouse's capability to eventually become financially independent
Potential behavior that led to a criminal conviction of either spouse
Do We Have To Involve the Court?
Bear in mind that you and your spouse can work out the duration and amount of spousal support without the judge's involvement. If you are eager to complete the divorce procedure as fast as possible and with as little expense, you can file for an uncontested divorce. That implies:
There's no need to rely on expensive lawyers or sketchy online divorce services.
Sign up for DoNotPay and let us generate a marital settlement agreement that will ensure both parties are satisfied!
DoNotPay Creates an Ultimate Divorce Settlement Agreement
A well-written divorce settlement agreement will properly define the terms of your alimony and get you divorced in record time and without complications.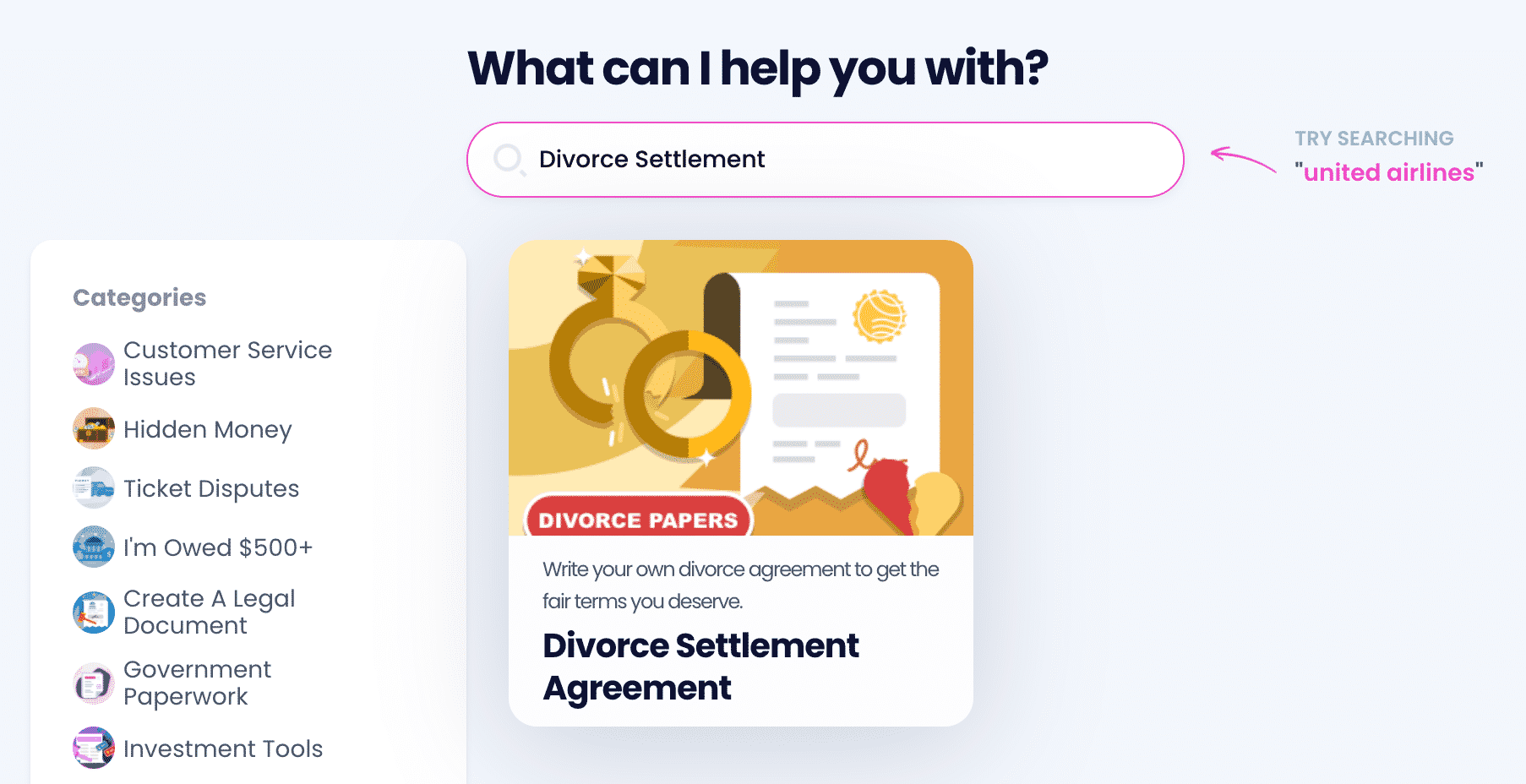 Our Divorce Settlement Agreement product uses the details you provide to draw up a legal document that is both personalized and state-compliant. Here's what to do:
Open DoNotPay in your web browser
Find the Divorce Settlement Agreement feature
Provide the information we need to customize the agreement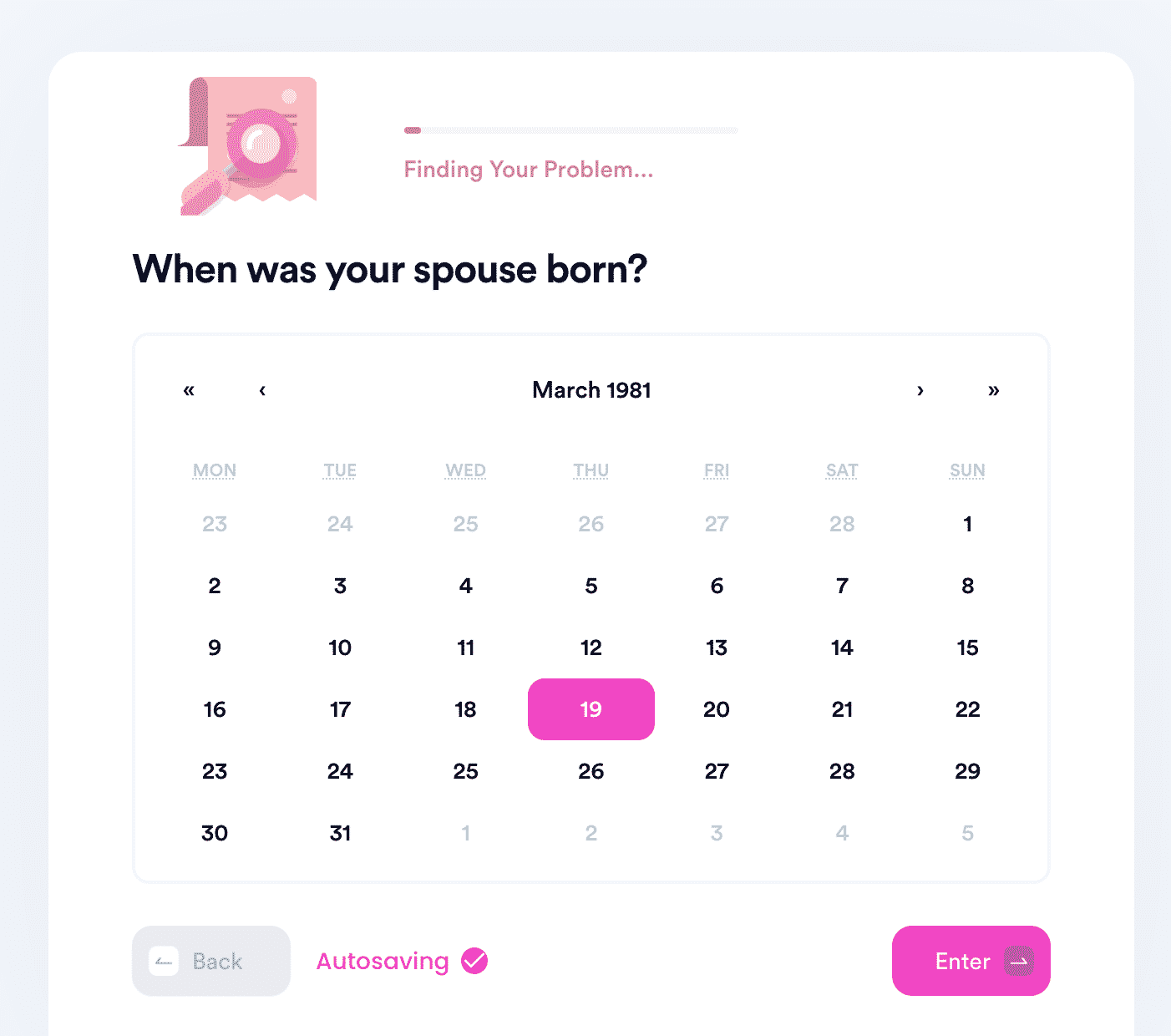 DoNotPay will create the document in a matter of minutes. If you want to skip the long lines in the notary's office, have the agreement notarized with us! Use our questionnaire to indicate you're interested in the notarization service, and we will connect you to an online notary promptly. You can schedule an appointment at any time that is convenient for you!
Do You Need More Divorce-Related Info? Stick Around!
We can answer many more of your questions regarding divorces, be it general or Arizona-specific. Expand your knowledge by reading articles from the table below:
| | |
| --- | --- |
| General Topics | Arizona-Related Info |
| | |
Good Things Come in Small Packages
Siri and Google Assistant are great in their own right, but their skills leave a lot to be desired when it comes to the practicalities of our daily lives. DoNotPay is an app, a true pocket-sized assistant that has the power and the know-how to help you deal with navigating bureaucracy and fighting for your rights efficiently.
Our platform, accessible from your phone or computer, is brimming with products that will help you:
From Government Tests Preparation to Copyright Protection
Whether you are getting ready for your driving test or wish to protect your creative work, DoNotPay has something in store for you.
We can help you handle some serious tasks—like suing someone in small claims court or reporting workplace discrimination—or deal with more mundane activities, such as getting that leftover money from your used gift cards.
The best part is that your DoNotPay subscription gives you access to all our services, be it online fax or virtual credit cards!