Getting a Divorce in Arkansas? Check Out Our Comprehensive Guide
Ending a marriage is never a pleasant experience, regardless of the circumstances. There are ways to avoid unnecessary drama if both parties are reasonable individuals looking for a friendly divorce. DoNotPay can help you understand how divorce in Arkansas works and learn everything about the mandatory papers.
What Are the Grounds for Divorce in Arkansas?
Arkansas is one of the fault divorce states that require a spouse to prove that there are grounds for marriage termination. People most commonly list separation for 18 months and general indignities as the reasons to end the wedlock. Take a look at the table below for other common divorce reasons:
| | |
| --- | --- |
| Reason for Divorce | Brief Explanation |
| Drunkenness | You can file for divorce if your spouse has a serious issue with alcohol that has been affecting your marital life |
| Adultery | Cheating is onae of the most common reasons to file for divorce |
| Cruel treatment | No person should ever be a part of a toxic relationship that includes violence, and Arkansas law recognizes that |
| One spouse being convicted of a felony | In case your spouse commits a crime, and you no longer want to be connected to them in any way, you may file for divorce in Arkansas |
| Spouse being committed to a mental health facility | If you have been living apart from your spouse because they were put into a mental health institution, you have the right to file for divorce |
The events or behavior leading to a divorce should have happened in the last five years. When one spouse does not want to get a divorce, the other party needs to prove the grounds for divorce at the final hearing.
How To File for Divorce in Arkansas
If you want to file for a divorce in Arkansas, these are the steps you'll need to take:
Prepare and file the divorce papers
Attend a divorce hearing
What You Should Know About Arkansas Divorce Papers
The first step of filing for divorce in Arkansas is collecting and filing the divorce papers. You must file a complaint for divorce in the circuit court clerk's office in your county. This complaint needs to include:
The grounds for divorce
Separation period
Proof that at least one of you has resided in the state for at least 60 days
How To Serve the Papers to Your Spouse in Arkansas
When the circuit court issues a "summons", you need to serve it to your spouse. The local sheriff can deliver the summons for you, and your spouse has the right to accept the service. They can then sign the "entry of appearance" document available at the circuit court clerk's office.
Basic Information on Attending a Divorce Hearing in Arkansas
When the served party files the entry of appearance, the court will schedule a divorce hearing. At least 30 days need to pass from receiving a complaint before the hearing can be scheduled. You will need a witness to state that you and your spouse have been living separately and are AR residents.
The witness can:
Attend the hearing
Make a statement in a signed and notarized affidavit
If everything is in order, the judge will sign a divorce decree.
Cost of a Divorce in Arkansas—How Much Will You Have To Cash Out?
If you are filing for divorce in Arkansas, set aside around $165 for a filing fee. There are additional expenses to cover, such as the service and notary fees. These are the basic costs of an uncontested divorce in Arkansas, which is a low-cost option. If you involve financial planners, tax advisors, and attorneys, the price can go way higher, and it won't be cheap at all.
How To File for Divorce in Arkansas Without a Lawyer
In cases when spouses don't have underage children and mutual property, or they agree on everything (alimony, property division, etc.), they can get a divorce without going to court or involving lawyers.
The process is also known as pro se divorce and requires you to visit the clerk in your county to collect the necessary paperwork and have an out-of-court divorce settlement. If you agreed on uncontested divorce and need to draft a settlement agreement, turn to DoNotPay for help!
Create a Divorce Settlement Agreement in Arkansas With DoNotPay
The easiest and most affordable way to create a divorce settlement agreement is with DoNotPay. This is how we operate:
Find the Divorce Settlement Agreement product
Provide the essential family info
Answer a few questions about your income and financial assets
DoNotPay can also help you get your divorce settlement agreement notarized if you choose this option.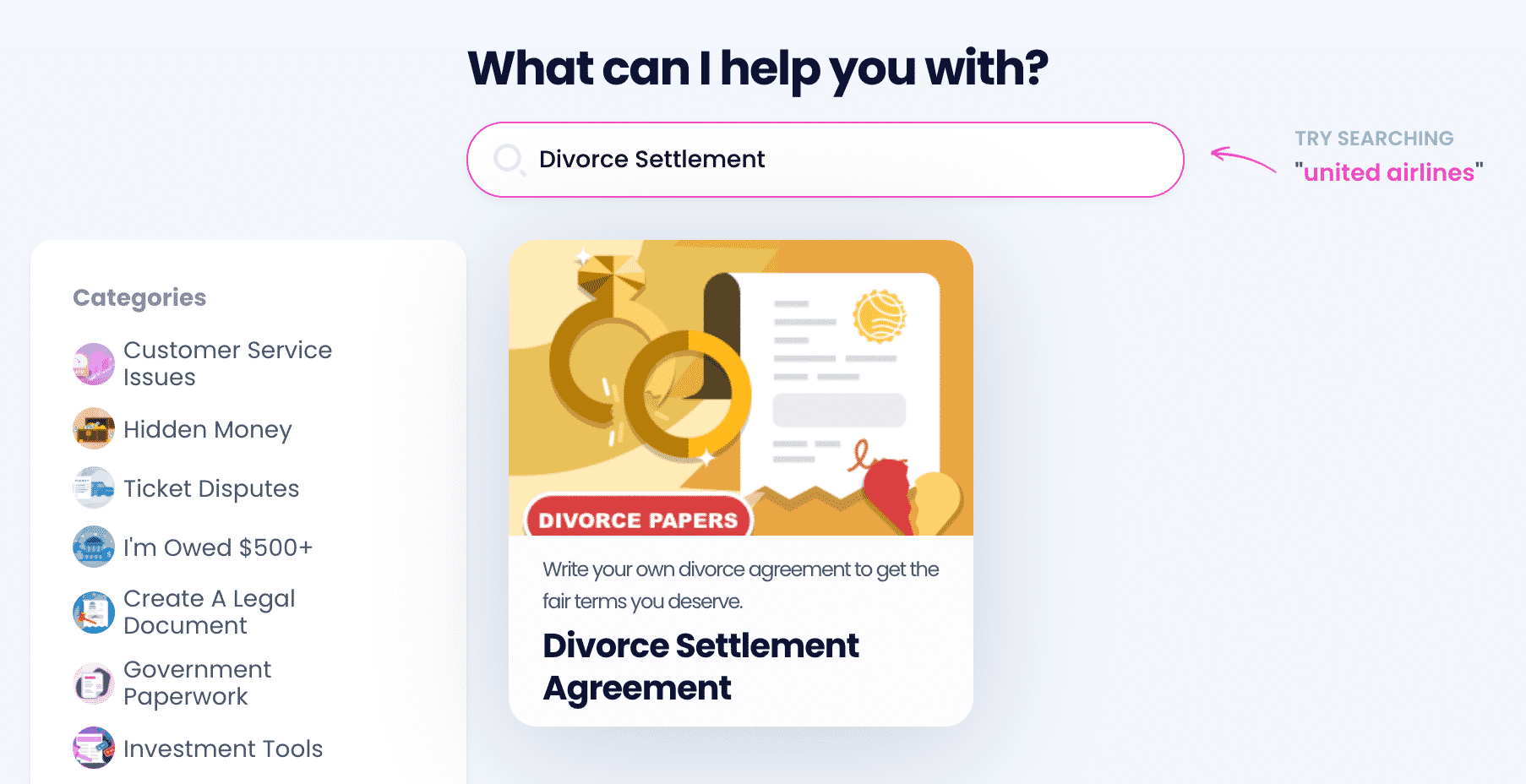 Should you want to learn more about mediation in divorce and online divorce options, we have you covered.
DoNotPay—Quality and Quantity
Our platform provides a multitude of useful tools, products, and services that anyone can benefit from. DoNotPay is a proper virtual assistant that can minimize your paperwork, protect your consumer rights, increase your productivity, or keep you safe online.
The best part is that we keep adding more awesome features all the time—all available for a small subscription price. Take a peek at a small part of our portfolio in the table below:
| | | |
| --- | --- | --- |
| Online Safety | Customer Protection | Administration Shortcuts |
| | | |
It Gets Even Better!
With your DoNotPay subscription, not only do you get a powerful weapon to fight boring and annoying daily tasks, but you also get a great resource for earning more money.
You can use our platform to enter free raffles, secure compensation for fighting robocalls, get your cash back from used gift cards, or find unclaimed money under your name, no matter the state.