Get a Quickie Divorce in Alaska
Filing for divorce in Alaska or any other state doesn't have to be stressful if you understand the process. Find out what paperwork you need to complete, how much the process costs, and whether you can reduce your expenses by not hiring a lawyer.
This article will break down everything you need to know and show you how to get a reliable divorce settlement agreement.
Alaska Divorce Requirements
To file for divorce in Alaska, you need to meet the following requirements:
Meet the Residency Requirements
State the Grounds for Divorce
You can file for divorce if:

You are a resident of Alaska at the time of filing
You've been serving in the military in Alaska for a minimum of 30 days
Your spouse is a resident of Alaska

The latter is an option even if you live outside Alaska and got married in another U.S. state.

As the court will ask for proof of your residency, you could use one of the following:

Your ID or driver's license
An affidavit of a witness confirming your residency

No-fault divorce ground—Incompatibility of temperament
Fault divorce grounds:

Adultery
Drug addiction
Cruel treatment
Conviction of a felony
Willing desertion for a year
Habitual alcoholism for a year
Failure to consummate the marriage
Incurable mental illness resulting in institutional confinement for 18 months
Keep in mind that the court in Alaska doesn't have the authority to make decisions or enforce the orders on the following:
Your property when it's outside Alaska
Your children if they haven't lived in Alaska for at least six months before the court can decide on issues such as child custody, support, or visitation
The Difference Between Dissolution and Divorce in Alaska
Keep in mind there's a difference between dissolution and divorce in Alaska. You should file for:
Divorce in case you and your spouse don't reach an out-of-court agreement
Dissolution if you both agree on all divorce matters (uncontested divorce)
Consider negotiating all the terms with your soon-to-be ex-spouse or with the help of a mediator since a friendly or uncontested divorce in Alaska is less:
Complicated—You can complete and file all required forms yourself
Expensive—While you can consult a lawyer regarding certain matters, you won't have to pay for the whole legal service package from start to finish. Keep in mind that you'll need to settle the court fees. If you cannot afford them, you should apply for a fee waiver
Time-consuming—As you and your spouse have agreed on all matters, the court doesn't have to make decisions on important aspects, including alimony, child custody, or the division of property and debts. It means you can get divorced in 30 to 90 days, depending on the court's caseload and the judge's schedule
How To File for Divorce in Alaska
If you meet the residency requirements, you can file for dissolution or divorce in Alaska by completing and filing the appropriate forms.
Alaska Divorce Papers
The first form you need is a complaint or petition, depending on whether you've got minor children or not. You can get assistance on the following pages of the Self-Center Help website if you:
You can also access all the necessary forms on the Family Law Forms page.
Complete, sign, and file all the paperwork with the court if you and your spouse have discussed and agreed on all post-divorce details. Once you've settled all matters, you should list them in a divorce settlement agreement.
Prepare a Divorce Settlement Agreement Carefully
The court will ask to see your agreement to confirm that everything is according to law. Once the judge approves and signs the provided document, it becomes legally binding.
You may do the following to draw up your settlement agreement:
Hire an attorney—Consulting an experienced lawyer is smart, but you should consider the price. As attorneys charge per hour, you might end up spending a hefty amount
Use online templates—Keep in mind that some online templates are too generic and might not contain your state legal requirements
Register for DoNotPay—Our AI-powered app ensures your document meets your needs and wishes and follows all relevant laws
DoNotPay Draws Up Reliable Divorce Settlement Agreements
DoNotPay can help you generate a rock-solid divorce settlement agreement efficiently! Our app keeps track of all state and local legal regulation changes.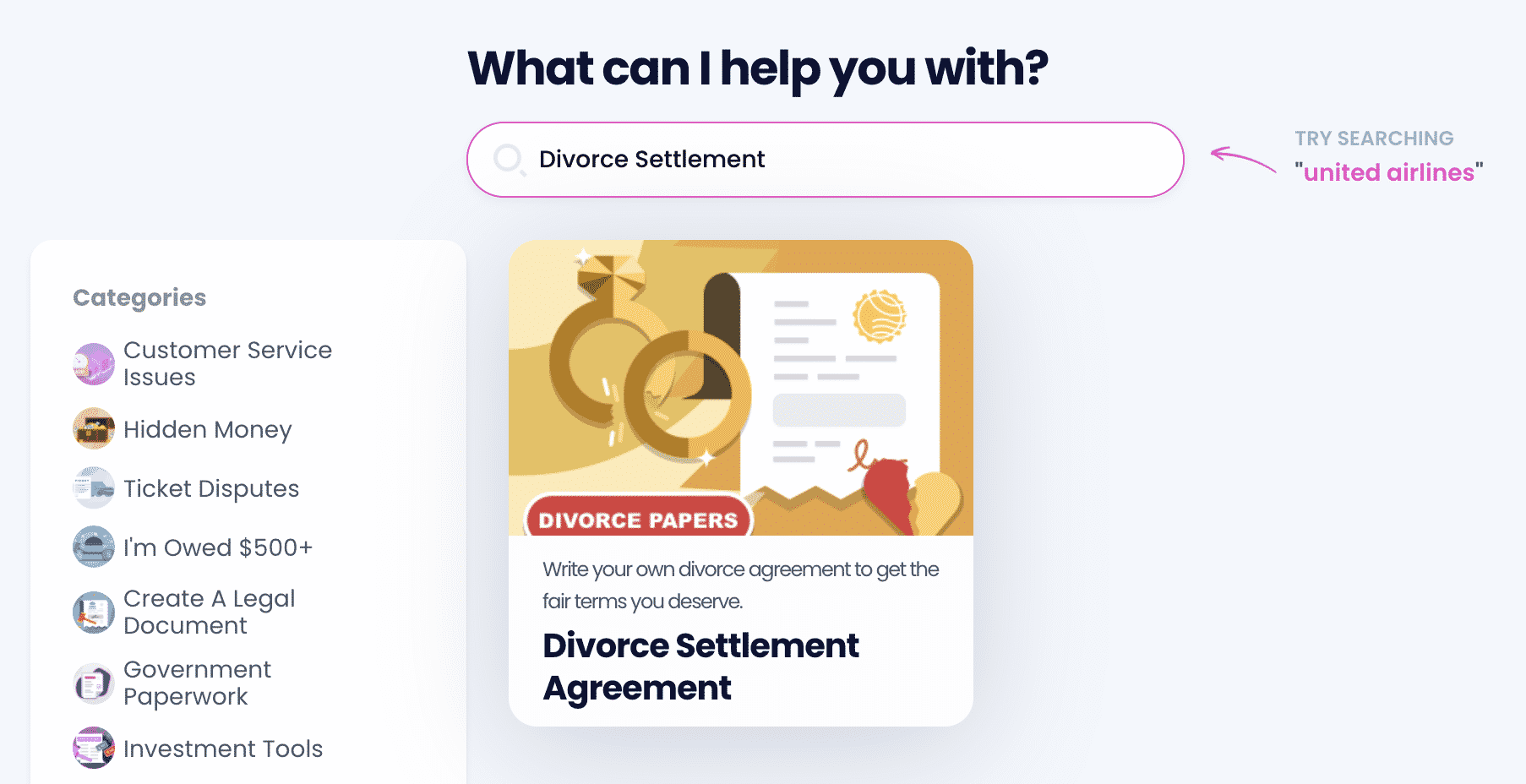 Subscribe to DoNotPay and follow these steps to receive the document:
Select our Divorce Settlement Agreement feature
Answer the chatbot's questions regarding your marriage and financial situation
State whether you need to get the document notarized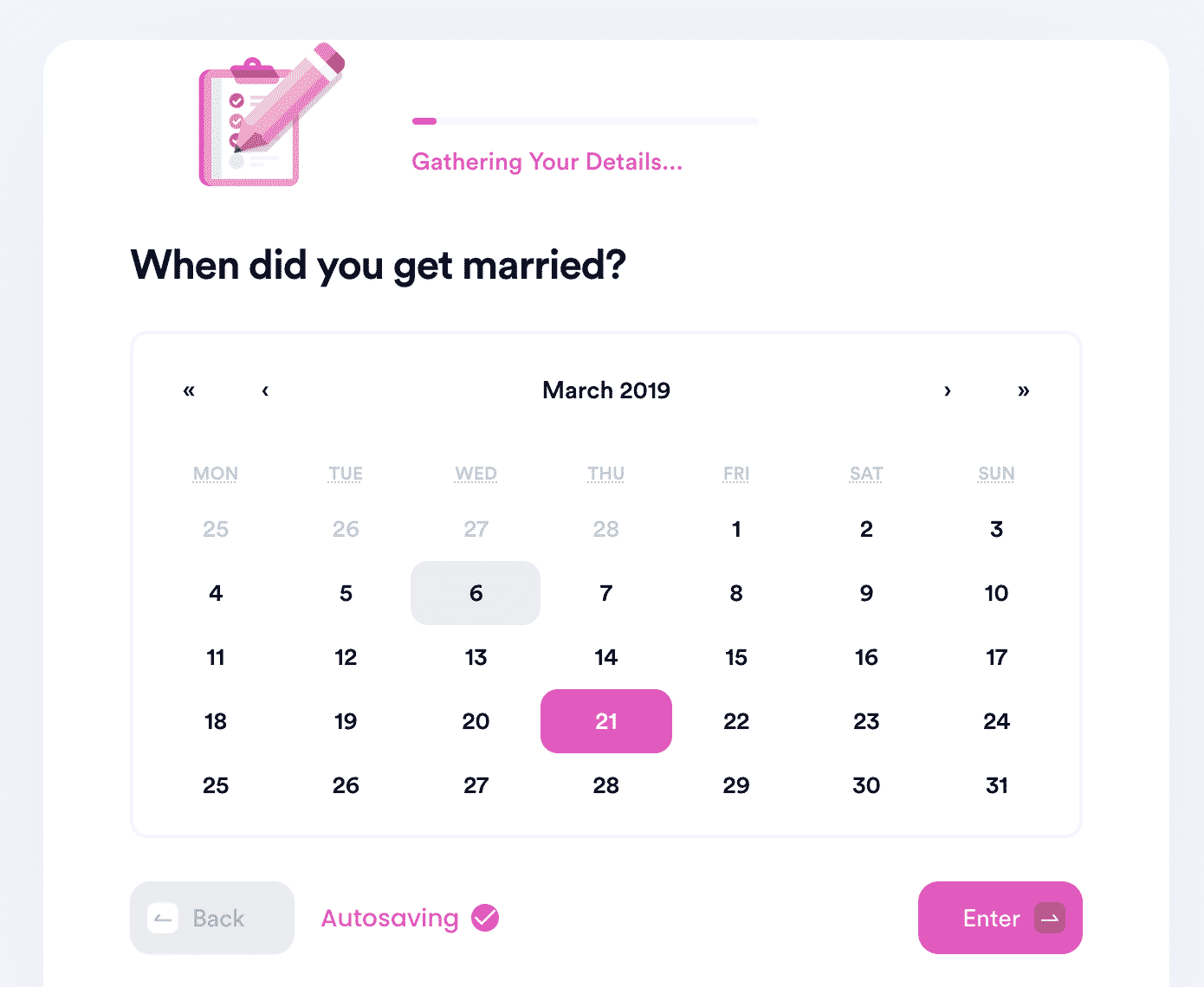 We use the provided data to generate a document tailored to your specific situation. Want to have the agreement notarized? DoNotPay can connect you with an online notary 24/7!
Learn About Additional Divorce-Related Matters
You can use our extensive database to get answers to lots of questions regarding the divorce procedure. Here are some of them:
DoNotPay Helps You Tackle All Kinds of Problems From the Comfort of Your Home
Are you too busy to go to Target, Walmart, or photo studios to get your passport photos taken? DoNotPay offers you the possibility of taking them yourself and having them edited without going anywhere!
Thanks to our app, you don't need to visit the post office if you want to initiate a return. You can also skip going to a notary office because we'll help you get your documents notarized.
Here are some other tasks you can complete with ease using DoNotPay:
We Help You Get Fuss-Free Subscriptions to Any Service
Interested in a specific service or platform? Make sure to get the best out of your free trial without getting charged and ending up with an unwanted paid membership. Even if you make a mistake, DoNotPay can end your subscription in a few simple steps!
Our system allows you to generate virtual credit card numbers to prevent platforms from getting your real bank details and using them for unauthorized transactions. We also offer burner phone numbers that will help you go through any subscription or verification procedure without disclosing personal details.