Everything You Should Know About Getting a Divorce in Alabama
Getting a divorce is never a fun procedure, but it doesn't have to be a horrible one. If both spouses are willing to work together, it is possible to end the marriage in a simple and friendly manner. DoNotPay is here to provide you with a useful guide on getting a divorce in Alabama.
We provide additional assistance by creating a divorce settlement agreement for you!
Legal Grounds for Divorce in Alabama
In Alabama, there are 12 statutory grounds for divorce:
Physical and incurable incapacitation that prevents a person from remaining in the marriage
Imprisonment in any state for at least two years, with a minimum sentence of seven years
Adultery
Abandonment for at least one year before filing for divorce
The commission of a crime against nature (with man or beast)
Addiction to habitual use of alcohol, opium, morphine, or other drugs
Confinement in a mental hospital for a minimum of five years
Pregnancy at the time of marriage without the husband's knowledge
Violence against the other spouse
Wife living apart from her husband in Alabama for at least two years without support from him
Incompatibility of temperament that prevents the spouses from living together
Irretrievable breakdown of the marriage
The last two grounds from the list are most commonly used and are considered no-fault. You can file for divorce in Alabama without blaming the other spouse for the termination of your marriage. People who generally opt for no-fault divorce also agree on all important matters and end up having an uncontested divorce.
Uncontested Divorce in Alabama—Essential Information
In Alabama, an uncontested divorce is also called a simple divorce. To get an uncontested divorce in the Cotton State, you need to meet the following requirements:
One of the spouses needs to be an Alabama resident for a minimum of six months before filing for divorce
Both spouses need to be available and willing to sign all the required paperwork
Both spouses need to agree on all matters regarding settlement issues (alimony, child custody, and division of property and debt)
There is no need to hire a lawyer to get an uncontested divorce in Alabama, and it is possible to represent yourself during the process. Spouses have the option of handling everything on their own, or they can use an online service that helps with the process. Two of the greatest benefits of an uncontested divorce are its cost and the time it takes to be finalized.
How Much Does It Cost To File for Divorce in Alabama?
An uncontested divorce is a low-cost option because there are no additional expenses, like going to court multiple times or hiring a lawyer.
The exact amount that you will need to cash out for filing fees will depend on the county you are filing for divorce in. You can expect this expense to be between $300 and $400, depending on whether you have underage children.
How Long Does a Divorce Take in Alabama?
An uncontested divorce in Alabama usually takes between six and ten weeks after both spouses have signed and filed everything with the court.
Divorce Papers Alabama—What Forms Will You Need To Complete?
When filing for an uncontested divorce in Alabama, you will need to collect and complete the following forms:
Divorce complaint (PS-08)
Answer to divorce complaint (PS-21)
Plaintiff's testimony (PS-09)
Request for divorce judgment by default (PS-10)
You should also check with the court in the county where you are filing for divorce if there are any additional divorce papers.
How To File for Divorce in Alabama
Filing for an uncontested divorce in Alabama is simple, and you only need to follow these steps:
Gather and complete the required forms
Make copies of the forms
Create a divorce settlement agreement
Serve your spouse with the forms (you can ask a sheriff or a third-party who is at least 19 years old and not a part of your case to deliver the forms)
Use DoNotPay To Create a Divorce Settlement Agreement in Alabama
A divorce settlement agreement is a crucial legal document you need when filing for an uncontested divorce. It is important to create a document that covers all the relevant matters, and DoNotPay can help you with this task! You only need to complete these steps:
Find our Divorce Settlement Agreement product
Answer a few questions about your spouse
Provide some information about your income
If you want to get your divorce settlement agreement notarized fast and easily, you can choose that option while going through the steps!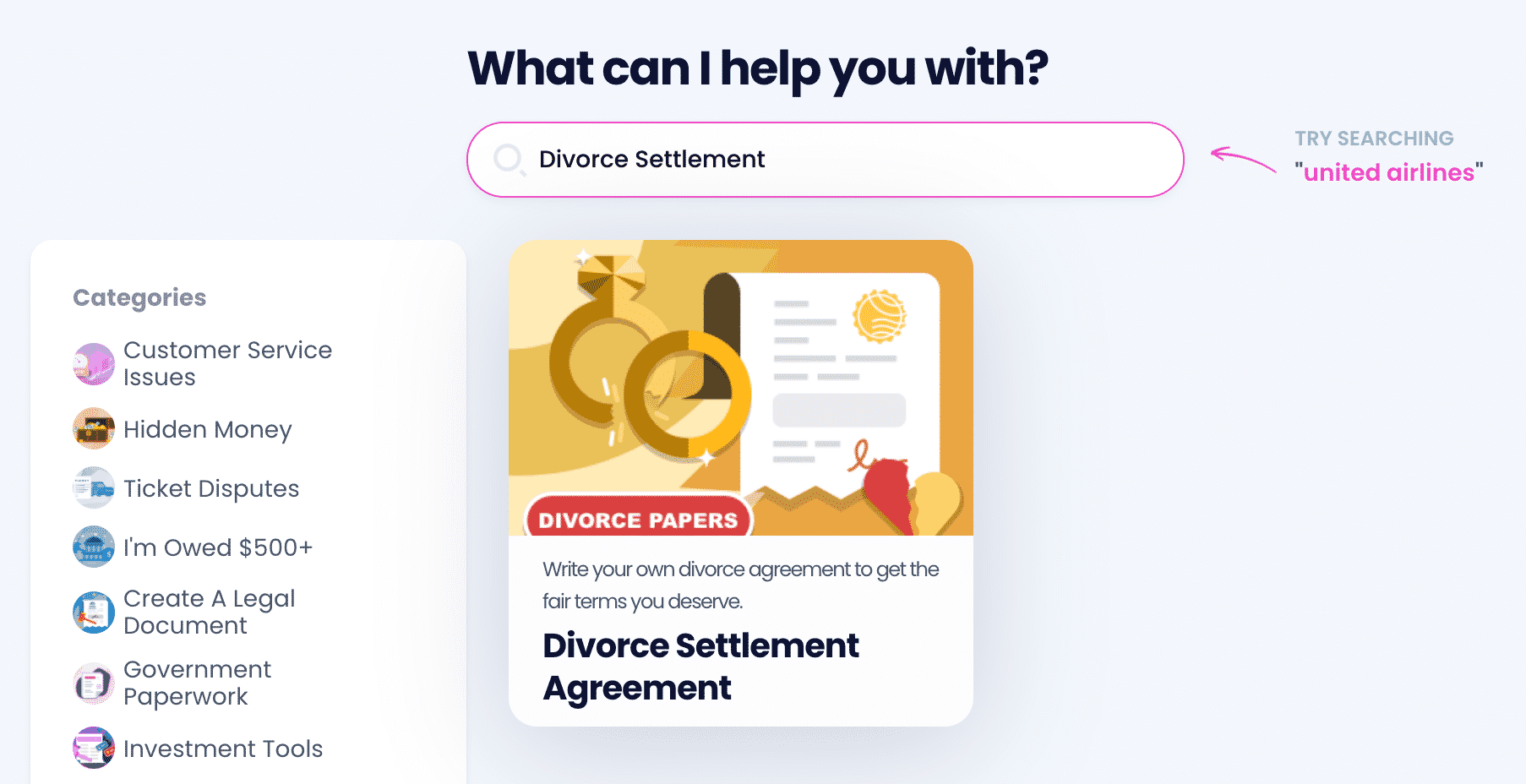 DoNotPay can also provide you with answers to these common divorce questions:
DoNotPay—Quality and Quantity
Our platform provides a multitude of useful tools, products, and services that anyone can benefit from. DoNotPay is a proper virtual assistant that can minimize your paperwork, protect your consumer rights, increase your productivity, or keep you safe online.
The best part is that we keep adding more awesome features all the time—all available for a small subscription price. Take a peek at a small part of our portfolio in the table below:
| | | |
| --- | --- | --- |
| Online Safety | Customer Protection | Administration Shortcuts |
| | | |
It Gets Even Better!
With your DoNotPay subscription, not only do you get a powerful weapon to fight boring and annoying daily tasks, but you also get a great resource for earning more money.
You can use our platform to enter free raffles, secure compensation for fighting robocalls, get your cash back from used gift cards, or find unclaimed money under your name, no matter the state.