Everything You Need To Know About Divorce in Alabama—Alimony Terms Clarified
If you want a permanent separation from your spouse, you must get acquainted with all the required state laws regarding alimony. Whether you're the high-earning spouse or not, understanding alimony laws is essential to end your marriage without troubles.
In this article, DoNotPay will teach you what you need to know about divorce in Alabama and its alimony specifics—the different types of alimony and the ways to calculate the right amount.
Alimony in Alabama Explained
Alimony is a recurring payment that the higher-earning spouse makes to the lower-earning one so they can manage their day-to-day expenses after the divorce. There are three types of alimony available in Alabama, as mentioned in the table below:
Types of Alimony
Explanation
Interim support
Interim support—or alimony pendente lite—is a temporary payment given to the lower-earning spouse during the divorce process.

To qualify for this support, the receiving spouse needs to prove to the court that they require alimony and that the other spouse can provide it

Periodic alimony
For this type of alimony, one spouse sets a recurring period—usually a week, fortnight, or a month—to pay a specific amount to the other. Also known as rehabilitative support, this amount helps the spouse get education or career training to become a self-supporting individual.

The maximum time limit for periodic alimony in Alabama is five years

Permanent alimony
With permanent alimony, one spouse financially supports the other spouse indefinitely because of their age, health, or disability.

Although Alabama has set a five-year limit, courts allow permanent alimony in cases where:

The couple has been married for over 20 years
A spouse can convince the court of their need for constant financial support
Eligibility for Alimony in Alabama
It is the court's responsibility to ensure that the alimony terms and conditions are fair for both spouses.
The following factors are evaluated by the court when confirming a spouse's eligibility for alimony in Alabama:
Financial statements of both parties
The duration of the marriage
The age and health of both spouses
The couple's standard of living
Property, income, and asset distribution between the spouses
Employment and employability prospects
The extent to which one spouse reduced their career opportunities for the benefit of the family
The respective fault of the spouses for breaking of the marriage
Contribution by any spouse to the other's education
Any destruction, concealment, or fraudulent disposition of marital assets and property
Any expenses related to domestic violence
Other factors deemed necessary by the court
Once the judge has decided that alimony is required, the next step is to calculate the amount and duration of the financial support.
How Is Alimony Calculated in Alabama?
Alimony is calculated on a case-by-case basis in Alabama. No set rule determines the financial support allocation. If any spouse feels that the amount is unjust, they can request the judge to reconsider. In case you want an out-of-court settlement, you can also work out the alimony terms and conditions with your spouse or hire a mediator to help both sides come to an agreement.
You can make the divorce process smooth and seamless if you file for an uncontested or friendly divorce. In an uncontested divorce, you and your spouse decide on the main divorce-related matters. After negotiations, you can compile them in a written agreement without hiring a lawyer to do it for you.
If you want a more convenient solution, , and get a divorce settlement agreement within minutes!
Create a Killer Divorce Settlement Agreement With the Help of DoNotPay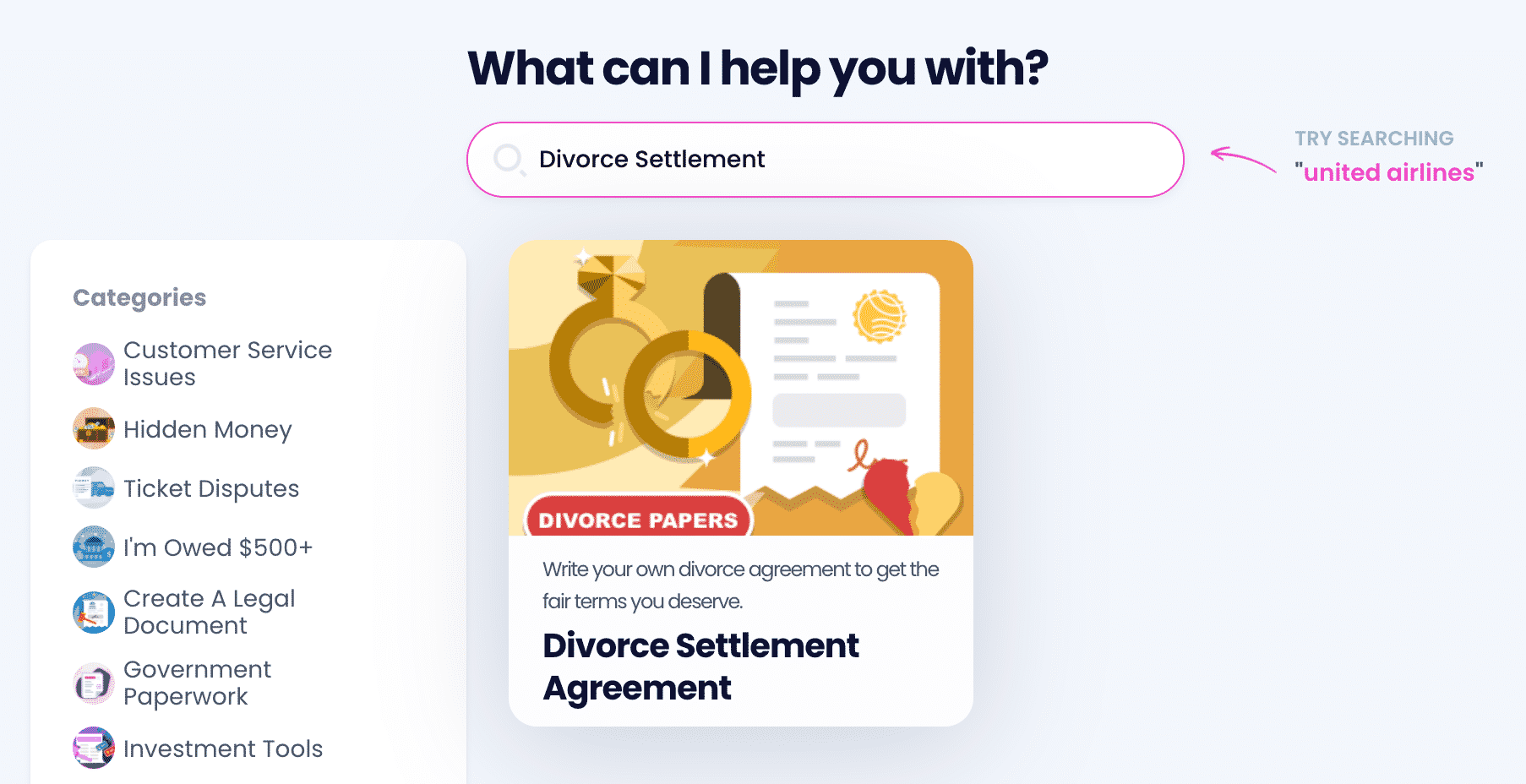 A watertight divorce settlement agreement includes all the crucial details of alimony and can help you get a divorce smoothly! You can use our Divorce Settlement Agreement tool to create this legal document without spending hundreds of dollars!
All you need to do is follow these quick instructions:
from your web browser
Select the Divorce Settlement Agreement feature
Provide information to our chatbot to customize the document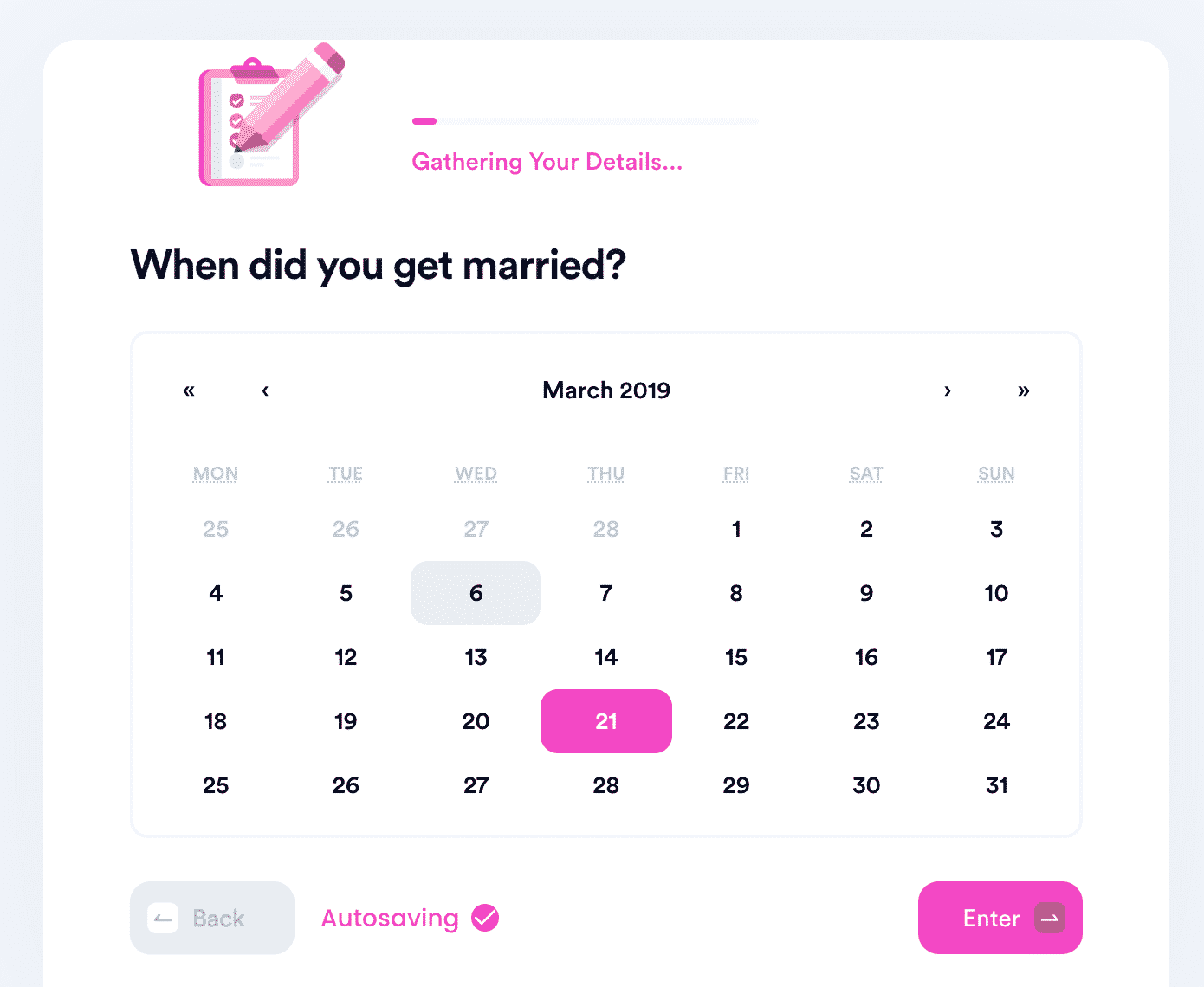 Once we create the document, you and your spouse should sign it and consider getting it notarized. To avoid wasting time looking for a notary, fill out our questionnaire, and get connected to an online notary in no time! You can schedule an appointment and get your agreement notarized in a video call!
Want More Divorce-Related Info?
Do you want to know more about how the divorce process works? Explore DoNotPay's knowledge base and find helpful guides on general and state-specific topics listed in the table below:
| | |
| --- | --- |
| General Topics | Alabama-Related Info |
| | |
No More Wasting Money on Lawyers
Spending hundreds of dollars on lawyers seems like a waste, especially when you have a more convenient solution at your fingertips. We developed various neat features that make performing dull legal tasks feel like a breeze! The best part is that you can use them from the comfort of your home or office.
Consult the list below to see the tasks DoNotPay can help you with:
DoNotPay Offers Additional Helpful Tools
Legal tasks aren't the only ones DoNotPay can help you with! We can provide assistance for an abundance of different tasks—from stopping the pesky spam emails to contacting your incarcerated loved ones. Check out the table below and learn how to use our app to:
| | |
| --- | --- |
| Deal With Companies | Deal With Other Tasks |
| | |