What Is a Divorce From Bed and Board in NJ? DoNotPay Knows!
Do you want to get a divorce in New Jersey but are currently unemployed and dependent on your spouse's health care? You should consider getting a divorce from bed and board in NJ. We will tell you everything you need to know about this type of divorce, including how to create a divorce settlement agreement in a flash .
Bed and Board Divorce in NJ—The Basics
Divorce from bed and board in New Jersey is a formal court process also known as a limited divorce. This type of divorce is the equivalent of legal separation in other states.
Divorce from bed and board is a form of legal separation that ends the financial aspects of marriage and resolves major divorce-related issues, such as:
Even though this type of divorce settles all the typical divorce terms, the couple remains legally married, meaning neither party can remarry.
The grounds for a divorce from bed and board are the same as grounds for an absolute divorce in NJ.
What Are the Grounds for a Divorce in NJ?
Grounds for a divorce in NJ depend on the type of the process, as follows:
Type of Divorce
Details
No-fault
In a no-fault divorce, none of the spouses is responsible for the breakup of the marriage, and the grounds for divorce lie in irreconcilable differences
Fault-based
A fault-based divorce in NJ means that one of the spouses is to blame for the end of the marriage. The grounds for a fault-based divorce are:

Addiction
Institutionalization for mental illness
Abandonment
Extreme mental or physical cruelty
Imprisonment
Deviant behavior
Adultery
How Is the Divorce From Bed and Board in NJ Different From an Absolute Divorce?
The main difference between a divorce from bed and board and an absolute divorce is that the parties stay married and can't remarry if they opt for the former one. Additional differences are listed below:
Why Do People Decide To Get a Divorce From Bed and Board?
People usually choose to go with a divorce from bed and board for two reasons:
Religious
Health insurance
Religious Reasons
For some people, divorce from bed and board is the only option because of their religious objections to divorces.
Health Insurance
In most cases, people consider a divorce from bed and board because it permits a dependent spouse to retain health insurance coverage that is provided by a supporting spouse's employer.
Since health insurance is expensive, the dependent spouse will have difficulty finding affordable insurance after divorce. Sometimes, a couple can agree to a divorce from bed and board for a limited period so as to give the dependant spouse time to find a job with better benefits.
What Are the Pros and Cons of a Divorce From Bed and Board?
Consult the following table to learn about the advantages and disadvantages of a divorce from bed and board:
Pros
Cons

The dependant spouse can continue to use the medical benefits to their advantage
A spouse of a veteran still has the right to the veteran's property tax exemption under New Jersey State law
Both parties can claim Social Security retirement benefits
The benefits of survivorship for most pension plans aren't terminated
The couple can reside jointly in the marital residence

No party can claim an elective share against the estate of the other spouse
None of the spouses can claim the property in the will after this divorce
Both parties are considered unmarried as far as federal taxes are concerned
The parties can't remarry
The couple will have to make an application to the court and pay any incurring fees to convert this type of divorce into an absolute divorce
How To File for Divorce From Bed and Board in NJ
Filing for a divorce from bed and board in NJ is virtually the same as filing for a regular divorce, but the forms for divorce from bed and board are different. These are the steps you'll need to follow to file for divorce from bed and board:
How To Create a Divorce Settlement Agreement With DoNotPay's Help
Whether you're getting a divorce from bed and board or wish to file for a friendly, uncontested divorce, DoNotPay can help you create a document that will lay out all the terms of your divorce—a divorce settlement agreement. Hiring a lawyer to create this document will burn a hole in your pocket, and finding templates online could turn out to be risky, mostly because they won't be personalized to your case.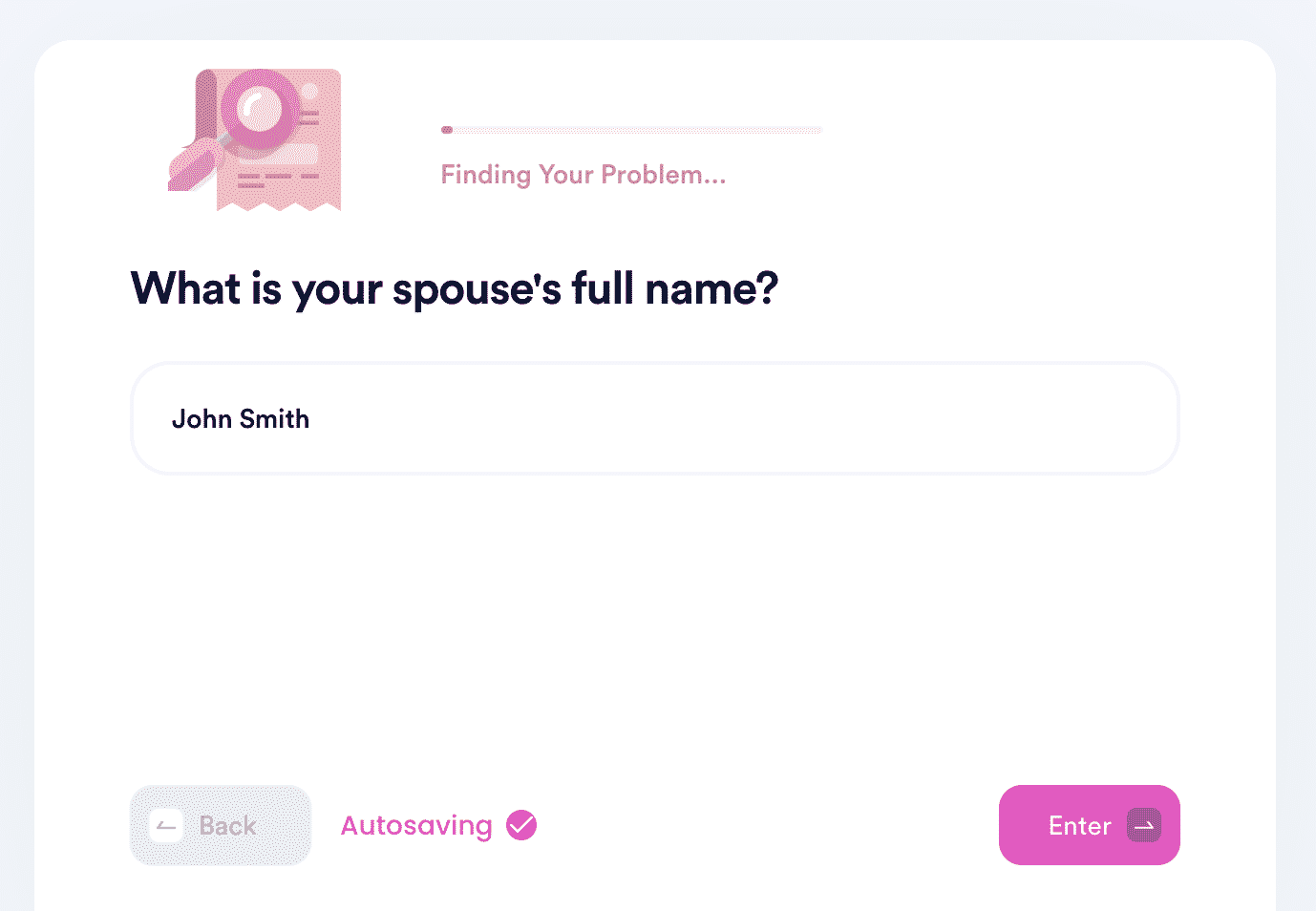 DoNotPay will create a mistake-free divorce settlement agreement that is tailored specifically to your needs and that won't break the bank. All you need to do is and follow the steps below:
Type Divorce Settlement Agreement into our search bar
Provide all the necessary information, including how you want to split your assets
Specify whether you want us to connect you with an online notary in NJ to get your divorce document notarized
After you complete the steps, DoNotPay will generate your document immediately, and all there's left to do is for you and your spouse to sign it.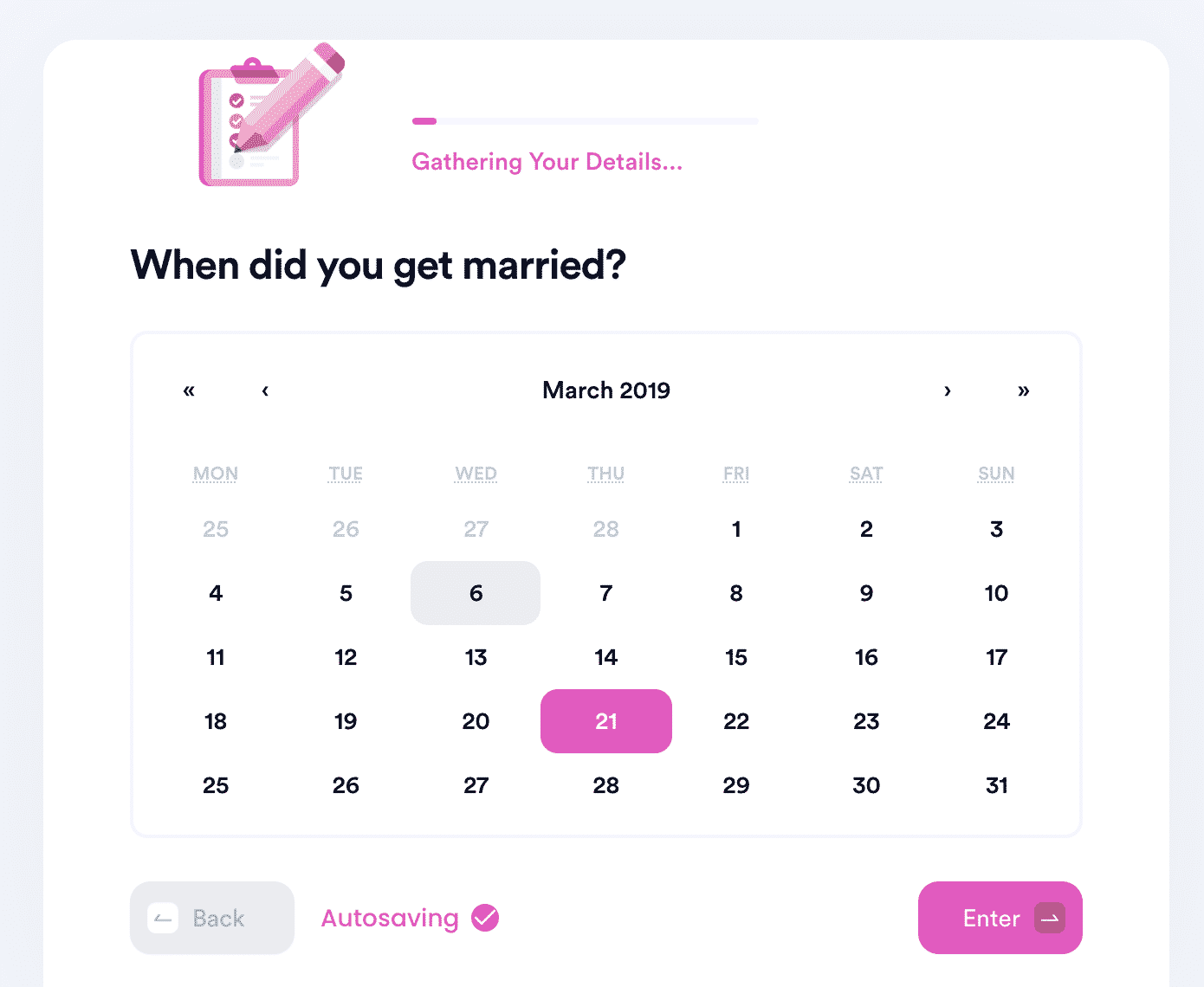 DoNotPay can help with other divorce-related questions you might have, such as:
Tackling Administrative Issues Has Never Been Easier
DoNotPay was created to help you deal with burdensome everyday tasks you would rather skip. The features we offer will make sure you can:
Dealing With Legal or Security Issues? DoNotPay Will Make Them Go Away
Has a company refused to issue a refund you are entitled to? Sue it in small claims court and get your money back with the help of the world's first robot lawyer! You can also turn to us if you want to protect your work from copyright violation, prevent stalking or harassment, or get virtual credit cards to avoid disclosing your credit card info.
Besides assisting you in seeking justice and security, DoNotPay can help you arrange DMV appointments, contest parking tickets, prepare divorce settlement agreements, and compose various legal documents.