What You Should Know About a Divorce Fee Waiver Form
Would you like to get divorced but don't have a lot of money? You can get a low-cost or even free divorce if you collect the right details. Start investigating divorce types, papers, and filing steps, and prepare your divorce budget carefully.
If you cannot afford the court filing fees, you should fill out a divorce fee waiver form and file it with the court for review. This article provides all the necessary info, and DoNotPay presents a way to deal with part of the necessary paperwork—your divorce settlement agreement.
What Is a Divorce Fee Waiver?
To file for divorce, you need to pay certain court fees. If you cannot afford them, you should ask the court for a fee waiver.
In case the court approves your request, you could avoid paying the required fees for the following services:
Filing the court forms
Having a sheriff's office serve the divorce papers to your spouse
Attending a mandatory parenting program
Receiving certified court document copies
Obtaining recordings, transcripts, or some other court services
Can I Get a Fee Waiver for Divorce?
You can get a divorce fee waiver if you:
Don't earn enough money
Have lots of expenses
Receive government help, including:

Welfare
Food stamps
Supplemental security income
State supplement, e.g., aid to the aged, blind, and disabled
To ask for a fee waiver, you should complete a divorce fee waiver form and file it with the court.
Where To Find a Divorce Fee Waiver Form
Most state courts provide a fee waiver form on their websites, so you can download and complete it on your computer.
This form is usually in a fillable PDF format and calculates the required fields automatically when you enter the necessary figures. Read the provided instructions carefully to avoid potential mistakes.
If you prefer completing the documentation by hand, you should check the instructions on the form or ask at the court clerk's office whether this is allowed. In case it is, you can either:
Print the downloaded divorce fee waiver form
Get the form at the court clerk's office
A Divorce Fee Waiver Form—Read the Instructions
Before completing a divorce fee waiver form, you need to read the given instructions and find out:
Whether you need to:

Fill the form out electronically or print and input the information by hand
Sign the form before a court clerk, notary public, or lawyer

Where to file the form
Whether you may ask for a hearing in case the court denies your application
How To Complete a Divorce Fee Waiver Form
While a divorce fee waiver form varies from state to state, here's what you're usually required to provide:
The Top of the Divorce Fee Waiver Form
The Rest of the Divorce Fee Waiver Form

Name of the case
Docket number
Judicial district
Court address
Your name
Address
Phone number
The type of case—You should choose divorce or dissolution of marriage from the offered options

Dependents—People who live with you and depend on you for food, shelter, clothing, etc.
Monthly income—Both gross and net monthly income
Monthly expenses—Rent, mortgage, real estate taxes, utilities, food, insurance premiums, clothing, health care, transportation, and childcare
Assets—House, vehicles, furniture, cash, etc.
Debts—Unpaid bills, loans, credit cards, etc.
What To Do With the Completed Divorce Fee Waiver Form
Here are the steps you should take once you've completed the fee waiver form:
Have it notarized, if required (check in the instructions or with the clerk's office)
Make a copy of the completed and signed form for your records
File the original form with the court clerk's office
Where To Look for Help When Preparing a Divorce Fee Waiver Form and Other Paperwork
Before you start filling out a divorce fee waiver form, you should gather the necessary information. If you need help filling out this form, you could:
Ask someone at the court clerk's office to provide an explanation on the parts you're not sure about (e.g., to provide the docket number, if applicable)
Consult with a lawyer or financial expert about the sections and calculations you cannot complete alone
Additional Divorce Documentation
If you and your spouse go through a friendly and uncontested divorce, you can:
Keep in mind that you will also need to create a divorce settlement agreement—a legal document that should include all the agreed-upon divorce matters, including:
If dealing with legal documents is not your forte, register for DoNotPay to get a rock-solid divorce settlement agreement in a flash!
DoNotPay Is a Reliable Divorce Settlement Agreement Generator
Like all the other paperwork that you have to file with the court, a divorce settlement agreement should also be prepared with care. You need to take into account relevant state laws to create this document correctly.
Our AI-powered app can help you with this. We know the current legal requirements and will make sure your agreement meets them.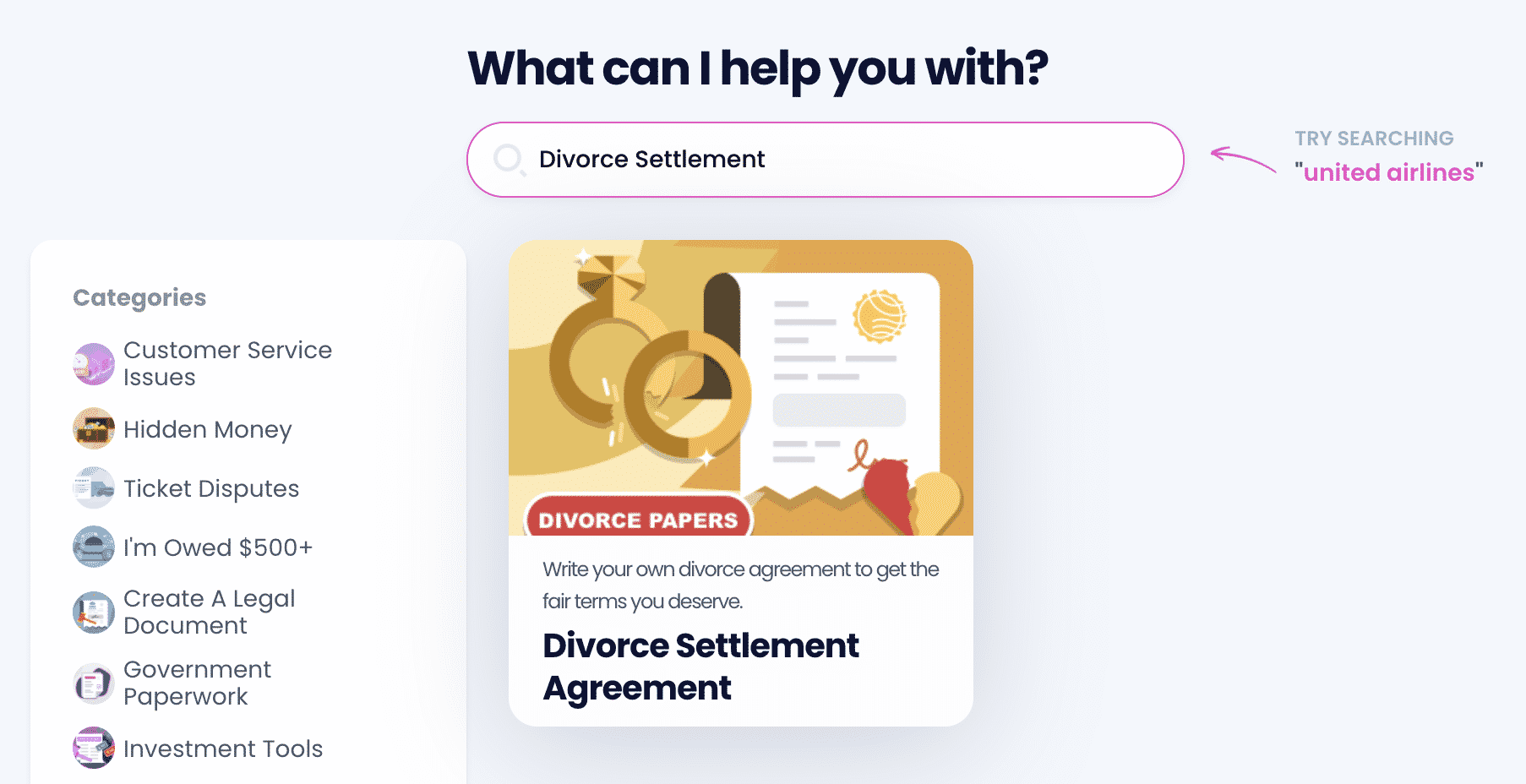 Here's what you should do—sign up for DoNotPay and take these steps:
Select the Divorce Settlement Agreement feature
Provide the information on the divorce matters you and your spouse agreed on
Choose if you'd like to get the document notarized online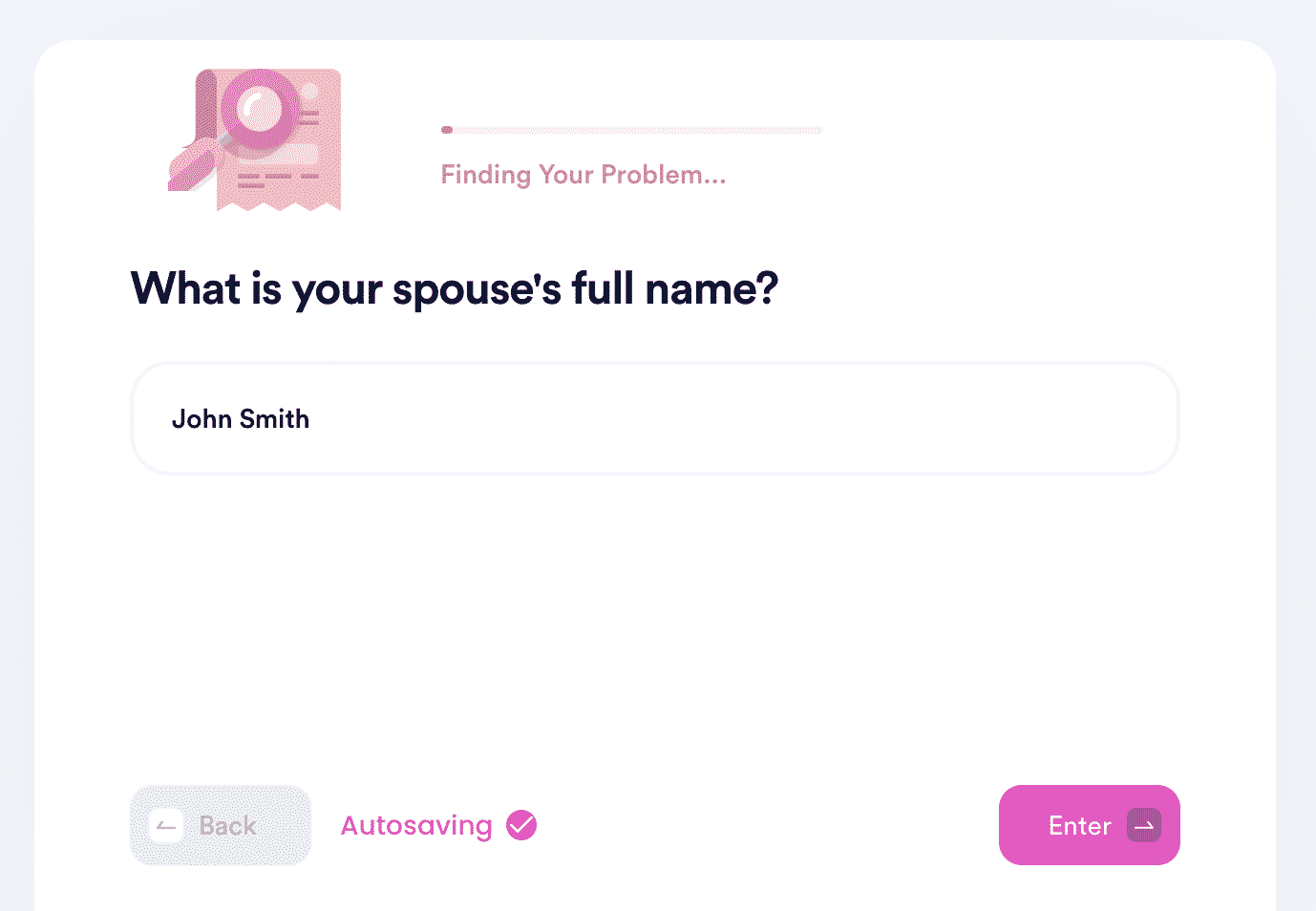 Get Familiar With Various Divorce Topics
Getting divorced can be time-consuming, expensive, and nerve-racking if you don't familiarize yourself with the process in advance.
That's why you should browse through our extensive knowledge base. We provide answers to many questions, such as:
Would you like to see what the divorce process looks like in different states? Check out the table below:
There Is No Shortage of Tasks DoNotPay Helps You With
If you find finishing administrative tasks tedious, you can rely on our app to assist you through the entire process and make it a smooth-sailing experience. Check out the table below to find out what DoNotPay can help you do:
| Deal With Companies By | Get Rid of Pesky Spammers By | Get Help With Your Studies By |
| --- | --- | --- |
| | | |
Buried in Paperwork? Not for Long!
Is creating legal documents giving you a migraine? Not everyone is acquainted with the law and legal jargon, which is necessary when writing documents, such as:
Luckily, DoNotPay can draft your legal documents in minutes! Why waste hours doing it yourself or hire a lawyer when you can have our app do it in no time?
Creating anonymous HR complaints and demand letters for your inconsiderate neighbors is also something our app does best!