Filing for Divorce? Find Out What Divorce Documents You'll Need
Filing for divorce is stressful and emotionally draining as it is. Tiresome legal paperwork is a cherry on the cake.
If you didn't make a prenuptial, separation, or marital settlement agreement, divorce might cost you more than you think, so you should try to avoid paying the earth for legal assistance. Don't fret—DoNotPay has all the vital information and can inform you about all the divorce documents you are going to need.
Why Are
Divorce Documents
Important?
When it comes to divorce proceedings, having the right documentation can be a game-changer. Divorce documents help the court determine who is right and who is wrong. They can save you and your lawyer time and money and prevent unpleasant flare-ups.
Providing the right divorce documents can help you:
Divide the funds that you earned together during the marriage

Distribute the debts and property accordingly

Obtain a spousal support

Get custody of the children
Useful Tips for Gathering
Divorce Documents
Managing a divorce isn't breezy. When it comes to collecting divorce documents, you should tread lightly and consider the following strategies:
Start gathering documents before starting the process

—As with any paperwork, collecting documents for divorce is a long and tedious task, so it is best to prepare them on time. In some cases, spouses try to hide the documents to prevent the divorce, so it's recommended to get them before announcing the divorce

Bring all of your divorce documentation to a legal consultation

—If you bring the documentation to your attorney, they will have much better insight into your situation, and it will help them prepare better for the trial. Be sure to make copies of the documents for yourself
The List of
Documents Needed To File for Divorce
When filing for divorce, you may need a whole stack of papers. You can find a list of the most common divorce documents in the following table:
Document Category

What Does It Include?

Personal Information

Your and your spouse's IDs, passports, or other documents that provide your contact information

Proof of state of residency

Current

child custody agreements

Child care agreements

Children's birth certificates

Prenuptial or

postnuptial agreements

Tax and Income Documents

Tax statements from the previous year

Tax returns

Financial statements

Buy-sell agreements

if you're self-employed

Real Estate Documents

Property appraisals

The cost basis of a home supporting documents

Mortgage records

Tax assessor's statement

Personal Property Documents

An inventory list with estimated values for the entire household

A separate inventory list for art, jewelry, antiques, and collectibles

Another inventory list for boats, vehicles, and trailers

Debt and Credit Information

Delinquent tax returns

Credit card loan contracts

Student loan agreements

Joint bank accounts contracts

Credit reports

Estate Planning Documents

Wills

Living will documents

Certification of trust

Powers of attorney

Business Documents

Other Documents

Life insurance policies

Documentation of received inheritance by any of the spouses

Other insurance policies

A list of major bills, like medical bills or college tuitions for children
There are many documents on this list and many more that couldn't fit here. What documents exactly you're going to need depends on your case. It is best to consult with a lawyer and get precise instructions.
DoNotPay Is Your Go-To Assistant for Generating Legal Documents
Regardless of whether you are writing a non-binding agreement or a legally binding contract, the process is difficult and requires some legal experience.
Hiring legal assistance is a great option if you can afford it. If that's not the case, you can download a contract template from a reliable website, but no one guarantees you that the sample will suit your situation.
Writing a contract with DoNotPay's help is as easy as ABC. We use an extensive database of laws and regulations from every state in America, which enables us to create valid and enforceable documents.
Follow these steps to get a custom-made legal document of your choosing:
Open DoNotPay in a

Type in the name of the document you want us to generate

Answer a couple of our chatbot's questions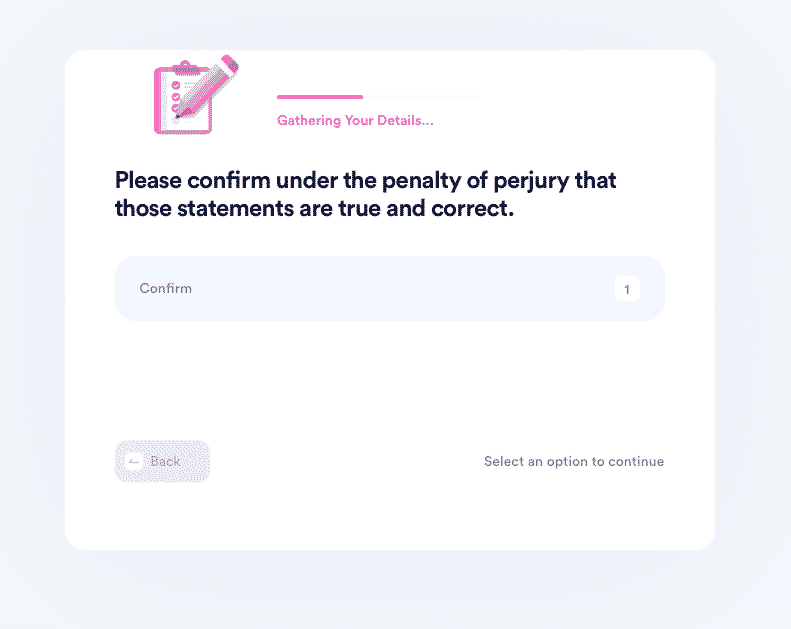 After we make a personalized contract or document for you, feel free to:
Download

Print

Sign

Fax

the document to other signing parties
Make the Most of DoNotPay's Standardized Legal Documents Feature
With , you can create the same legal document as many times as you want. Here are some of the documents we can draw up for you:
General Affidavit

Quitclaim Deed

General Business Contract

Estoppel Certificate

Intent To Purchase Real Estate
That is not all we can do! You can use our learning center to get the most valuable info about various agreements and legal documents, such as:
Hold Harmless Agreement

Wedding Photography Contract
Your Online Safety Is Our Priority
The benefits of the internet are numerous, but so are the opportunities for scams of all kinds. DoNotPay can help you fight scammers left and right with easy-to-use features, highly customizable to match your needs.
Our app can provide invaluable resources for fighting:
If you're an avid online shopper, we have your back. In case something goes wrong, we will help you contact customer service without holding, request a refund, or even sue the company in small claims court.
Diversity Is Our Middle Name
DoNotPay doesn't stop at online safety. Do you need to set up an appointment at the local DMV, but keep procrastinating because you know how awful the lines are? Are you a prospective college student trying to save on application fees? Have you lost track of all unnecessary subscriptions and memberships that keep draining your bank account?
If the answer is yes, DoNotPay is the right platform for you. Whether you're preparing for government-issued tests or looking for ways to lower your bills, our app will be of assistance.