Divorce Document Preparation—Save Money and Time You'd Spend on Lawyers
Getting through a divorce can be tough. Divorce document preparation helps you make the best out of a bad situation. Divorce lawyers can cost you a fortune, and the entire process can last exhaustingly long, especially if you don't have a prenuptial agreement and custody agreement in place.
DoNotPay can help you prepare all the legal documents needed for a divorce, saving your time and money.
Why Is Divorce Document Preparation Crucial?
If you have already decided that you want a divorce, you have only taken the first step on a very long road. Getting an uncontested (default) divorce is slightly easier than when your spouse contests the divorce petition and drags out the process significantly.
Preparing divorce documents can save you from headaches, and it is crucial in the long run. The preparation will help the financial, custodial, and legal aspects of the divorce. If you have children, it can help you win custody; your property will be divided fairly, and so will any potential debts. Without divorce prep, you may lose an entire year or even more in court.
Should You Do Divorce Document Preparation on Your Own?
If you google 'divorce document preparation,' you'll find many attorneys and paralegals who offer to do it for you. Note that their services aren't cheap, and sometimes, they are not necessary. Here's when it's safe to do the preparation yourself:
You have all the necessary financial information (family property, debts, etc.)
Your spouse agrees with getting a divorce, dividing your assets, and wants to be fair about child support and custody
You are also fine with the terms mentioned above
It's always best to consult with an attorney before a divorce, but you can also DIY the document preparation and save money.
How To Do Divorce Document Preparation Right
Divorces aren't easy, and you should be thorough when preparing for one. Prepare the documents ahead of time—even before you announce your decision to your spouse. When divorce is imminent, a distressed partner can try to hide or dispose of the debt documents, title deeds, and similar and make the process difficult.
Talk to an attorney before and after getting the divorce documents. They can tell you what documents you need and assess your situation better when the paperwork is neat.
The Necessary Documents for Divorce Preparation
You need a whole binder of documents if you want to prepare for your divorce right. You should compile the documents from the following table for an airtight divorce process:
Document Type
What To Include
Personal documents
Financial documents

Earnings records for the past years
Financial statements
Employment contracts
State and federal tax returns
Net worth information
Savings certificates
Investment and bank statements

Real estate documents

Property appraisals
Grant deeds
Tax assessor's statements
Mortgage statements
Refinance documents
Rental and vacation property documents

Insurance and pension documents

Life insurance policies
Pension or retirement funds
Car insurance policies

Personal assets documents

Registration of owned vehicles
Jewelry, art, and other ownership records
House inventory list

Credit and debt documents

Credit cards
Loans
Medical bills

Partnership and business documents

Business or corporate tax returns
Financial statements for the past five years
Recent financial statements

Estate planning documents

Certifications of trust
Powers of attorney
Healthcare directives
Living wills or wills
DoNotPay Is Your Best Option for Creating Any Legal Document
Divorce document preparation is difficult, but you are not alone. DoNotPay can help guide you through the drafting processes or even draft some documents for you. You don't need a contract template or expensive lawyers. We have guides for numerous documents and a wide database of guides with legal information, including state-specific guides and solutions.
If you sign up for DoNotPay, you can create customized legal documents in three steps:
Open our website and log into your account
Enter the name of the document you need
Answer the questions from our website's chatbot so we can personalize your doc
And that's it—we'll get your document ready, and you will be able to download, print, and sign it.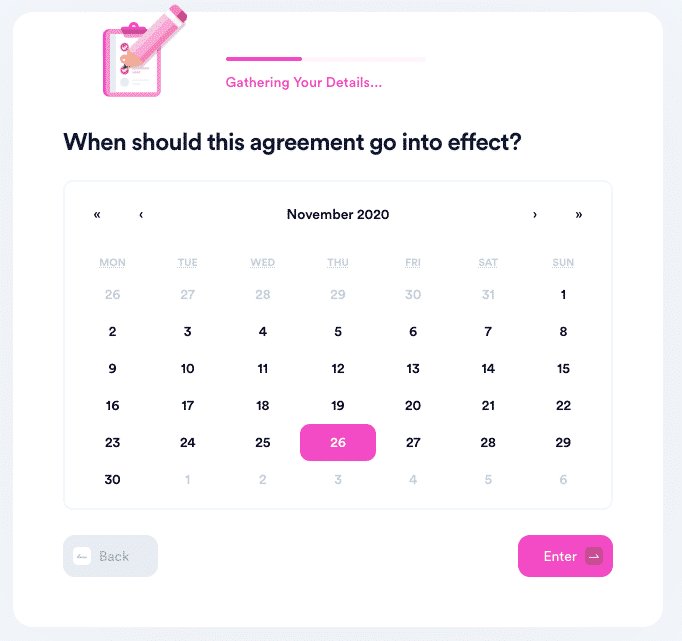 Some legal documents require notarization, but we have that covered too. With our Notarize Any Document feature, you can get a notary stamp and signature from a remote notary public in minutes.
Use DoNotPay' Standardized Documents to Your Advantage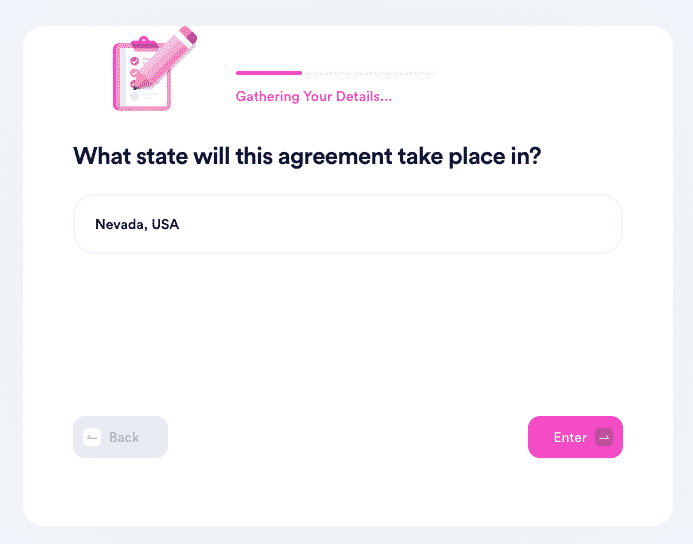 DoNotPay can do much more than help with divorce document preparation. We draw up various documents for you:
Prenuptial agreement
Custody agreement
Promissory note
Child care authorization form
General affidavit
Intent to purchase real estate
General business contract
Quitclaim deed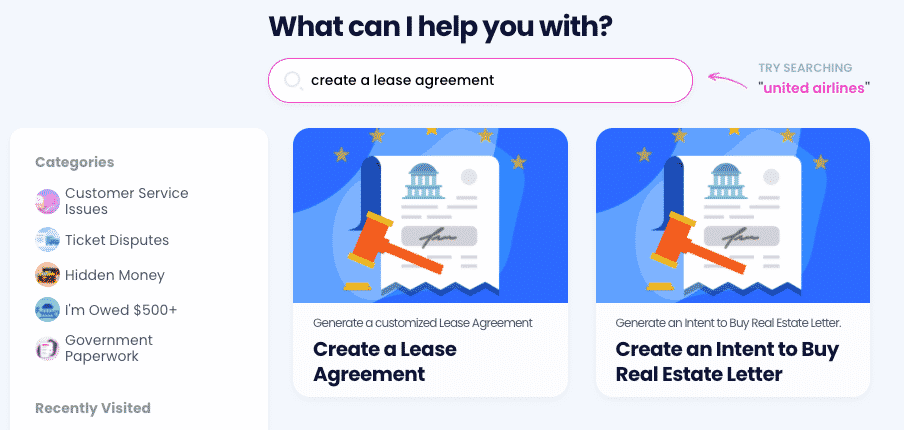 Save Some Coins With DoNotPay
Are various subscriptions and memberships burning a hole in your pocket? DoNotPay can help you cancel all of your memberships in a matter of minutes without having to contact customer service reps.
Next time you want to register for a free trial, prevent unexpected costs with our virtual credit card. Once the trial is over, you'll be unsubscribed right away because our virtual credit card doesn't contain any money. We will also generate a random email address you can use if you want to protect your privacy and avoid spam marketing emails.
Do you need help claiming warranties and insurance policies? DoNotPay can help with that too.
Should you need assistance returning an item or requesting refunds for purchased products, canceled flights, or late deliveries, we've got your back!
Avoid wasting money on lawyers—DoNotPay is here to help you sue anyone in small claims court and create numerous legal documents in the blink of an eye!
DoNotPay Can Help You Earn Money Too
DoNotPay users can save hundreds of dollars thanks to our app, but did you know that we can help you earn a few bucks as well? Our app enables you to claim missing money under your name or file your application for paid clinical trials in less than five minutes.
You can even get compensation for reporting robocalls or apply for a crime victims compensation program in your state by signing up for our app and following a few simple steps.