DoNotPay Breaks Down Divorce Costs in Wisconsin
If you're planning on getting a divorce, you're probably worried about the future state of your wallet. Depending on how complicated the process is, divorce costs can build up. It's important to know which factors have an impact on the final amount you'll spend.
That's why DoNotPay has prepared a guide that will ease your mind regarding the divorce costs in Wisconsin! We'll show you everything you can do to lower the expenses.
How Much Does a Divorce Cost in WI?
The average cost of a divorce in Wisconsin is $9,900—attorney and filing fees included. What makes the biggest difference in the cost is the type of divorce you're getting.
If you file for a contested divorce, you will need to pay up to $25,000. Uncontested (friendly) cases are much more affordable, going as low as $3,000 per case.
Factors That Have the Biggest Impact on the Wisconsin Divorce Cost
Besides the type of the divorce, various other factors can make an impact on the final amount you'll have to pay, including:
How To Lower the Cost of a Divorce in Wisconsin
If you want to spend the least amount of money on ending your marriage, your best bet is to get an uncontested divorce. Cost-wise, the biggest difference that an uncontested divorce makes is that it eliminates the need for a lawyer. By agreeing on certain issues—like alimony and child support—with your spouse, you won't have to get legal assistance.
You and your spouse can't reach a compromise on key matters of your divorce? Try divorce mediation. A mediator will help you come to an agreement and make you eligible for an uncontested divorce. Even though it may cost you anywhere between $800 to $3,500, it's still more affordable than hiring lawyers.
How To Get an Uncontested Divorce in Wisconsin
To get an uncontested divorce in Wisconsin, you will have to:
Meet the residency requirements
Complete the required forms
Pay the Wisconsin divorce filing fee
Serve your spouse with the divorce forms
Meeting the Residency Requirements in Wisconsin
Before filing for divorce in Wisconsin, you must:
Completing the Required Forms
To get divorced in Wisconsin, you must file various forms, including:
Divorce Form
Details
Petition for Divorce
The petition for divorce contains all the important information about your marriage
Summons
Summons is the first document you will need to file with the court. It serves as a notice to the court and your spouse that the divorce has been initiated
Confidential Petition Addendum
This document contains the basic information about the couple, such as:

Contact numbers
Social Security numbers
Birth dates

Marital Settlement Agreement
This agreement is a crucial divorce paper. It contains the terms on which you're getting divorced. You can pay a lawyer to create it, but if you want a more affordable solution, and have us draw up a customized marital settlement agreement fast and easily
Paying Wisconsin Divorce Filing Fees
The filing fee varies from county to county, but on average, Wisconsin divorce filing fees can be around $150.
Serving Your Spouse With the Papers
Once you file the papers, you will need to serve them to your spouse. To do this, you'll need to either ask someone who is neutral to the case and older than 18 or hire a sheriff or a professional server. After your spouse receives the divorce papers, you will need to wait up to four months until the final hearing.
Get a Professional Divorce Settlement Agreement Without Breaking the Bank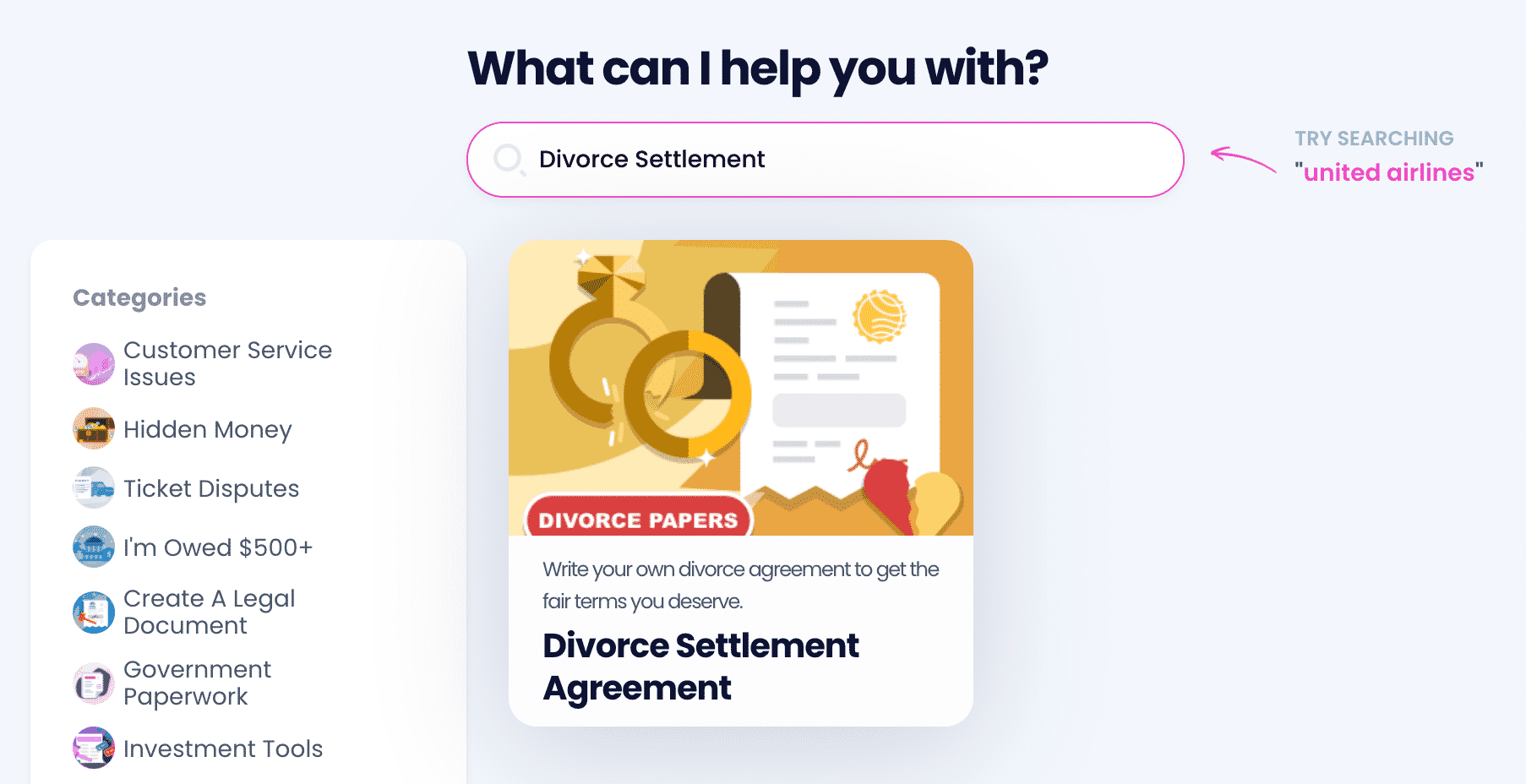 If you want a divorce settlement agreement but don't want to waste money on expensive lawyers, use DoNotPay! We will draw up this document for you in no time, and you'll only need to follow a few steps. Here's the drill:
Select the Divorce Settlement Agreement option
Answer our chatbot's questions regarding your:

Children (if any)
Spouse
Assets
Income

Choose to have your document notarized online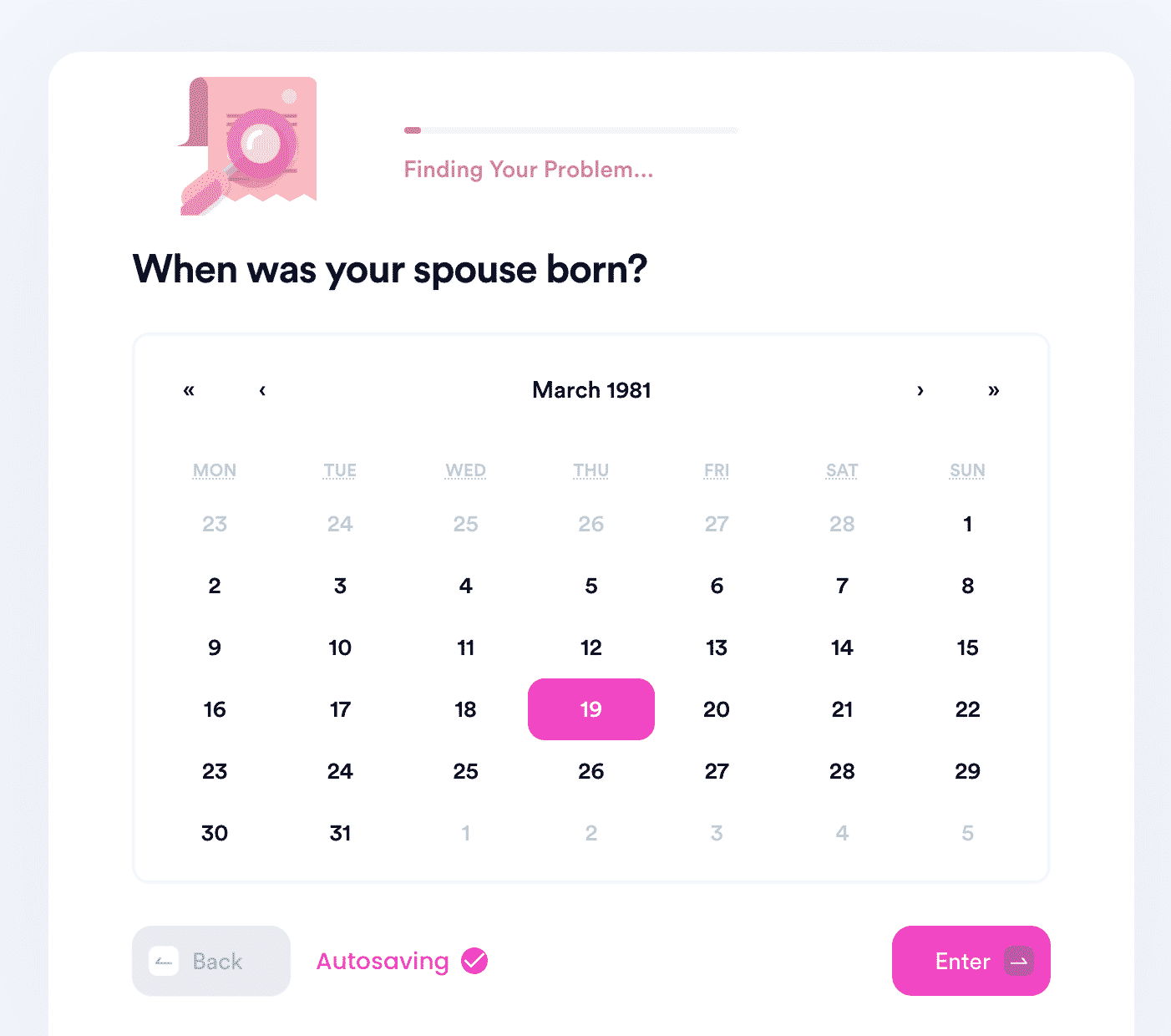 We will use the info you provide us with to generate a personalized divorce settlement agreement that will comply with Wisconsin state laws. You can book an appointment with an online notary to add legal weight to your document through the same app.
Check out DoNotPay's learning center and find out:
Use DoNotPay To Resolve Administrative Tasks in Minutes!
Tired of brainstorming the easiest way to deal with administrative issues? We know how you feel, and we're here to take the burden off your back!
Once you subscribe to our app, you'll be able to resolve an abundance of bureaucratic issues with ease.
Taking a valid passport photo, reporting workplace discrimination, reducing property taxes, preparing for a government test, applying for a college fee waiver, and appealing a parking ticket are some of the many tasks we assist you with.
In case you need a quick way to draft a legal document, such as a power of attorney, divorce settlement agreement, or a child travel consent form, DoNotPay will do it for you!
Learn How To File Claims the Easy Way
Are you dissatisfied with a certain company and/or its products? You don't have to stay quiet! Use DoNotPay to file your insurance, warranty, or missing/late parcel claim effortlessly! We'll also show you how to request an item return in a few steps.
If you want to cancel a subscription or request a refund or chargeback, you can do it with our assistance without breaking a sweat. Use one app to deal with countless issues!