Order a Certified Copy of Divorce Certificate in Miami Dade Online
There is nothing quite like a divorce to teach you to keep your own set of records. So when the whole process is done, naturally, you want a certified copy of your divorce certificate for your records, as well. This document is useful for changing your name, updating your finances, getting remarried, and several other useful life-changing activities. A divorce certificate is issued by your state and is usually accessed through the county records department where the divorce was filed.
You can apply for a certified copy of your Miami-Dade divorce certificate by mail, in person, or online. DoNotPay can simplify the process with a simple online tool.
Divorce Certificate vs Divorce Decree: What is The Difference?
When you're looking to fill out your records, know the difference between a divorce decree and a divorce certificate. The divorce decree is the final document signed by a judge that ends a marriage. A divorce certificate is a record of the divorce made by the county and/or state. You'll want both for complete records, but only the divorce certificate can be requested from the records of Miami-Dade County.
Who is Eligible for Divorce Certificates from Miami-Dade?
The divorced parties and immediate relatives can request a copy of family documents like a divorce certificate.
Fees for a Divorce Certificate Copy in Miami-Dade
According to the Miami-Dade Clerk Office website, document copies requested will cost $1 per page or $2 per document.
Required Documents to Get a Divorce Certificate in Miami-Dade County
You may be required to show proof of identification when requesting a certified copy of a divorce certificate in Miami Dade County.
How to Get a Divorce Certificate From Miami-Dade County?
By Mail
Look up the divorce records online
Create your own request form containing
Case Number
Year of divorce
Names of divorced parties
Lawson E. Thomas Courthouse Center Family Court / Correspondence 175 NW 1st Avenue, 12th Floor Miami, FL 33128
Include a self-addressed and stamped envelope for reply
Include $1 or $2 per document
Address to:
Lawson E. Thomas Courthouse Center Family Court 175 NW 1st Avenue, 14th Floor Miami, FL 33128
In-Person
Navigate to:
Lawson E. Thomas Courthouse Center Family Court
175 NW 1st Avenue, 14th Floor Miami, FL 33128
Find the records desk or center
Request a certified copy of your divorce records
Bring clarifying information about the records and personal ID
Online
Create a Registered Account with the Florida Records Department
Perform an online search for the divorce records
View an image of the certificate
Enter shipping and billing information
Order delivery of the documents
Miami Dade Divorce Certificate Contact Information
Contact Form
Contact us - Miami Dade County Divorce Online
Phone
+1 833-463-0292
Hours
Monday to Friday
9:00 AM to 7:00 PM EST
Saturday / Sunday / Holidays
Closed
Address
Online Divorce Assistance LLC

75 State Street, 1st Floor, Boston, MA 02109
Problems You May Run Into
Miami-Dade County does not have an official request form for divorce certificates or family legal records. This can create an opening for confusion and an increased likelihood that your application for the certified copies will be rejected. If you are trying to register for your divorce certificate copies from Miami Dade County online, it is possible to run into technical difficulties or account errors that will prevent you from completing the order.
Divorce Certificate Applications Online With DoNotPay
DoNotPay makes getting your personal documents easy. We have a reliable and automated process that can create and/or fill out a certificate application, send it to the appropriate office, and have your documents sent directly to your home or office. For a divorce certificate from Miami-Dade county, all you have to do is sign up online with the necessary information. We will then take the proper steps, whether that's through the online portal or printing and sending a physical letter of request.
DoNotPay will then let you know when the application has been approved and your documents are on their way to you. Getting your divorce certificate is simplified, so you don't have to worry about the specific procedure for the county you were divorced in. We make it easy so that you can sign up for the service and receive your documents without worrying about the process in between.
7 Easy Steps with DoNotPay:
1. Go to the Certificates of Divorce product on DoNotPay.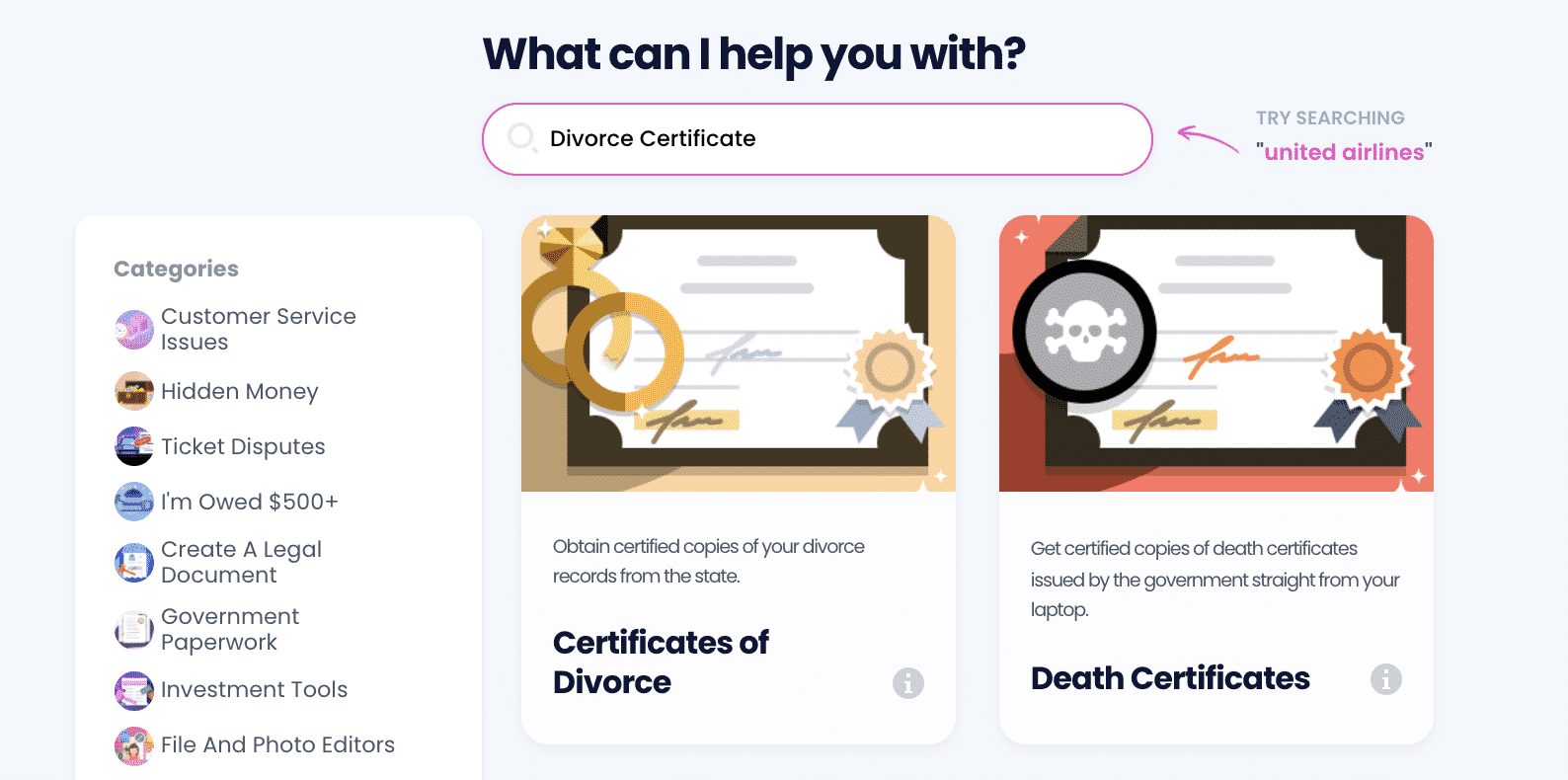 2. Select whether the certificate belongs to you or a relative/loved one. If it belongs to someone else, enter the details of both people on the certificate and select/upload evidence that proves your relationship with them. If the certificate is yours, enter the details of your spouse.*Please note: some states only allow people named on the certificate to apply.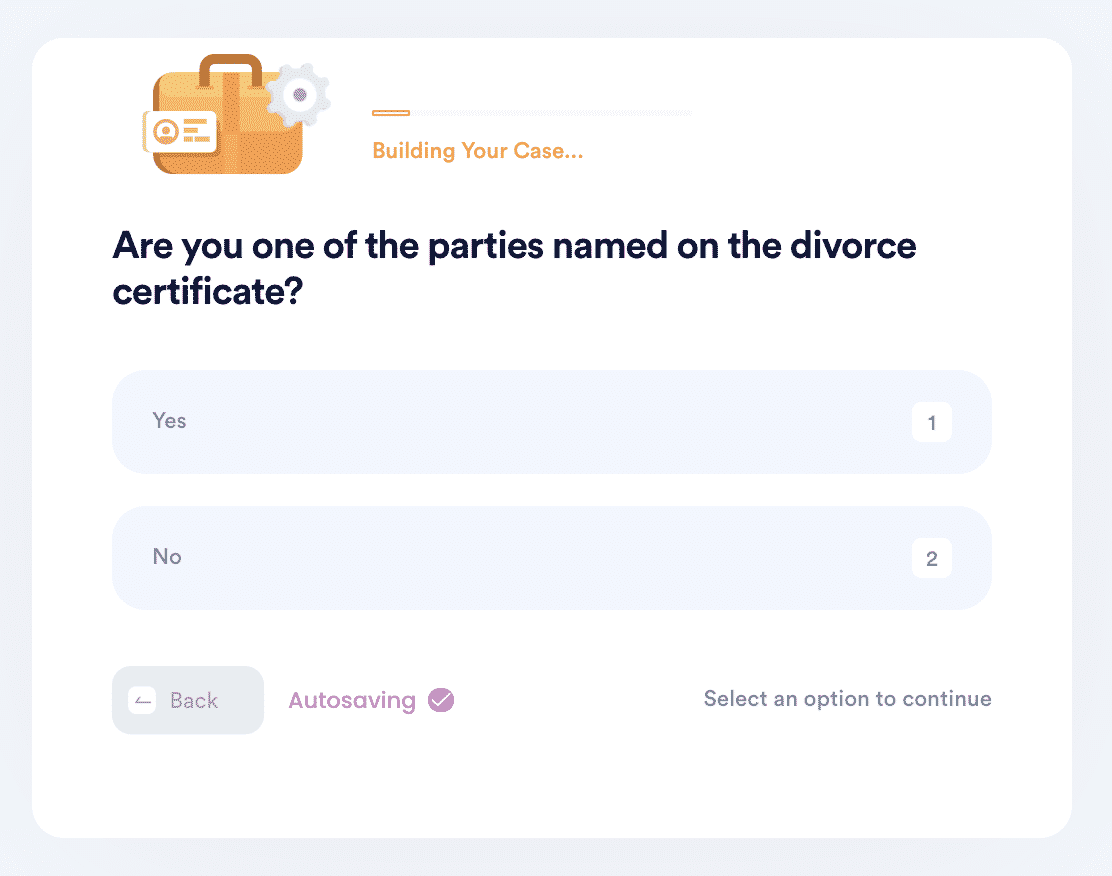 3. Enter the city, state, and county where the divorce certificate and original divorce certificate were issued as well as the dates they were issued.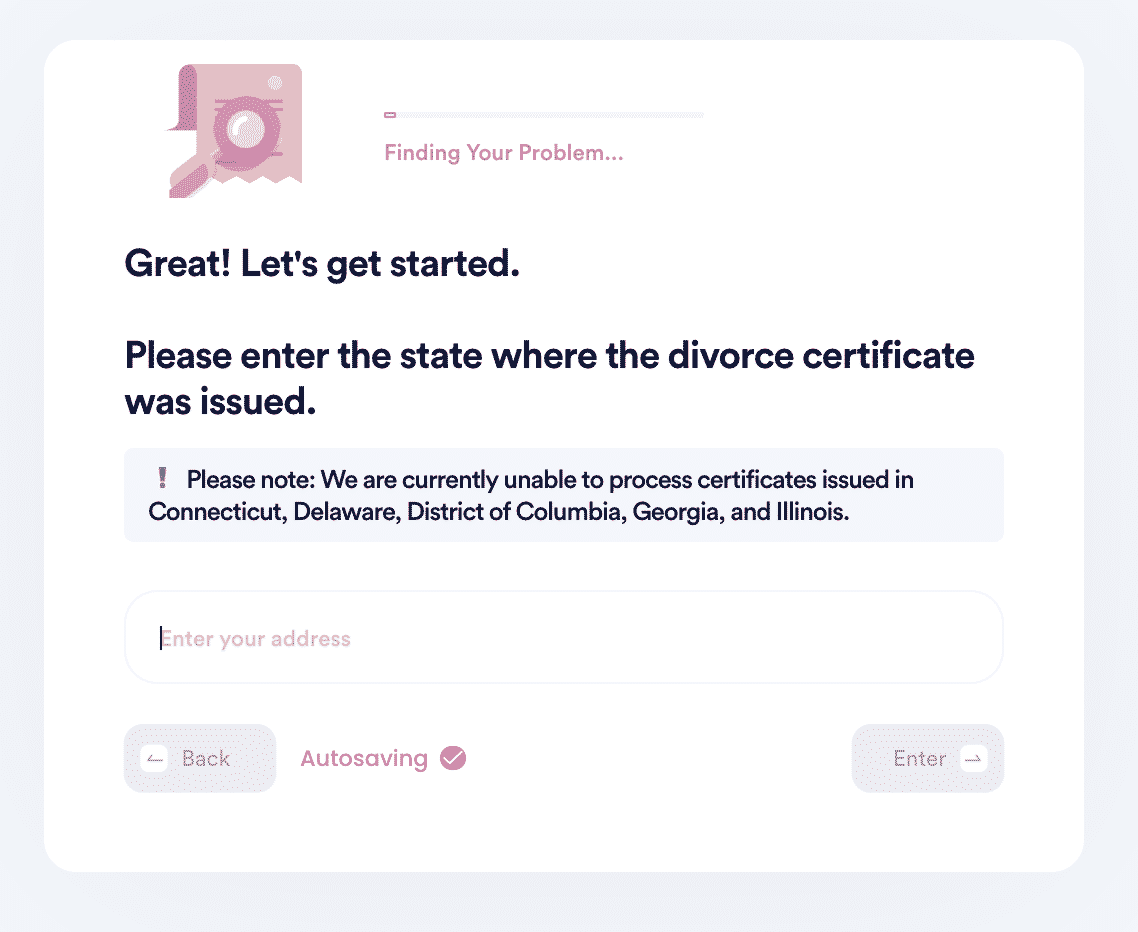 4. Indicate what you will be using this certificate for, and choose whether you need an authorized or certified copy.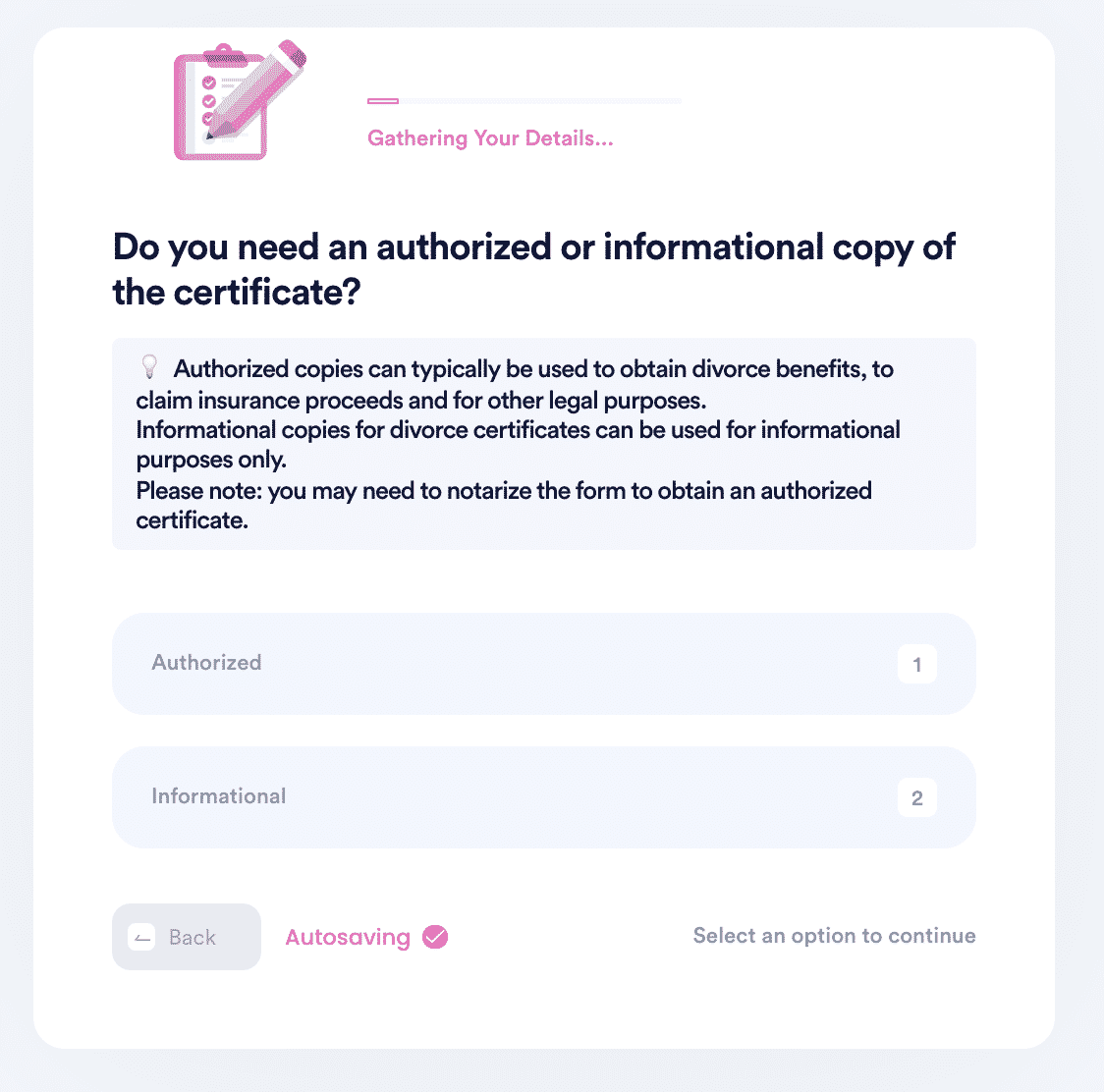 5. Enter your contact information and shipping address. Upload copies of your government-issued identification, such as a driver's license.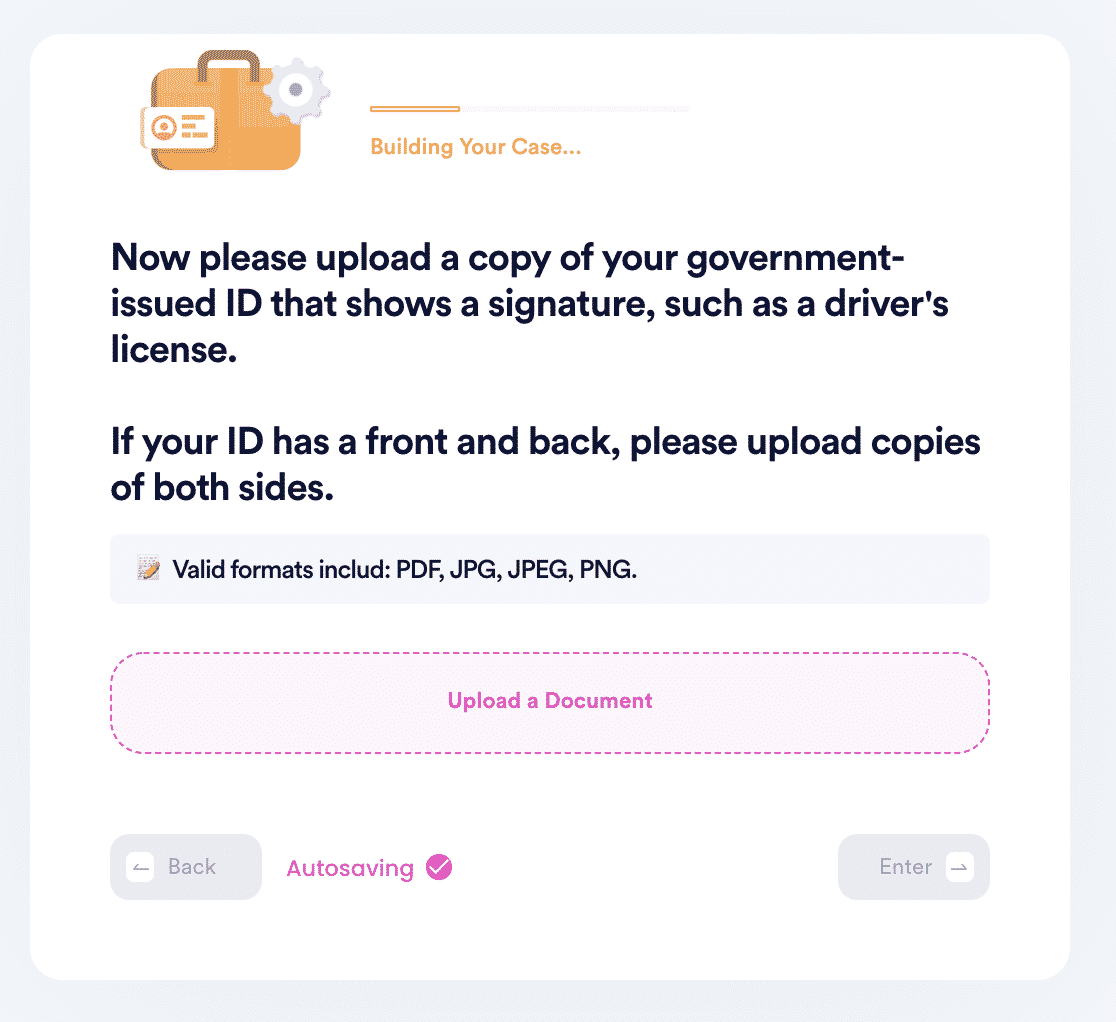 6. Choose whether you would like to electronically sign this form or not. Once we generate the form, verify that all of the information is correct.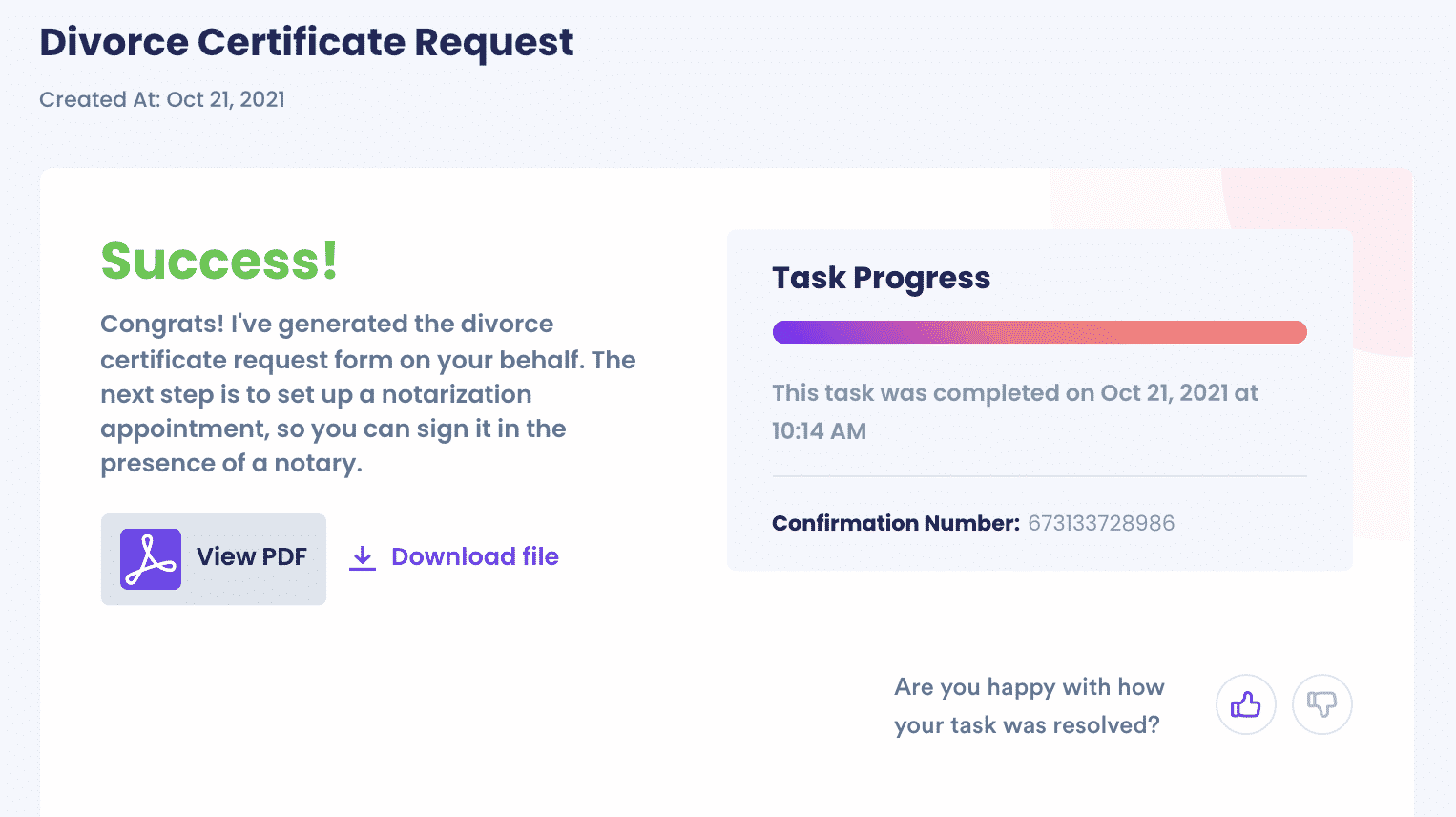 7. If you need the document to be notarized, schedule a notarization appointment using our Notary product. Otherwise, proceed to our Mail Checks product and let DoNotPay mail in your request form with a check on your behalf.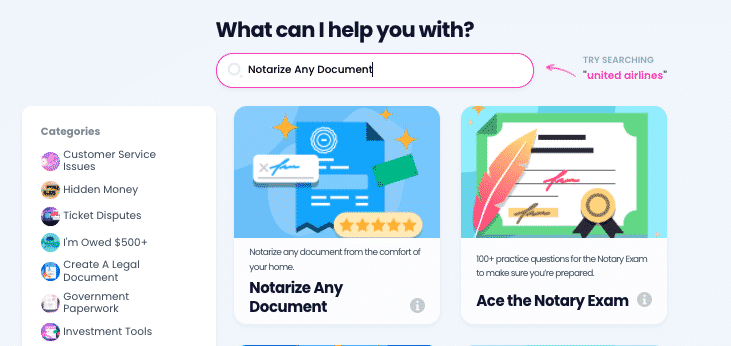 DoNotPay Divorce Certificate Info Center
What Else Can DoNotPay Do?
DoNotPay can help you do more than just get your divorce certificate. We can cut all sorts of red tape as you build a life as a solo professional and embark on new chapters of your journey. DoNotPay can help you notarize documents on the fly, get hotel room upgrades, and find lost money in your name. We can help with college scholarships, lost items, rebates, and parking tickets.
Go ahead and explore the dozens of tools and services you'll find online with DoNotPay and cross a few more items off your to-do list.