Order a Divorce Certificate in Lane County, Oregon Quickly
You do not require a divorce certificate to make your divorce official or legal. That said, you can use your divorce certificate as evidence to show third parties, for example, if you want to remarry without disclosing all the details of your divorce.
If you want to get a copy of your Lane County divorce certificate, it is important to know the right way to do so. While it can be a tedious and time-consuming task to get a divorce certificate by yourself, DoNotPay can easily help you with this. Read along to find out how.
The Difference Between Divorce Certificates and Divorce Decrees
What is a Divorce Certificate?
A divorce certificate is an official document that acts as evidence of the dissolution of a marriage between a couple on a specific date. It contains essential information such as where the marriage was dissolved and the names of the divorcing parties.
Types of Divorce Certificates in Lane County, Oregon
There are two main types of divorce certificates. Check out the table below.
1. Plain divorce certificate
This is the regular copy of the divorce certificate. It contains the essential details of the divorce.

Being a copy of the original document, it cannot be used for official purposes because it lacks the official seal. It is often cheaper than the original certificate.

2. Certified divorce certificate:
This one contains the same information as the regular copy. The only difference between the two documents is that the certified divorce certificate includes the official seal and can therefore be used for official purposes.
What is a Divorce Decree in Lane County, Oregon?
A divorce decree is an official legal document that shows the final divorce ruling of the court and the judgment order that made the divorce official. This document summarizes the rights and the responsibilities of each party named in the divorce certificate. It also contains the terms and conditions of the divorce settlement, such as:
Visitation rights
Custody arrangements
Asset division
Spousal and child support
Debt settlement
Who Can Get a Divorce Certificate Copy in Lane County, Oregon?
The following parties can be issued divorce certificates in Lane County:
The named parties in the certificate
The immediate family members of the named individuals in the certificate
Legal representatives of the individuals named in the certificates
How to Get Lane County Divorce Certificate on Your Own
Vital records such as divorce certificates in Lane County, Oregon, are preserved in the Health and Human Services building in Eugene. To request a divorce certificate, go to VitalChek (https://www.vitalchek.com). You will be required to pay a non-refundable fee of $32.50, which is inclusive of a $12.50 processing fee.
How To Get a Copy of a Divorce Certificate Using DoNotPay
As mentioned, getting a Lane County, OR divorce certificate on your own is not an easy process. You will have to handle a lot of documentation and waste a lot of time going from one office to another.  However, DoNotPay can easily help you with this.
If you want to get a copy of a divorce certificate but have no idea where to start, DoNotPay has you covered in 7 easy steps:
1. Go to the Certificates of Divorce product on DoNotPay.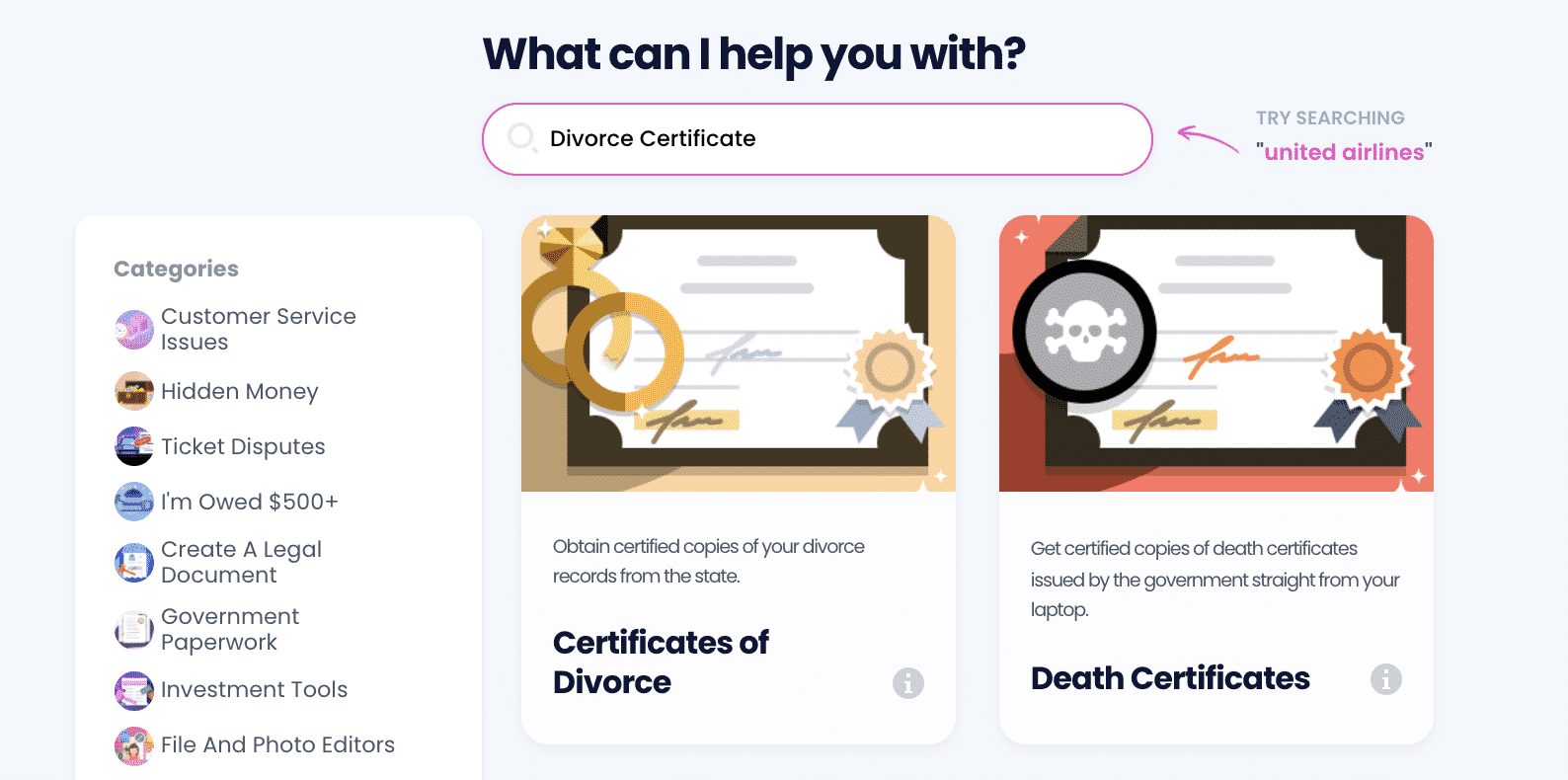 2. Select whether the certificate belongs to you or a relative/loved one. If it belongs to someone else, enter the details of both people on the certificate and select/upload evidence that proves your relationship with them. If the certificate is yours, enter the details of your spouse.*Please note: some states only allow people named on the certificate to apply.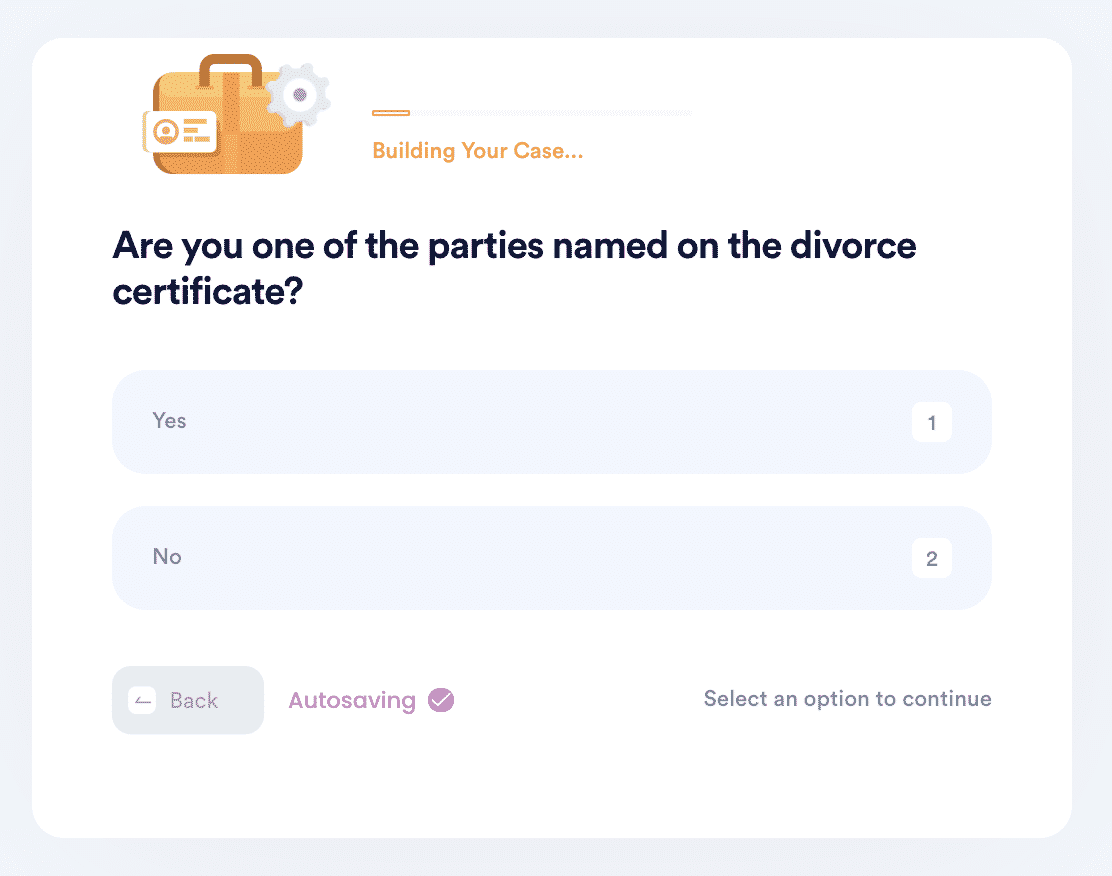 3. Enter the city, state, and county where the divorce certificate and original divorce certificate were issued as well as the dates they were issued.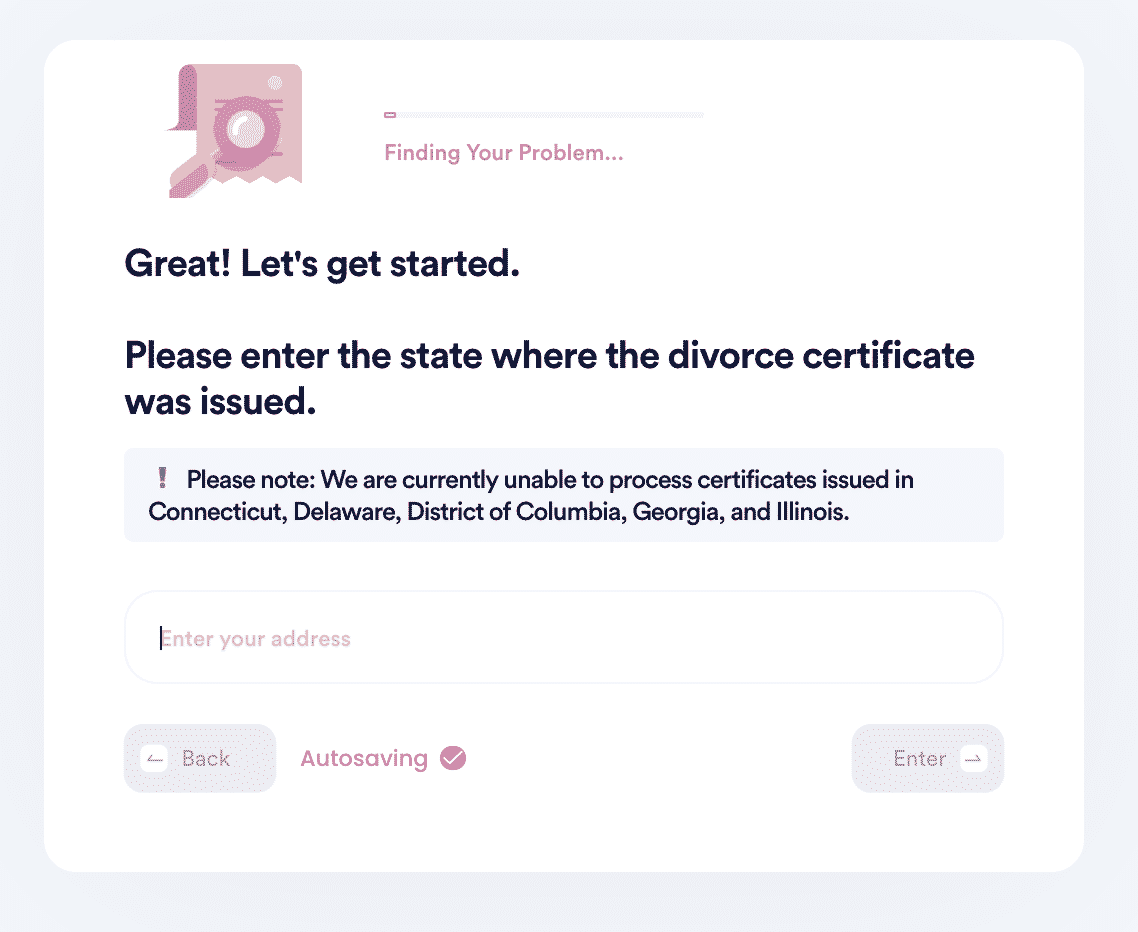 4. Indicate what you will be using this certificate for, and choose whether you need an authorized or certified copy.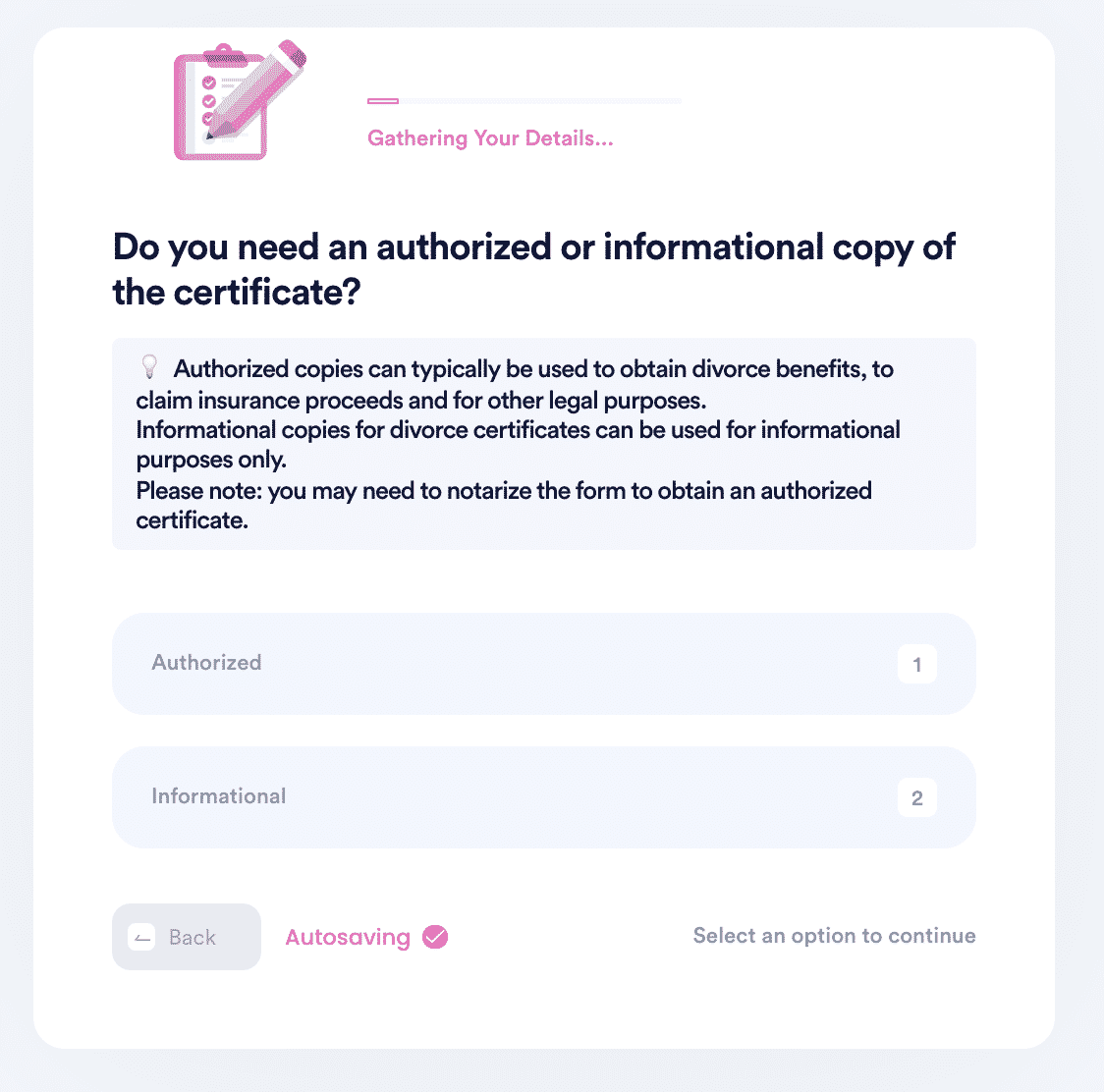 5. Enter your contact information and shipping address. Upload copies of your government-issued identification, such as a driver's license.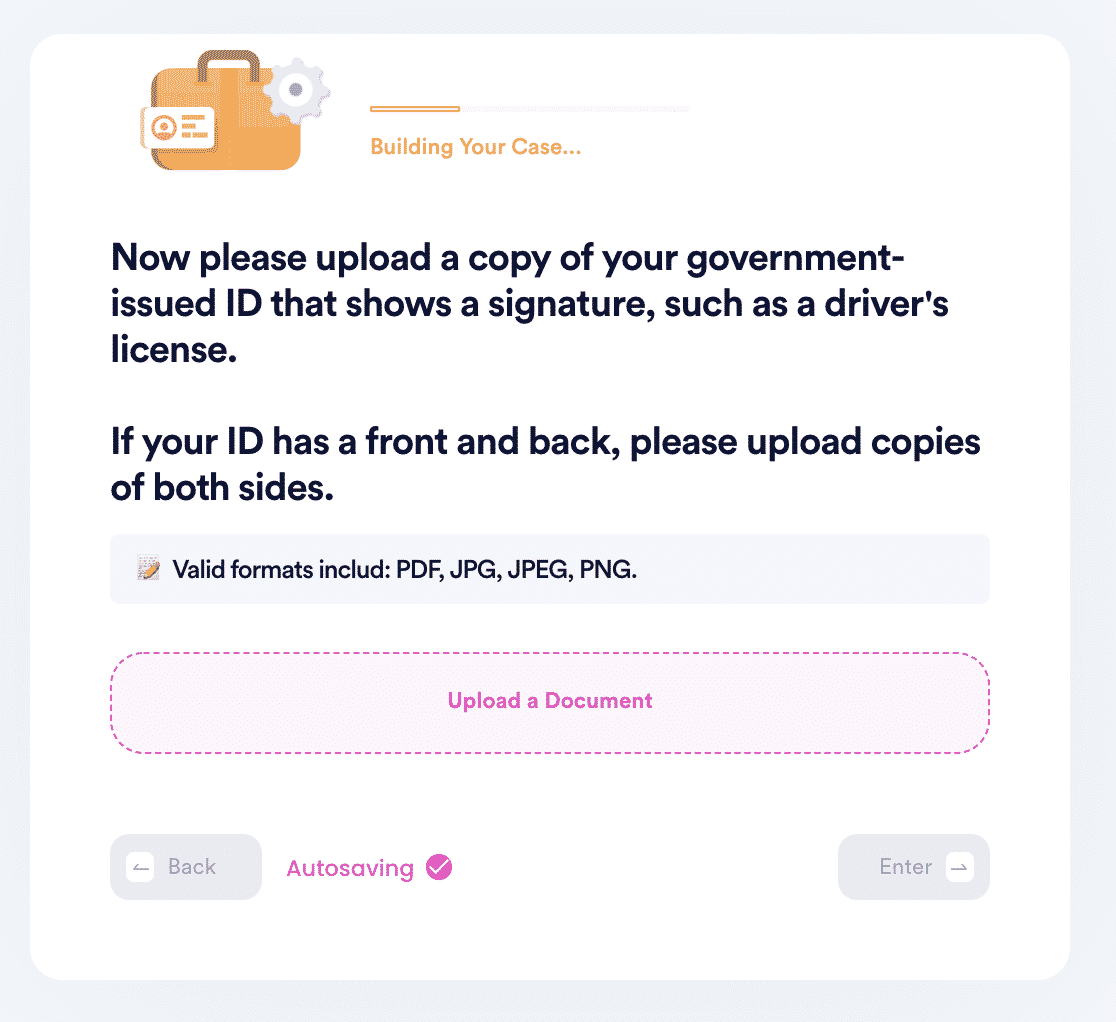 6. Choose whether you would like to electronically sign this form or not. Once we generate the form, verify that all of the information is correct.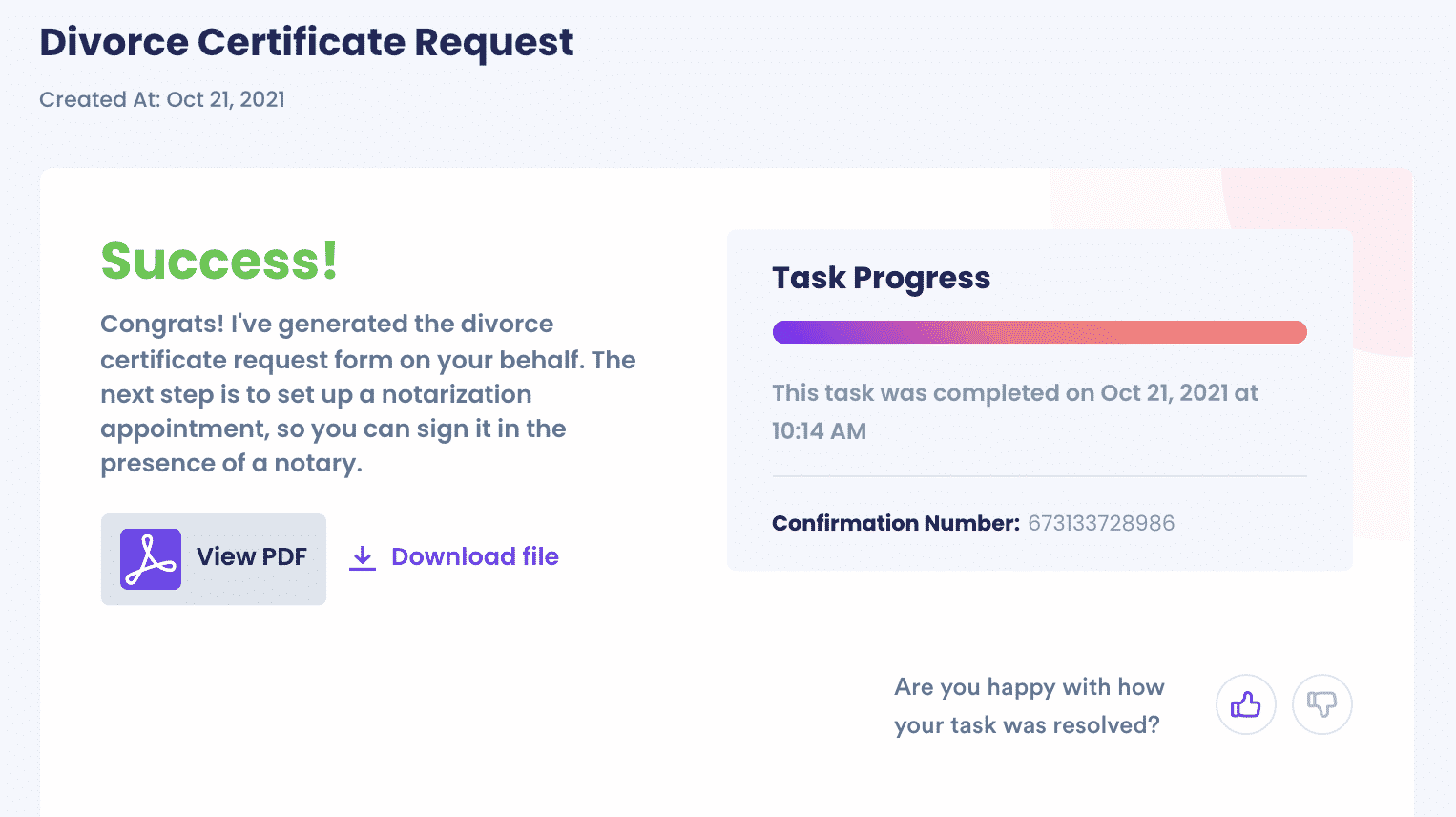 7. If you need the document to be notarized, schedule a notarization appointment using our Notary product. Otherwise, proceed to our Mail Checks product and let DoNotPay mail in your request form with a check on your behalf.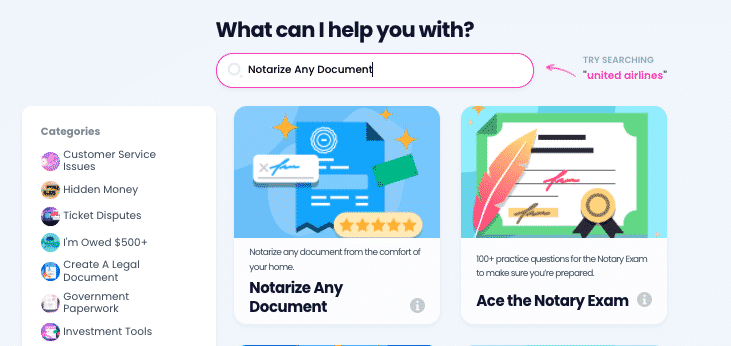 It's really simple. You don't need to stand in line, buy stamps, or find parking.
DoNotPay Can Help You Get Divorce Certificates in Any State
We can help you obtain divorce certificates anywhere, like NY and FL. Check out these links:
Why Use DoNotPay?
Here are the top reasons why you should let DoNotPay help you get your divorce certificate in Lane County:
DoNotPay is fast – you will not have to waste a lot of time filling out documents.
DoNotPay is easy to use – the platform has a friendly user interface.
DoNotPay is trustworthy – you can rest assured that we will successfully handle everything for you.
 What Else Can DoNotPay Do?
DoNotPay can offer you many other legal services, such as:
And a lot more. Sign up with DoNotPay today to get a Lane County divorce certificate and quick solutions to other legal issues.