How to Order a Divorce Certificate from Butte County, CA
There are some documents you simply need to have in your personal records because you never know when you're going to need them. If you never received—or lost—official copies of your divorce certificate from Butte County, CA, now's the time to get them. 
But if you're worried about red tape, trips to record offices, and whether you are eligible to receive divorce certificates, that's natural; after all, dealing with public offices can be a headache. We'll coach you through the official channels for getting copies of your divorce certificate from Butte County, and then we'll tell you about a not-so-secret shortcut that will save you time, stress, and possibly even money.
Butte County Contact Information
If you're planning to order a divorce certificate from Butte County, CA on your own, we've already saved you some time. Here is the contact information you'll need.
Superior Court of California, County of Butte
General phone information
(530) 532‑7002
Main (Oroville) location (mail and physical)
One Court Street
Oroville CA 95965
North Butte County office location
1775 Concord Avenue
Chico CA 95928
Business hours
Monday through Friday 8:30 a.m. to 4:00 p.m.
The only way to get certified copies of divorce records is to apply to the Superior Court of California, County of Butte. The problem is this: There is no information on their website for ordering divorce certificate copies, and their phone line automated menu gives no relevant options, and no way to speak with an operator. 
We've found that the best way to apply for your divorce certificate copies is to take the following steps. But remember, it's a huge hassle and DoNotPay has a better way.
Mail a letter to the main Butte County Courthouse in Oroville Court requesting the following:
An application for the certificate copies
The fees required for first and subsequent copies (which may change periodically)
Currently acceptable payment methods
Be sure to include a self-addressed stamped envelope.
Go to the Clerk of the Court's office in person
This might be the best option (other than the DoNotPay shortcut below) to get copies of your divorce certificate without waiting for mail correspondence—which could take weeks: Gather proper ID information that proves you are either:
One of the persons on the certificate
An immediate family member
A legal representative
You'll also want the following information on hand:
The date the divorce was finalized
The presiding judge
The case number
Go to one of the two locations in the table above during business hours, and request assistance with ordering divorce certificates from the attendant.
DoNotPay Has a Faster Way to Obtain a Divorce Certificate in Butte County, CA
If you want to get a copy of a Butte County divorce certificate, but you want to get it done without making it a day-long project, DoNotPay has you covered in 7 easy steps:
1. Go to the Certificates of Divorce product on DoNotPay.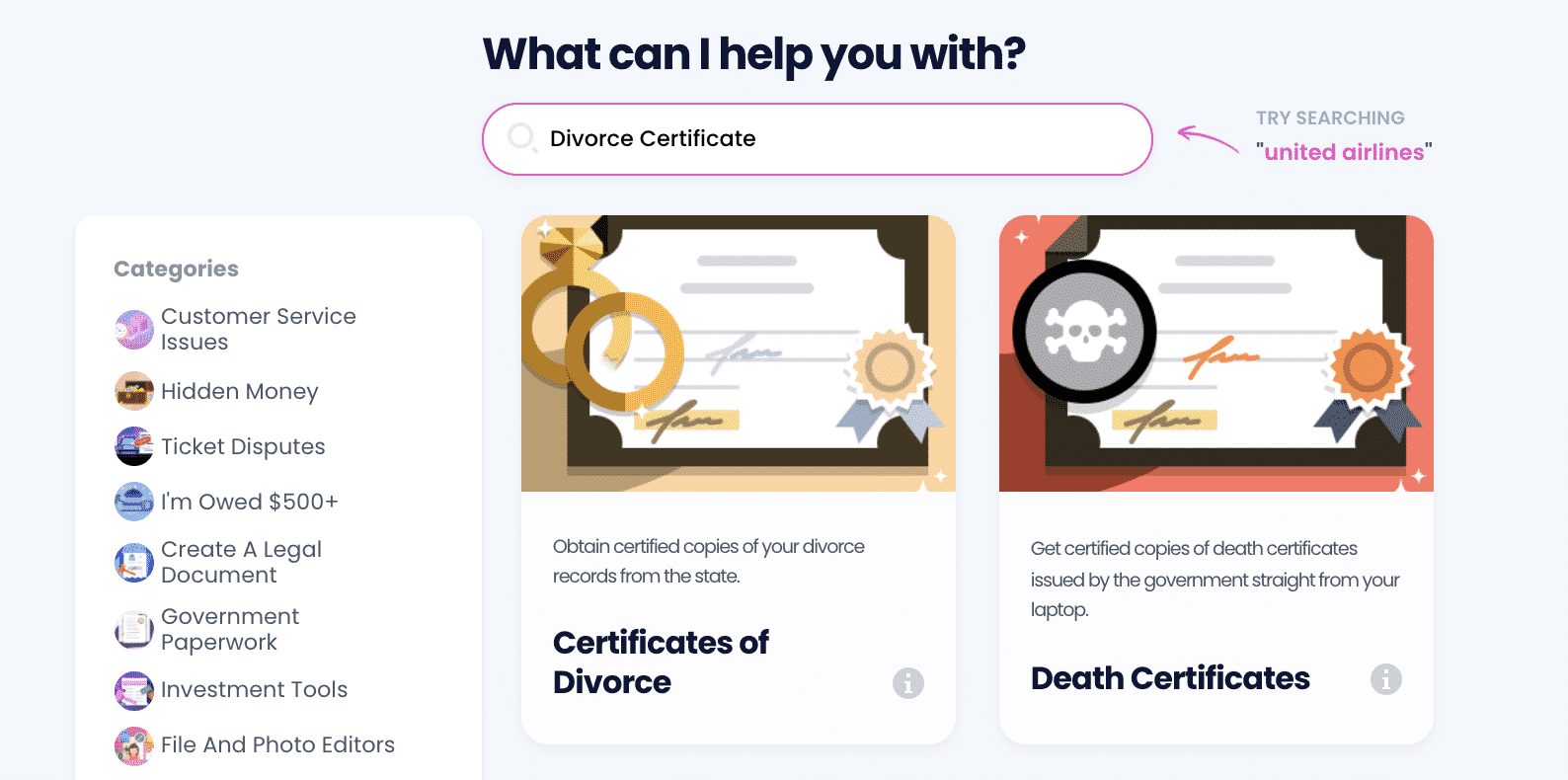 2. Select whether the certificate belongs to you or a relative/loved one. If it belongs to someone else, enter the details of both people on the certificate and select/upload evidence that proves your relationship with them. If the certificate is yours, enter the details of your spouse.*Please note: some states only allow people named on the certificate to apply.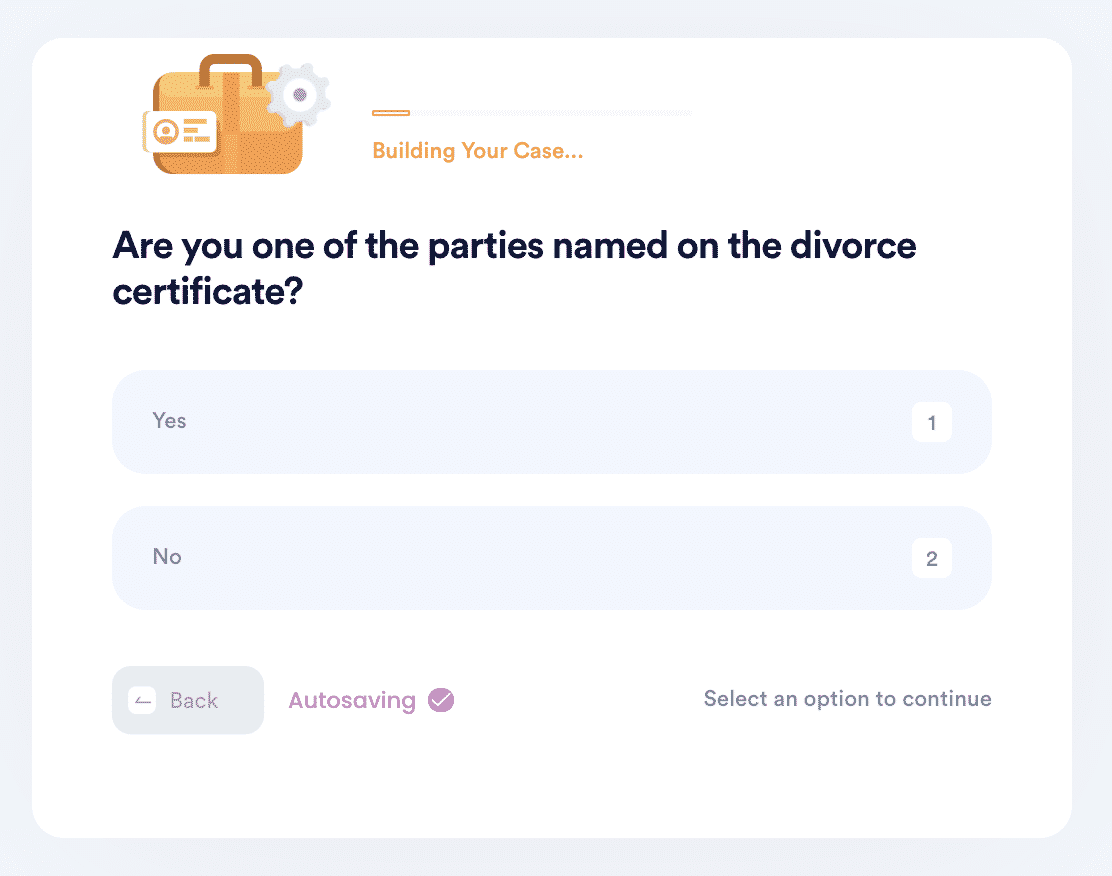 3. Enter the city, state, and county where the divorce certificate and original divorce certificate were issued as well as the dates they were issued.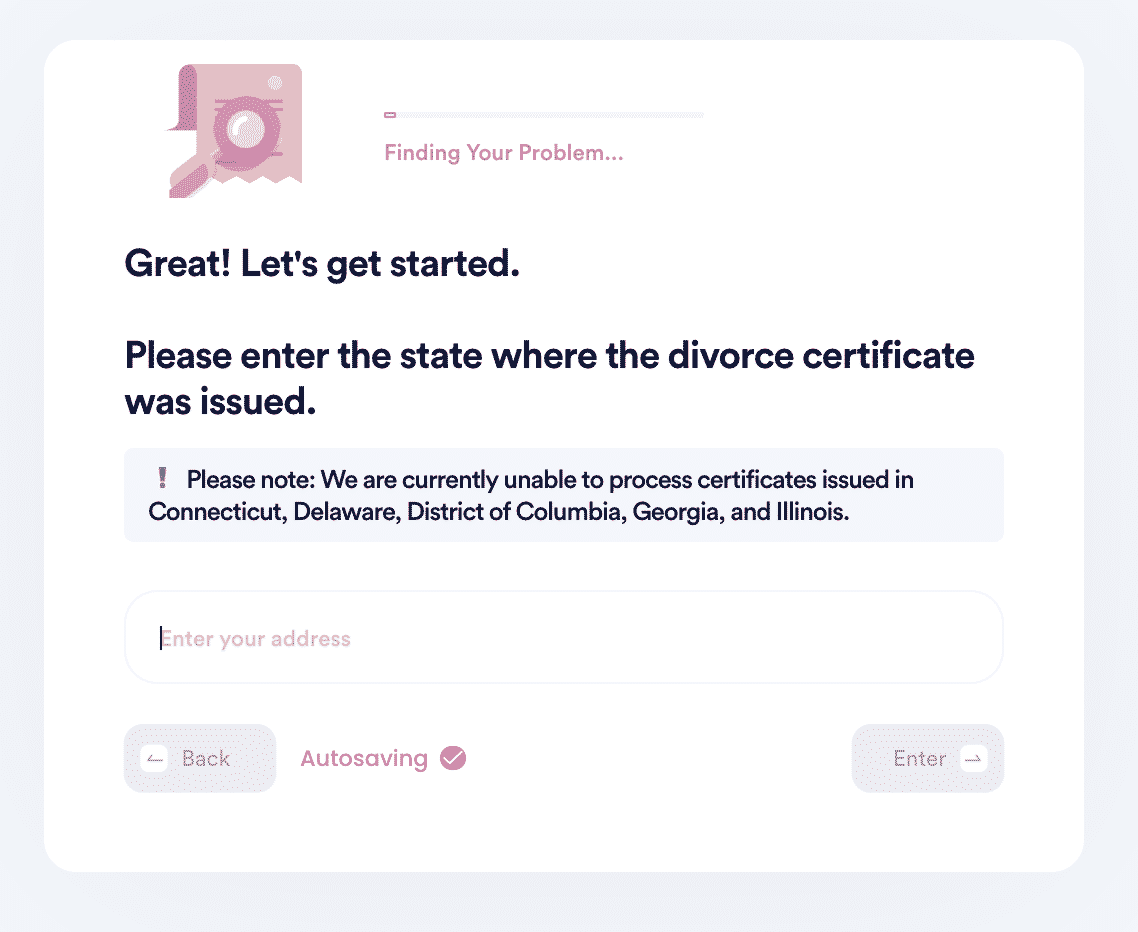 4. Indicate what you will be using this certificate for, and choose whether you need an authorized or certified copy.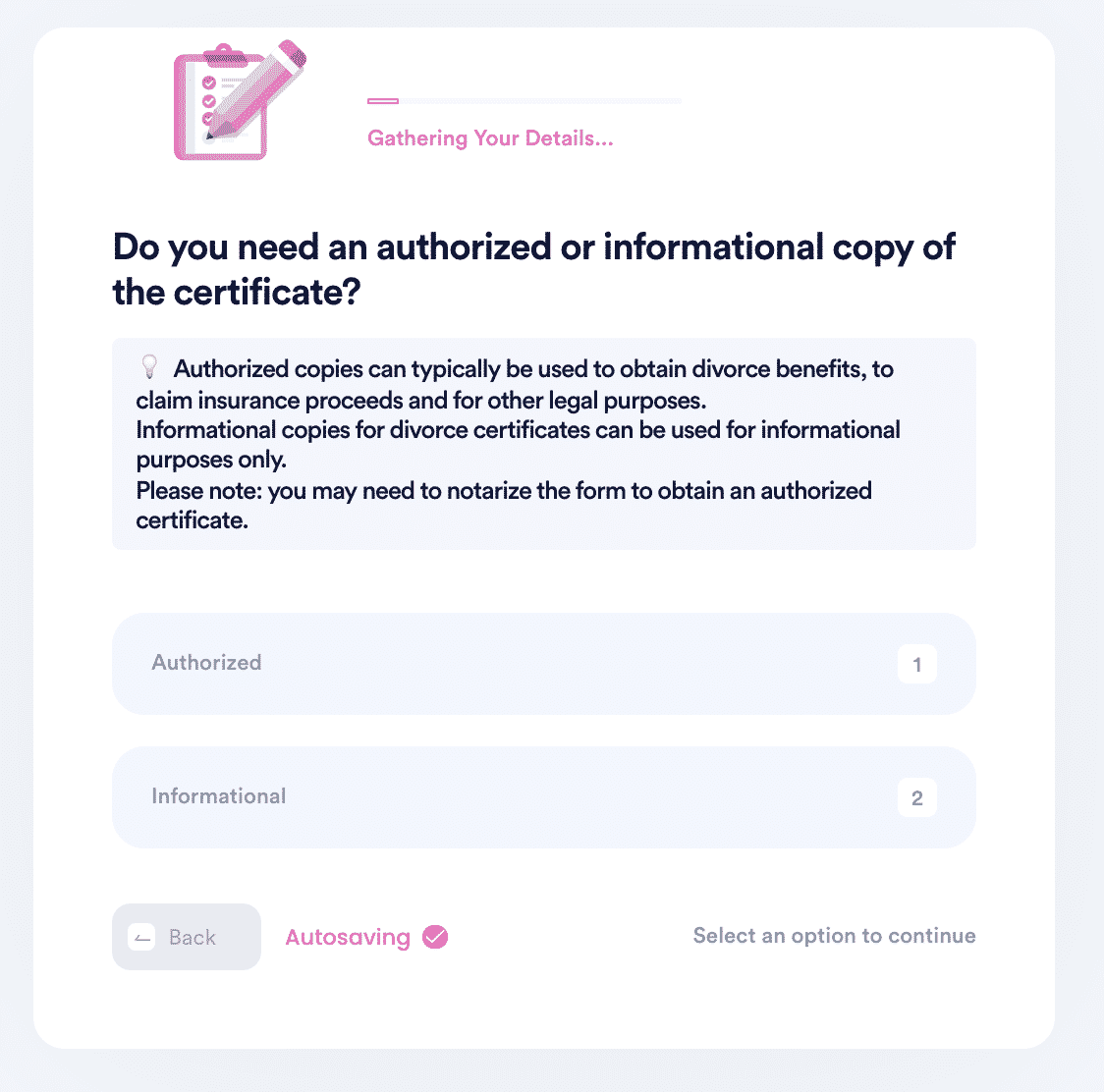 5. Enter your contact information and shipping address. Upload copies of your government-issued identification, such as a driver's license.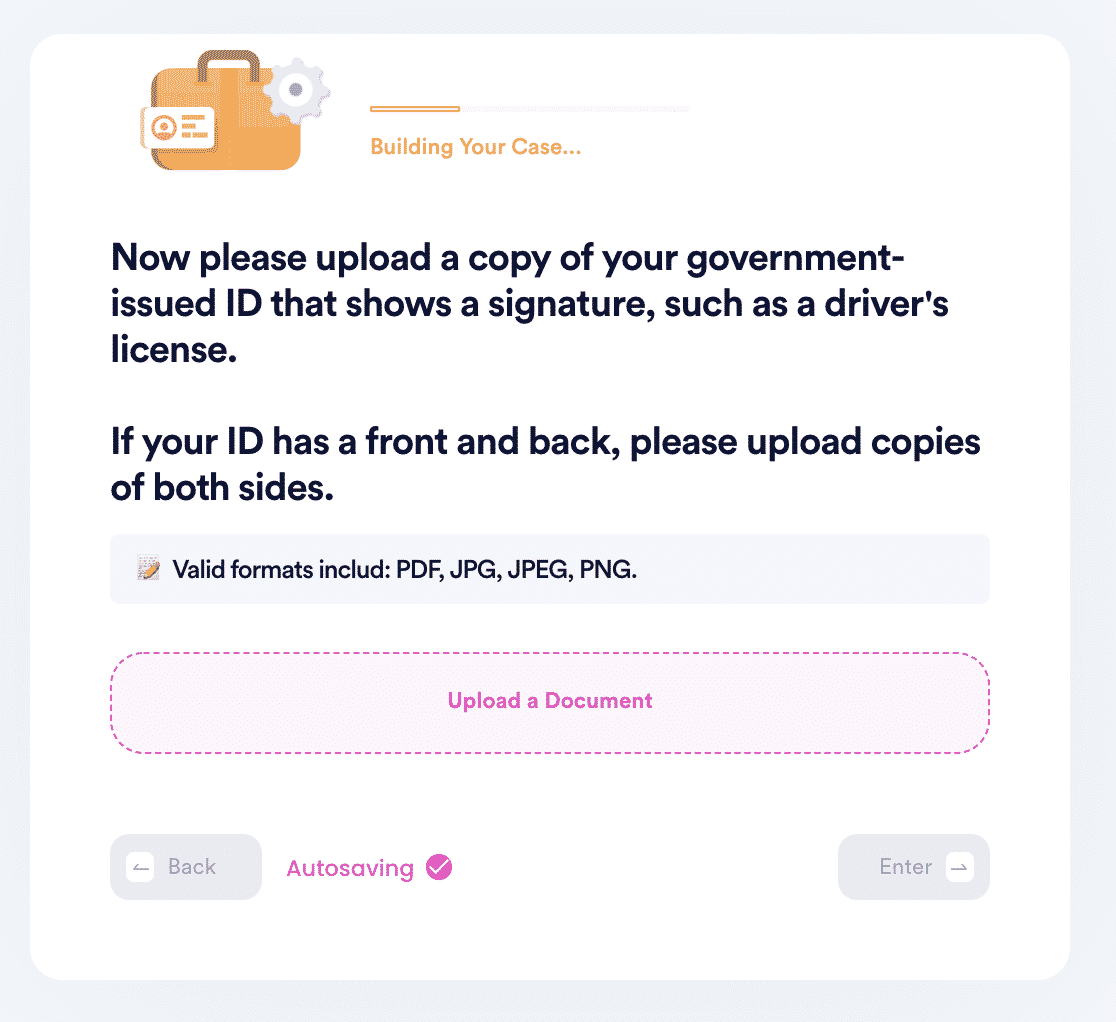 6. Choose whether you would like to electronically sign this form or not. Once we generate the form, verify that all of the information is correct.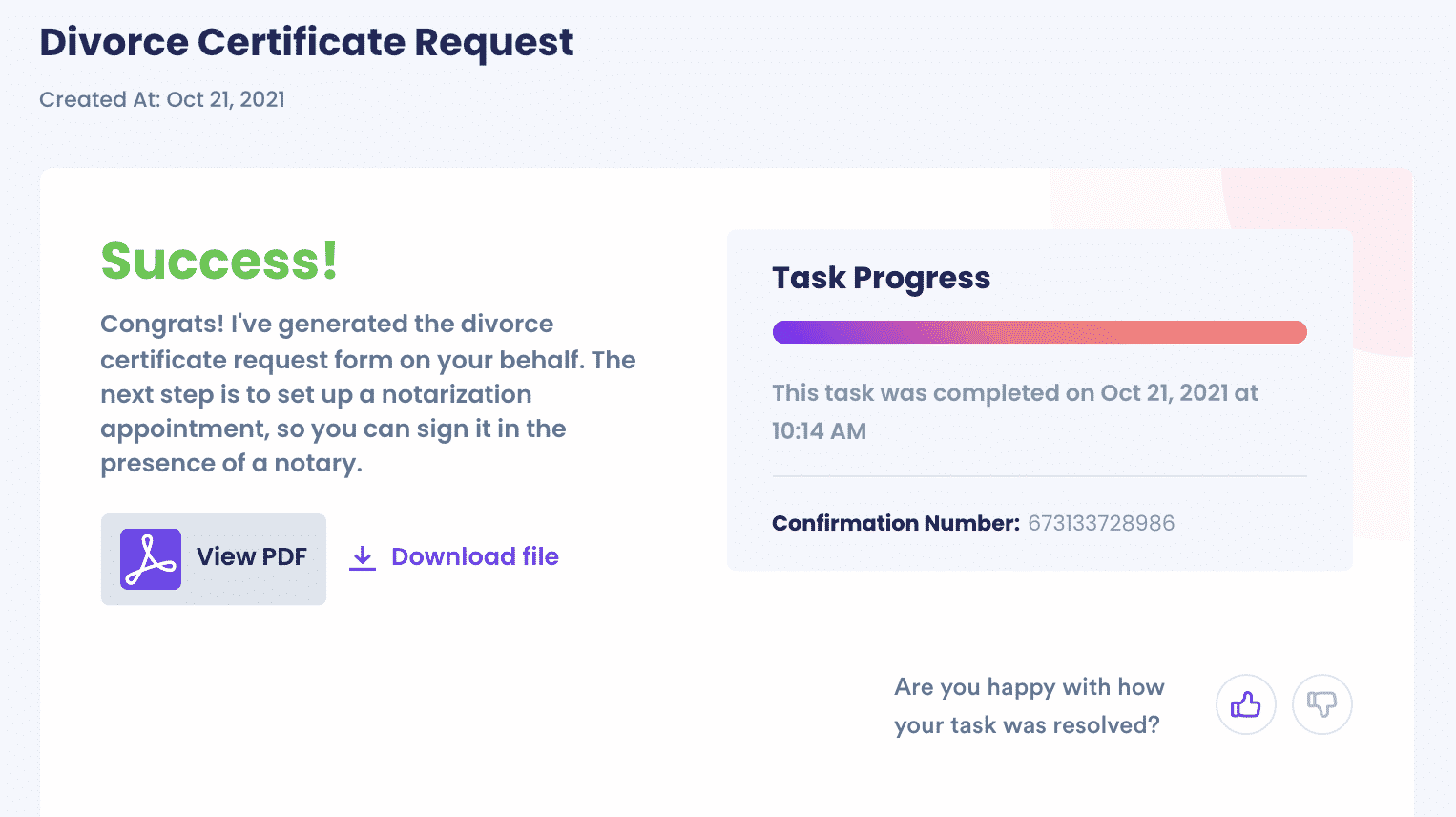 7. If you need the document to be notarized, schedule a notarization appointment using our Notary product. Otherwise, proceed to our Mail Checks product and let DoNotPay mail in your request form with a check on your behalf.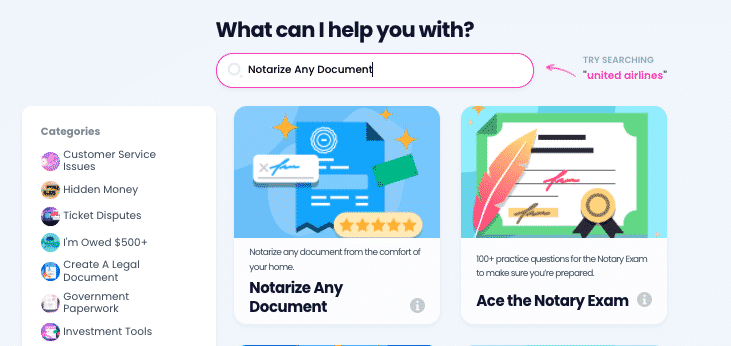 See how much easier that is? With DoNotPay you don't need to find parking, stand in line, use stamps, or visit the post office. DoNotPay can order your Butte County divorce certificate quickly.
5 Reasons to Choose DoNotPay
As you've probably figured out, DoNotPay's method is so convenient that you don't even need to leave your home.
No trips to the post office
Everything's online
It only takes a few minutes
You can get documents notarized online, if necessary
We'll file and send the application for you
Do You Need Divorce Records From Another Jurisdiction?
We can help, no matter where the divorce filing occurred. Here are just a few of the states from which we can get your official certificates:
DoNotPay Offers More!
Our job is to clear the path through bureaucracy and consumer challenges, so you can save money, reduce stress, and get aggravating tasks out of your way. Here are a few of our popular services—and there are thousands to choose from.
The best way to get to know us is to give us a try. Getting your Butte County, CA divorce certificate is the perfect place to start!