How to Get a Divorce Certificate in Bexar County
Life is filled with complications, but most of us do not expect to find them when we are simply trying to get copies of documents that pertain to ourselves. However, that is what you may find when trying to get your .
Often people want to get a copy of their divorce certificate so that they can get back to some semblance of "normal". They want to change their name, remarry, and more. It shouldn't be complicated, but often it ends up being just another burden.
At DoNotPay, we feel that you should be able to learn how to get a divorce certificate without stress. We have also made it our goal to simplify the process for you.
Divorce Certificate Vs. Divorce Decree? Is There a Difference?
For Texas residents, these two documents are basically the same thing. To get a divorce certificate in Texas, you will need to be legally authorized to get it. For this, you will need:
Proof that You Can Request the Divorce Certificate
Applicable Fees for Your Request
Supporting Documents
Both are easily accessible as a certified copy, but you must visit the district clerk's office. You will need to include the above information to get it.
Another option is a divorce record because they are public. This means they are accessible by anyone through the Texas Department of State Health Services. You should visit the Vital Statistics Section if the divorce occurred after 1968. There is no charge for downloading it. Divorces prior to 1968 are only available through the district clerk's office.
One thing to note is that divorce records may not be valid as a legal proof to help you change your name or get remarried.
How Much Will a Divorce Certificate Copy in Bexar County Cost?
The divorce record or divorce verification will cost you $20 per copy. The rest of the cost will come from your shipping option of choice.
Expedited Processing Charges are $5.00
Overnight Return Mail in U.S. is $8.00
USPS Express to PO Boxes Only is $22.95
If you want a divorce decree, you can usually get a copy of it for free and download it to your home computer. The problem is this document will have very little information on it.
How Long Does It Take to Get a Copy of the Divorce Certificate in Bexar County?
The processing time for a divorce decree is very slow. Even with expedited processing, you could wait approximately 20-25 days once you fill out the form. It could take longer if there is an error on your form, or you do not have all the required supporting documents to prove your identity.
How to Get a Divorce Certificate in Bexar County on Your Own
When you are ready to get a copy of your , you will need to fill out the form or make plans to go to your local Clerk of Court. No matter which option you choose, you should be prepared to provide:
Your Name
Your Address
Your Email Address
Your Relationship to the Divorced Parties
The Full Name of Both Divorced Individuals, Including Maiden Name
The Date of the Divorce Finalization
Where the Divorce Was Finalized
Age at the Time of Divorce
Social Security Numbers (If Known)
There are multiple ways for you to start the process of getting the divorce records. You may choose to mail it in, order online, or walk-in.
1. Mail Orders
If you choose to mail the form in, you will need to mail the completed form and your check or money order to:
Texas Health and Human Services
100 W. 49th St.
Austin, TX 78756
You should expect processing to take 6-8 weeks. However, this processing time may vary based on the demand for certificates. If you wish to check processing time, you can visit https://www.dshs.texas.gov/vs/processing/.
2. Online Orders
If you would like to order online, the process is faster. You should visit www.texas.gov. The average processing time for this is 15-20 business days.
When choosing this method, you must:
Be Living Within the United States or Able to Receive Mail at A Military Address (APO Or FPO).
You'll need a valid credit card to pay for your divorce certificate this way.
3. Walk-In
In most cases, walk-ins will receive same day service and delivery. You can visit the DSHS at:
1100 W. 49th St.
Austin, TX 78756
The hours of operation are Monday - Friday, 8:00 am - 4:00 pm.
If you prefer, you can also go to the San Antonio City Council Office at:
100 Military Plaza
San Antonio, TX 78205
They can be reached by phone at (210) 207-7040. You should call ahead to make sure that you can use their service to get your copy of the divorce record.
No matter which option you choose, the process can be frustratingly long. Either you must wait by your mailbox or wait in the DSHS or courts.
If you would like to simplify the process for yourself, or you cannot do any of the options listed above, you will need to get help. DoNotPay would like to be the one you turn to for help.
DoNotPay Can Instantly Get a Divorce Certificate in Bexar County, Texas
Despite the complexity of ordering a divorce certificate in Texas, DoNotPay can make it fast and secure for you. Just look at how easy it can be!
If you want to , but don't know where to start, DoNotPay has you covered in 7 easy steps:
1. Go to the Certificates of Divorce product on DoNotPay.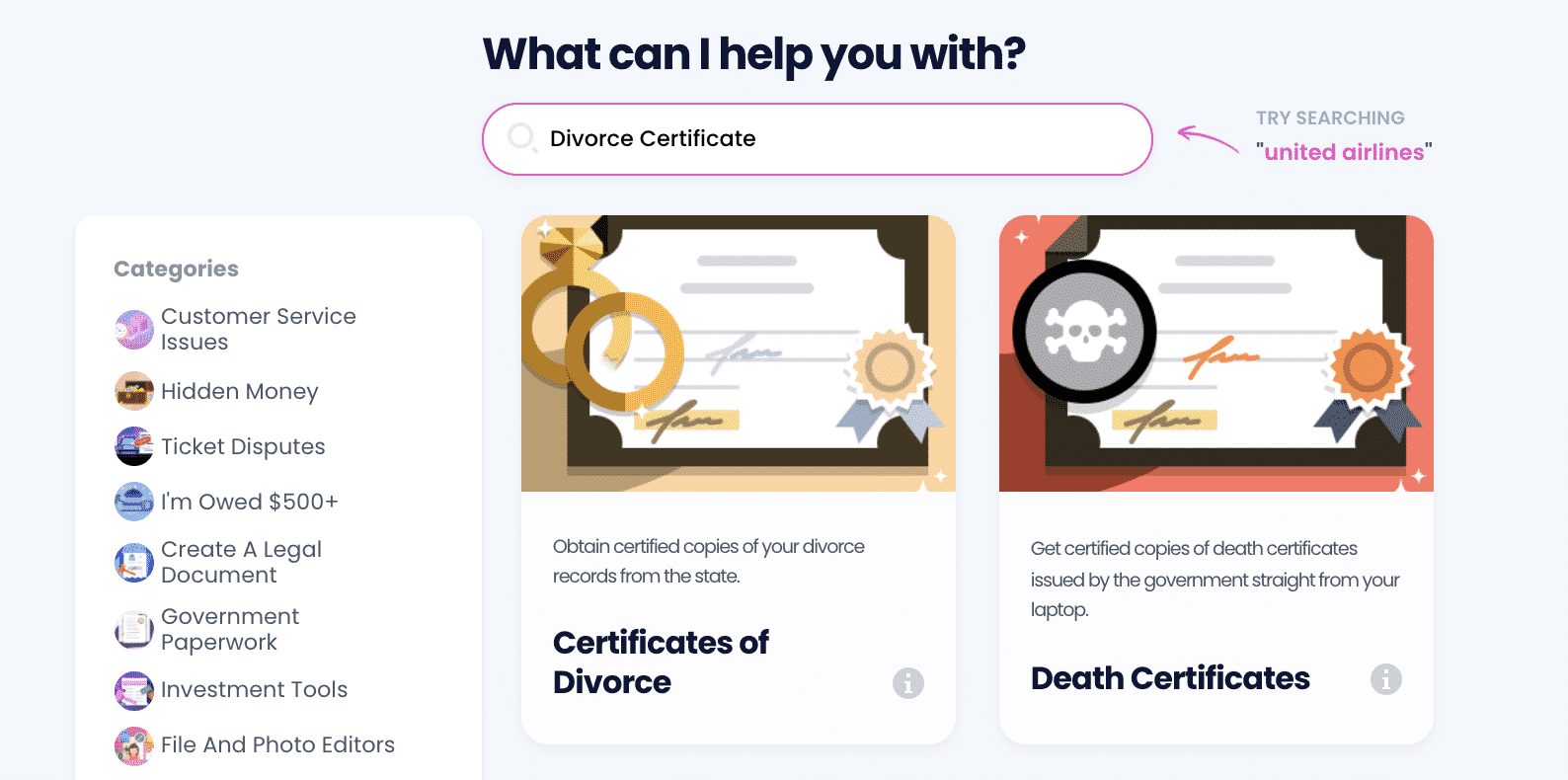 2. Select whether the certificate belongs to you or a relative/loved one. If it belongs to someone else, enter the details of both people on the certificate and select/upload evidence that proves your relationship with them. If the certificate is yours, enter the details of your spouse.*Please note: some states only allow people named on the certificate to apply.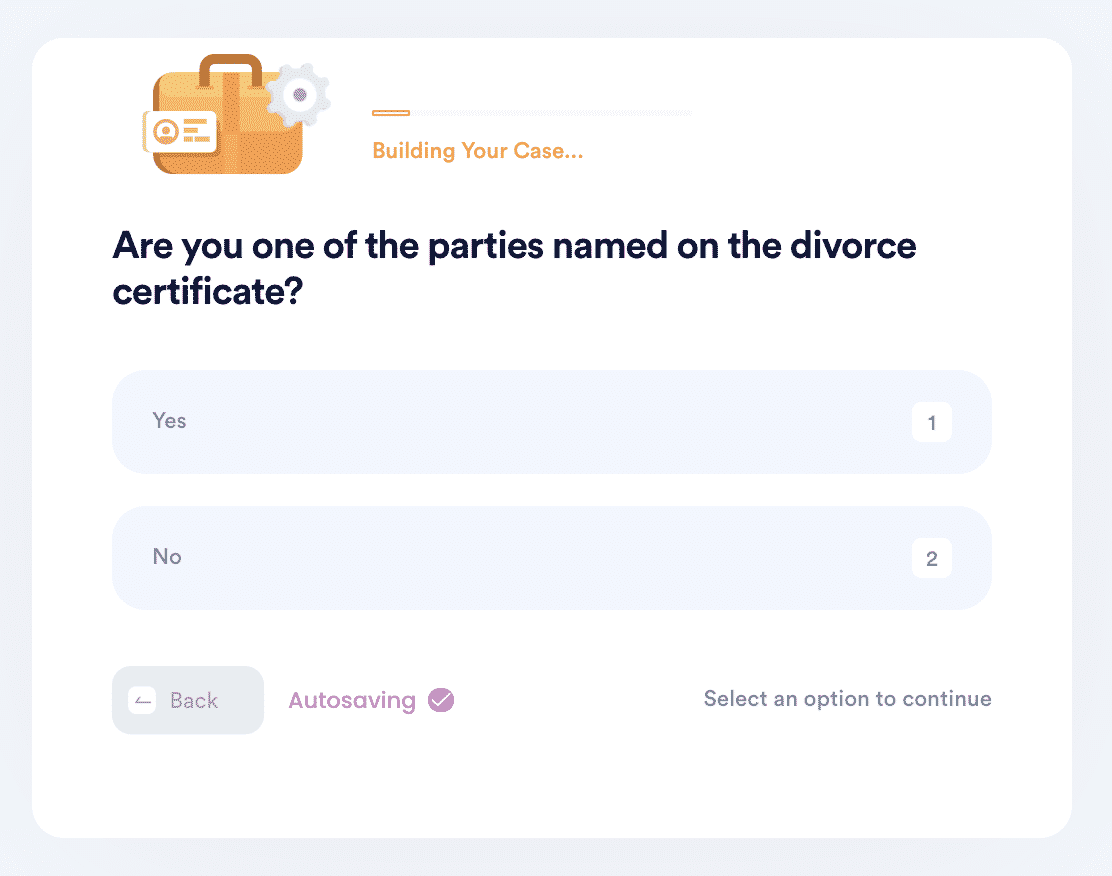 3. Enter the city, state, and county where the divorce certificate and original divorce certificate were issued as well as the dates they were issued.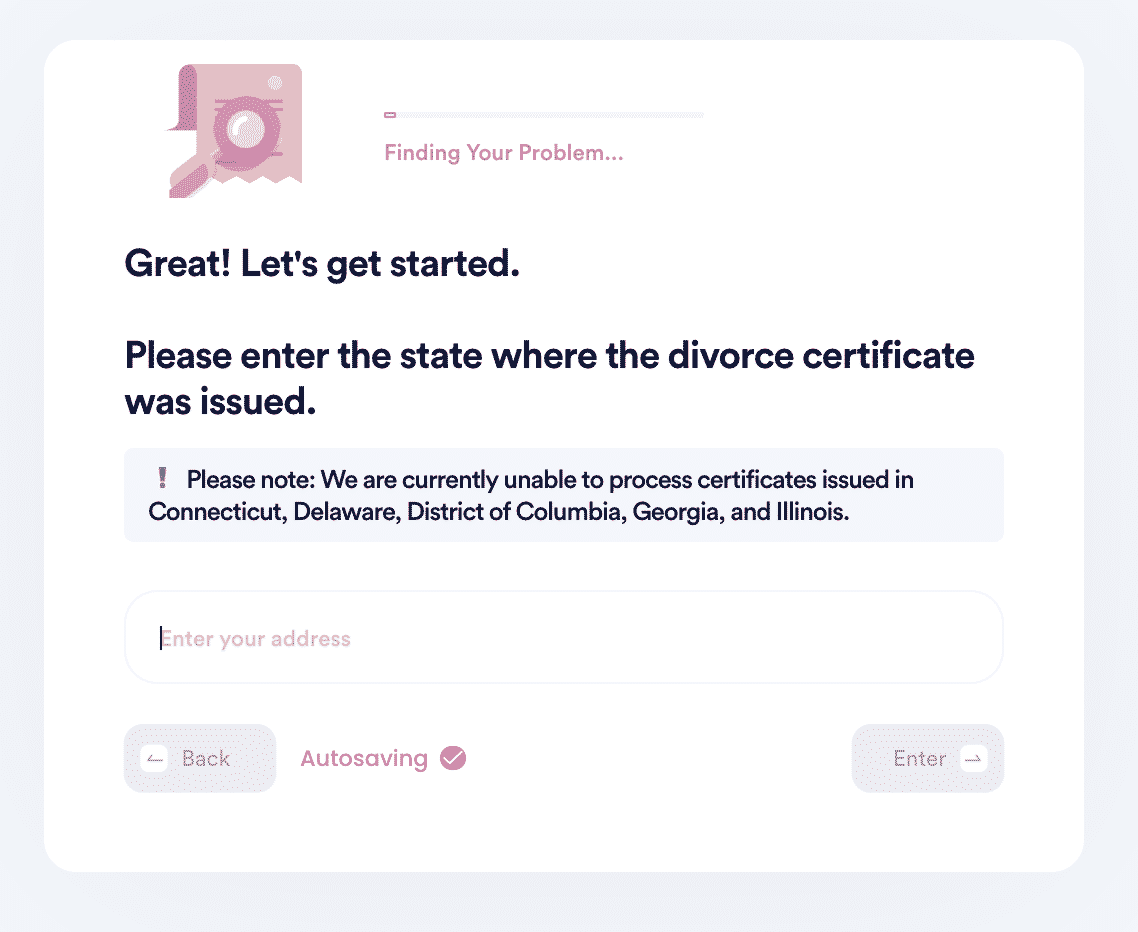 4. Indicate what you will be using this certificate for, and choose whether you need an authorized or certified copy.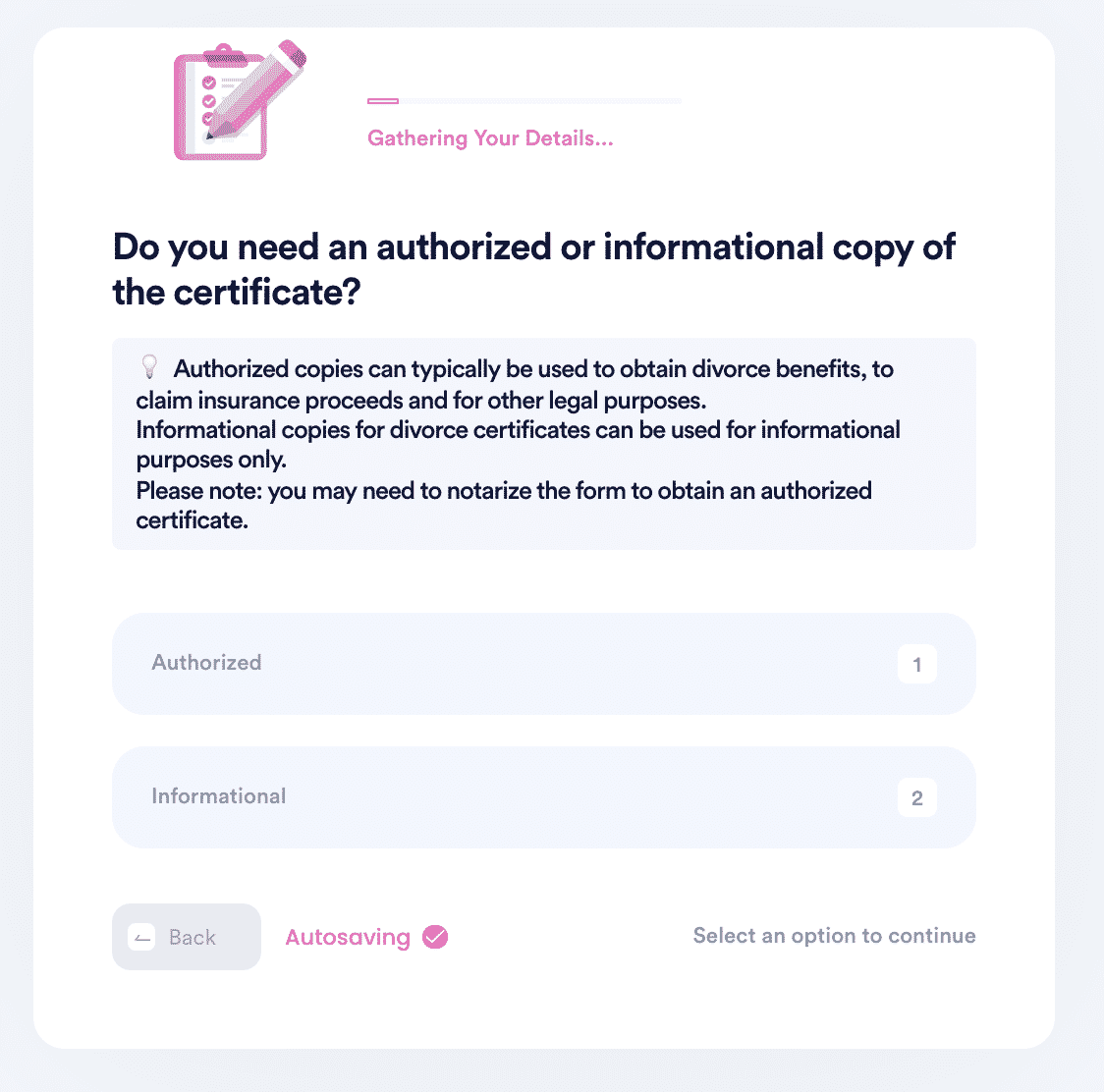 5. Enter your contact information and shipping address. Upload copies of your government-issued identification, such as a driver's license.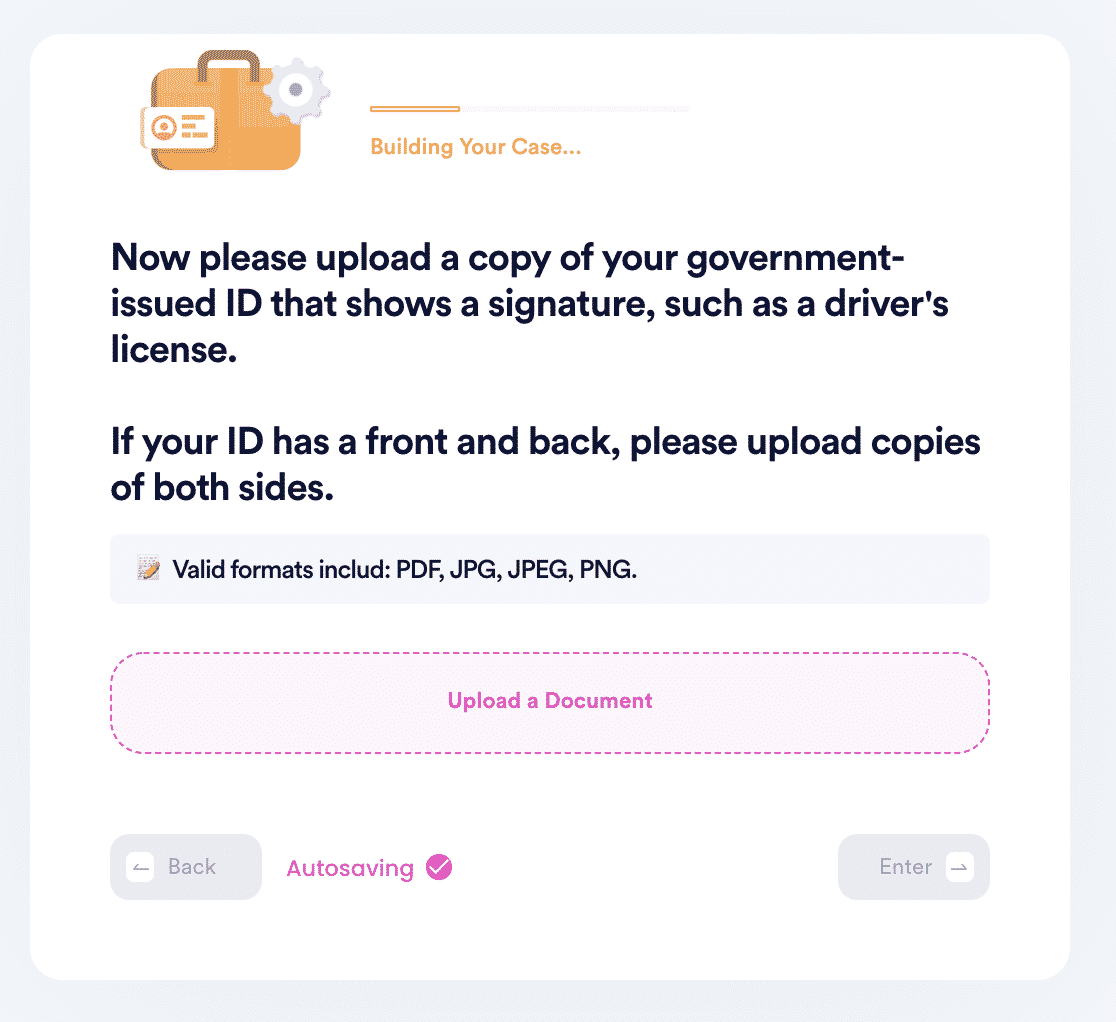 6. Choose whether you would like to electronically sign this form or not. Once we generate the form, verify that all of the information is correct.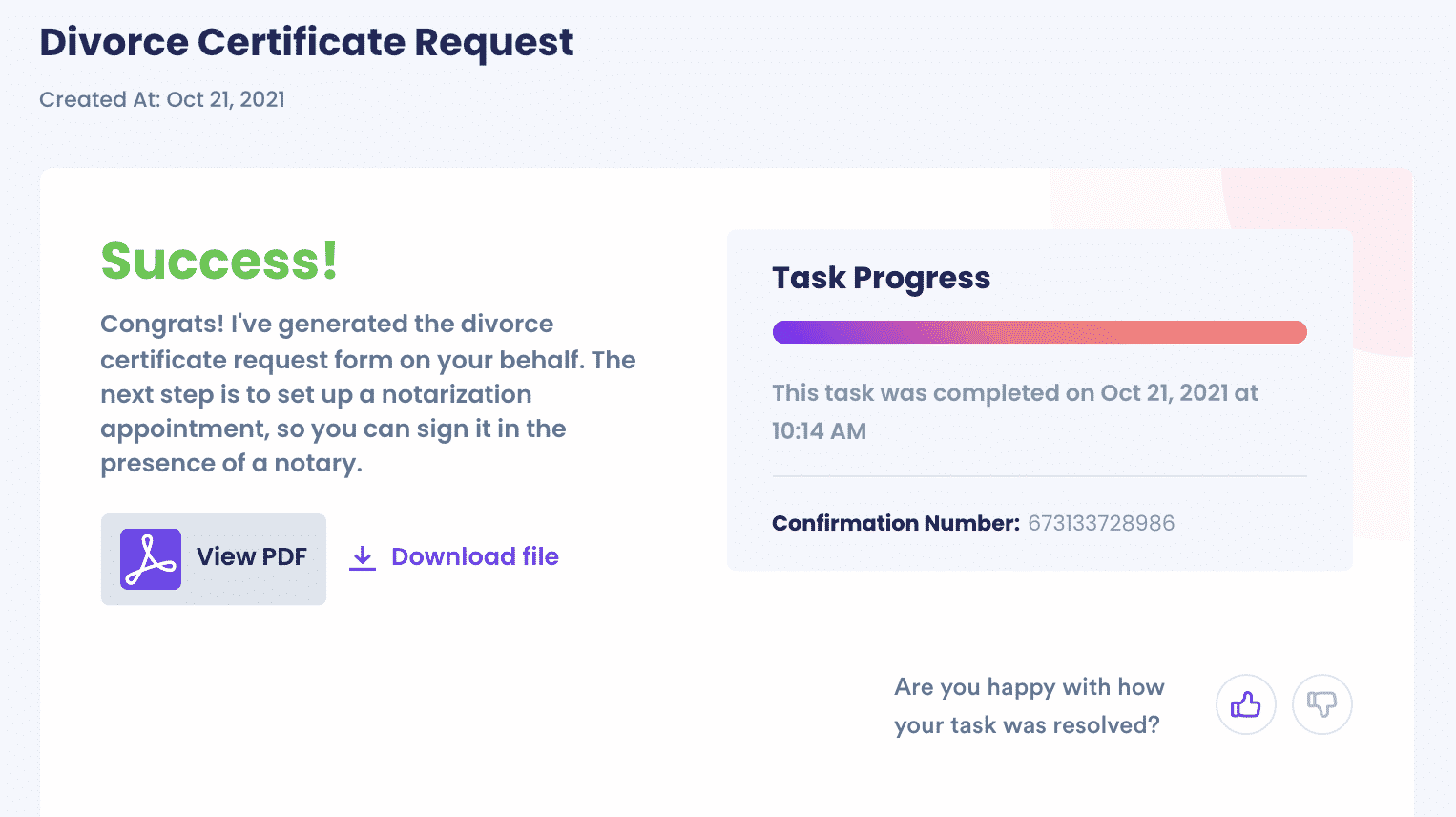 7. If you need the document to be notarized, schedule a notarization appointment using our Notary product. Otherwise, proceed to our Mail Checks product and let DoNotPay mail in your request form with a check on your behalf.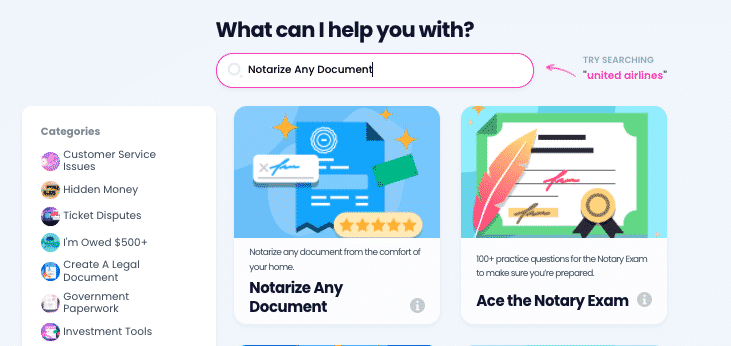 And that's it! The documents you want will arrive at your home address quickly. No hassle or headaches for you.
DoNotPay can help people all over the United States get the help they need important documents like divorce records or certificates. The process has proven to be exceptionally fast in:
Other Services You May Enjoy from DoNotPay
DoNotPay does more than help you get a . There are many useful services that can help you deal with most issues.
The most popular services are:
As the world's first online robotic lawyer group, DoNotPay can reduce a lot of stress. If you are interested in the services listed here or want to learn about other services, visit DoNotPay online, 24/7.