Get the Scoop on the Divorce Buyout Agreement Form
One of the biggest concerns most couples have when getting divorced is the cost of the process and how their assets will be split. What happens to your house or other property when you file for divorce depends on whether you're leaving the case to the court or reaching an agreement with your spouse.
If you want to make a deal with them, you can sign a divorce buyout agreement form. Don't know much about this document? Worry not because DoNotPay will help you understand this agreement and figure out whether it's the right choice for you.
What Is a Divorce Buyout Agreement Form?
A divorce buyout agreement form is used when a spouse wants to buy any marital property off the other party. For example, if you want to keep your house, you can make a deal with your spouse and pay their part of the mortgage off. You can also trade assets, marital investments, and retirement plans if you don't have the financial means to make the desired purchase.
Getting a divorce buyout form will also require you to potentially:
Determine the value of the asset—To determine the value of the asset in the buyout agreement form, you can either agree on it with your spouse or ask a real estate agent
Pay the broker's fee—The buying spouse might ask to pay half of the standard broker's fee if they decide to sell the asset later on
Who Is a Divorce Buyout Agreement Form For?
A divorce buyout agreement is for spouses who want to buy off property from each other. If you don't file this document along with other papers, the court will distribute the property and divide the assets accordingly.
How Does the Court Distribute the Property?
How the court distributes the property in a divorce depends on whether you live in:
Community property state—This system means that your assets will be divided between you and your spouse equally
Equitable distribution state—The judge will consider the income and health of both spouses, duration of the marriage, and various other factors before dividing the assets fairly but not necessarily equally
How To Get a Divorce Buyout Agreement Form
You've several ways of obtaining a divorce buyout agreement form, including:
Hiring a lawyer—If you plan on hiring a professional to draw this document up for you, be prepared to chime in a substantial amount of money
Downloading a free template—You can visit one of the numerous websites that offer divorce buyout agreements and download one. This option is not advisable as you might get an incomplete form or even get scammed
Writing one yourself—As this document will have to be reviewed by the judge, this is not the best option. You can make a mistake by accident, which might cost you a fortune
You can also state the buyout deal you have with your spouse in a divorce settlement agreement.
Divorce Settlement Agreement—What Is It, and Should You Get One?
The divorce settlement agreement is a document that contains your buyout plan and other terms of the divorce, such as:
It's for people who opt for an uncontested divorce. This type of marriage dissolution allows you to get divorced without going to court as you'll have to agree on crucial divorce terms with your spouse. You will also save a significant amount of money, as there's no need to hire a lawyer.
If you can't meet with your spouse in the middle, try divorce mediation. You will receive solutions to reaching a compromise in your settlement agreement.
Drawing up and signing this document instead of the divorce buyout form is also much easier as it cuts the amount of paperwork you'll have to file. You can sign up for DoNotPay and get a personalized settlement agreement in a snap!
Get a Divorce Settlement Agreement With DoNotPay and Buy Out Your Marital Home Hassle-Free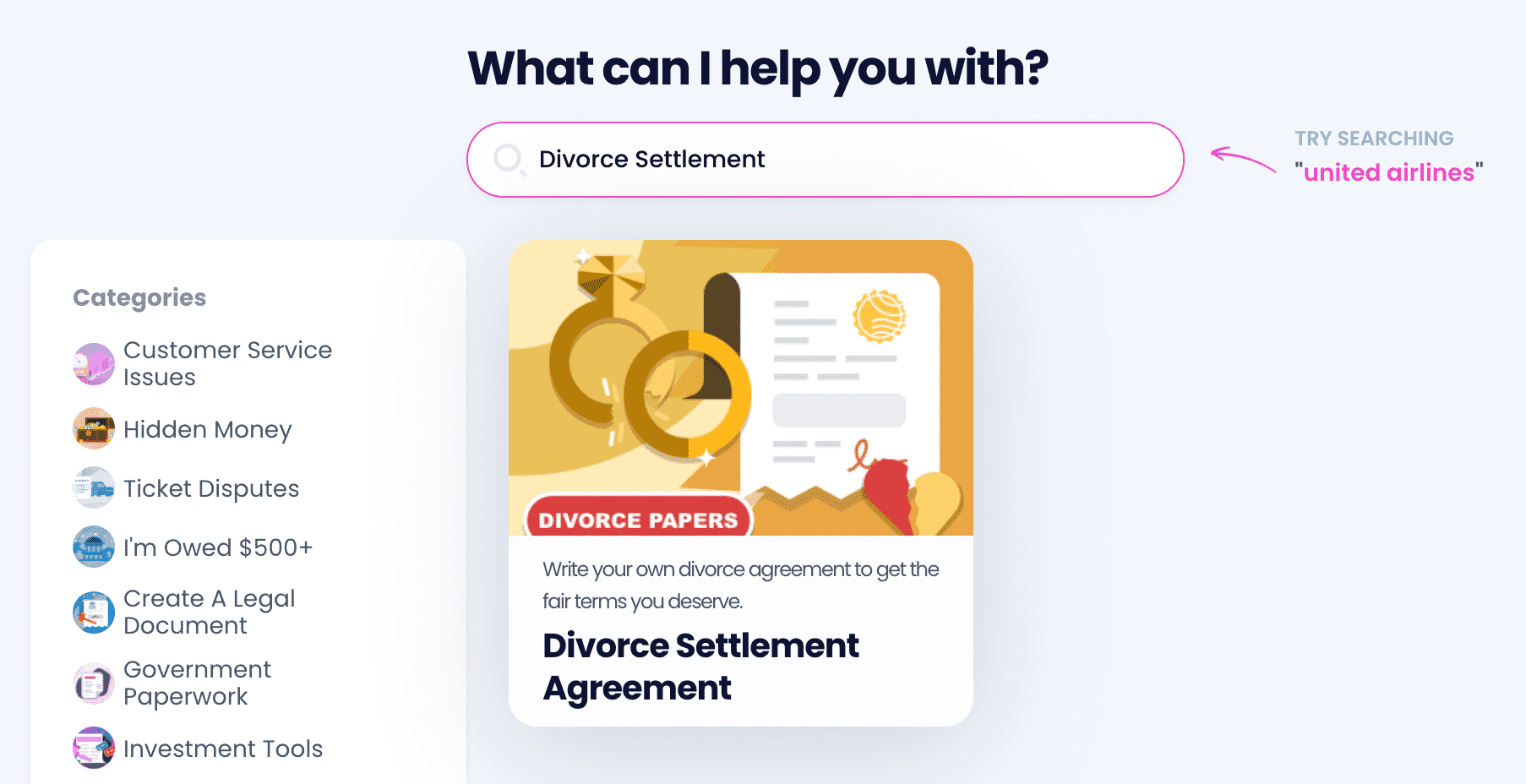 With DoNotPay's Divorce Settlement Agreement tool, you don't have to hire expensive lawyers or write important documents yourself. We'll do it all for you, make sure you keep the assets you want, and help you part ways with your spouse on a friendly note!
Here's what you have to do:
Select the Divorce Settlement Agreement tool
Give us the necessary info regarding your:

Marriage
Assets
Income
Children (if any)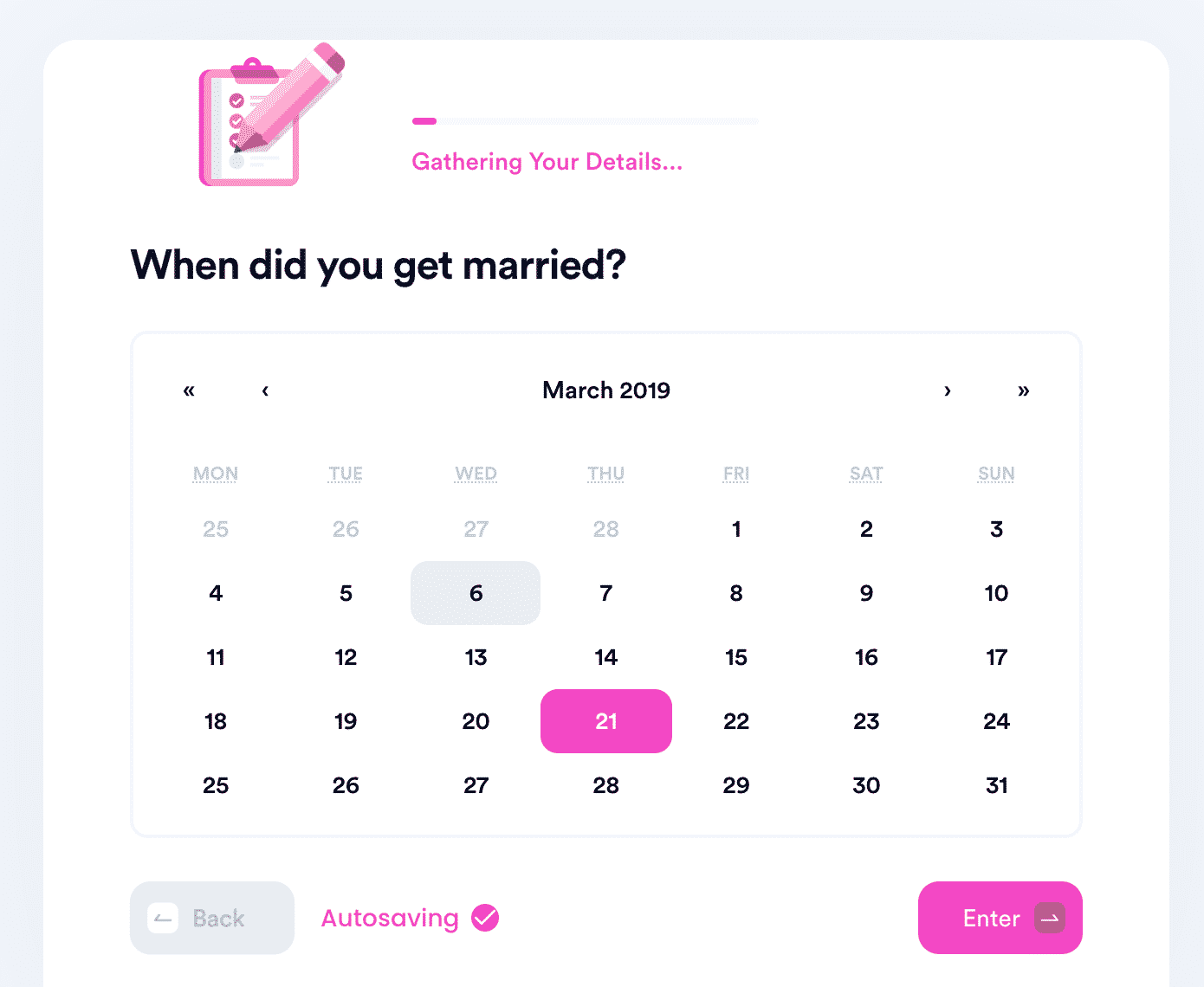 We will use the details you provide to create a pitch-perfect settlement agreement for you. Want to have it notarized? If you opt for our notarization service, you can schedule an appointment with an online notary.
DoNotPay Is Your Number One Divorce Assistant
Need more help? Check out DoNotPay's learning center and find answers to the following questions:
We've also prepared a table to help you understand divorce laws in different U.S. states:
Learn How To Solve Legal Issues in Minutes!
Do you need to draft a legal document? Spending hundreds of dollars on lawyers is not the answer. We came up with a faster and more affordable solution. Not only can our app draft child consent forms, divorce settlement agreements, and powers of attorney for you, it can also provide legal assistance by helping you take anyone to small claims court!
Drafting numerous documents is not all DoNotPay does for you! Aside from drawing up contracts and agreements, we can also assist you in getting them notarized online from the comfort of your home or office!
Explore DoNotPay's Other Nifty Features
There is more assistance on the way! You can use DoNotPay's features to handle various tasks with ease, including:
We can also help you protect your safety. If you don't know how to deal with copyright infringement, stalking and harassment, work discrimination, sex offenses, and disputes with annoying neighbors, DoNotPay has got you covered.