Discover the Ultimate
Divorce Agreements Samples
With DoNotPay
If you are about to legally separate from your spouse, you need to sign a divorce agreement. This document is more than a list of spouses' split items. A divorce agreement outlines the crucial terms of the settlement and must comply with particular state laws.
If you want to know what constitutes reliable divorce agreement samples, DoNotPay is at your disposal. We will also help you find other contract templates you can rely on! 
What Is a Divorce Agreement?
A divorce agreement is a contract in which two spouses agree on the terms of their divorce. This legal document should cover a wide range of topics, such as:
Child custody

Child support

Alimony 

Division of the property and debts
You should use a divorce agreement if you and your spouse have already reached an understanding on the above-mentioned issues. That way, the judge doesn't have to make the decisions for you.
The court still has to approve the agreement, especially if children are involved. Make sure to divide the property equally and prioritize the children's best interest.
When Should You Use a Divorce Agreement?
You should use a divorce agreement when you and your spouse:
Are still in contact

Have been negotiating the terms of the divorce for some time and want to create a property division plan

Have already decided to divorce and agreed on how you want to divide property and assets

Plan to meet the attorney together and prepare a proposition for the division of the property 
Which Sections Should Reliable
Divorce Agreement Samples
Include?
Creating a divorce agreement is a serious undertaking. It has to be as specific as possible and comply with state law. If you make a mistake or omit an important element, the court may reject the agreement. Check out all mandatory sections of a divorce agreement in the table below:
Elements of a Divorce Agreement

Details

Involved parties

The agreement needs to include the names of the involved parties, including the spouses, children, and attorneys

The subject of the agreement

Specific sections in the agreement have to address:

Division of the property and debts

Access to the children, including visitations, support, and custody

State jurisdiction

You should indicate the state and county where the divorce is taking place

Date

The agreement has to specify the date of the divorce, signed by the judge

Reasons for the divorce

This section of the agreement should list grounds for the divorce, including adultery, unreasonable behavior, irreconcilable differences, etc.

Closing documents

You should provide additional closing documentation, such as special warranty deeds and powers of attorney
Does a Divorce Agreement Have To Be Notarized?
It is recommendable to get a divorce agreement notarized. The act provides an extra level of security for the involved parties. Notarization confirms the identity of both spouses and proves they weren't forced into entering the agreement.
Tips for Finding Reliable Divorce Agreement Samples
You can find divorce agreement samples online. If you type in the required keyword, your browser will display numerous options to choose from. Before deciding on one, make sure the template:
Appears professional

Contains all the crucial sections that we mentioned above

Is easy to read, understand, and customize

Is free 
Every divorce is different, so you should be careful when customizing the agreement template. If you can't afford a lawyer to draft the agreement for you, you should at least hire them to look over the agreement you made. That way, you will confirm that the agreement is enforceable without paying the full price of legal services.
DoNotPay Can Teach You About Other Legal Documents
If you ever need to enter an agreement, you should be familiar with its terms. DoNotPay's knowledge base can provide all the information you need! Read our comprehensive articles to learn about:
DoNotPay Can Create Various Legal Documents for You
Besides tips on how to write a contract or use contract templates, we can create various legal documents for you. If you provide the essential info, we will use it to personalize the contract according to your needs and the governing law. 
The process goes like this:
Access our app

in a web browser

Find our

Standardized Legal Documents

tool

Enter the legal document you need

Answer a few questions
Use our integrated features to notarize and fax the document in the same app!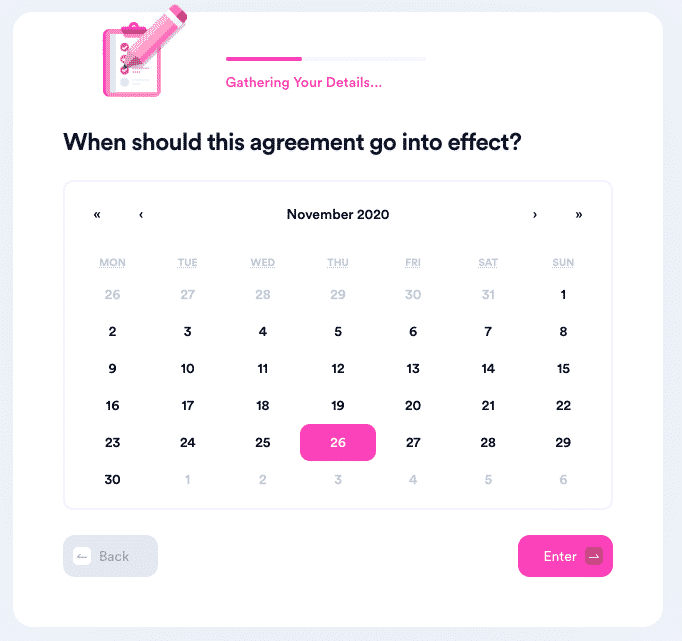 What Documents Can DoNotPay Create?
Open our app to choose one of the documents we can currently generate for you:
Business
Real Estate
Other

Quitclaim deed

Estoppel certificate

Intent to purchase real estate

Residential

lease agreement

General affidavit

Promissory note
DoNotPay Leads the Way Against Spammers
Browsing the internet has never been more popular than today, but you must not forget to keep your private and financial information safe. You know you can cancel any streaming service or magazine subscription easily, but that won't stop them from using your personal details for marketing purposes.
DoNotPay has a solution for that! 
Is a company pestering you with incessant robocalls, spam emails and text messages? Use our Virtual Credit Card to catch them in the act and claim compensation for your troubles. 
To prevent that from happening ever again, use our card to sign up for free trials—not only will you not pay a dime for the service, but you will be automatically unsubscribed as soon as the trials are up! 
If you want to avoid revealing your personal phone number, we'll generate a temporary burner phone for you so the company won't have any way to reach you.
Already Been Scammed? DoNotPay Knows the Way!
If you've already made the mistake and divulged your personal info to the wrong party or experienced any other kind of crime or injustice, you don't have to sit tight and suffer the consequences. DoNotPay can assist you in taking anyone to small claims court!
We'll help you gather evidence—correspondence proving stalking or harassment took place, customer service call recordings, denied chargeback and refund claims, online fax transcripts, or proof of copyright violation. Then, we'll fill out the relevant legal documents for you and draft a court script that you can use in your hearing.