A Guide To Creating a Professional
Distribution Agreement 
The success of a company often depends on how well it can distribute its products. That's why creating a bullet-proof distribution agreement is of utmost importance. 
Drafting legal documents is not easy, but you shouldn't be discouraged. DoNotPay is here to explain what constitutes a valid distribution agreement and teach you how to create one easily!
A
Distributor Agreement
in a Nutshell
A distributor agreement is a contract between a company that supplies a particular product (a supplier) and a company that markets and sells it (a distributor). 
 A distribution agreement should define a relationship between a supplier and distributor in a way that benefits both parties. A distributor receives a fee or commission for marketing and selling the supplier's product. The supplier makes a profit without worrying about logistics and marketing. 
There are three basic types of distributor agreements, as presented in the table below:
Type of Distribution Agreement
Description

Exclusive distribution agreement

The supplier agrees not to appoint other distributors or sell the products to other clients within a specific geographical area. This type of distribution agreement is more favorable for the distributor. An exclusive distribution agreement is typically used for selling expensive products or the ones requiring specific knowledge of both the product and the market. 

Before using an exclusive distribution agreement, make sure to check with a lawyer if you are not violating any antitrust laws regulating free competition

Sole distribution agreement

The distributor has exclusive marketing rights in the specific area, but the supplier keeps the right to sell their product directly to end-users

Non-exclusive distribution agreement

The seller reserves the right to sell their product to end-users and appoint other distributors on a particular territory. This arrangement favors the supplier
Crucial Elements of a Valid Distribution Agreement 
A basic distribution agreement should contain specific elements to be legally binding. You need to pay close attention when creating it to avoid any disagreements or legal disputes. Here is a quick guide to creating an enforceable distribution agreement:
Identify the involved parties and indicate that the agreement regulates reselling of the supplier's product

Outline the territory where the distributor can operate

Indicate whether the agreement is exclusive, sole, or non-exclusive

Define causes for the agreement

Specify the product and the delivery date

Determine whether the agreement is commission-based or there is another type of fee arrangement

Describe the relationship between the involved parties, such as the distributor being an independent contractor

Define the terms of selling the product, including allowed advertisement strategies, branding guidelines, and distributor's responsibilities for product resale

Clarify whether product-rebranding is permitted

Include a statement that the supplier has to accept the distributor's orders at an appropriate time

Explain what happens when a distributor can't sell the goods and if there is a quota 

Outline payment terms

State that the agreement is binding and enforceable by the particular state law. You can also determine whether the arbitration will precede a potential lawsuit

Specify the date the agreement takes effect and how long it will last
Should I Use
Distribution Agreement Samples
?
If you don't believe that writing contracts is right up your alley, you can try using a contract template. The potential problem with templates is that they contain general terms and are not applicable in specific situations. 
Once you create your distribution agreement, make sure you have it checked by a lawyer. It's the only way to avoid business-impacting mistakes.
Create Legal Documents With DoNotPay
While some agreements can be written by a layman with proper guidance, others require a bit more finesse. DoNoPay, the revolutionary robot lawyer, can generate personalized legal documents for you! and pick a document from the table below:
Learn How to Write
Let DoNotPay Create

Quitclaim deed

Promissory note

Intent to purchase real estate

Estoppel certificate

General affidavit

Residential

lease agreement

General business agreement
Getting a contract with DoNotPay is easy. The process looks like this:
in a web browser

Search for the document you wish to create

Answer our chatbot's questions 
We use the answers you provide to create a document that fits your situation. You will get a professional, comprehensive legal document in a matter of minutes! For an affordable monthly fee, you get an unlimited number of contracts.
We can also help you schedule an appointment with the notary and even fax the document for you!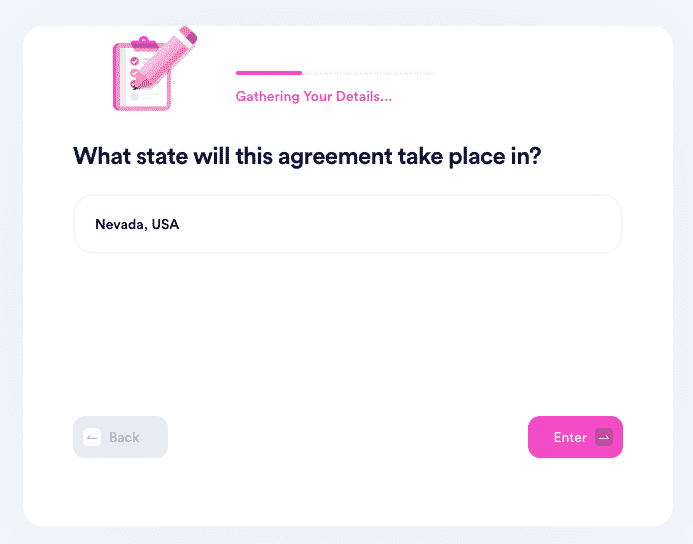 DoNotPay Leads the Way Against Spammers
Browsing the internet has never been more popular than today, but you must not forget to keep your private and financial information safe. You know you can cancel any streaming service or magazine subscription easily, but that won't stop them from using your personal details for marketing purposes.
DoNotPay has a solution for that! 
Is a company pestering you with incessant robocalls, spam emails and text messages? Use our Virtual Credit Card to catch them in the act and claim compensation for your troubles. 
To prevent that from happening ever again, use our card to sign up for free trials—not only will you not pay a dime for the service, but you will be automatically unsubscribed as soon as the trials are up! 
If you want to avoid revealing your personal phone number, we'll generate a temporary burner phone for you so the company won't have any way to reach you.
Already Been Scammed? DoNotPay Knows the Way!
If you've already made the mistake and divulged your personal info to the wrong party or experienced any other kind of crime or injustice, you don't have to sit tight and suffer the consequences. DoNotPay can assist you in taking anyone to small claims court!
We'll help you gather evidence—correspondence proving stalking or harassment took place, customer service call recordings, denied chargeback and refund claims, online fax transcripts, or proof of copyright violation. Then, we'll fill out the relevant legal documents for you and draft a court script that you can use in your hearing.