Understanding the Differences Between Disparagement vs Defamation
Defamation is a civil tort. The affected individual may be eligible for substantial monetary compensation. Defamation occurs when a person makes false or injurious claims about another person and it has caused some kind of financial, reputational, or personal harm. In establishing a case of defamation, the plaintiff must first show which of the two types of defamation occurred — slander or libel.
In a case of slander, the defamation has been spoken aloud or otherwise gestured in a non-written way. In a case of libel, the defamation has been written or posted in a permanent format. If you have been defamed, it is recommended that you take steps towards sending a "cease and desist" letter, warning the defaming individual of legal action. Continue reading to learn about defamation and disparagement!
Defining Defamation
The first action you must take is to define your type of defamation and its extent. Between the two forms of defamation, there are a few key distinguishing factors:
Slander and libel
Defamation can be a case of either slander, or libel

Libel is recognized in its permanent character, such as an email, radio or TV broadcast, newspaper article or social media post
By contrast, slanderous statements do not have a permanent record, so they may be anything from a gesture to a spoken statement

Now that you have established what kind of defamation has occurred, you can continue with proving your claim by sending a cease and desist letter to the personal responsible
Defamatory speech vs. protected speech
Although defamation might seem simple, there are several ways in which defamatory statements may not be eligible for litigation:
Practicing freedom of speech
In the United States, our First Amendment protects the right to speak freely without threat of punishment, but also protects an individual against defamatory statements that cause them harm
Defamation is not illegal, but it is protected in that a defamed individual has the right to sue for compensation if they have been harmed by falsehoods
Any expression of free speech that causes harm can be classified as defamatory under U.S law
False light cases
A published falsehood about an individual can also be classified as a false light claim
While defamation usually protects assets and reputation, false light claims are used to protect the defamed individual's mental or emotional well-being
Disparagement cases
Disparagement is a clause under defamation that is primarily intended to protect financial interests of an individual, their products, or their patents
Corporate interests are usually covered by the disparagement clause, while defamation protects personal financial interests
Expression of opinion
Defamation requires that the statement must be provably true or false, but opinions cannot be proved as such, meaning they fall outside of defamation protection
If a statement of opinion is made to seem like a statement of fact and is published extensively, it may qualify as grounds for a defamation lawsuit.
What Is Disparagement?
Disparagement, or often called "business disparagement" is a protection afforded to guard the economic interests of a plaintiff.
Below, discover the elements of disparagement according to American tort law:
A false statement is published
The statement is published with the intent and belief that the statement will cause financial loss for the business
There is a financial loss for the business
The defendant communicates that they are aware the statement is false and they act with reckless disregard for the truth
Disparagement Versus Defamation
Winning a Defamation Case
Winning a Disparagement Case
The defendant published a factual statement
The defendant published disparaging words about the plaintiff's economic interests
The statement was addressed by the plaintiff
The words were fake
The statement was defamatory
The defendant published with malice
The statement was untruthful
The defendant published without privilege or permission
The defendant acted with:

Malice
Negligence
A lack of regard to fault

The publication caused harm and serious special damages
The defendant suffered immense damages
This resulted in losses for the plaintiff
Should You Write a Cease and Desist Letter?
In response to a disparagement case, writing a cease and desist letter is a multifaceted process that can affect your case, if not done properly.
If you are unable to legally prove the damages you've suffered, outline all components of corresponding evidence from a legal standpoint, compose a legally sound letter and comprehensively defend your case, you may run the risk of your letter being thrown out and even being unsuccessful if you go to court.
To add, many lawyers who are capable of drafting cease and desist letters will charge an ungodly amount of money for even responding to your inquiries!
Get a Cease and Desist Letter from DoNotPay!
DoNotPay is a fast, reliable, and convenient solution to any disparagement case! The cease and desist letter drafts will detail the information about the case, demand retraction, warn against future statements, and will order that the accused abides by local or municipal state statutes.
All you need to do is:
1. Select the Defamation Demand Letters service on .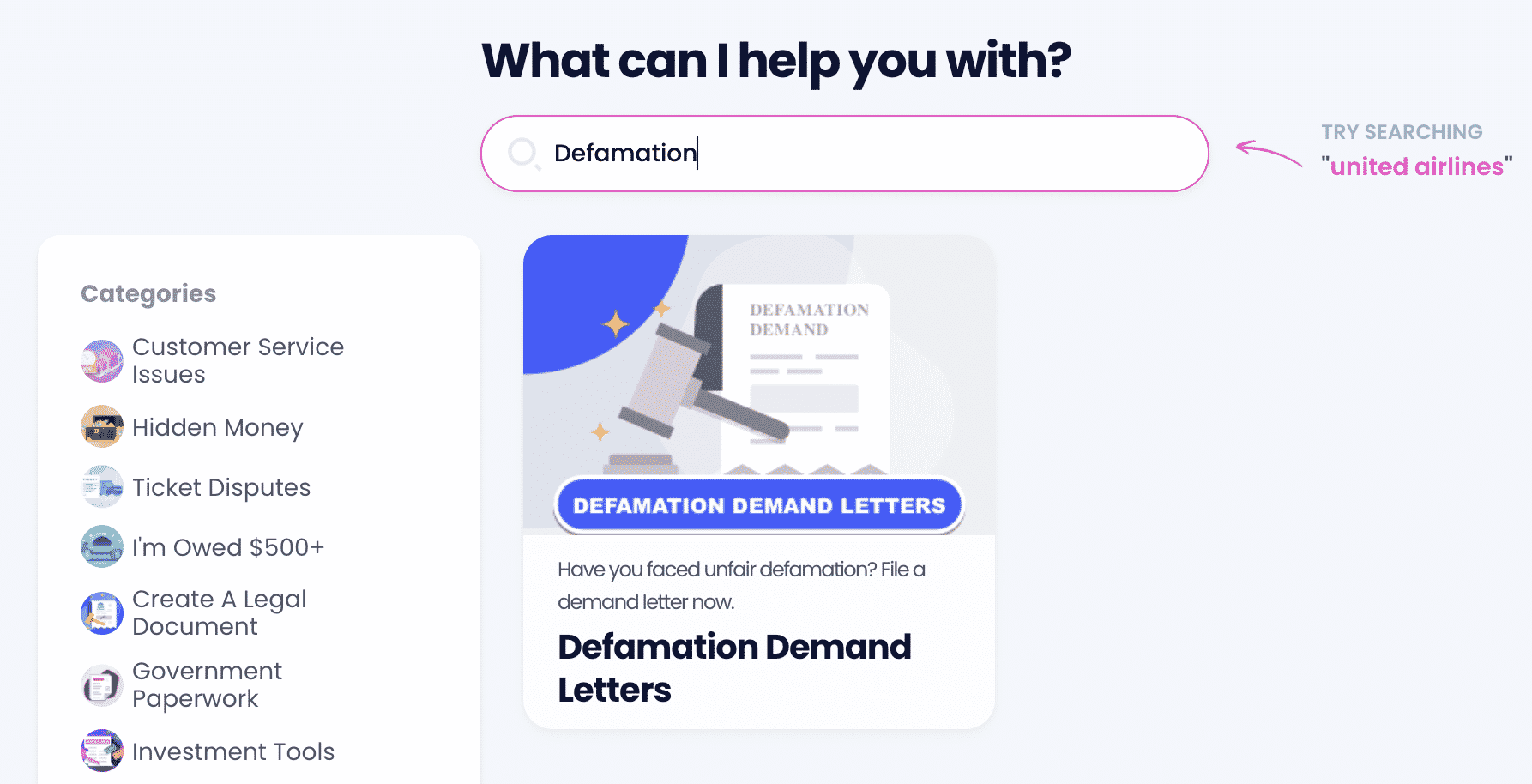 2. Tell us about your situation:
Were the statements slander or libel?
What were the statements?
Why are they false or misleading?
What consequences have you suffered as a result of these statements?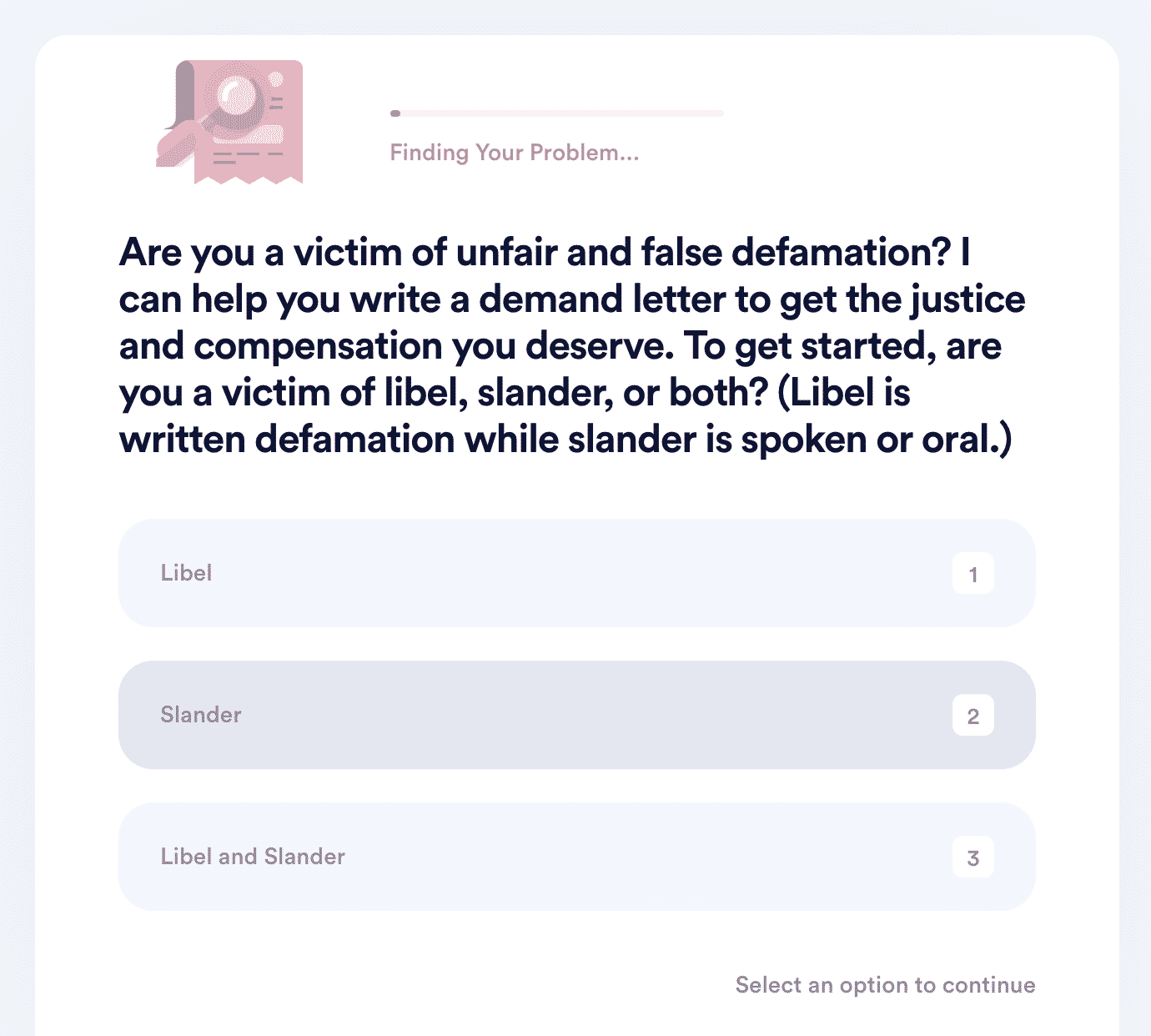 3. Based on your location, DoNotPay will immediately generate a formal demand letter on your behalf, with the most relevant state legislation regarding defamation.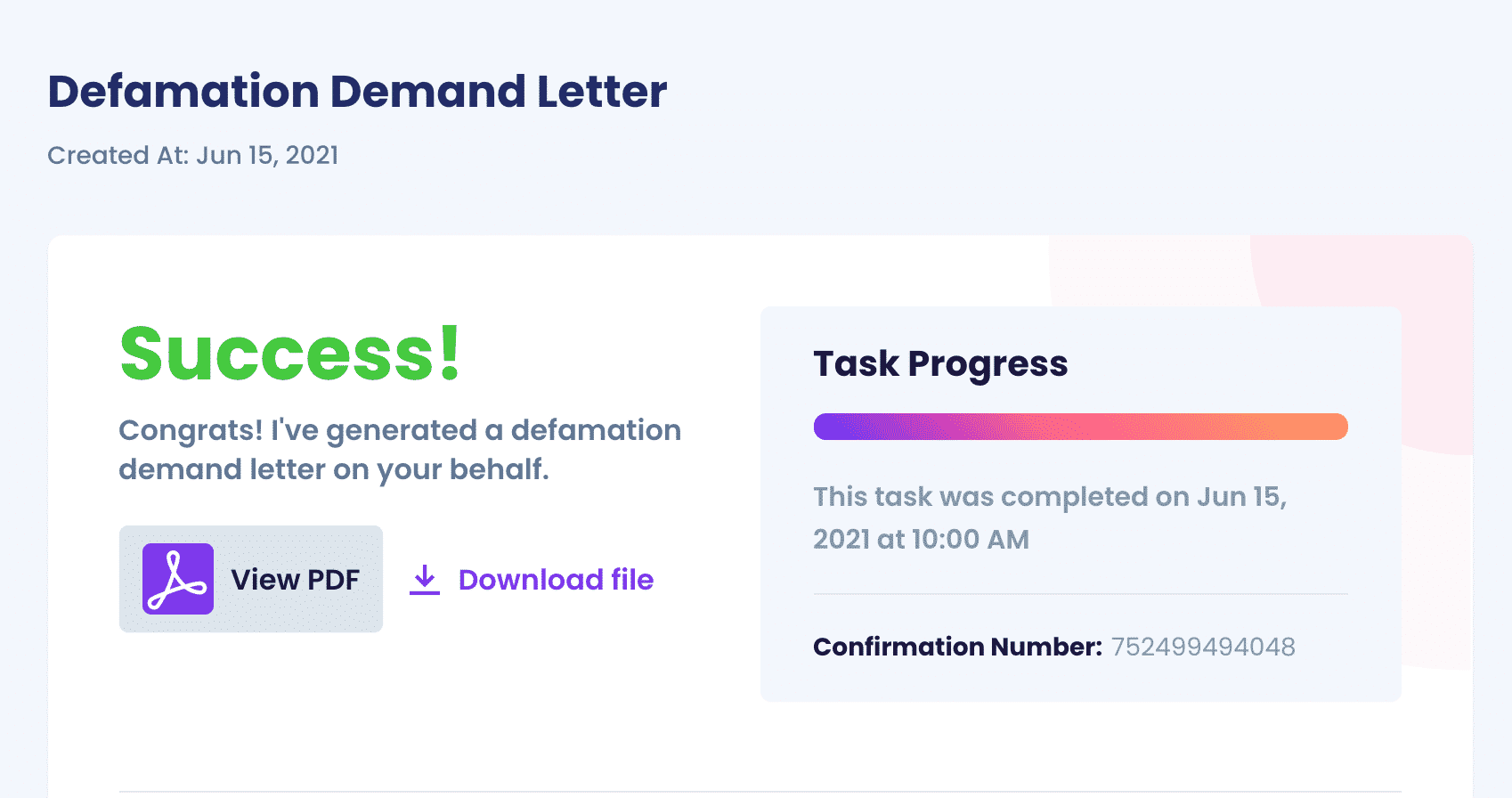 That's it! You can expect a precisely drafted cease and desist letter to your cause in an instant!
What Else Can DoNotPay Do?
DoNotPay is your personal assistant and lawyer in one app! Have another legal issue? DoNotPay can help you with: