How To File a Lawsuit Against Dish Network—Step-by-Step Guide
The relationship between television providers and their customers is changing rapidly. The era of online video streaming services has rendered traditional television outdated, at least to a certain degree.
Widespread cord-cutting is affecting most television providers, as more and more of their customers move onto online streaming services for entertainment. With that in mind, companies like Dish Network have more incentives to have an amicable relationship with their customers than ever before.
In the case of Dish Network, however, customer service leaves a lot to be desired. Their 'human touch' has never been the softest in the business. In fact, they've not only proven to be dishonest brokers in regards to their customer base, but with their business partners and competitors as well.
In case the company has wronged you in any way, you should be fully aware of all your legal options. In this article, we'll walk you through the process of filing a lawsuit against Dish Network, step-by-step, as well as show you how you can sue the company is small claims court using the DoNotPay app (so you don't have to spend thousands on lawyers).
Can You File a Lawsuit Against Dish Network?
There are a few situations in which a consumer may want to seek a fair resolution of their issues with Dish Network.
This company has become infamous for a series of customer care issues, mainly their illegal telemarketing strategies, which we'll explain in more detail below. Also, some 15 years ago, Dish Network's parent company EchoStar lost a lawsuit against customers because they charged hidden fees and costs.
So, if you have any such problem with Dish Network, can you simply pursue litigation against them in general jurisdiction courts? For better or worse, the answer is no.
Dispute Resolution Clause
Naturally, according to U.S. law, any person may file a lawsuit for whatever reason they see fit. But should a customer decide to file a lawsuit against Dish Network in a general jurisdiction court, it's doubtful the case would ever go beyond the summary judgment phase.
The reason for that lies in the service contract all customers sign with Dish Network. According to this agreement, consumers have two options for dispute resolution: small claims court or binding arbitration. Once you sign a contract with Dish Network, you are basically relinquishing the right to sue them in a general jurisdiction court.
There have been class-action lawsuits against Dish Networks in federal special jurisdiction courts. If you did not join the class action on time, starting a case by yourself will be extremely expensive and time-consuming, even if you are confident of victory. In many situations, a small claims court lawsuit is a quicker and less costly option and one that is allowed by the Dish Network residential service agreement.
| | |
| --- | --- |
| Type of jurisdiction | Legal consequences |
| General jurisdiction court | Can handle cases regardless of subject matter, whether they are related to common law, criminal law, etc. |
| Special jurisdiction court | Can try cases related to a specific geographical jurisdiction or subject matter, such as federal courts. |
What you need to know about class-action lawsuits
There are various situations in which a customer might seek legal action against a company. However, if the company in question is a large corporation that provides services to a huge number of customers, many customers might have the same grievance against the company. In that case, the most logical course of action would be a class-action lawsuit.
Class-action lawsuits represent legal actions that represent a multitude of individuals with the same problem. They collectively file a claim against a company that has wronged them all in the same way. When there are many people with the same issue, pursuing redress through separate lawsuits is less effective. If consumers want to seek impactful redress from a company, a class-action suit will do the job much better.
| | |
| --- | --- |
| Type of lawsuit | Nature of case |
| Small claims court lawsuit | An individual plaintiff sues for damages related to their specific issues. |
| Class-action lawsuit | A class of plaintiffs, sues for collective damages that will be distributed upon the conclusion of the case. |
DoNotPay is the world's first robot lawyer and a perfect assistant in this scenario.

When you and choose the Sue Anyone option, our friendly chatbot will ask you a few questions to help put together your case. You'll get a custom-made demand letter along with instructions on how to act in the courtroom, so you can sue Dish Network in small claims court and win the case!
Filing a Class-Action Lawsuit Against Dish Network
One of the first things to understand about a class-action lawsuit is its complexity, and not just in regards to the multitude of plaintiffs, but in the accompanying bureaucratic process as well. Filing even the most straightforward class-action lawsuit takes a lot of work. Generally, the steps for pursuing collective litigation are:
Verifying valid cause

Finding other plaintiffs

Checking the prerequisites

Finding the right attorney

Deciding on the lead plaintiff

Filing the suit
Initial Preparations for a Class-Action Lawsuit
As you may surmise, just by glancing at the steps to starting a class-action lawsuit above, it is no easy feat. Even before the actual court case begins, there are many costly and time-consuming actions to complete first.
Before anything else, you will need to ascertain whether you have cause for such a lawsuit. If you are determined to start a class-action case, do some research on the issue you have with Dish Network. Check to see if anyone apart from you has experienced a similar problem with the company. Then, proceed to find as many potential plaintiffs as possible. This part of the process may take up a lot of your time and involve a lot of research.
Checking the Four Prerequisites for Suing Dish Network
Once you start working on your class-action lawsuit, you need to make sure that your case satisfies the basic requirements for it to be considered a class action. According to the Federal Rules of Civil Procedure, a case must pass the following class-action benchmarks:
Practicality

- there must be so many potential plaintiffs that trying separate cases would be impractical;

Commonality

- the legal and factual essence of the case must be something that all plaintiffs hold in common;

Case Example

- one of the plaintiffs must have a case whose facts are typical for the remaining plaintiffs;

Lead Plaintiff

- said plaintiff must fairly and honestly represent the remaining members of the class.
Remaining Procedure of a Class-Action Lawsuit
If you are sure that the case fulfills the listed requirements, you may proceed to find a class-action attorney. This is where the procedure becomes expensive, as quality attorneys charge a hefty fee even for something as uncomplicated as a small claims procedure. The choice of attorney is crucial, as the judge will have to certify him or her as class counsel. If the judge is not satisfied with your attorney in terms of their experience with class-action cases, they may appoint someone else to represent the class.
Once you have chosen the attorney for the case, you also need to pick a lead plaintiff. This is something to be determined by the entirety of the class. However, if you are the initiator and driving force behind the lawsuit, you will probably take the role of the lead plaintiff as well. This means that you will bear the brunt of responsibility for the case. For example, you will have to file the lawsuit and notify the other class members of any events or changes going forward.
Alternatives to a Class-Action Lawsuit
If you are not ready to spend the majority of your time and financial resources on the class-action lawsuit, consider alternative legal actions. With a company like Dish Network, the service agreement you signed when you became their customer probably bars you from a class-action lawsuit. The only situation where such an option is still possible is a class-action for a federal crime, which did happen to Dish Network in 2018.
The aforementioned residential service agreement customers sign with Dish Network allows for a case to be tried in a small claims court. These courts are organized on a state level, and they provide a much less formal route toward conflict resolution. Consumers may represent themselves without an attorney before a judge who will reach a decision on whether damages need to be paid.
Suing Dish Network in Small Claims Court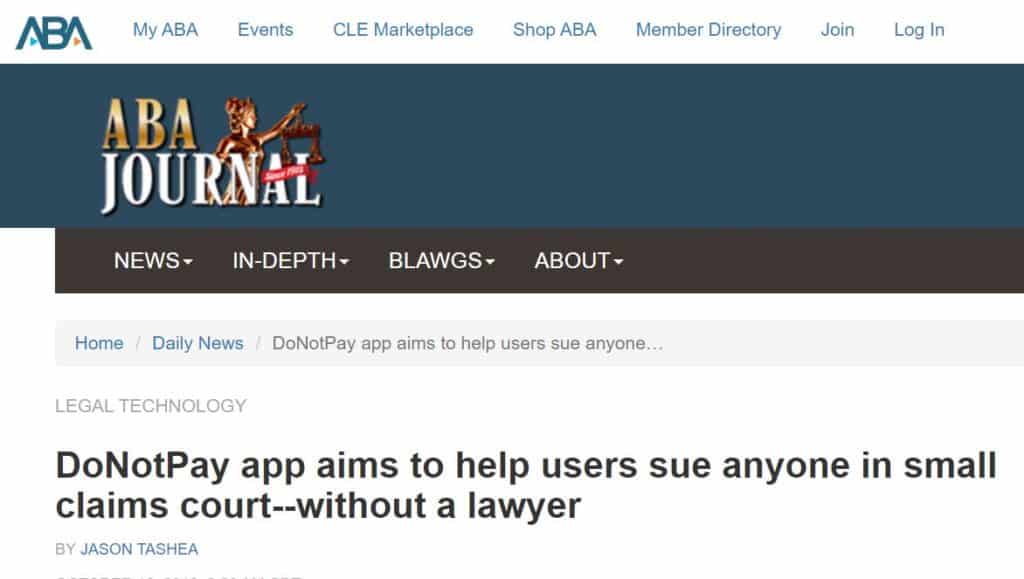 Even though representing yourself before a small claims court is much easier than a general jurisdiction court, for most people, it still requires some legal knowledge that they do not possess at the beginning of the case. The process can take time, due to all the research and bureaucracy you need to handle by yourself.
But unlike class-action lawsuits, there is a smoother way to deal with a small claims court case, using the most cutting-edge AI technological advances!
DoNotPay can help you bring your case to a satisfactory conclusion much more smoothly. The DoNotPay app rests on the shoulders of an extremely advanced AI chatbot. It exists to garner facts from users regarding their case and help them prepare.
Once your conversation with the chatbot is over, DoNotPay will provide you with:
A custom-made demand letter that you will deliver to the defendant

Location-specific court forms that you need, pre-filled and in the exact required number of copies

Instructions on correctly serving the defendant according to court rules

Strategy for your behavior as a plaintiff during your day in court
As you can see, not only are small claims court lawsuits more easily pursued than a class-action suit, but DoNotPay's technology enables you to do it hassle-free.
DoNotPay allows you to sue anyone in small claims court, without having to waste months of your free time and thousands of dollars on lawyers. You can in any web browser.
Notable Dish Network lawsuits
After examining the procedures for different legal actions against Dish Network and its affiliates, here are a few examples of significant Dish Network lawsuits in the past couple of years.
Some of the more well-known cases against Dish Network are:
Ray v. Dish Network

Krakauer v. Dish Network

Stokes v. Dish Network
Ray v. Dish Network
In this case, the plaintiff wasn't one of Dish Network's customers, but one of their employees. Matthew Ray, one of their now former employees, filed a class-action lawsuit against the company for multiple breaches of contract. He claimed that the company did not follow the Colorado Minimum Wage Act or the federal Fair Labor Standards Act. In the end, the company settled with him and his fellow plaintiffs after successfully steering the procedure toward arbitration.
Krakauer v. Dish Network
This is definitely the most famous case against Dish Network, at least in the past decade. Krakauer sued the company for illegal telemarketing tactics on his own at first, but the multitude of reports that he received of the same happening to others caused the lawsuit to become a class action.
Krakauer and his co-plaintiffs alleged that Dish Network made robocalls to their phone numbers, even though they had signed themselves up for the National Do Not Call registry. Thus, Dish Network was in violation of the telemarketing regulations set forth by the Federal Trade Commission.
Stokes v. Dish Network
This case was crucial for the question of monetary relief for service interruptions with Dish Network. The plaintiffs argued that the company owed them financial compensation for service interruptions related to Fox News and Turner services. Though the conclusion on this case has not yet been reached but it has been returned for further adjudication.
Examples of Small-Claims Lawsuits You May Be Able To File Against Dish Network
If you opt to sue Dish Network in a small claims court by and relying on our award-winning robot lawyer, there are plenty of situations in which you'll be able to pursue monetary compensation and have a chance of winning. For example:
Disregard of service cancellation

Dishonesty regarding fees

Refunds for non-existing services
Suing Dish Network for Service Cancellation Issues
In one example, a Dish Network customer took the company to small claims court because of an issue with service cancellation. The customer had canceled their service agreement with the company in May, but Dish Network proceeded to overcharge him for the following two months. When the customer decided to complain, Dish Network claimed they had no record of the customer canceling their service agreement. Thus, the customer decided to sue for a refund for those two months.
Suing Dish Network for Dishonest Fees
There have also been situations where Dish Network representatives gave offers for contract continuation only to proceed to charge fees higher than the customer agreed to. In this particular situation, the customer opted for a small claims court procedure because Dish Network charged them a higher subscription rate than they advertised. Not only that but when the customer decided to cancel due to a breach of contract, they were charged $260 for early contract termination.
Suing Dish Network for Refund Problems
In a particularly worrying turn of events, it turned out that Dish Network had been overcharging a customer $7 each month, for an entire decade. The company was basically charging a fee for a fictional TV receiver that was never delivered to the customer. When the customer viewed the fully itemized bill and filed a complaint, the company only agreed to refund them for two years, a fifth of the entire period. Naturally, the customer decided to seek legal resolution for their rightful refund.
DoNotPay Also Helps You Fight for Your Consumer Rights
Did you know that companies often reject first-time warranty claims?
You're probably familiar with how complicated the process of appealing parking tickets is. Trying to get a refund for an unsatisfactory purchase or a delayed flight has likely made you mad at least once.
Not anymore! DoNotPay makes all these issues go away in less than five minutes, and that is not all we can do for you!
You don't have to deal with customer service reps of any company on your own anymore—we do it all for you!
DoNotPay bypasses any bureaucratic obstacle for you—scheduling DMV appointments, delaying bill payments, getting in touch with your incarcerated loved ones, filing lawsuits in small claims courts, and claiming insurance policies.
DoNotPay Is Your Shortcut Through Bureaucracy
With our app, you don't have to spend hours figuring out how to request a refund, cancel a service, or book a DMV appointment.
We take over all the hard work! Forget about waiting in a phone queue for hours in hopes of reaching a customer service rep. Our AI-powered app will call any company for you and ping you when a human appears on the other end of the line.
DoNotPay also speeds up the process of filing insurance claims, claiming warranties, reducing property tax, and drafting various legal docs.