Why Is It Important To Discuss The Concepts of Compensation and Assistance for Victims?
Crime victims compensation is one of the initial and most important forms of victims assistance. Most Americans don't have enough money to bear all crime-related expenses, so crime victims compensation is crucial. It provides much-needed financial aid and moral support the victims require to cope with physical and mental injuries. 
We will discuss the concepts of compensation and assistance for victims and explain all about crime victims compensation (CVC) funds. DoNotPay will also tell you how to apply for crime victims compensation in any state—including Texas, Wisconsin, and Florida—in a few clicks.
The History of Crime Victims Compensation and Assistance—A Brief Overview
In 1964, Great Britain and New Zealand established the first compensation programs in modern society, and California pioneered the idea in the States in 1965. By the year 1982—when the President's Task Force on Victims of Crime published its Final Report—36 U.S. states had established their compensation programs. Nowadays, all 50 states together with the Virgin Islands and the District of Columbia offer financial assistance to victims of violent crimes. 
In the beginning, the President's Task Force made various recommendations and raised valid concerns regarding compensation programs in the U.S. Some of the crucial points were:
Addition of emergency compensation for victims that require immediate food, shelter, and medical assistance

Increase of the

maximum compensable amounts

for crime-related expenses

Inclusion of domestic violence victims 

Creation of a funding source on a federal level to increase support for state crime victims compensation programs—According to this recommendation, Congress passed the

Victims of Crime Act (VOCA)

in 1984 and established the

fund for violent crime victims

. The annual VOCA award is one of the essential improvements. The grant covers 35% of each state's payout for the year before, which allows state programs to provide compensation to more victims 
Crime Victims Compensation Programs Today
State programs addressed most concerns and implemented the recommendations of the President's Task Force. Some suggestions—such as the need for emergency awards—haven't been accepted in all states. As a result of these positive changes and continual efforts to increase visibility and awareness, more and more victims apply for the programs every year. 
The main issue nowadays is the waiting period for each claim. Victims usually have to wait around two to three months to get compensation. Most programs work on developing software that would accelerate claim processing. 
Another drawback is that most programs have complicated and time-consuming application procedures, which discourages victims from applying. 
The Victims of Crime Act Grant Requirements
To be eligible for the VOCA grant, states need to meet these requirements:
Cover the following crime-related costs:

Medical expenses

Mental health counseling

Lost income and support

Funeral expenses

Acknowledge drunk driving and domestic violence as compensable crimes

Not exclude victims of domestic violence who are living with or are related to the molester

Grant compensation for crimes that took place within their borders, even if the victims are from another state

Provide statistical reports to the VOCA fund
Crime Victims Compensation Funds Explained
Each state's crime victims compensation fund covers specific expenses of violent crime victims through various compensation programs. 
The following table shows the crimes and costs that most programs consider compensable:
Compensable Crimes
Compensable Costs

Car accident

if the other driver was driving under the influence

Homicide (including vehicular homicide)

Child abuse

Medical exams and treatments

Mental health counseling

Funeral and burial expenses

Lost income 

Lost support 

Travel expenses for medical treatment or court attendance

Crime scene cleanup 

Emergency expenses
Crime victims compensation programs cover the crime-related expenses of:
Victims who suffered injuries during the crime

Dependents and family members of the victims

Individuals responsible for funeral expenses of homicide victims

People who got injured trying to help victims or the police
CVC programs are considered payers of last resort in all states. Victims and their dependents should apply for the programs only after exhausting all other collateral sources, such as restitution, insurance, Social Security, and similar. 
Crime Victims Compensation Eligibility Requirements
Each crime victims compensation program has its rules and regulations, but they all share the same basic requirements. To qualify for victims compensation, you must:
File a police report in a timely manner (usually within 72 hours of the crime)

Cooperate with law enforcement 

Apply for the CVC program according to the program's rules 

Provide all necessary documents upon request 

Not be responsible for your injuries or have participated in an illegal activity that resulted in injuries
Find Out How To Apply for the CVC Program in Your State Quickly and Stress-Free With DoNotPay
If you think you're eligible to apply for the CVC program in your state, you should sign up for DoNotPay and finish the entire process in under five minutes. These are the steps you should follow to file your crime victims compensation application in Virginia, Alabama, New Jersey, or any other state: 
Pick our

Compensation for Crime Victims

feature

Let us know whether you're the victim or another claimant

Answer our questions and verify your signature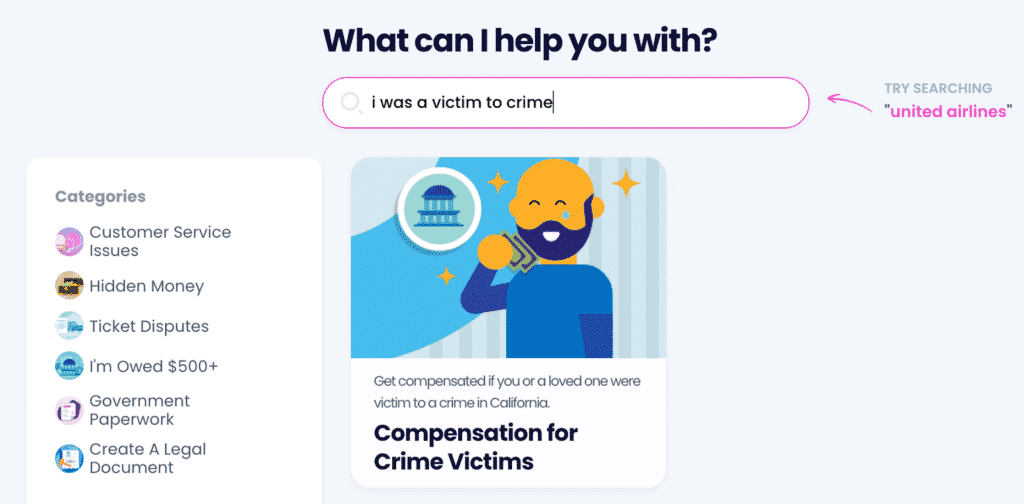 DoNotPay will use your answers to fill out the necessary forms on your behalf. Once the forms are completed, we will send them to the appropriate office. 
You can also rely on us if you want to learn more about various CVC funds, such as the 9/11 Victims Compensation Fund or emergency and relocation funds for violent crime victims.
What Else Can Our Award-Winning App Do for You?
If you think that's impressive, wait until you've heard about other features we boast!
Our powerful app can draft paperwork for you, locate unclaimed funds under your name, cancel subscriptions, sue robocallers, and protect you from stalkers and harassers—all in one nifty browser app!
Our legal services have been recognized by the esteemed ABA Brown award, serving as a testament to our abilities to assist you with your small claims issues, college fee waivers, public records, copyright protection, and much more!
More Benefits of DoNotPay
DoNotPay is a useful tool for handling many otherwise annoying life's trifles, including: