Current Discrimination Settlements Average Amounts—How Much Can You Get?
Workplace discrimination is illegal for a reason. If you are a victim of discrimination, it can affect your livelihood, your psychological health, and the wellbeing of your family.
It is only fair to expect adequate compensation if you have suffered discrimination at work.
DoNotPay takes you through the current discrimination settlements average amounts—how much you can expect to receive, how compensation is made up, and what you can do to get the maximum discrimination settlement possible.
What Makes an Employer Guilty of Discrimination?
Federal anti-discrimination laws state that it is illegal to discriminate against an employee based on:
Gender

Country of origin

LGBTQ status

Color
Discrimination can take several forms, including:
Discrimination Type

Explanation

De jure discrimination

This is the deliberate use of policies or procedures designed to discriminate against an individual or group

De facto discrimination

De facto discrimination means that discrimination happens covertly, despite or outside of existing

anti-discrimination policies

Harassment

Harassment can range from casual inappropriate remarks to outright bullying and can take the form of:

Wage discrimination

This type of discrimination involves individuals or groups being paid different rates for the same work

Retaliation

Retaliation is the deliberate discrimination against an employee after they have lodged a complaint against the employer
If you can prove your employer has committed any of the above, they are guilty of workplace discrimination.
How Is Compensation Made Up?
If you win a settlement or court case against your employer, you stand to receive compensation made up of the following elements:
Remuneration for lost wages or benefits

Compensation for mental trauma

Reimbursement of costs

Punitive damages
Remuneration for Lost Wages or Benefits
If your employer's discriminatory acts have resulted in you losing salary, benefits, bonuses, or any other work-related payments, part of your compensation will be calculated to cover these losses.
Compensation for Mental Trauma
If you can prove you have suffered trauma as a result of discrimination, you may receive compensation to cover costs of counseling or therapy or as an ex gratia payment to help you recover.
Reimbursement of Costs
You should not suffer financially for having complained about discrimination, so you should receive reimbursement of your lawyer's fees, court costs, and associated expenses related to your case.
Punitive Damages
In serious cases, your employer may be forced to pay you damages as a punishment for their actions.
What Are the
Average Employment Discrimination Settlement
Amounts?
Each case is different and dependent on many factors that influence the amount you may receive in a settlement. A discrimination lawyer will look at the following factors to work out the likely average settlement for discrimination:
Determining Factor

Explanation

Type of case

Some types of discrimination allow for punitive damages, but others do not. You cannot claim punitive damages for cases of:

Removing punitive damages from the equation significantly reduces the total compensation amount you are likely to receive

Employer profile

The size and liquidity of the employer have a direct impact on their ability to pay compensation. In the case of punitive damages, the amounts that can be awarded are limited to:

$50,000 for companies with 50–100 employees

$100,000 for companies with 101–200 employees

$200,000 for companies with 201–500 employees

$300,000 for companies with 501 employees or more

State jurisdiction

The state in which the case is based plays a role in determining the amount of achievable compensation. Some states, such as New York, are considered highly employer-friendly, whereas others, like New Jersey, will tend to favor the plaintiff

Actual and predicted losses

A lawyer will calculate your actual losses in income if you have been terminated or downgraded. In calculating future losses, this could be affected by how seriously you have attempted to find alternative employment

Cost of legal action

Your legal and court fees must be deducted from any compensation amounts to arrive at your actual payout sum. The more complicated your case, the higher these fees will be
The bottom line is that most cases are settled before they reach court, meaning that the compensation you receive may be considerably lower than you hoped for. The cases that achieve million-dollar settlements and reach the media typically require vast amounts of time, which increases their cost massively.
The average discrimination settlement amount you can expect is around $40,000.
What Do I Need To Do To Start the Process?
If you decide your case is strong enough to merit action, you need to file a complaint—known as a charge of discrimination—with the Equal Employment Opportunities Commission (EEOC).
The EEOC enforces federal anti-discrimination law and is empowered to investigate your case. If the EEOC investigation suggests that your case is strong, the Commission may decide to help negotiate a settlement with your employer or launch legal action.
Failing that, the EEOC will issue you with a letter of permission to sue, meaning you can pursue a private lawsuit if you wish.
Getting over the first hurdle—filing your charge of discrimination—is where !
Can DoNotPay Help Me With the EEOC?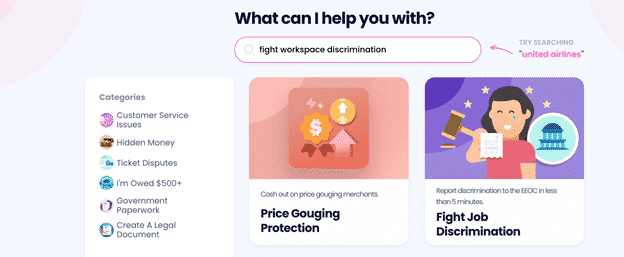 DoNotPay can help you file your complaint in a flash—here's what you need to do:
in a web browser of your choice

Search for our

Fight Workplace Discrimination

feature

Fill in the details of your case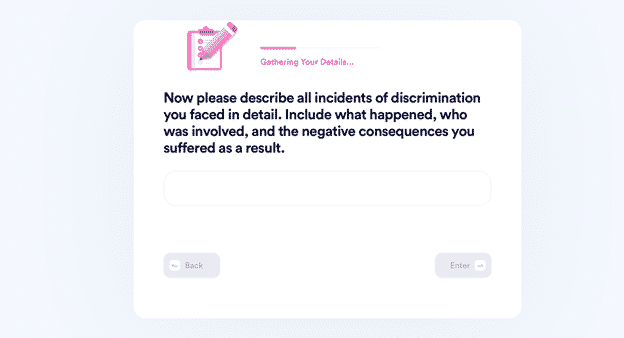 That's all you need to do—we will file your charge with the nearest EEOC office. The EEOC will contact you to talk through your next steps.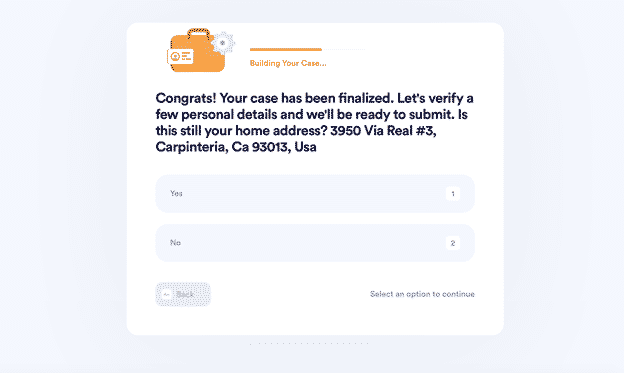 DoNotPay Is on Your Side
Is the discrimination you're facing at work turning into proper harassment or even stalking? Are you considering suing your manager or colleague in small claims court? These unpleasant situations usually require lawyers, but they come with hefty fees.
DoNotPay is a powerful AI-powered app that can lead you through a small claims court case against anyone or serve them with a cease-and-desist letter. If discrimination turns into a hate crime, we can help you file for crime victims compensation or make a claim on your insurance.
Whenever you need to draft, fax, or mail legal paperwork, you can open our platform and use our fast and reliable tools for that. With our help, you can even have your documents notarized by an online notary!
The Multi-Purpose Platform That Makes Your Life Easier
If you've had enough of that toxic atmosphere at work and want to escape somewhere for a week or two, DoNotPay might turn out to be the perfect travel buddy. Our app won't do much when you're drinking cocktails at a beach, but it will do wonders if you run into problems.
We can help you generate a child travel consent form, get airline compensation for canceled or delayed flights, jump the queue when you must contact customer service as soon as possible, or get a refund for all kinds of unsatisfactory purchases.
Do you prefer road trips? No problem! DoNotPay can help you prepare for your driving test or schedule a DMV appointment without sweat!
From fighting discrimination to solving travel woes—that's how diverse DoNotPay's portfolio is!