Get Specialist Advice and Support Fighting Your Case From a
Discrimination Lawyer
Discrimination in the workplace is near-impossible to eradicate. Despite rigorous federal and state laws to combat it, cases of discrimination against employees still regularly find their way to court.
DoNotPay is your partner in the fight against discrimination—we can help you understand how to lodge a complaint against your employer and how a specialized discrimination lawyer can help you.
What Does a Discrimination Lawyer Do?
A discrimination lawyer specializes in all forms of discrimination in the workplace, including cases based on:
If you've been experiencing discrimination, a dedicated lawyer will help you understand your options and build a watertight case to maximize your chances of a positive outcome.
What Legal Ammunition Does an
Employment Discrimination Lawyer
Have?
The law in the U.S. protects employees against discrimination at both the federal and state level.
The most important federal laws that cover workplace discrimination are:
Title VII of the Civil Rights Act of 1964
This section of the Civil Rights Act is the bedrock of U.S. anti-discrimination law and offers employees protection against all major forms of discrimination in the workplace.
The Age Discrimination in Employment Act of 1967
This act adds further weight to the Civil Rights Act by prohibiting discrimination against anyone aged 40 or over.
The Pregnancy Discrimination Act
This act makes it illegal to discriminate against women during pregnancy, childbirth, or any associated illness.
The Equal Pay Act of 1963
Seen as the foundation of equality legislation, this act guarantees equal pay for equal work between men and women.
Title I of the Americans with Disabilities Act of 1990
The rights of disabled people to equal work opportunities are defended by this legislation.
Most states have also enacted local legislation to further clarify or bolster federal laws.
A specialized discrimination lawyer will be an expert on both federal and state law and will also have detailed knowledge about landmark cases, precedents, and rulings that are relevant to your circumstances.
How Can a
Job Discrimination Lawyer
Help You?
Before you launch an expensive lawsuit against your employer, a discrimination lawyer may be your best source of advice to maximize your chances of success.
A discrimination lawyer can provide the following services:
Service

Explanation

Advice

If your case is unclear or you are not sure whether your experiences constitute discrimination, a lawyer will advise you on the viability of pursuing legal action

Assessment

A lawyer can assess the evidence you have and determine whether it is:

Admissible

Relevant

Sufficient to warrant a case

Evidence collection

If you choose to file a lawsuit against your employer, a discrimination lawyer can help you collect evidence

Financial analysis

A lawyer can help you analyze the compensation you could receive if your case is won versus the cost of pursuing legal action

Help with deciding on action

Whatever your decision, a discrimination lawyer should help you set out a step-by-step course of action to get you the best possible results
How Much Will a
Workplace Discrimination Lawyer
Cost?
Any legal action can quickly become expensive, and exact costs can only be estimated once your chosen lawyer has evaluated all the evidence and proposed a viable course of action.
Discrimination lawyers offer different financial models, the most common being:
| | |
| --- | --- |
| Fee Model | Explanation |
| Hourly rate | Under this model, you pay by the hour the lawyer spends on your case. In clear cases, this can work, but costs can escalate quickly if you do not keep a close watch |
| One-off retainer | A one-off retainer is normally used when the case is straightforward, and the fee you pay covers all the work the lawyer needs to finalize the case |
| Weekly or monthly retainer | If your case is more complex or may last longer, the lawyer may offer to perform all the necessary tasks in return for a weekly or monthly retainer fee |
| Contingency fee | A contingency fee guarantees the lawyer a predetermined percentage of your compensation payout when the case has been won. A discrimination lawyer may only offer this option if your case appears watertight |
Discrimination lawsuits can quickly become expensive, so you must take advice and get a written cost estimate before you embark on legal action.
How Do I Start the Legal Process?
Before you can launch legal action for discrimination against your company, you need to lodge a complaint with the Equal Employment Opportunities Commission (EEOC).
The EEOC is a federal agency responsible for enforcing anti-discrimination laws. Once they receive a charge of discrimination, they will investigate the evidence you have submitted and decide whether legal action is justified.
Once you have submitted your complaint to the EEOC, a discrimination lawyer will be able to pursue private legal action if you choose to go this route. DoNotPay can help you file your charge of discrimination in no time.
How Can DoNotPay Help?
DoNotPay can help you lodge your complaint with the EEOC in a few clicks—here are the steps you need to follow: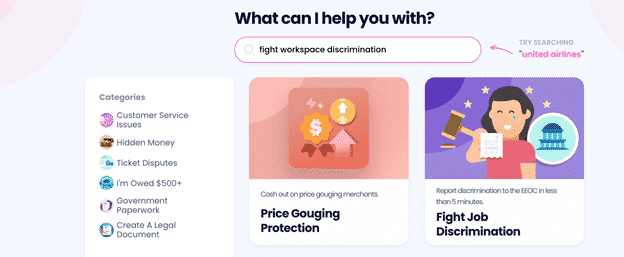 Use your web browser to go to DoNotPay and

sign up

Search for our

Fight Workplace Discrimination

product

Give us the details of your case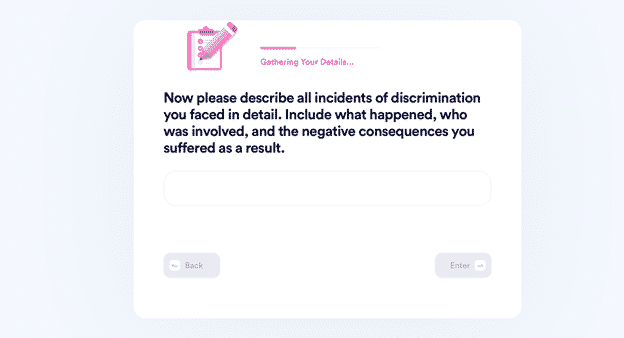 That's all you need to do—your complaint is lodged, and you can talk to your discrimination lawyer for advice on how to proceed.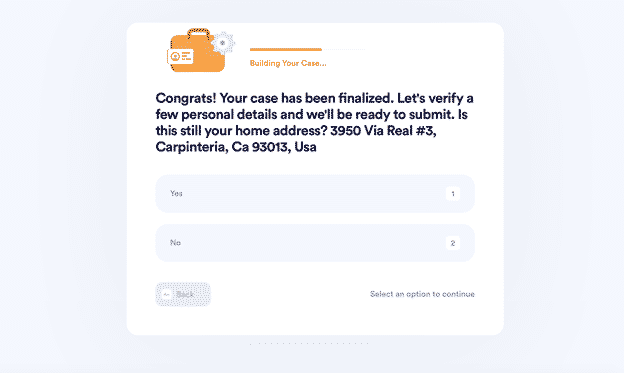 You Can Rely on DoNotPay's Can-Do Attitude
Facing discrimination in the workplace can make you feel drained and depressed, but DoNotPay will be that pick-me-up that you need. Our platform is built around the idea that everyone can and must fight for their rights, so we keep providing you with the most efficient tools and resources to do so.
We've found ways to cut out the middleman in numerous bureaucratic processes and support you by saving your time, energy, and money. DoNotPay can help you:
Accomplish More With DoNotPay
Our platform helps you protect your rights, deal with annoying administration, and increase your overall productivity. We strive to identify complicated procedures that plague everyone's existence and make them as simple as possible. 
You can use our app to: 
Long story short—DoNotPay does it all, and it's meant for everyone who could use some more help, time, and money!