How to File a Discrimination Lawsuit and Get Compensated
If you are a victim of discrimination in the workplace, you have the law on your side. Federal law protects you against all forms of work-related discrimination, and many states will add the weight of local legislation to your case.
DoNotPay is your one-stop resource for combating discrimination in the workplace—we can show you what you need to do to stand the best chance of success with a discrimination lawsuit.
Is a Lawsuit the Best Option?
Before you embark on the legal route, you should first decide whether suing for discrimination at work is the best course open to you.
Hiring a discrimination lawyer and pursuing your discrimination case in court can quickly become expensive, and you will only be able to recoup your costs if you win.
If there is an opportunity to resolve the issue with your employer without legal action, you should attempt to do so. The steps you should follow are:
Make sure your company has a

discrimination policy

Talk to the person discriminating against you

Lodge a formal complaint with your company

Keep a detailed log of events
Make Sure Your Company Has a Discrimination Policy
Your employer should have a written policy on discrimination—this will allow you to make sure that what you are experiencing qualifies as discrimination in the eyes of the company.
Talk to the Person Discriminating Against You
In many cases, you may find you can solve the problem by engaging with the person causing it. If they are made aware that their actions are potentially illegal and may lead to proceedings against them, they may modify their behavior.
Lodge a Formal Complaint With Your Company
You should make sure that your company is aware of the issue by lodging a written complaint with management or your HR department. Your company may take steps to solve the problem without you having to take the matter further.
Keep a Detailed Log of Events
The more detail you record, the easier any employment discrimination lawsuit will be. You should keep a diary of all incidents of discrimination, including:
The exact occurrences

Dates and approximate time of incidents

The alleged perpetrators

Any witnesses to the incidents
What To Do Before You Launch Legal Action
Federal legislation states that you cannot launch a lawsuit without first lodging a complaint with the Equal Employment Opportunities Commission (EEOC).
The EEOC is mandated to enforce federal anti-discrimination laws. Once it receives a complaint from you—called a charge of discrimination—it will do the following:
Notify your employer of the charge

Investigate your

discrimination

allegations

Determine a course of action
Depending on the outcome of its investigation, the EEOC will:
Reject your case

Request that you try to resolve the issue through mediation

Launch its own legal action against your employer

Close the case and issue a right to sue letter
The most important step for your lawsuit is your receipt of a right to sue letter from the EEOC. This states that the EEOC has closed its investigation and, while it will take no further action itself, encourages you to continue with private legal proceedings.
DoNotPay can help you file your charge of discrimination quickly and with no hassle.
How To Prepare Your Case
Your discrimination lawyer will help you prepare your case, making sure that you have enough evidence to prove that discrimination has occurred.
Your lawyer will also determine what kind of discrimination your case involves, the two major legal types being:
| | |
| --- | --- |
| Type of Discrimination | Explanation |
| De jure discrimination | Your employer has actively done something that contravenes federal or state discrimination laws. An example would be your employer installing a policy of not allowing disabled employees to work in client-facing roles |
| De facto discrimination | The company has an anti-discrimination policy in place but accepts or encourages discriminatory behavior. As an example, the company may have separate canteens for factory workers (predominantly Black) and office staff (predominantly white), causing a de facto case of racial segregation |
Once your evidence has been prepared, your lawyer will take your case to court.
The burden of proof is on you, meaning you have to demonstrate with your factual evidence that your employer has discriminated against you. As discrimination cases are civil matters, though, you need only prove your case on the balance of probability and not beyond reasonable doubt.
Is It Worth It?
According to recent statistics, around 67% of discrimination lawsuits are won by the plaintiff every year in the U.S.
If you win your case, you can expect compensation for the following:
Loss of earnings and benefits

Psychological trauma

Court and legal costs
Depending on the severity of your case, a court may also award punitive damages against your employer.
What Can DoNotPay Do To Help?
The most important step is gaining the right to proceed with legal action by lodging your complaint with the EEOC. DoNotPay can help you get this done in a flash—all you need to do is: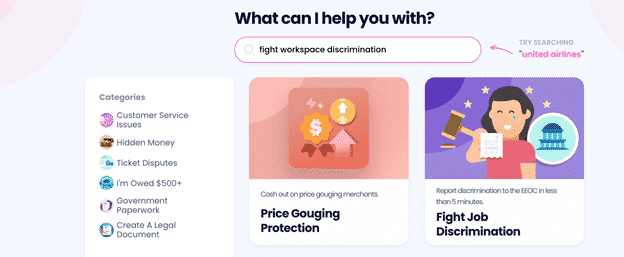 Navigate to DoNotPay in your web browser and

sign up

Use the search bar to find our

Fight Workplace Discrimination

product

Fill in the details of your charge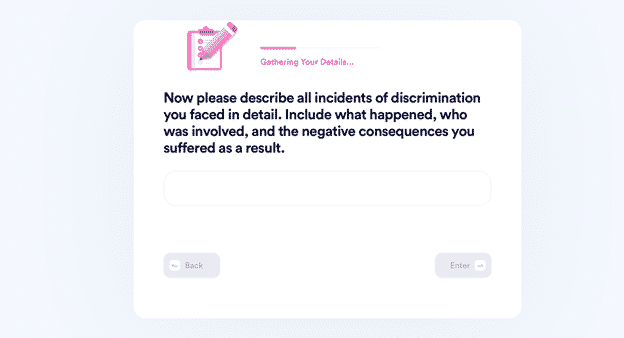 DoNotPay will file your charge with the nearest EEOC office. Once you receive your EEOC right to sue letter, you are good to proceed with your lawsuit.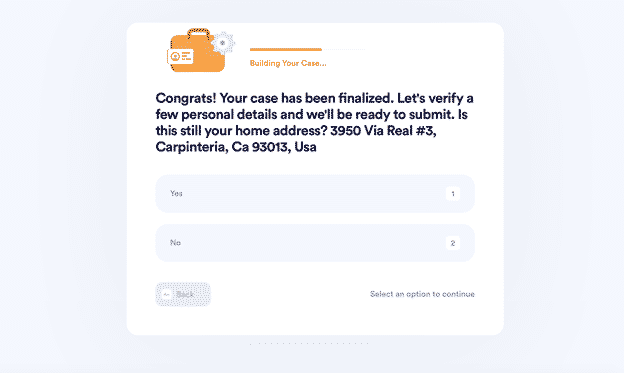 What Kinds of Discrimination Are Worth Suing Over?
Discrimination in the workplace should be fought whenever it occurs. The most common forms of workplace discrimination are related to:
Harassment can also be defined as discriminatory behavior, and its most frequent occurrences are:
DoNotPay—The Virtual Lawyer You Can Rely On
Discrimination at a workplace is a serious issue. Unfortunately, the problems sometimes escalate into full-blown hate crimes. 
DoNotPay recognizes the importance of easy and affordable access to legal help, especially for population groups that are particularly vulnerable. For that reason, our platform keeps adding various useful tools and products that ease the burden of bureaucracy for the victims. 
With your DoNotPay subscription, you can:
Our app can even help you draft various legal documents, have them notarized, and fax them to the right person—all from one place.
Concerned About Your Online Safety?
We teach our children to be careful about using the internet, but how much do we pay attention to our online safety? Scammers are getting more and more creative and flourish thanks to new technologies. 
DoNotPay is a great resource for fighting irritating spam emails, dangerous texts, and annoying robocalls. If you use our virtual credit card, you won't have to worry about subscribing to free trials—even if they turn out to be a scam! Our AI bots will jump in to secure you a refund, whenever an online purchase goes wrong!