The Problem That Refuses To Go Away—Workplace Discrimination in the U.S.
Workplace discrimination in the U.S. is still widespread, but recent headlines around Black Lives Matter and the Me Too movement have at least raised awareness of the issue.
If you are concerned about—or are experiencing—workplace discrimination, DoNotPay has all the info you need to fight back.
How Big a Problem Is Workplace Discrimination in the United States?
The Equal Employment Opportunities Commission (EEOC) is the government body tasked with enforcing federal anti-discrimination laws.
Every year, the EEOC publishes statistics on the charges of discrimination it has received and resolved—the numbers for the last four years are as follows:
| | | | | |
| --- | --- | --- | --- | --- |
| Details | FY 2017 | FY 2018 | FY 2019 | FY 2020 |
| Total charges | 84,254 | 76,418 | 72,675 | 67,448 |
| Total cases | 201 | 217 | 157 | 97 |
| Total resolutions | 125 | 156 | 180 | 176 |
| Total compensation in $ millions | 42.4 | 53.6 | 39.1 | 106.1 |
Employment discrimination cases that are formally filed as complaints with the EEOC may be the tip of the iceberg, though, with many more cases going unreported due to:
Fear of retaliation
Cultural norms
Shame of being a victim
Lack of trust in the legal system
What Protection Does the Law Offer Against Discrimination in U.S. Companies?
Federal laws prohibit discrimination in the workplace based on:
Title VII of the Civil Rights Act of 1964 and other associated laws define discriminatory behavior as being:
Retaliation
De Jure Discrimination
This refers to any deliberate policy or procedure in a company that discriminates against an individual or group. Examples of de jure discrimination are:
Deliberately stipulating that an open position requires a male candidate
Enforcing maternity leave for pregnant employees
Refusing to promote physically disabled employees to client-facing roles
De Facto Discrimination
De facto discrimination means allowing discrimination to take place in a company despite anti-discrimination policies being in force. Examples of discrimination of this type would be:
Using stereotypes to screen applicants for open positions
Claiming equality for disabled employees but failing to provide wheelchair access to some parts of the company
Using confidential or private information about employees to make decisions on their job responsibilities
Harassment
Inappropriate jokes, jibes, and comments can fall under this category of discrimination, which can take the form of sexual, verbal, email, or cyber harassment.
Wage Discrimination
The Equal Pay Act of 1963 states that everybody must be paid the same for doing the same work.
Retaliation
Employers are not allowed to retaliate in any way against employees who complain about discrimination in the workplace.
What Are the Most Common Forms of Discrimination?
According to the EEOC's statistics, the different types of discrimination have ranked as follows in the last several years:
| | | | | |
| --- | --- | --- | --- | --- |
| Discrimination Type | 2017 | 2018 | 2019 | 2020 |
| Retaliation—All Statutes | 41,097 | 39,469 | 39,110 | 37,632 |
| Retaliation—Title VII only | 32,023 | 30,556 | 30,117 | 27,997 |
| Disability | 26,838 | 24,605 | 24,238 | 24,324 |
| Race | 28,528 | 24,600 | 23,976 | 22,064 |
| Sex | 25,605 | 24,655 | 23,532 | 21,398 |
| Age | 18,376 | 16,911 | 15,573 | 14,183 |
| National origin | 8,299 | 7,106 | 7,009 | 6,377 |
| Color | 3,240 | 3,166 | 3,415 | 3,562 |
| Religion | 3,436 | 2,859 | 2,725 | 2,404 |
| Equal Pay Act | 996 | 1,066 | 1,117 | 980 |
| Genetic Information Nondiscrimination Act | 206 | 220 | 209 | 440 |
| Total cases* | 84,254 | 76,418 | 72,675 | 67,448 |
*The total number reflects cases filed under multiple laws.
Retaliation against employees who have complained of discrimination ranks as the most common reason for a complaint, but disability, race, and gender discrimination all figure highly.
What Can You Do About Workplace Discrimination?
If you are being discriminated against at work, you should first try to resolve the matter internally by:
Keeping a diary of all discrimination incidents
Notifying HR in writing
Identifying witnesses who will corroborate your allegations
If this has no effect, you can escalate your complaint by filing a charge of discrimination with the EEOC.
The EEOC will help you by:
Investigating your allegations with your employer
Suggesting mediation if a settlement can be reached by that route
Launching legal action against your employer if your case is sound and they refuse to settle
Giving you written permission to commence legal proceedings
You cannot contact a discrimination lawyer to start legal action against your employer without first going through the EEOC, so filing your charge is a priority—this is where DoNotPay can help you!
How Can DoNotPay Help You With Workplace Discrimination?
DoNotPay is a proven expert at helping you through complex legal requirements—filing a charge with the EEOC is no exception!
We can help you lodge your complaint in a few clicks—here's what you need to do:
Sign up with DoNotPay in your web browser
Search for our Fight Workplace Discrimination feature
Fill in the details of your complaint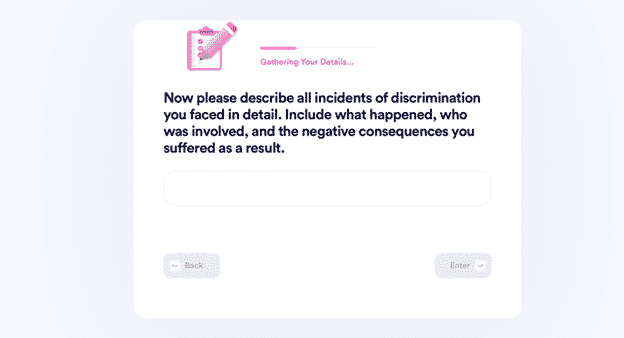 DoNotPay will handle the rest. Once it has received your charge, your nearest EEOC field office will contact you to discuss your next steps.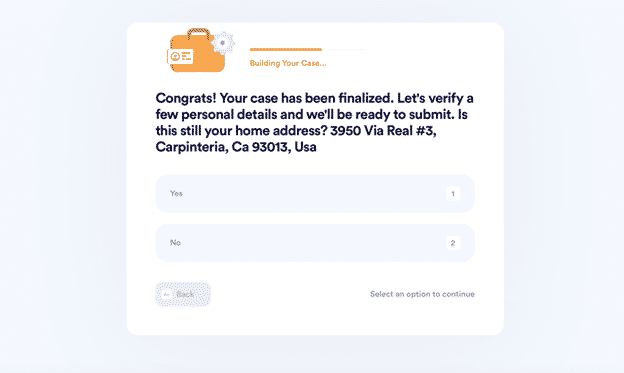 Thinking About Hiring a Lawyer? Think Again!
After you report discrimination in the workplace, you can only hope everything will turn out great. We sure hope so too, but having a backup plan doesn't hurt. If the report with the EEOC backfires, getting a lawyer will be the next logical step.
While you may understand the importance of professional legal help, you might be surprised by how much our virtual lawyer can do for you. Thanks to advanced AI technology, our app can assist you with:
By subscribing to DoNotPay, you won't have to waste hundreds of dollars on lawyers for the help you can get for a few bucks!
DoNotPay Provides Shortcuts Through Bureaucracy
Have you ever thought that corporations and government administration make everything more complicated than it should be? We feel you. That thought is the cornerstone of what DoNotPay is all about!
Our developers keep coming up with products that win against complicated bureaucracy left, right, and center. Some of the tools and services we're most proud of help our subscribers with:
And we're just getting started!