What Is a Discrimination Complaint?
In this day and age, it's shocking to hear about discrimination affecting the lives of our friends, families, and even our acquaintances. If you or someone you know has been blatantly or implicitly discriminated against, it may be difficult to fully comprehend - discrimination has a large impact on one's mentality, emotional well-being, and even physical health.
Discrimination can take place in all areas of life, including the workplace. Research from 2020 shows that the Equal Employment Opportunity Commission (EEOC) handled 68,000 cases of workplace discrimination. This article will dive into discrimination complaints and explain the steps you need to take when you witness or face discrimination from your employer or colleagues. We'll also introduce a way to make a report anonymously through DoNotPay!
Discrimination Complaint Explained
Discrimination describes all forms of prejudice and harassment against an individual based on race, gender, religion, age, societal class, sexual orientation, and/or physical and mental disability.
A discrimination complaint notifies the appropriate authority that there have been acts of discrimination witnessed or experienced at the workplace. These official complaints can be made to an employee's Human Resources department, a state or local agency, and/or the EEOC.
Types of Discrimination Complaints
Complaints in the workplace stem from various situations, including physical accidents and unsatisfactory working conditions. On the other hand, discrimination complaints specifically deal with bias and harassment based on:
Physical or mental disability
No matter what discrimination category one's situation falls in, it can have a negative mental, emotional, and physical impact on the victim and can lead to suicide, depression, and/or addiction. It's also important to note that one may face discrimination at work for multiple reasons, not just one.
To get a glimpse of how many people experience different types of discrimination each year, the table below shows the number of workplace discrimination charges that were successfully made through the EEOC in 2020 (some file complaints for multiple reasons):
| | |
| --- | --- |
| Type of discrimination  | Total number of charges (2020) |
| Retaliation | 37,632 (55.8%) |
| Disability | 24,324 (36.1%) |
| Race | 22,068 (32.7%) |
| Sex | 21,398 (31.7%) |
| Age | 14,183 (21%) |
| National Origin | 6,377 (9.5%) |
| Colour | 3,562 (9.3%) |
| Religion  | 2,404 (3.6%) |
| Equal Pay Act | 980 (1.5%) |
How to File a Discrimination Complaint
For most companies, it's advised to report cases of discrimination with Human Resources first before escalating it to a state or federal agency. Read through your Employee Handbook to see how you can move forward with filing a discrimination complaint. If you work for a company that does not have an HR department, you can also raise your concerns with your manager or boss.
If none of these options are favorable to you, look up your state's employment agency and submit a complaint there. For example, if you live and are employed in California, you can file a report with the Department of Fair Employment and Housing. If you live and work in New York, you can look to the NYS Department of Labor.
Another route you can take is filing your discrimination complaint directly with the EEOC.
Reporting Discrimination Complaints Through the EEOC
The EEOC outlines different steps for filing a discrimination complaint depending on the sector you work in. 
If you work in the private sector, here are the steps you can expect when reporting to the EEOC:
Generally, you need to file a discrimination complaint within 180 days of the incident. You can submit your complaint along with supporting evidence through the

EEOC's Public Portal

.

Once the EEOC receives your complaint, you will be interviewed by an EEOC staff member to determine what action needs to be taken against the accused, if any.

The EEOC will either approve your complaint or dismiss it after investigating. If the charge is approved, you will be able to file a lawsuit against your employer. You also have the option to appeal the rejected complaint.
If you work for a federal agency, the procedures are a little different. You can learn more about the process for a government employee here. 
File Discrimination Complaints Through DoNotPay
Before you submit a complaint to the EEOC, determine whether or not it can be resolved through HR. If you're worried about facing backlash or even getting fired, remember that you are protected by law and that you are legally entitled to speak up.
The process can be tiring to the point where you may ultimately decide to let it slide - let DoNotPay help fight for your rights with you! Get your discrimination complaints anonymously sent in 3 simple steps:
1. Log in to DoNotPay and select the Anonymous HR Complaints product.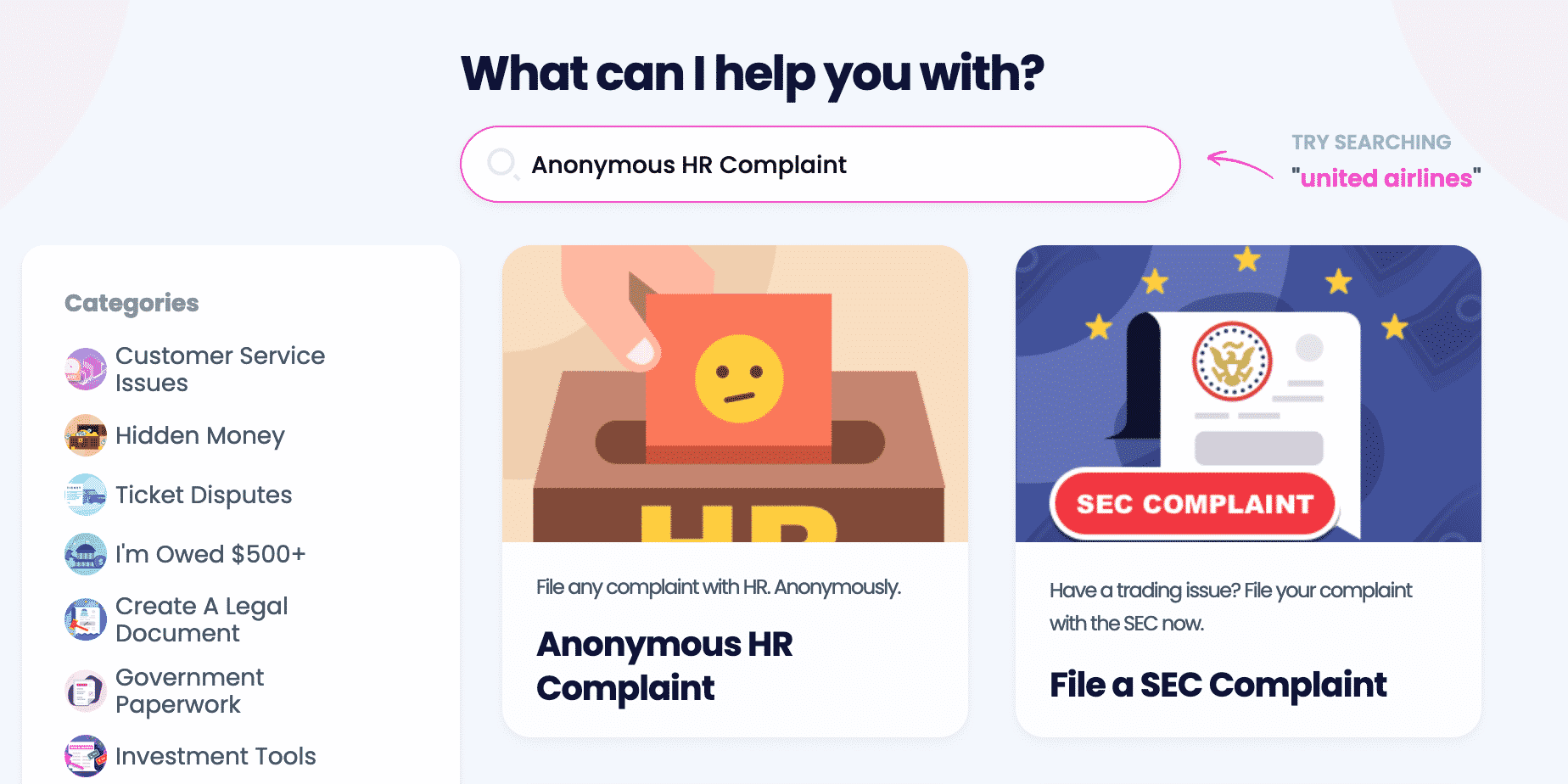 2. Enter your employer's name and your HR's mailing address.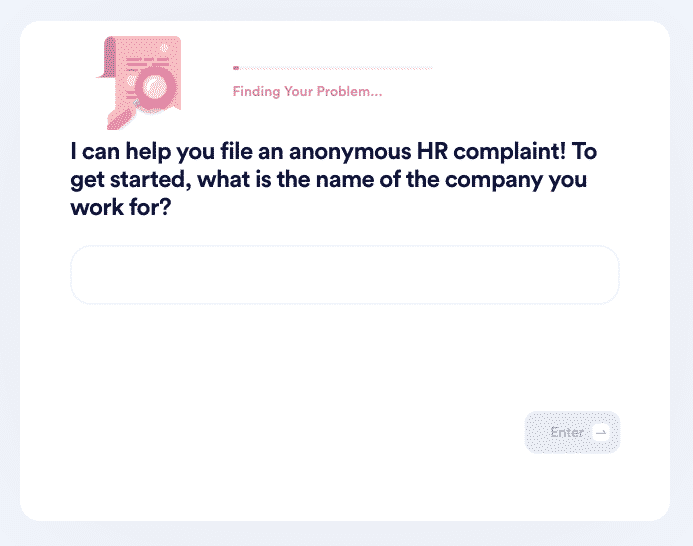 3. Describe your complaint and offer a solution you would like to see implemented.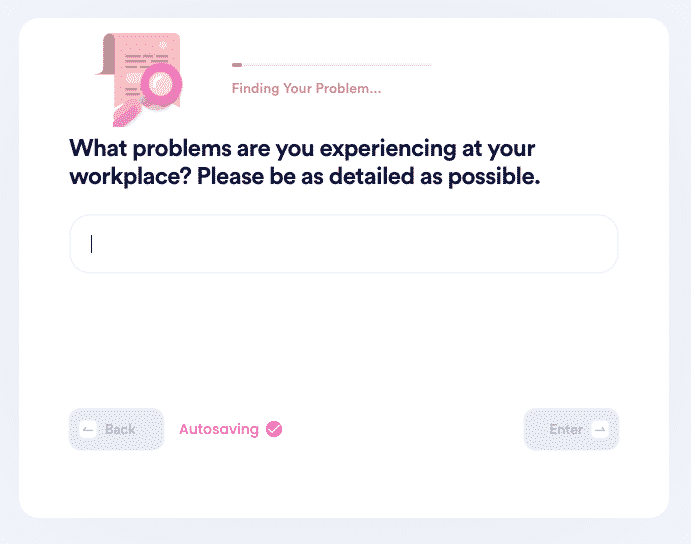 That's it! Once you're done, we'll go ahead and automatically mail it to your HR department without exposing your identity. This way, you don't have to be afraid of retaliation or backlash.
What Else Can DoNotPay Do For Me?
Besides discrimination complaints, DoNotPay can help with parking ticket appeals, copyright protection, small claims court cases, and subscription management!
Here are some other services you may be interested in: