Discrimination Complaint Process Explained
If you, or an employee in your workplace, has been a victim of discrimination by your manager, a customer, or a fellow employee, or you are a job seeker who has experienced discrimination while applying for a job, you should file a discrimination complaint with the Equal Employment Opportunity Commission (EEOC).
Even after you have reported to your HR, it is also necessary to let the government know to prevent further discrimination of other employees. If you are worried about confidentiality, you can use to help you file an HR complaint while protecting your identity.
Types of EEOC Discrimination Complaints
The EEOC is the federal body approved by the US government to fight all forms of discrimination in the workplace, and handle all cases of discrimination against people seeking jobs. The types of discriminations that you should report to the EEOC are those that target your:
Race

Skin color

Religion

Age

Country of origin

Sex and sexual orientation

Disability

Other protected classes
The Discrimination Complaint Process
Private Sector Discrimination Complaint Process
Time Frame

Procedure

Note

1-180 days

File your charge through any of the channels provided by the EEOC

Remember to always

report to HR

before reporting to the EEOC

1 - 10 days after filing

Your complaint will be delivered to your employer

The EEOC will begin steps to mediate between you and your employer

The case ends if you and your employer settle through a mediator

Mediation can take up to three months

1- 180 days after filing

If mediation fails, the case will enter into the investigation phase, and your employee is required to officially respond to your charge

The EEOC can subpoena your employer if they fail to cooperate with the investigation

Investigation can take up to 10 months

After 180 days of filing

This depends on your type of discrimination case and if it was filed under

Title VII
Federal Sector Discrimination Complaint Process
Time Frame

Procedure

Note

1- 45 days

You should first contact your local counselor assigned to your workplace and inform them of the discriminatory incident

If ADR fails, your EEO counselor will permit you to officially file a complaint at the federal agency's EEO office

1-15 days after a failed Alternative Dispute Resolution (ADR).

You should file your complaint within this time limit.

Late filing is one of the common grounds for case dismissal

1-180 days after filing

The EEOC commences the investigation

At the end of the investigation, you can either let the EEOC pronounce a decision on your complaint or opt for a hearing before an EEOC administrative judge.

1 - 30 days after the conclusion of the investigation.

1 - 40 days after a public hearing

The EEOC will decide if they adopt the judge's decision or take a different stand as their final verdict

1- 30 days after EEOC's final verdict

If you or your employee disagrees with the decision of the EEOC, you can

file for an appeal

during this period

1 - 30 days after appeal verdict

You can also apply for reconsideration of the appeal decision

The outcome of this reconsideration is final and cannot be appealed further

You can do this only if you can prove that the decision was given in error
Channels for Filing Discrimination Complaint
The table below outlines four channels for you to file a discrimination complaint with the EEOC:
Channel
Details
EEOC Branches

You have to walk into any of the

53

EEOC branches to file your complaint on a pre-scheduled

appointment day

.

Telephone

You will have to make use of any of the dedicated hotlines below to call in to lay and your discriminatory complaints:

1-800-669-4000

1-800-669-6820 (for people with hearing disabilities)

1-800-234-5122 (videophone for sign language)

Mail

You can

draft a letter

or file a

complaint form

with the details of your:

Name

Email

Phone number

Contact address

Contact details of the employer

Name and contacts of witnesses

A narration of the event that took place and what type of discrimination it falls under.

Your signature

Local Employee Protection Agency

You can visit a Fair Employment Practices Agencies (FEPA) office to file your complaints. They work with the EEOC and share reports on all claims.
File a Discrimination Complaint Today Through DoNotPay!
Before filing a formal complaint through the EEOC, determine whether or not it can be resolved through HR. If you're worried about facing backlash or even getting fired, remember that you are protected by law and that you are legally entitled to speak up. Let DoNotPay help fight for your rights! All you need to do is:
1. Open the Anonymous HR Complaints product on .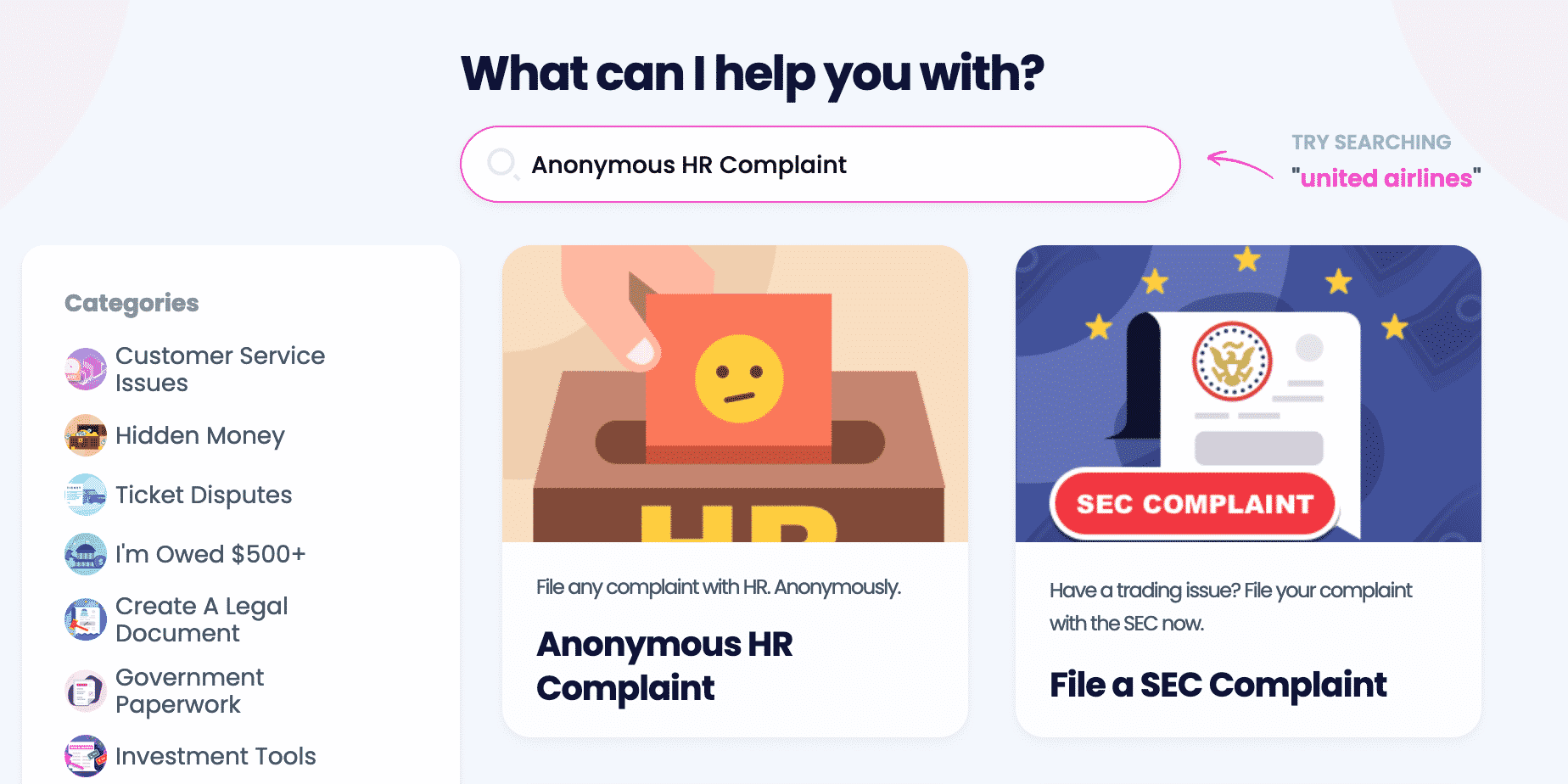 2. Fill in your employer's name and HR department mailing address.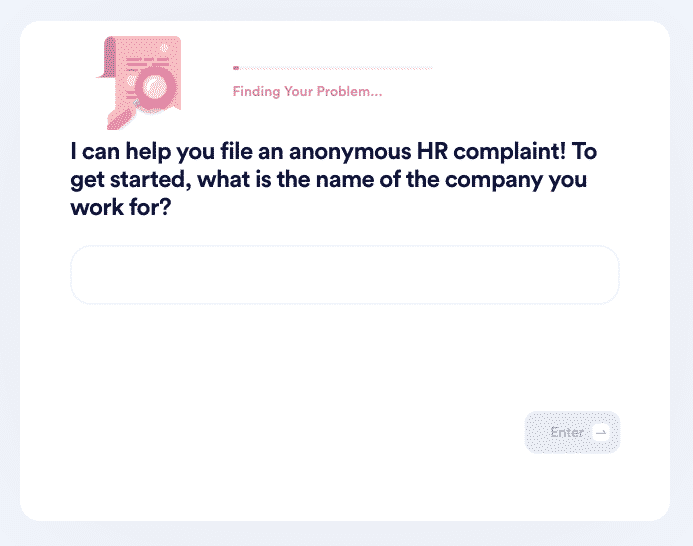 3. Explain clearly the issues that you are experiencing and how you want them resolved.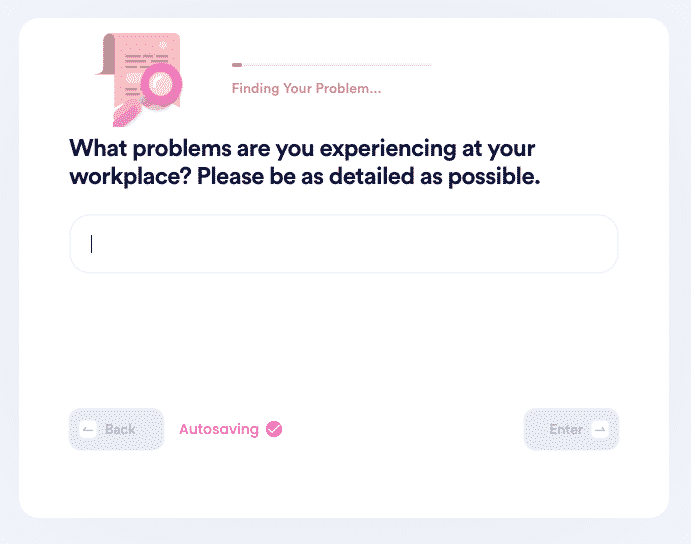 That's it! The robot lawyer does the rest and delivers your complaint directly to your company's HR department!
DoNotPay Is Your Personal Lawyer
DoNotPay does not stop at just HR complaints. In addition to employment issues, DoNotPay can assist with: