How to Report — and Stop — Discrimination Against Women In the Workplace
Workplace discrimination against women has been a hot topic since the women's rights movement in the 1960s pushed the U.S. towards greater equality.
It is still an issue today, though, with cases of gender discrimination figuring high on the Equal Employment Opportunity Commission (EEOC) annual statistics.
If discrimination against women is a problem you are facing, DoNotPay can help you fight back and demand equality!
What Is the Law on Discrimination of Women's Rights?
Discrimination towards women in the workplace is illegal.
Women are protected against workplace discrimination by the following laws:
Title VII of the Civil Rights Act of 1964

The Pregnancy Discrimination Act of 1978
The Equal Pay Act of 1963
This act introduced the principle of equal pay for equal work and made it illegal to pay different rates to women for performing the same tasks as men.
Title VII of the Civil Rights Act of 1964
The Civil Rights Act is the cornerstone of anti-discrimination laws and prohibits discrimination based on:
Gender
Nation of origin

LGBTQ+ status

Color
Title VII of the act deals with the workplace and prohibits the following:
| | |
| --- | --- |
| Type of Discrimination | Explanation |
| De jure discrimination | This is the deliberate use of policies or procedures designed to discriminate, such as enforced maternity leave or male-only sales teams |
| De facto discrimination | De facto discrimination may occur despite anti-discrimination policies in the company and involves passive discrimination, such as pushing female employees towards office-based rather than manual roles |
| Harassment | Harassment can take many forms, including: |
| Retaliation | Retaliation involves the victimization of women after they have complained about discrimination |
The Pregnancy Discrimination Act of 1978
The pregnancy discrimination law governs the treatment of women during and after pregnancy and makes it illegal to discriminate against them based on their condition.
What Are Examples of Discrimination Against Women?
De jure discrimination against women is easy to spot in the workplace, and most companies steer clear of it.
De facto discrimination and harassment are more insidious and difficult to prove—as a result, they are still all-too-common in American companies.
The following are examples of discrimination in various business processes:
| | | |
| --- | --- | --- |
| Business Process | Discrimination Type | Example |
| Hiring and recruitment | De facto | Using human recruiters to screen candidates often results in a bias towards male or female candidates for certain roles |
| Promotion and advancement | De facto | Managers may be reluctant to promote a female employee after she has expressed a wish to start a family |
| Company culture | Harassment | A male-dominated team may become guilty of sexual or verbal harassment if a culture of inappropriate jokes or comments is tolerated or encouraged |
| Team building | Harassment | Companies that run team-building exercises that favor male employees over females—such as paintballing or strength-based activities like sports tournaments—may be accused of harassment towards their female staff |
Which High-Profile Cases of Discrimination Towards Women Have Made Recent Headlines?
In recent years, the following Fortune 500 companies have had to make settlement offers to women employees they have discriminated against:
Bloomberg LP was accused of aiding Charlie Rose's sexual harassment of female employees, as well as practicing gender bias in its remuneration and promotion practices
Disney was sued for wage discrimination against female workers
Fox News faced lawsuits against several of its anchors for sexual harassment and assault
Goldman Sachs was accused of covering up the sexual misconduct of one of its executives
Google faced legal action over pay disparities from 10,800 female employees
If such household names think they can get away with discrimination against women, this could represent the small tip of a huge iceberg in the U.S.
What Can You Do To Stop Gender Discrimination at Work?
If you are experiencing discrimination at work due to your sex, you need to take action by doing the following:
Keeping written records of every incident
Reporting every occurrence to the HR department
Insisting on written records of your complaints being made
If these actions have no effect, you should take the matter to the next level by involving the EEOC—this is where .
What Can the EEOC Do To Help You?
The EEOC enforces federal anti-discrimination laws in any company with 15 employees or more.
The commission is empowered to:
Investigate your case
Suggest conciliation to reach an out-of-court settlement
Commence legal action
Give you permission to contact a

discrimination lawyer

and launch a lawsuit
The first step in getting help from the EEOC is to file a complaint—known as a charge of discrimination—against your employer.
Lodging your charge of discrimination can be complicated and time-consuming, as your local EEOC field office may want you to file in person. DoNotPay is here to help—we can get your complaint lodged in a few clicks.
How Can DoNotPay Help You File a Charge With the EEOC?
DoNotPay is the expert at taking the hassle out of difficult processes.
We have developed a product to get your charge of discrimination filed with the EEOC in a flash—here's what you need to do:
in your web browser
Use the search bar to find our Fight Workplace Discrimination feature
Follow the prompts and give us the details of your case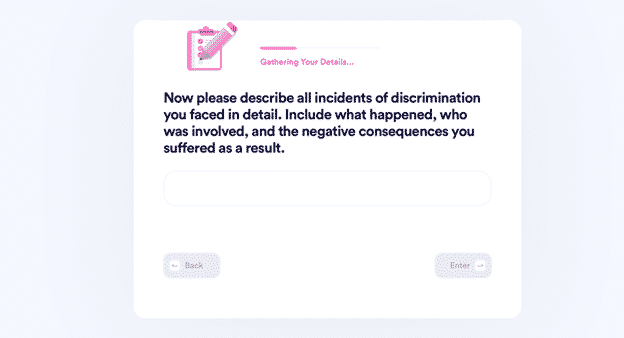 DoNotPay will take it from there and file your complaint with the EEOC.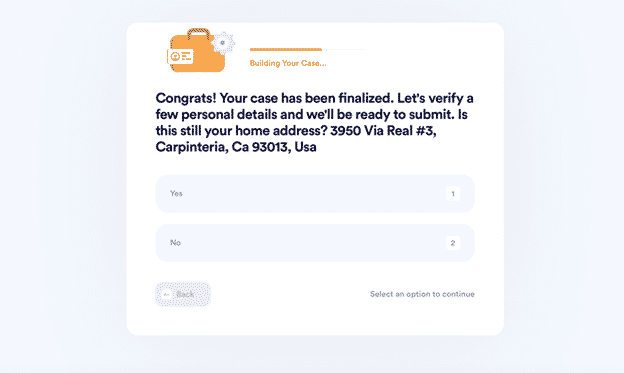 DoNotPay's Other Resources for the Victims of Discrimination
Fighting discriminatory bosses and colleagues is not the only item on DoNotPay's agenda. If your EEOC report doesn't work out, explore the option of suing the perpetrator in small claims court with our help.
Those who experience full-blown hate crimes can use our platform to file for crime victims compensation or deal with insurance claims. Lost a job because of discrimination? Use DoNotPay to get help with bills, reduce your property taxes, or find any unclaimed assets in your name.
We can also help you create numerous legal documents for personal, business, or real estate matters. You'll have a chance to fax your paperwork or find an online notary in the same app!
Use Our App To Right Other Wrongs
Injustice lurks around every corner, and DoNotPay won't have any of it. That's why we keep creating tools and services to help you fight back against all kinds of unfair treatment.
With our help, you'll be able to:
There's more where this came from because the good fight doesn't stop here.