What Does the Civil Rights Act of 1964 Say About Discrimination?
Anti-discrimination legislation in the U.S has its roots in the Civil Rights Act of 1964.
This landmark law was passed in response to civil unrest among the Black population, which was fighting for the equal rights promised in the U.S. Constitution.
If you are not sure how this discrimination act relates to workplace discrimination, check out DoNotPay's definitive guide to the Civil Rights Act and its application in the workplace!
What Does the Civil Rights Act Cover?
The Civil Rights Act guarantees equal rights to all citizens regardless of:
The Act covers all aspects of life, organized into titles as follows:
| | |
| --- | --- |
| Title Number | Subject |
| Title I | Voting rights |
| Title II | Public accommodation |
| Title III | Desegregation of public facilities |
| Title IV | Desegregation of public education |
| Title V | Civil Rights Commission |
| Title VI | Nondiscrimination in federally assisted programs |
| Title VII | Equal employment opportunity |
| Title VIII | Registration and voting |
| Title IX | Intervention in court cases |
| Title X | Community relations service |
| Title XI | Court proceedings and legalities |
The most important title for our purposes is Title VII, which deals with discrimination in the workplace.
The Basics of Workplace Discrimination
Workplace discrimination legislation under the Civil Rights Act and other laws covers every aspect of your job, including:
Hiring and firing processes

Promotions and advancements

Workplace environment

Task allocation

Remuneration

and compensation
Discrimination at work can take several different forms, the most important being:
Discrimination Type

Explanation

De jure discrimination

Any policy deliberately put in place by your employer to discriminate against people or groups constitutes de jure discrimination

De facto discrimination

De facto discrimination is passive, meaning that no laws or

anti-discrimination policies

are explicitly broken, but discriminatory behavior takes place anyway

Harassment

Any harassing behavior constitutes discrimination, including:

Retaliation

If you have complained about discriminatory practices at work, any retaliation against you also constitutes discrimination
What Are Examples of Workplace Discrimination?
If you are not sure whether what you are experiencing or witnessing at work represents acts of discrimination, here are some examples:
Advertising for certain people or groups

Excluding people or groups from hiring or promotion

Paying different people or groups differently

Biased allocation of leave, paid time off, or time off in lieu

Making company facilities unavailable to certain people or groups
Advertising for Certain People or Groups
If your employer stipulates they are looking for a certain age, gender, racial, or disability profile, they are discriminating against those candidates who fall outside the parameters, regardless of their qualifications.
Excluding People or Groups From Hiring or Promotion
Regardless of the reasons, an employer cannot exclude anybody from being hired or promoted—even if the reasons may seem valid (not promoting a Jewish sales rep to manage a predominantly Muslim sales region, for example), such an act is still discrimination.
Paying Different People or Groups Differently
The most common example of this relates to wage discrimination between men and women, but such discrimination can be seen against other groups too.
Biased Allocation of Leave, Paid Time Off, or Time Off in Lieu
Any prejudice or bias in granting leave is discrimination—whether it is paid, unpaid, maternity, medical, or special leave.
Making Company Facilities Unavailable to Certain People or Groups
This can affect disabled employees, members of the LGBTQ community, and employees belonging to certain religious affiliations. An employer must ensure that universal access is possible unless this is precluded by valid safety reasons or would represent an untenable cost to the company.
What Should You Do if You Experience Discrimination at Work?
In many cases, your employer may not be aware that discrimination is taking place—your first step is not to pre-judge and contact a discrimination lawyer, but rather to see if you can address the issue internally. You can take the following action:
Check whether your employer has a discrimination policy

Approach your supervisor and the HR department

Lodge a formal grievance

Keep a written record of every

incident of discrimination

you see
The best-case scenario is that your employer will hear your complaint and take swift action to rectify the problem.
If that does not happen, it's time to take the matter to the next level by involving the Equal Employment Opportunities Commission (EEOC). This is where !
What Is the EEOC, and What Does It Do?
The EEOC is the federal agency tasked with enforcing anti-discrimination laws in the U.S.
Working through 53 field offices, the EEOC received and processed over 67,000 charges of discrimination against employers in 2020, filing 97 new lawsuits, resolving 176 cases, and recovering over $106 million in damages.
You can't launch a private discrimination lawsuit against your employer unless the EEOC permits you to do so, so you must file a charge of discrimination to get the process started.
Once it has received an official charge from you, the EEOC will:
Inform your employer of the charge

Investigate your case

Decide on the next steps, which could be:

Mitigation

An EEOC lawsuit

Permission for you to commence legal action

Dismissal of your case if it is unfounded
How Can DoNotPay Make Dealing With the EEOC Easier?
Filing a complaint with the EEOC can be a difficult process, so DoNotPay has created a product to do the job for you—here's how to use it: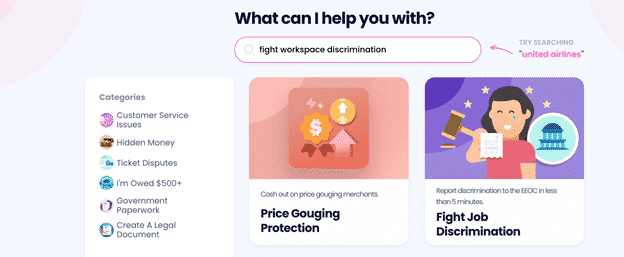 in your web browser

Search for our

Fight Workplace Discrimination

product

Give us the details we need to file your charge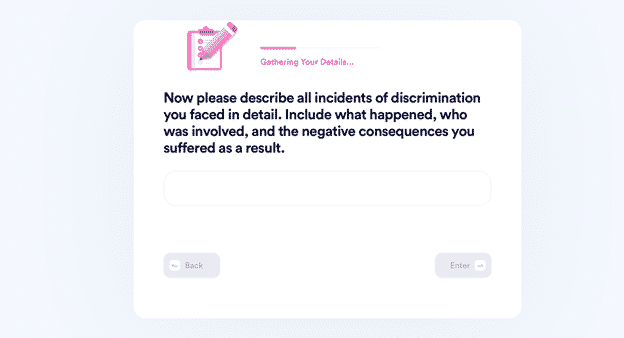 We will make sure your charge is filed with the nearest EEOC office—the EEOC will take it from there.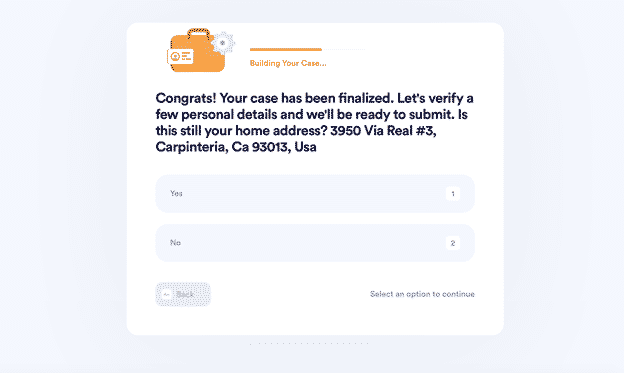 Thinking About Hiring a Lawyer? Think Again!
After you report discrimination in the workplace, you can only hope everything will turn out great. We sure hope so too, but having a backup plan doesn't hurt. If the report with the EEOC backfires, getting a lawyer will be the next logical step.
While you may understand the importance of professional legal help, you might be surprised by how much our virtual lawyer can do for you. Thanks to advanced AI technology, our app can assist you with:
By subscribing to DoNotPay, you won't have to waste hundreds of dollars on lawyers for the help you can get for a few bucks!
DoNotPay Provides Shortcuts Through Bureaucracy
Have you ever thought that corporations and government administration make everything more complicated than it should be? We feel you. That thought is the cornerstone of what DoNotPay is all about!
Our developers keep coming up with products that win against complicated bureaucracy left, right, and center. Some of the tools and services we're most proud of help our subscribers with:
And we're just getting started!