The Gist of the
Disc Jockey Contract Template
Is your job playing music at events? If so, you should consider creating a disc jockey contract template. This legal document will protect your interests. Use DoNotPay to find out what information you need to include in such a contract. Our app can help you draw up numerous documents, including the disc jockey contract.
Why Is It Important To Have a
DJ Contract? 
A disc jockey contract is an agreement a DJ makes with another party to play music at a certain time and place. As a disc jockey, you need to have clear expectations and requirements that you should put in a contract. This step will ensure you work stress-free.
You may be asked to perform on the radio or at:
Birthdays

Weddings

Corporate events

Restaurants

Clubs

Reunions

Anniversaries
Depending on the venue you are expected to perform at, you will come across different working conditions. You need to make an agreement with the client on what equipment will be provided for you. Since you will spend hours at the event, make sure to find out whether you will get any refreshments and state it in the agreement.
A verbal agreement won't do in this case. All of the details need to be stated clearly in writing, and both parties need to sign the contract. 
What Should Every DJ Contract Template Include?
If you are not sure what to include in a DJ contract, you may be tempted to use a ready-made one you find online. Such a template is not a good option because it is generic and made to fit all purposes. You will want a document tailored specifically for you. Check out the table below to see the necessary information in a disc jockey contract:
Must-Have Info

Details

DJ and Employer Contact Info

Names

Email addresses

Phone numbers

Event Description and Date

Type of venue

Venue address

Date and time of the event

Hours of DJ service

Payment Info

Deposit that is non-refundable and needs to be paid once the agreement is signed

Payment due on the date of the event

Fee for services

Fees in case the event lasts longer than agreed

Payment method

Disc Jockey's Requirements

Electrical requirements

Space/venue details

Equipment

Terms of Cancellation

Scenarios in which the parties can cancel the contract

Legal Actions
Signatures of Both Parties

Signatures of the client and DJ
If you think some other clauses might be relevant for your case, you can always add more information. The important part is that both you and the client are satisfied with the terms stated in the document. Once you draft your first DJ contract, you can use it as a template for any future gig.
What Happens if One of the Parties Wishes To End the Contract?
You should have the agreement termination terms clearly written in the form of a termination clause. This section of the contract will explain the conditions under which a contract can be terminated without a breach. Both parties of the DJ contract need to agree to the termination of the agreement before it is done.
Common ways of dealing with the issue of ending the contract involve finding solutions that can save time and money for each party. If a DJ initiates ending the agreement, they could oblige to provide a replacement for the gig with the client's approval. The disc jockey would also have to pay back the deposit money if they received any. 
In case the client suggests ending the agreement, they should inform the DJ within an agreed time before the event is to take place.
Create Legal Agreements With DoNotPay's Help
Do you need a legal document but can't afford to spend a fortune on services? You shouldn't risk trying to write an agreement on your own if you don't have proper legal knowledge. 
The solution to your troubles is DoNotPay! Our app can create a document right for your needs in a matter of minutes.
Take these three simple steps to get a contract of your choice:
Access DoNotPay

from your web browser

Type in the name of the legal document you need in the provided field

Type in your name, address, and other necessary info
If you use DoNotPay, you will get a document made specifically for you. You may also need to bring the contract to the notary.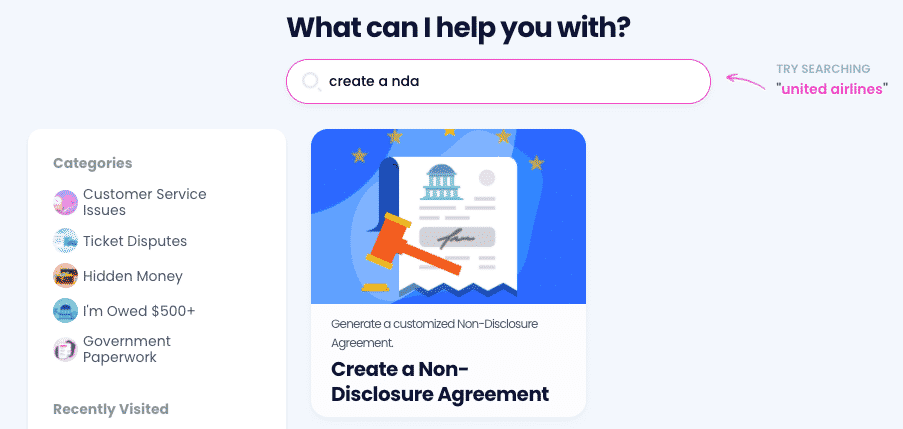 All the Legal Documents DoNotPay Can Help You With
You can find information for almost all important legal documents in our database. We can create a plethora of agreements for you in a few clicks. Check out the table below to see what's in DoNotPay's offer:
DoNotPay Can Create:
DoNotPay's Guides On:

Promissory Note

Intent To Purchase Real Estate

General Affidavit

Estoppel Certificate

General Business Contract 

Quitclaim Deed
Keep Your Money in Your Pocket and Save Time
With our assistance, you can also appeal parking tickets in any city, get help with bills, make an appointment with the DMV, protect your copyright, and avoid phone number verification!
If you feel like you were wronged either by a faulty product or a delayed or canceled flight, DoNotPay will also help you request a refund from any company or airline hassle-free.
Being on a tight budget isn't easy—knowing that, we've developed features that will get you free trials, unclaimed money, extended warranties, college application fee waivers, and so much more!
Fend Off Scammers With DoNotPay's Help
Are you sick of having a cluttered inbox or getting robocalls? So are the majority of Americans. If you want to get rid of email spam, text message spam, or annoying robocalls, DoNotPay can help you put a stop to them once and for all.
Do you feel like serving justice to companies that wronged you or stalkers and harassers that won't give you a break? Use our AI-driven app to fight for your right!