The Biggest
Disadvantages of a Contract for Deed
A contract for deed—or a land contract—is one of the most commonly-used sales contracts. For anyone who wants to purchase a property but doesn't qualify for a conventional mortgage loan, a contract for deed is the only option.
While it may provide a convenient solution, a contract for deed has many disadvantages for both the buyer and the seller. Knowing all the pros and cons of entering such an agreement can help you decide whether or not to use it.
DoNotPay will show you what to be on the lookout for by presenting all the disadvantages of a contract for deed!
How Does a Contract for Deed Work?
A contract for deed imposes widely different terms than traditional financing. The buyer typically pays for the property in installments. The payments are made directly to the seller, who keeps the title to the property until the amount is covered in full. Crucial elements of a contract for deed include:
Purchase price

Down payment amount

Interest rate

Monthly installment amount that usually consists of the principal and interest

Contract terms

Consequences of a default
Why Do People Use Contracts for Deeds?
Purchasing a property is becoming increasingly hard. While most people take on mortgage loans to finance real-estate purchases, others have to find alternative ways. Not qualifying for a loan is one reason for choosing land contracts.
By entering a contract for deed, the buyer gives a much lower down payment than in a conventional loan. They can also avoid additional fees and take advantage of personal income tax deductions.
Sellers often resort to using contracts for deeds when they want to increase the number of potential buyers. The buyer pays in installments, so there may be some tax deductions in it for the seller. The seller enjoys additional safety because they maintain the deed to the property until the buyer makes all payments. 
What Are the Disadvantages of a Contract for Deed
?
A contract for deed seems like an easy solution for buying a property, but that is not the case. It implies many drawbacks for both the seller and buyer. Before entering the contract for deed, you have to be aware of everything that can go wrong and prepare for possible setbacks. 
Check out the disadvantages the seller and buyer may face after signing a contract for deed:
Disadvantages for the Buyer

Disadvantages for the Seller

Lack of foreclosure protection

—

If the buyer defaults on a loan, the seller can retake the ownership of the property much faster than with a traditional mortgage foreclosure

Due-on-sale clause—Sellers have to ensure that the contract for deed doesn't trigger the due-on-sale clause in their existing mortgage

Balloon payment risks

—

A buyer can easily lose the property after years of making payments if they can't make the balloon payment

Payment default—If the buyer defaults on a loan, the seller has to follow a state-specific procedure to repossess their property and evict the buyer

Seller retains title

—

Buyers don't have the legal title to the property, so they cannot sell it or use it as collateral for a loan

The balloon—When the buyer can't afford to refinance, the seller must decide whether to allow paying in installments or evict them

Consumer protection

—

It's up to the buyer to make sure the lender owns the property, there are no outstanding mortgages, and the property is in good condition

Property management—The seller has to make sure the buyer is maintaining the property and paying taxes 

Property protection

—

The buyer is in charge of property maintenance. If there is a need for repairs, they may have trouble getting a loan
Advice for Sellers and Buyers Entering a Contract for Deed
A contract deed can be advantageous for all involved parties if they take some precautionary measures. 
Before entering the agreement, the buyers should:
Have a housing counselor assess their finances

Obtain services of an experienced real estate agent

Hire a real estate attorney to go over the contract

Have a licensed inspector check the property

Purchase a title insurance
Sellers should do the following:
Ensure that the contract complies with the state law

Hire a licensed real estate lawyer to implement the contract 

Check the buyer's financial situation

Make advance arrangements for paying taxes and insurance 

Make sure the buyer has a plan for covering the balloon payment

Clarify both parties' responsibilities regarding the property 
DoNotPay Creates Numerous Contracts for You
Writing a contract is a bit scary. It is hard to keep track of all the terms, mandatory sections, and legal requirements. Online templates combined with professional advice can do the trick. You can find this perfect combo in DoNotPay!
We have developed the Standardized Legal Documents tool to create various contracts on your behalf. You only need to answer a few questions, and we will generate a legal document unique to your situation.
Here is what you need to do:
Visit our app

in a web browser

Type in the name of the legal document 

Answer a few questions from our chatbot
Our app allows you to create as many contracts as you need for a modest monthly fee. What's more, we can arrange a notarization and even fax the document for you, if needed!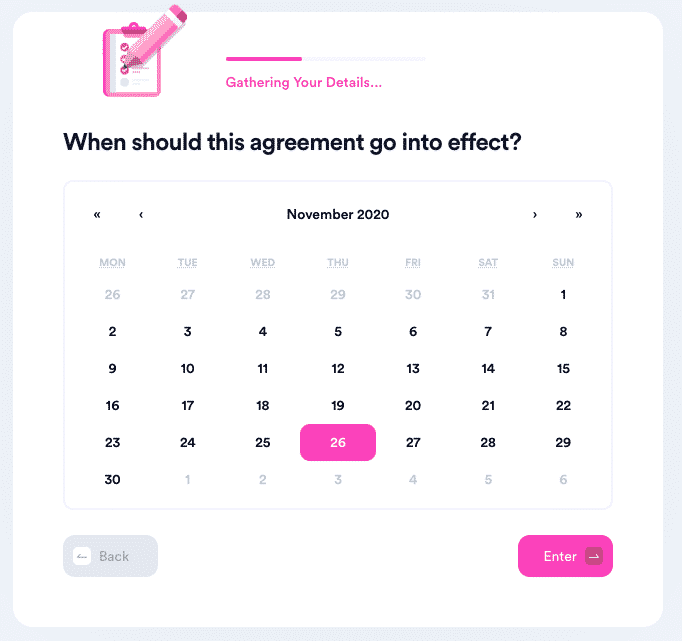 Which Contracts Can We Create?
Access DoNotPay to learn more about and create any of the following documents:
Quitclaim deed

Estoppel certificate

Intent to purchase real estate

Residential

lease agreement

General business contract

General affidavit

Promissory note
DoNotPay Keeps Your Privacy Intact
DoNotPay can help you surf the web safely and securely. No need to provide your personal information to every company whose service you'd like to take for a test drive. Our Virtual Credit Card and Burner Phone products shield your data from prying eyes and dishonest merchants.
Feel like subscribing for a free trial? Make it truly free and avoid automatic membership renewals with our card. It can also help identify spammers and potential scammers who send bothersome robocalls and robo texts your way. As soon as they act on the virtual card number, DoNotPay will unmask them and demand compensation!
DoNotPay Can Help You Bring Any Business to Justice
Should a company refuse to grant you a refund or compensation, our app will help you take them to small claims court! 
We'll help you cancel the service in question to avoid any future charges, and we'll call their customer service so you can get info on your denied request. We'll draft the relevant court documents for your jurisdiction and give you instructions on filing them.
More Nifty Features That'll Make Your Day
You may not have breach of privacy issues or reasons to bring someone to court, but you surely have ample motivation to save or earn a few dollars here and there—especially if we catch you unawares!
DoNotPay can show you how to reclaim funds that you didn't know were under your name or make a denied warranty appeal to any company. We streamlined the processes of requesting refunds, college fee waivers, airline flight compensation, parking infraction dismissals, as well as applying to clinical trials that pay!