Testing the Law With These Disability Discrimination Cases
Workplace discrimination against people with disabilities is prohibited by law.
A law is only useful, though, if it is clear and straightforward enough to be enforceable in real-life discrimination cases.
DoNotPay has looked at the most important recent disability discrimination cases that prove whether our anti-discrimination laws are up to the job!
What Is the Law on Disability Discrimination?
The law on disability discrimination is clear and unequivocal—it is illegal to discriminate against anyone at work due to their disability.
Similar to discrimination based on race, age, gender, religion, and LGBTQ status, treating people with disabilities differently in the workplace is prohibited under:
Under these laws, the following forms of discrimination are unlawful:
| | |
| --- | --- |
| Type of Discrimination | Explanation |
| De jure discrimination | Deliberate installation of policies and procedures that discriminate against disabled people—such as openly advertising for "able-bodied" workers—is illegal |
| De facto discrimination | Allowing practices in the company that result in discrimination—such as not providing wheelchair access to certain areas—is prohibited, regardless of whether anti-discrimination policies are in place |
| Harassment | Harassment against disabled employees is prohibited, including: |
| Wage discrimination | Disabled employees must be paid the same as everyone else for doing the same work |
| Retaliation | Retaliation against an employee who has complained of discrimination is strictly prohibited |
Which Cases Have Tested and Proved That the Law Works?
Several disability discrimination in the workplace cases have clarified gray areas in the law and made it stronger for all disabled employees. In each case, the plaintiff was the Equal Employment Opportunities Commission (EEOC)—the federal organization responsible for enforcing anti-discrimination laws. The defendants were:
Henry's Turkey Service
Creative Networks
United Airlines
Banner Health
Johns Hopkins Home Care Group
Pioneer Place
Fisher, Collins, and Carter, Inc.
Vitas Healthcare
Henry's Turkey Service
The defendant was found guilty of having systematically mentally and physically abused 31 disabled workers over 20 years. The company had to pay $1.3 million in compensation and subsequently went bankrupt.
Creative Networks
The employer did not make a sign language interpreter available for a hearing-impaired employee and was ordered to pay $57,500 in compensation.
United Airlines
On appeal, United Airlines was found guilty of having discriminated against disabled employees by not providing them with alternative jobs if their disability made their current position untenable. Instead, the airline had forced the affected workers to compete for new positions on the company website.
United Airlines settled for compensation of more than $1 million.
Banner Health
Banner Health consistently refused to make accommodations for an intellectually disabled employee and subsequently fired him. The company was found guilty and ordered to pay $250,000 in compensation.
Johns Hopkins Home Care Group
The homecare group refused to make accommodations for a nurse in their employment diagnosed with breast cancer. The nurse was later found to have been terminated in retaliation for her complaint to the EEOC.
Johns Hopkins Home Care Group had to pay $160,000 in compensation and damages.
Pioneer Place
The plaintiff was refused a job at Pioneer Place, having failed a pre-employment drug test due to her epilepsy medication. The defendant was ordered to pay $80,000 in compensation and to run disability discrimination awareness training courses for all their staff.
Fisher, Collins, and Carter, Inc.
Fisher, Collins, and Carter, Inc. was ordered to pay $77,000 in compensation after it fired two employees, having discovered through an in-company confidential survey that they suffered from diabetes.
Vitas Healthcare
Vitas Healthcare refused to reassign a nurse whose hypertension was being made worse by the extensive driving necessary for her job. Vitas Healthcare was ordered to pay $65,000 and change its policy on accommodating people with disabilities.
The above disability discrimination lawsuits not only helped define the law in the U.S. but also extended the definition of disability to include many chronic illnesses.
What Should I Do if I'm Facing Disability Discrimination?
If you think you are being discriminated against due to your disability, you should try to resolve the matter internally by approaching your HR department.
If this doesn't help, you need to seek the assistance of the EEOC.
Before you can contact a discrimination lawyer and commence legal action against your employer, you need to get permission to do so from the EEOC.
This involves filing a complaint against your employer—known as a charge of discrimination—in which you list all the incidents of discrimination you have experienced.
Filing your complaint can be complicated, but !
File Your EEOC Charge With DoNotPay's Help
DoNotPay makes filing your charge of discrimination a piece of cake. Here's how to do it:
Navigate to DoNotPay in your web browser and
Search for our Fight Workplace Discrimination product
Fill in the details of your case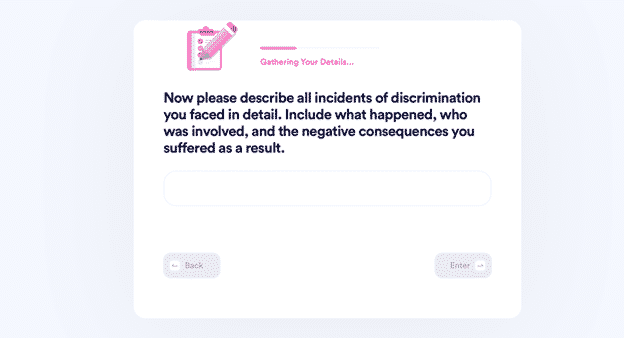 Job done! The EEOC will contact you to discuss your next course of action.
You Can Rely on DoNotPay's Can-Do Attitude
Facing discrimination in the workplace can make you feel drained and depressed, but DoNotPay will be that pick-me-up that you need. Our platform is built around the idea that everyone can and must fight for their rights, so we keep providing you with the most efficient tools and resources to do so.
We've found ways to cut out the middleman in numerous bureaucratic processes and support you by saving your time, energy, and money. DoNotPay can help you:
Accomplish More With DoNotPay
Our platform helps you protect your rights, deal with annoying administration, and increase your overall productivity. We strive to identify complicated procedures that plague everyone's existence and make them as simple as possible.
You can use our app to:
Long story short—DoNotPay does it all, and it's meant for everyone who could use some more help, time, and money!