The Difference Between a Medical Power of Attorney and Advance Directive
It's important to ensure your wishes regarding medical treatment are respected when you become incapacitated. Both the advance directive and the medical power of attorney can help you achieve that goal, but are the two the same document?
DoNotPay puts a spotlight on the difference between medical power of attorney and advance directive so you can decide which document suits your needs best!
Advance Directive vs. Medical Power of Attorney—Is There a Difference Between the Two?
Check out the specifics of a medical power of attorney compared to an advance directive in the table below:
Document
Purpose
Medical power of attorney (also called a health care proxy in some states)
This document enables you (the declarant) to assign:

A representative (health care agent)
Two alternative agents

The agent's duty is to make decisions about your medical treatment that are in compliance with your wishes. In some states, the MPOA also allows you to go into more detail about the treatment you want to receive or reject.

Advance health care directive
Most states consider an advance directive to be one of the following:

One document that allows you to express your concerns and plans regarding all aspects of medical treatment (a document that combines features of a living will, health care proxy, medical power of attorney, and even a DNR in some states)
A group of individual documents you can use to ensure your wishes regarding health care are respected and carried out
How To Decide Between an Advance Directive and Medical Power of Attorney
Both an MPOA and an advance directive serve a similar purpose, but the latter allows you to go into as much detail as you want regarding all aspects of your end-of-life health care. Some treatment and after-death procedures you can specify in your advance directive include:
Location you will be admitted to and treated in
Pain relief
Resuscitation methods
Nutrition and hydration in the final stages of your life
Spiritual care
Emotional care
After-death procedures regarding:

Your memorial
Donation of your organs
Ways To Create an Advance Directive
Check out these options for preparing your advance directive:
Write one yourself or download and complete an online form—This method will require some research on your part to ensure you don't miss any of the mandatory elements of an advance directive
Hire a lawyer to do it for you—A lawyer's expertise comes in handy, but often at a sky-high price. If creating a living will costs a lot, the legal fees for an advance directive go even higher
Use DoNotPay—Rest assured that our app allows you to express your concerns regarding every factor of your treatment and end-of-life health care and save money in the process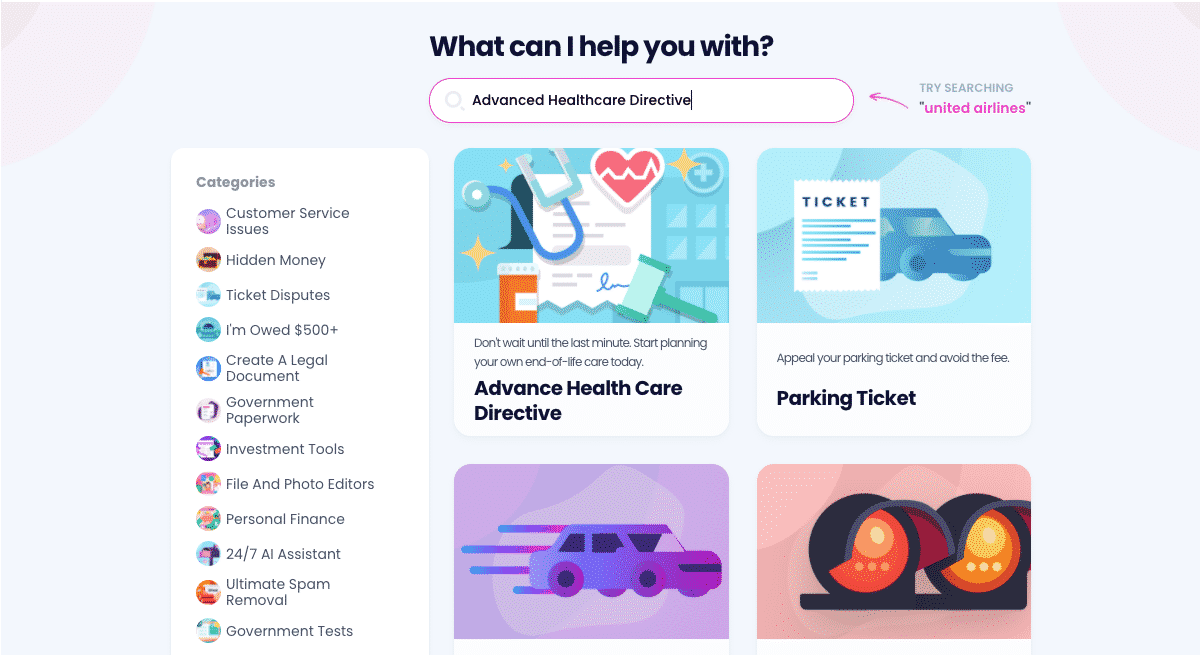 Use DoNotPay To Create Your Advance Directive With Ease
DoNotPay provides the means for you to easily communicate your wishes regarding end-of-life health care in writing. All you need to do to get your advance directive is:
Select the Advance Health Care Directive feature
Answer some questions about your preferred treatment methods and the agent you want to assign
Enter the full names of your two witnesses
After completing the final step, all that's left for you to do is complete the document and find a notary to notarize it. Are you having trouble booking a notary? Try our online notary app and schedule your appointment in a flash!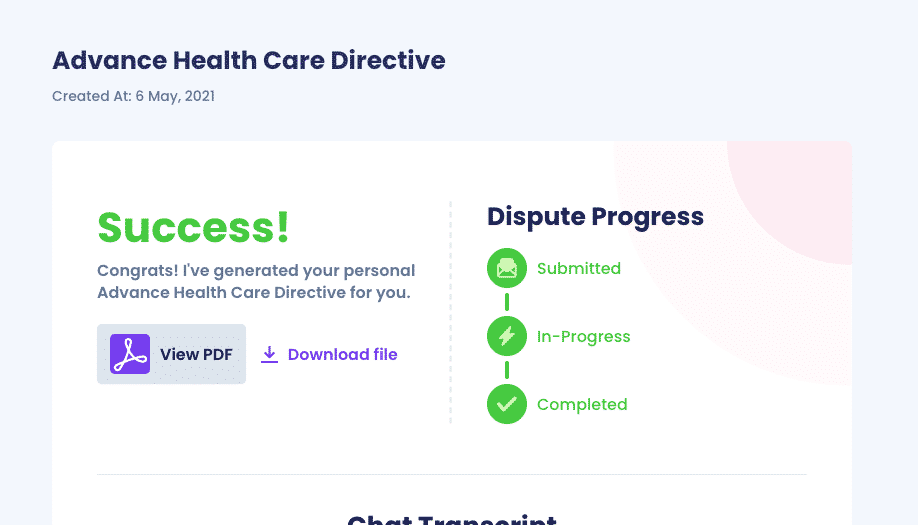 If you haven't decided about your advance directive yet, explore our extensive knowledge base to learn more about the topic. You can find out:
What About Other Perks Our App Offers?
DoNotPay offers valuable assistance with the following tasks:
DoNotPay Cares About Health Matters
Finding suitable and verified clinical trials you can participate in is often complicated and time-consuming. Still, with DoNotPay, it becomes a breeze! Our platform allows you to search through clinical trial databases and apply for the ones that seem acceptable to you.
If you want to make sure your health wishes are honored if you get too sick, we help you compose an advance health care directive based on your preferences. That's not all—you can also name a person who can decide on your finances and estate if you get incapacitated by creating a power of attorney in our app!