Your Deschutes County Divorce Can Be Painless With DoNotPay
No matter what your situation is, the decision to file for divorce is a huge one.
Apart from the mental trauma that is always present when a marriage breaks up, the process can be long, expensive, and painful if it ends with lawyers fighting extensive court battles.
DoNotPay can help. Here is our breakdown of the Deschutes County divorce process, with all the tips you need to keep your divorce cheap, free from lawyers' involvement, and away from lengthy court proceedings.
Your Guide to the Deschutes County Divorce Process
Divorce in Oregon doesn't need to be a pain if you and your spouse are willing to collaborate in a friendly manner.
To be eligible to file for divorce in Deschutes County, you need to first check that you meet the residency requirement of six months living in the Beaver State.
If that is the case, you do not need to prove any wrongdoing on the part of your spouse, as Oregon is a no-fault divorce state—it is enough to claim that your marriage has irretrievably broken down.
Your second step is to verify which type of divorce you qualify for, your options being:
Summary dissolution
Complex dissolution
Summary Dissolution
You can file for a summary dissolution if you have:
A summary dissolution needs no court hearings and is usually granted quickly and without fuss.
Complex Dissolution
If you fall outside the eligibility criteria for a summary dissolution—if, as an example, you have minor children—your case is classified as a complex divorce.
Even in a complex dissolution, you can still keep the process simple if you and your spouse agree on an uncontested process with an out-of-court settlement.
Under Oregon law, an uncontested divorce can be granted after no more than a single court appearance, as long as all the required paperwork is in place.
How Do You File for Divorce in Deschutes County?
Filing for divorce in Deschutes County is a two-step process, as follows:
If you and your spouse want your divorce to be as easy and fast as possible, you can elect to file jointly. This means that you do not have to have the papers served on your spouse, and your divorce can usually be finalized in around a month.
You will need to attend one court hearing, and you must file a settlement agreement before your hearing takes place.
What Is a Settlement Agreement?
A settlement agreement is a crucial legal document needed to secure an uncontested divorce.
It regulates how every aspect of your marriage should be split up after divorce, covering:
Your settlement agreement is a binding contract between the two of you, and the judge in your case will scrutinize it to make sure it is:
How To Draw Up Your Settlement Agreement
You have several options for drafting your settlement agreement, as follows:
Lawyer
Online divorce service
DoNotPay
Lawyer
The traditional route to negotiate and draft a settlement is for you and your spouse to hire attorneys and let them battle it out—with or without your presence.
If the two of you are on friendly terms, though, you may want to consider dispensing with lawyers to save costs. Lawyers charge around $250 per hour, and a typical uncontested divorce can easily cost $5,000 per spouse.
You can also investigate the option of mediation to solve your differences—this can be effective in helping the two of you focus on reaching a mutually acceptable settlement at a fraction of the cost of a lawyer.
Online Divorce Service
If you already have a settlement agreed with your spouse, various online providers offer templates for you to download and fill out on your own. While such templates are cheap, you will have to do most of the work, and many templates are too generic to cover your exact needs. You risk a judge rejecting your agreement as inadequate.
DoNotPay
DoNotPay has come up with a solution that is comprehensive and doesn't cost a cent in lawyers' fees—we can generate the perfect, tailor-made settlement agreement for your needs!
DoNotPay Paves the Way for Your Deschutes County Uncontested Divorce!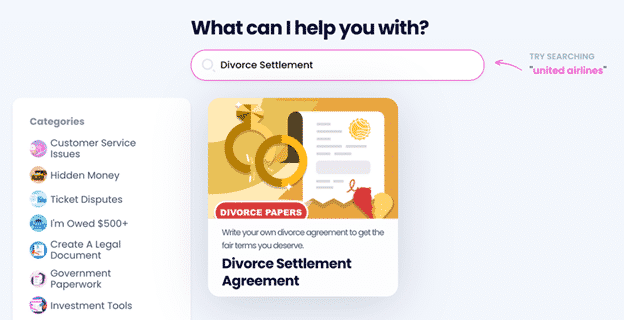 DoNotPay is your partner for making your Deschutes County settlement agreement a cakewalk!
Our Divorce Settlement Agreement product is designed to take the hassle out of preparing your settlement—we take the terms you and your spouse have agreed on and craft them into a watertight agreement that will pass the judge's scrutiny. No need for expensive lawyers or hit-or-miss generic templates!
To set your agreement up, follow these steps:
Look for our Divorce Settlement Agreement feature
Answer a few questions about your settlement terms
Once we have all your info, we will create your agreement in an instant. You can go ahead and sign it with your spouse, have it notarized, and file it with the Deschutes County court.
No idea where to find a notary in your area? No problem—DoNotPay has you covered with our online notarization feature!
If Deschutes County isn't the area you need help with, try our specific info about Washington County or Clackamas County divorces!
Learn How To Solve Legal Issues in Minutes!
Do you need to draft a legal document? Spending hundreds of dollars on lawyers is not the answer. We came up with a faster and more affordable solution. Not only can our app draft child consent forms, divorce settlement agreements, and powers of attorney for you, it can also provide legal assistance by helping you take anyone to small claims court!
Drafting numerous documents is not all DoNotPay does for you! Aside from drawing up contracts and agreements, we can also assist you in getting them notarized online from the comfort of your home or office!
Explore DoNotPay's Other Nifty Features
There is more assistance on the way! You can use DoNotPay's features to handle various tasks with ease, including:
We can also help you protect your safety. If you don't know how to deal with copyright infringement, stalking and harassment, work discrimination, sex offenses, and disputes with annoying neighbors, DoNotPay has got you covered.