Sending a Notice of Intent To Homeschool to the Department of Education—Homeschooling 101
Do you wish to start homeschooling your child in the near future? If that's the case, you'll need to be well prepared for the journey ahead of you. Before anything else, you should get familiar with your state's homeschool laws and send a letter of intent to homeschool either to your local school district superintendent or the state's Department of Education. Homeschooling your child can be tough at times, especially if you are a beginner. This easy-to-read guide will answer all the questions a new homeschooling parent might have.
Homeschool Education—Rules in Different States
Homeschooling is legal in all 50 states, but each one has its own set of rules that have to be followed.
You have to research the homeschooling laws for your state before even considering educating your child at home. To help you out and save your time, we have gathered all homeschooling state guides in one place:
How To Start Homeschooling
After checking out all the regulations, including the requirements for homeschool teachers in your state, you should take the following steps for a successful start of your homeschooling journey:
What Is the Purpose Behind a State Department of Education?
Every state in the U.S. has its own Department of Education. These departments are state-level government bodies dedicated to:
Assisting children, parents, and educators (such as teachers, administrators, superintendents, and school communities) in meeting each student's educational needs
Providing schools and citizens with educational resources, information, and technical support
The United States Department of Education oversees the nation's education system.
What Is a Letter of Intent?
Most states in the U.S. (29 out of 50) require parents to submit a letter of intent to homeschool when they begin homeschooling and every year after that. This document:
Informs your local school that they are no longer responsible for educating your child
Protects you from a potential truancy charge
Keep in mind that you can take your child out of school to homeschool whenever you want—even in the middle of the school year.
While you can draft the letter yourself, is a better solution because we can generate a mistake-free letter in minutes.
What Information Must Be Included in the Letter of Intent To Homeschool?
The information that must be included in the homeschool letter of intent differs by state. The following info is mandatory in all states:
Name of the parent/homeschool teacher
Homeschool address
Child's name, age, and grade level
To Whom Is the Letter of Intent To Homeschool Submitted?
In some states, you have to file this notice with the state Department of Education while in others, you'll have to send it to the local school district.
Local school districts in certain states forward the names and numbers of homeschooled children to the state Department of Education. In other states, the state Department of Education shares this information with local school districts.
Let DoNotPay Draft a Homeschool Letter of Intent for You in a Jiffy!
Don't waste your time and energy on tedious tasks, and let us draft a letter of intent to homeschool for you.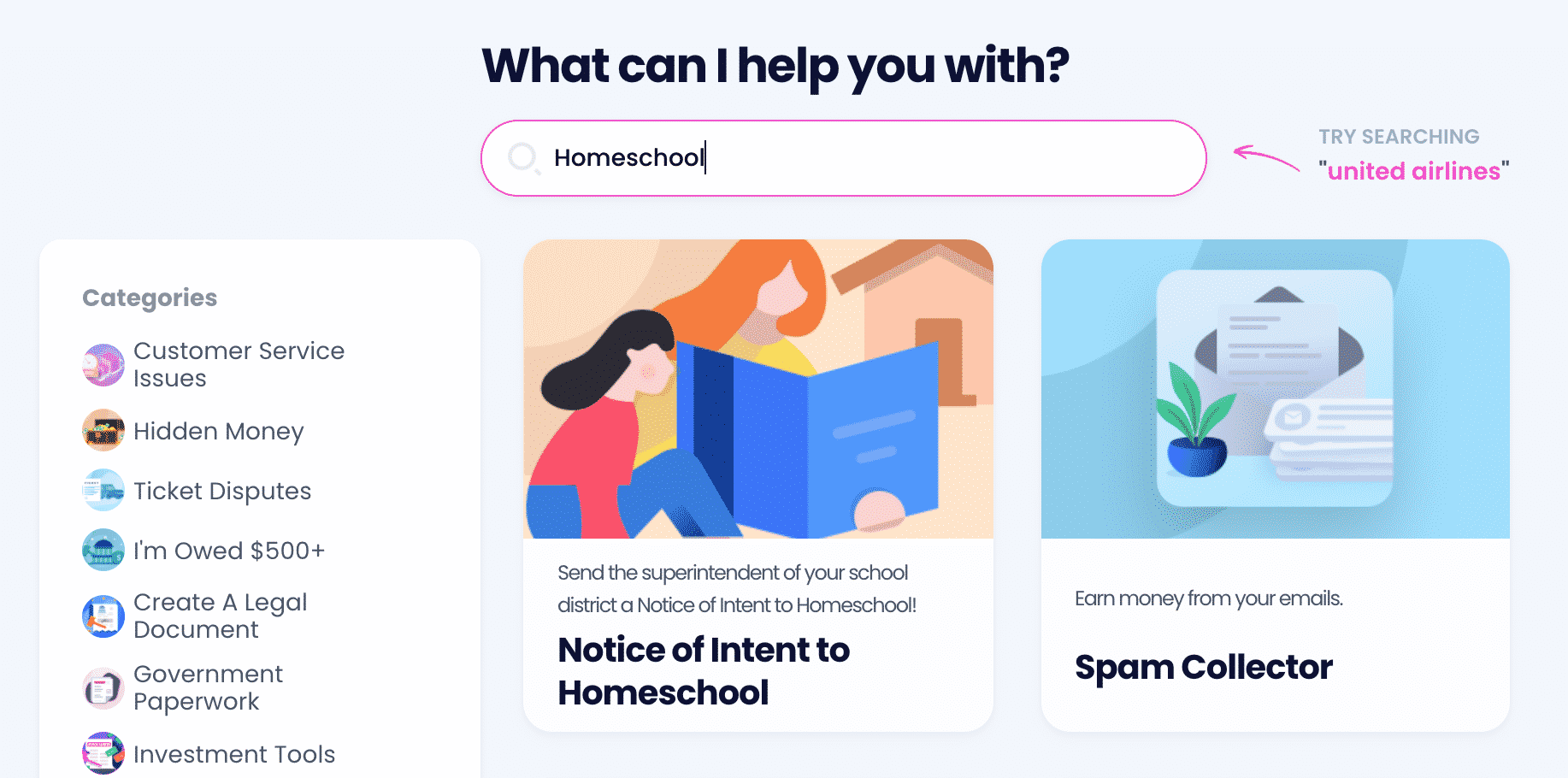 All you need to do is:
Find the Notice of Intent to Homeschool feature
Enter the details about yourself and your child
Answer a few more questions from our chatbot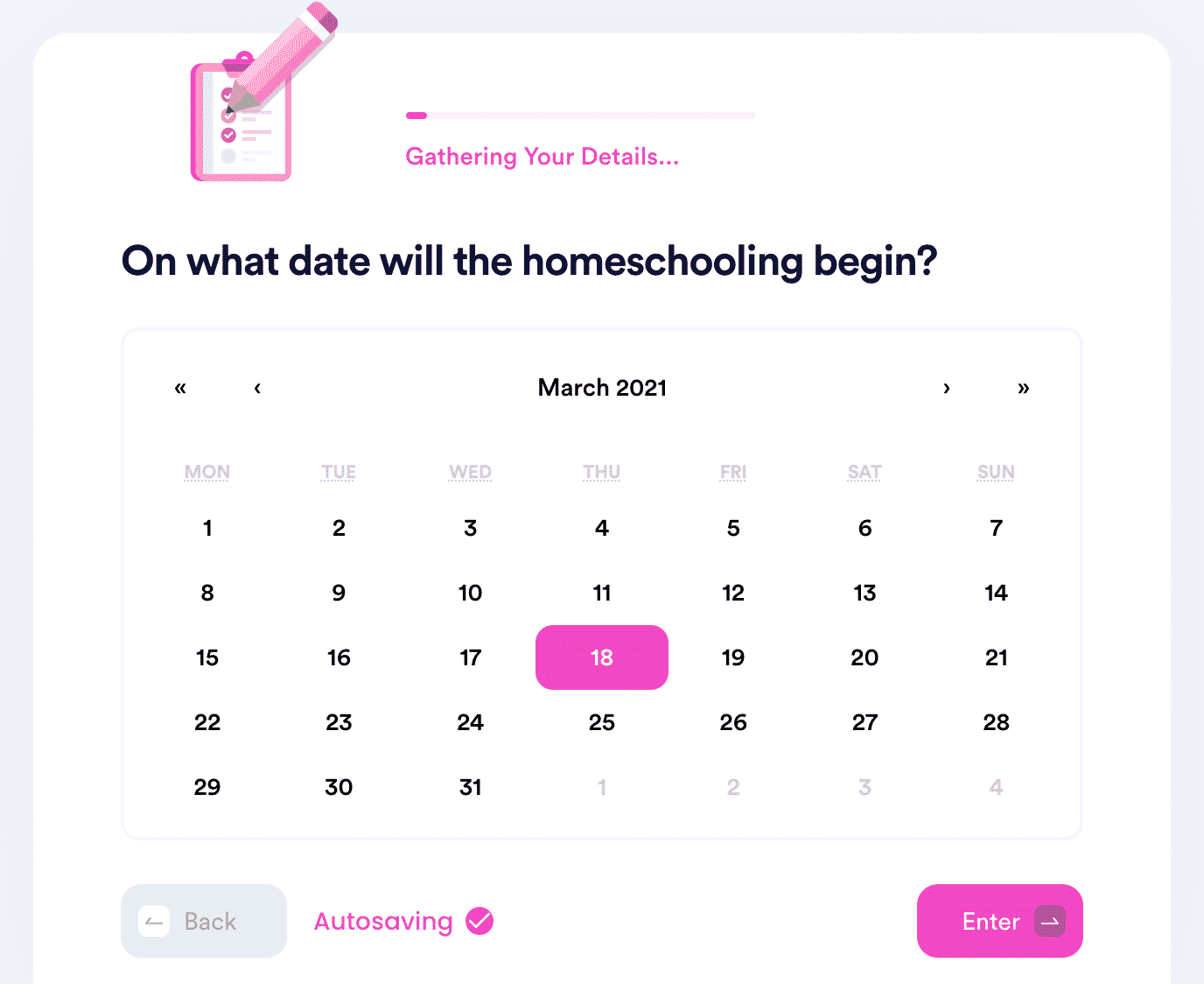 We can send the letter to the authority in charge, or you can do it yourself after downloading the letter in PDF format. Don't forget—you can get the letter notarized using our app.
Why Do Parents Choose Homeschool Education?
Most parents choose to homeschool their children due to:
Quality or style of education
Religious reasons
Safety concerns and negative influences
Life circumstances
Quality or Style of Education
Some parents think that curriculums offered by public schools are not what their children need or that the quality of education provided is inadequate. In other cases, children with special needs, impairments, or medical problems may require specific programs tailored to their needs.
Religious Reasons
Families may have religious beliefs they desire to include in their children's education. Even though religion is a major part of American culture, it is often not mirrored in the public education system.
Safety Concerns and Negative Influences
Parents of children with certain medical problems or severe allergies are often concerned about their safety, so many opt for homeschooling. Bullying is another common reason parents take their children out of school to homeschool.
Life Circumstances
While some parents have jobs that require them to relocate on a regular basis, others have a desire to travel or move often. To help their children avoid the stress of switching schools every few months or years, they decide on homeschooling.
Struggling Financially? DoNotPay Can Help You Out!
If you're on a tight budget and have trouble covering your bills, there are a few things we can do for you. DoNotPay is a great tool to both earn and save money.
If you or a family member is a student, you can use our app to search and apply for scholarships and request a college fee waiver. In case your financial aid application is rejected or the university offers little, we can help you file an appeal. Education can be expensive on all levels, so you may consider homeschooling your child.
Is your property tax bill through the roof? Discover ways to lower your property taxes with DoNotPay.
When you're strapped for cash, you can enter sweepstakes, get gift card cash back, or sign up for clinical trials in your area.
What Else Can You Expect From DoNotPay?
DoNotPay is a versatile app, helping users handle tasks and issues while saving time and money.
With our help, you can prepare for various government tests, contact embassies and consulates, appeal banned accounts, and send online faxes within minutes.
Count on DoNotPay when you need to mail letters, apply for tourist visas, or file anonymous HR complaints.
Fighting workplace discrimination and dealing with annoying neighbors will also be much easier with the world's first robot lawyer by your side.