Make the Break Easily With Denton County Divorce Forms
Filing for divorce can be daunting as it involves a mountain of paperwork on top of the emotional trauma.
Getting the divorce process started in Denton County needn't be difficult as long as you understand the process and follow it to the letter.
If you get everything right, your divorce can be finalized quickly, cheaply, and with the minimum of time spent in court.
DoNotPay looks at the Denton County divorce forms you need to get your Texas divorce started.
Who Is Eligible To File for a Denton County Divorce?
If you fulfill the state and county residency requirements, you are allowed to file for divorce in Denton County. The requirements are that you have:
Resided in Texas for a minimum of six months
Been a resident of the county for at least three months before you file
You don't need to wait until your spouse does something wrong since Texas recognizes no-fault divorces. The only reason you need to state is that there are irreconcilable differences between you and your spouse.
Denton County Divorce Step by Step
Your first steps in filing for divorce in Denton County are to collect the papers you will need and fill them out.
Here's the overview of the forms you will need:
| Denton County Divorce Papers | Explanation |
| --- | --- |
| Petition for divorce | This document is a formal request to the court to dissolve your marriage |
| Summons or waiver | The summons serves to inform your spouse that you have filed for divorce. If you and your spouse have agreed that the divorce will be uncontested, they can sign a waiver, meaning that the petition does not have to be served |
| Notice of servitude | This form is a confirmation that your spouse has received a copy of the divorce papers |
| Decree of divorce | Your final divorce decree will be stamped and signed by the judge once your case has been finalized. When you file your divorce papers, the decree should be filled out with your details and those of your partner and children, if applicable |
| Sworn inventory and appraisement | This is a declaration of all your joint and individual assets and liabilities |
The state forms for your divorce are available online, but you should check with the clerk of the county court whether there are any other Denton County divorce papers required.
When you fill out the necessary forms, you should:
File your divorce papers
Have them served on your spouse
You will need to pay the filing fee of around $300.
What Happens After You File?
Once you have filed and your spouse has either been served or has lodged a waiver, you can start the process of negotiating a settlement agreement.
If the two of you can successfully reach a consensus before your case comes to trial, your divorce will be treated as friendly, and you should be able to:
Significantly Reduce Your Costs
Contested divorces can quickly become expensive, mostly due to lawyers' fees. Texas lawyers charge up to $400 per hour, and most will require an upfront retainer of anything between $2,500 and $20,000 to handle your divorce case.
If you and your soon-to-be ex can agree on an uncontested divorce, you may be able to avoid needing lawyers at all.
Shorten the Divorce Process
Texas imposes a mandatory 60-day waiting period before a divorce can be granted, but an uncontested divorce can usually be finalized quickly after this time has elapsed.
The most crucial document you need to have your divorce classified as uncontested is your divorce settlement agreement—with an out-of-court settlement agreement in place, a judge should have no issue granting your dissolution.
How To Set Up a Denton County Divorce Settlement Agreement
A divorce settlement is a legal document that regulates how your marriage should be dissolved.
It covers all aspects of your shared responsibilities and obligations, including:
Your options for creating a settlement agreement are as follows:
Settlement Agreement Source
Explanation
Lawyer

A lawyer is the default choice to negotiate and draw up a divorce settlement agreement, but this may be an unnecessary expense if you and your spouse can agree on the terms.
If the points of disagreement between you are only minor, a far cheaper alternative to attorneys is to use a mediation service to help you and your spouse work out your settlement together. A trained mediator can help you reach a consensus at a fraction of the cost of a lawyer

Online

Several companies offer online divorce packages or downloadable settlement agreement templates. You should be careful in your choice, though—many of these templates are too generic to cover your exact needs and may not even be valid under Texas law
DoNotPay goes one better than either of these options, though—we can create a completely customized settlement agreement for you in a few clicks, with no expensive lawyers to pay!
Get Your Settlement Agreement Sorted With DoNotPay!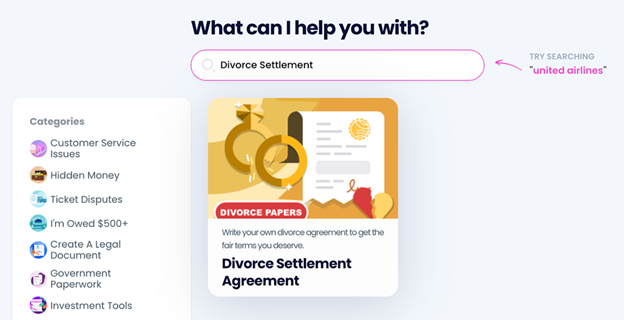 DoNotPay believes that your divorce should be fast, easy, and cheap!
Our Divorce Settlement Agreement product is designed to help you achieve this. Give us the terms you and your spouse have agreed on, and we will create a tailor-made document that is perfect for your needs—without you paying a cent in lawyers' fees!
Here's how it works:
Look for our Divorce Settlement Agreement feature
Fill in the details of your agreement
As soon as we have everything, we will generate your document in no time!
You and your spouse can sign it together and have it notarized. Not sure where to find a notary in Texas? No worries, we can even organize online notarization for you!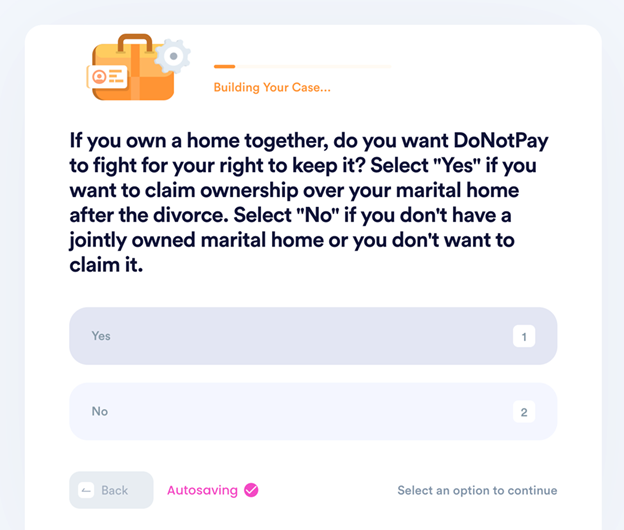 How Else Can DoNotPay Help With Your Texas Divorce?
If you need information about other aspects of divorce in Texas or about other counties in the state, here are a few examples of what else DoNotPay can offer:
Learn How To Solve Legal Issues in Minutes!
Do you need to draft a legal document? Spending hundreds of dollars on lawyers is not the answer. We came up with a faster and more affordable solution. Not only can our app draft child consent forms, divorce settlement agreements, and powers of attorney for you, it can also provide legal assistance by helping you take anyone to small claims court!
Drafting numerous documents is not all DoNotPay does for you! Aside from drawing up contracts and agreements, we can also assist you in getting them notarized online from the comfort of your home or office!
Explore DoNotPay's Other Nifty Features
There is more assistance on the way! You can use DoNotPay's features to handle various tasks with ease, including:
We can also help you protect your safety. If you don't know how to deal with copyright infringement, stalking and harassment, work discrimination, sex offenses, and disputes with annoying neighbors, DoNotPay has got you covered.