Find Dental School Scholarships Hassle-Free
A number of scholarships and grants are available to students who are pursuing dental courses and can't meet the rising costs of their college education. Still, finding scholarships that suit your situation can be an overwhelming process. That is why we have prepared this guide and created a product that can help you find dental school scholarships stress-free.
Types of Scholarships for Dental Students
Scholarships for dental students come from different sources, such as:
Governments
Universities and colleges
Professional dental associations
Governments
Most of the scholarships for dentistry students sponsored by the federal and state governments are award-for-service programs. Awarded applicants commit to serving in underserved regions or understaffed health facilities in the country.
Here are some of the government scholarships for dental students:
Indian Health Services Scholarship runs three programs:

Preparatory Scholarship—open to Native Americans who are attending undergraduate programs in preparation for joining health schools
Pre-Graduate Scholarship—available to U.S. citizens of Indian and Alaskan heritage who are enrolled in pre-dentistry programs
Health Professions Scholarship—available to Native American and Native Alaskan students pursuing dentistry programs

National Health Service Corps Scholarship—this is a full-ride scholarship open to students pursuing healthcare programs, including dentistry
Students who are enrolling in undergraduate studies may also apply for the general federal student grants, namely:
Federal Pell Grant
Federal Supplemental Education Opportunity Grants
These two federal programs are need-based—students have to demonstrate an unmet financial need to qualify. To apply for these two grants and other federal student aid programs, applicants should complete the FAFSA form.
Universities and Colleges
Various higher learning institutions provide financial aid to their students. The following are examples of such programs:
School
Scholarships
Award Amount
University of Kentucky College of Dentistry

Dorothy Cavins Scholarship—merit- and need-based program open to sophomores
Dean's Scholarship—merit-based program for first-year students
University of Kentucky College of Dentistry Scholarship for Underrepresented Minorities—merit- and need-based program for first-year students from minority groups

$500 to $1000
University of Pennsylvania School of Dental Medicine

Alpha Kappa Alpha Scholarship—open to students who are college sophomores or older
Herbert Lehman Scholarship—available to African American students who have good academic standing and participate in community service

$500 to $2000
Professional Dental Associations
Most of the Professional dental associations' programs target the underrepresented student groups in the profession—like women and minorities—and students with good academic standing. Such associations include:
California Dental Association—offers awards of up to $5,000 to students pursuing dentistry programs at a California dental school. The association also manages the Latinos for Dental Careers Scholarship, awarded to Hispanics pursuing dental hygiene courses in California
America's Pediatric Dentists (AAPD)—sponsors a number of programs, such as:

Leadership in Education and Administration Program (LEAP)—open to dentists who want to switch to teaching. The award applies to the Academy for Advancing Leadership's Institute for Teaching and Learning (ITL) in Atlanta
Jerome B. Miller "For the Kids" Award—a $1,000 cash award offered to AAPD members in the field of pediatric dentistry annually

American Dental Association Foundation—provides several scholarships for dental students, such as:

ADA Predoctoral Scholarship—a $2,500 award available to second-year students pursuing dentistry programs
Dr. Bessie Elizabeth Delaney Scholarship for Women—one of the dental school scholarships for minorities open to women who are enrolled in predoctoral courses. The award amount is $10,000

The Chinese American Medical Society—supports a number of programs for American-Chinese students who are enrolled in health-related courses.
American Association of Public Health Dentistry Foundation—runs the following scholarship programs:

Herschel S. Horowitz Scholarship—offers $10,000 to students enrolled in a public health master's degree program
Helen K. Doherty Student Chapter Fund—supports students attending dental and dental hygiene schools

American Dental Education Association—offers numerous scholarships, including:

ADEA/Oral-B Scholarship for Dental Hygiene Students—a $2,000 award available to students taking a dental hygiene degree program
ADEA/Johnson & Johnson Healthcare Products Preventive Dentistry Scholarship—a $2,500 award for students enrolled in predoctoral programs
How To Find Dental School Scholarships
If you're not sure how to find scholarships for dental students, try the following:
Explore the programs offered by dental professional associations
Find programs available in your school by visiting the financial aid office
Be specific when searching online, for instance:

Look up dental school scholarships for minorities if you belong to an ethnic group, like Filipinos, Africans, or Indians
Search for programs based on your level of study, for instance, high school seniors, college students, and graduate school students or look for scholarships for pre-dental students
Expand your search by looking for programs offered to all students pursuing health programs, STEM, or all college programs
Search using terms that relate to your student group, for instance, international students, undocumented students, disabled students, senior citizens, legal immigrants, veterans, etc.
If all of this sounds tedious, there is an easier and faster approach—using DoNotPay. After you provide your education details, we will create a complete list of all the scholarships you can apply for. Sign up now to discover all the programs you are eligible for.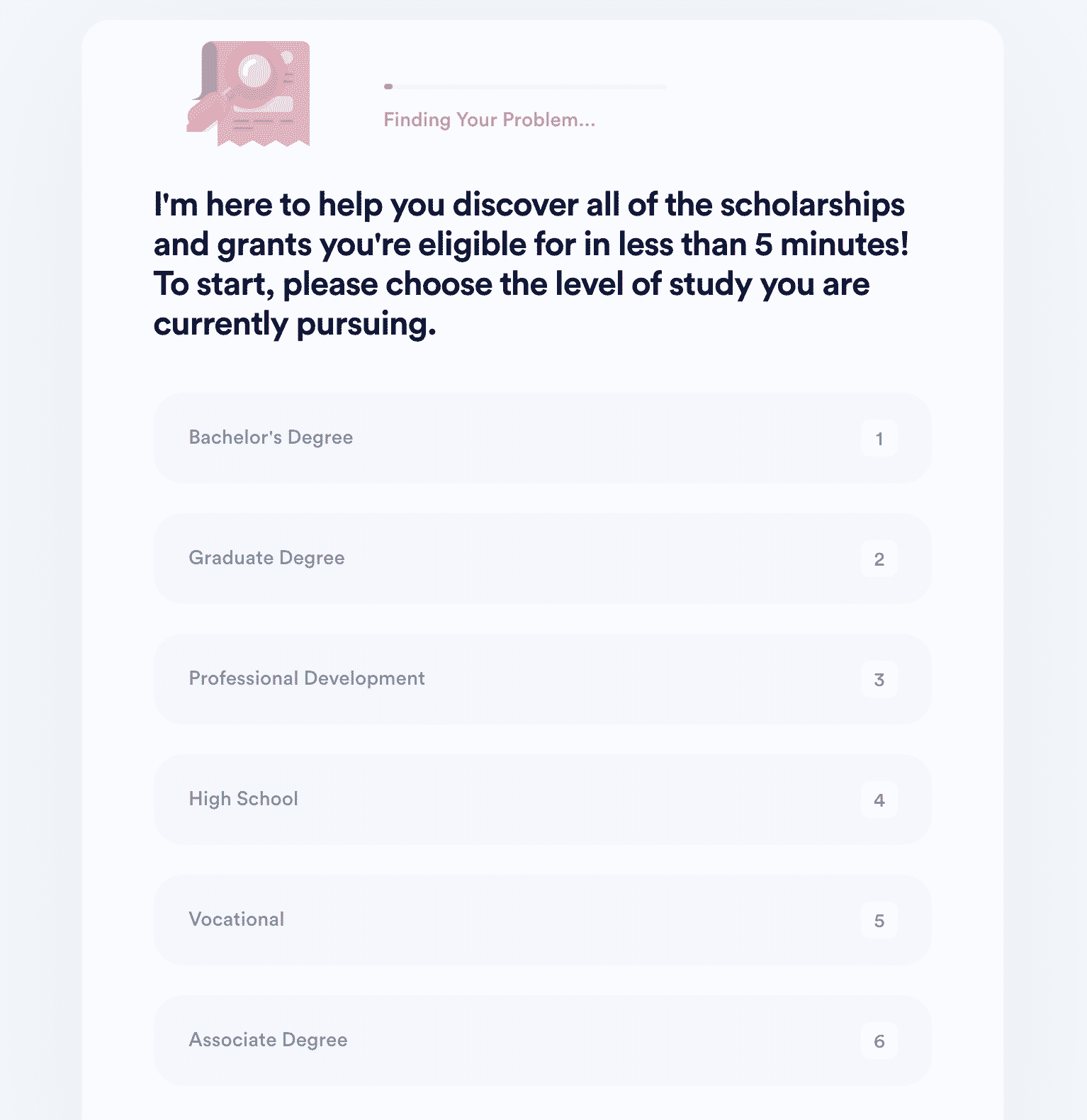 How To Apply for Dental School Scholarships
To find the application process for each scholarship, visit the official website of the provider. Pay attention to the application requirements. For instance, you might need to submit one or all of the following documents:
It's best to apply to multiple programs to raise your chances of securing one or more scholarships.
Find and Apply for Dental School Scholarships Using DoNotPay
Don't waste time and effort searching for scholarships on your own. Allow DoNotPay to perform the search for you as you concentrate on your studies. With our app, searching for financial aid programs that you can apply for takes only a few minutes. All you need to do is:
Find the Apply for Scholarships product
Provide your education background details
We will use the information you submit to list out all the active programs you are eligible for. Our app can even help you apply for no-essay scholarships automatically.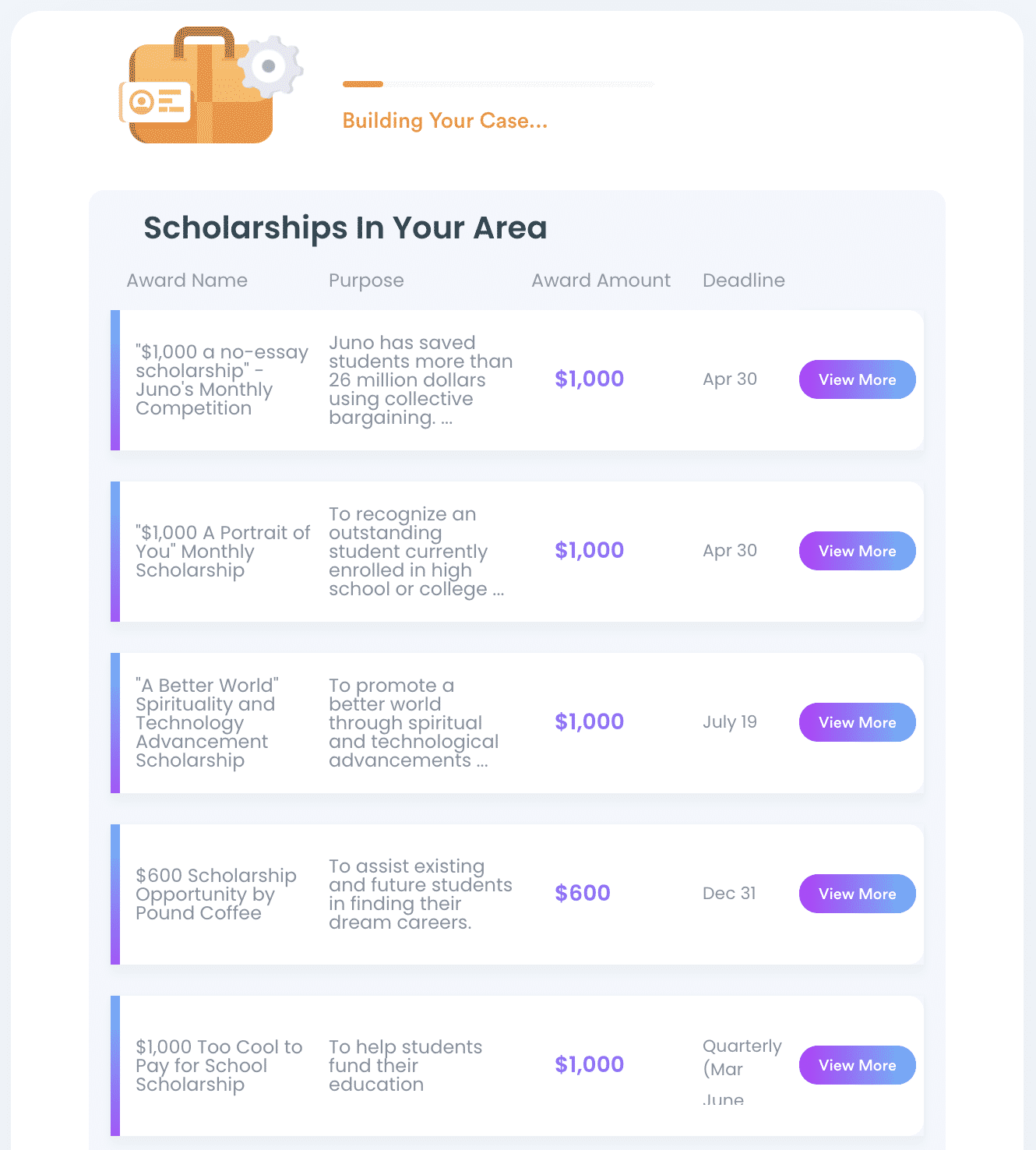 Resolve Any Other Issue You Have Swiftly With Our Assistance
The world's first robot lawyer is capable of tackling any legal or administrative task in your stead. We can draw up any legal document for you—including a power of attorney, child travel consent form, and divorce settlement agreement, to name just a few—help you sue any company or individual in small claims court, send a letter of warning to your noisy neighbors, help you reduce your property taxes and utility bills, and a lot more.
Sign up now if you want to stop email and text spam, claim any insurance or warranty, appeal parking tickets, schedule a DMV appointment in a flash, mail anything worry-free, find your missing assets, create passport photos, or contact embassies and consulates effortlessly.
Let DoNotPay Guide You Through Any Obstacle
Are you tired of corporations not taking their customers seriously? So are we, and that's why our nifty product will assist you in suing any company or individual in small claims court!
If you don't want to have any online service take advantage of you, you can sign up for any free trial completely risk-free with our virtual credit card's help, cancel any membership on time, and demand a refund or chargeback in a split second. DoNotPay can also draw up an airtight return request and send it to a company of your choice instantly.