Find Out Whether You Need a Denmark Tourist Visa
What is necessary to enter the Kingdom of Denmark? Is Denmark a part of the Schengen Zone? Is a Denmark tourist visa needed regardless of your nationality? Get the answers to these and many other questions in our guide!
If you don't want to waste time doing the research yourself, DoNotPay can help. Sign up for our service, and we can check whether you need a visa for any country within minutes!
If you do need one, we can assist you by contacting the embassy in your stead and providing a visa application link or a guide and an application form in PDF.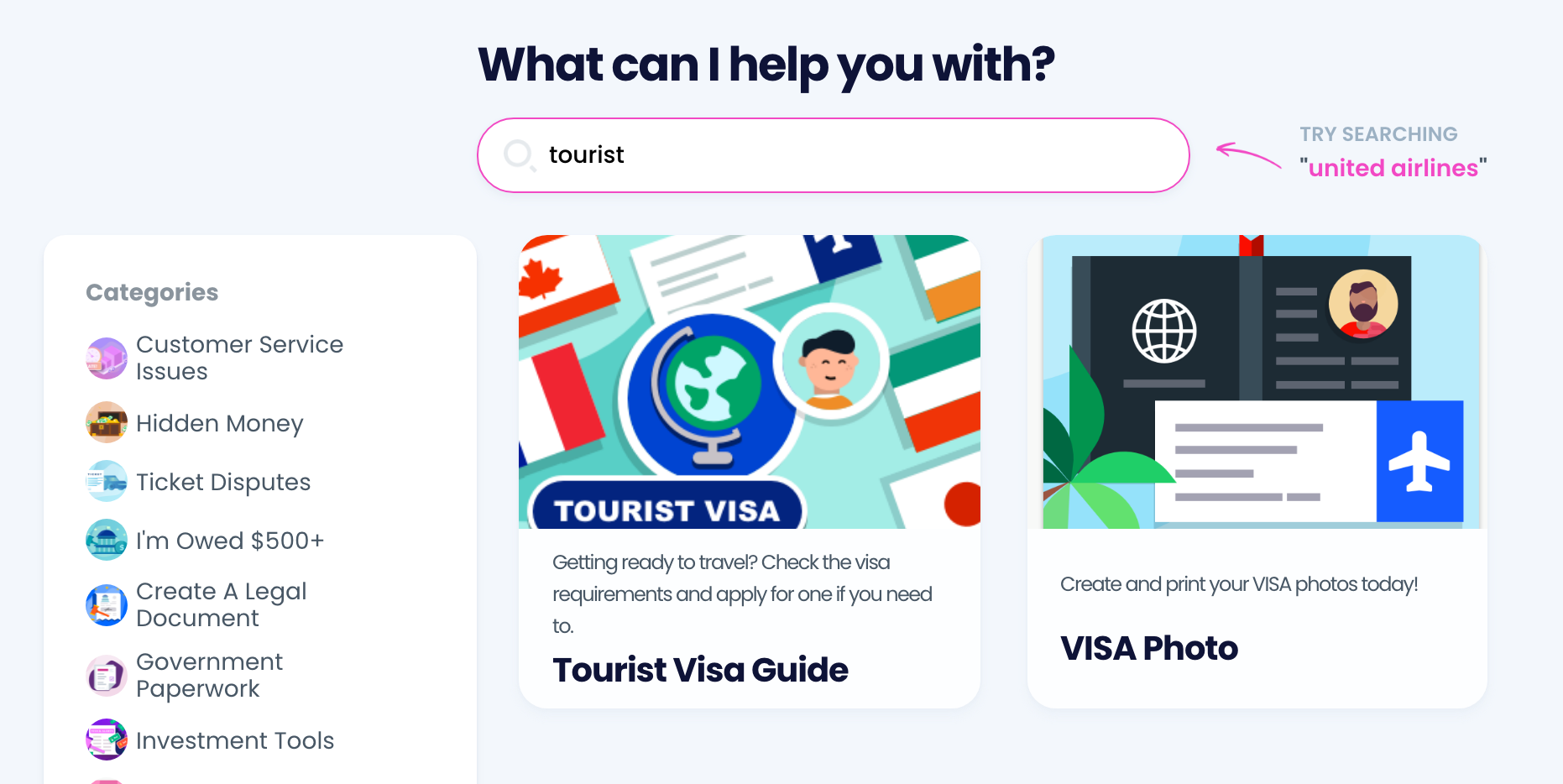 Are U.S. Passport Holders Exempt From Needing Tourist Visas When Entering Denmark?
Yes—U.S. passport holders don't need visas to visit Denmark for tourism due to the Schengen Zone exemption. There are certain limitations and requirements for using this benefit:
Tourists without visas can stay in Denmark for up to 90 days in a period of 180 days
Those who stay in the country longer without proper documentation can get banned from entering the country for three to five years
Each visitor must have a U.S. passport that remains valid for at least six months after traveling to Denmark
People entering Denmark must present proof of having enough funds for the entire length of their stay (around $80 per day)
Tourists who were blacklisted by the E.U., U.N., Court of Denmark, or the Schengen Information System cannot enter the country
Visitors can enter the Faroe Islands and Greenland without a visa for business and travel purposes only
What if You Want To Stay in Denmark Longer Than 90 Days?
Staying longer than 90 days for tourism purposes is generally rejected. Certain individuals can apply for multiple entry visas that stay valid for up to five years, as follows:
Seamen
Business people
E.U. citizen family members
Public officials
Non-governmental organizations (NGO) representatives
Denmark COVID-19 Measures
Every country has a different set of rules for the prevention of the spreading of coronavirus. Currently, U.S. citizens need to abide by the following COVID-19 rules when entering Denmark:
A negative rapid COVID-19 test taken no earlier than 48 hours before departure is obligatory for tourists who aren't vaccinated. If a PCR test is used, it needs to be taken no earlier than 72 hours before departure
Only those who are fully vaccinated with a vaccine approved by the European Medicines Agency (EMA) don't need to be tested, but they can enter Denmark no earlier than 14 days after taking the last vaccine shot
Face masks are mandatory in closed spaces for tourists who don't have a negative test or vaccine confirmation
Everyone needs to wear face masks on public transport
The Faroe Islands and Greenland both enforce a four-day quarantine on all visitors regardless of vaccination. After that, a coronavirus test must be taken, and if the test is negative, they can leave quarantine
Travel Recommendations for First-Time Visitors of Copenhagen
Denmark is chock-full of tourist attractions, especially its capital—Copenhagen. Here are some of the best spots to see while visiting this astonishing Nordic tourist hub:
| Must-See Landmarks in Copenhagen | Brief Descriptions |
| --- | --- |
| Tivoli Gardens | This landmark is the most iconic one because it is depicted in many movies, and various theme parks copied its design (even Disneyland). It includes a concert hall, roller coaster, numerous restaurants, gardens, and much more |
| New Harbor (Nyhavn) | This multi-colored harbor is aesthetically pleasing, and it's a great place for sightseeing and grabbing a bite to eat |
| The National Museum | Located near the Tivoli Gardens, the Nationalmuseet is the home to numerous Danish relics, silver, porcelain figures, ancient church trimmings, clothing, furniture, etc. |
| The National Gallery | The home of European art dating back 700 years, this extravagant museum features paintings by Edvard Munch, Pablo Picasso, the Dutch Masters, and many others |
| The Frederiksborg Palace | The palace has authentic 17th-century architecture, and it is the home to the Museum of National History. The museum tours offer insight into Danish photography, portraits, prints, and more |
Why Stop in Denmark? DoNotPay Helps With Tourist Visas for Other Countries!
As a U.S. citizen, you don't have to worry about obtaining a tourist visa when traveling to Denmark, but what if you wish to apply for other visas? Doing it on your own can be a bumpy ride. DoNotPay's Tourist Visa Guide feature is here to assist you, and here's how you can use it to your advantage:
Choose the Tourist Visa Guide product
Enter your passport details
Select a destination country
Instead of jumping through hoops to obtain the vital visa info, we will prepare everything for you and give you the answers quickly.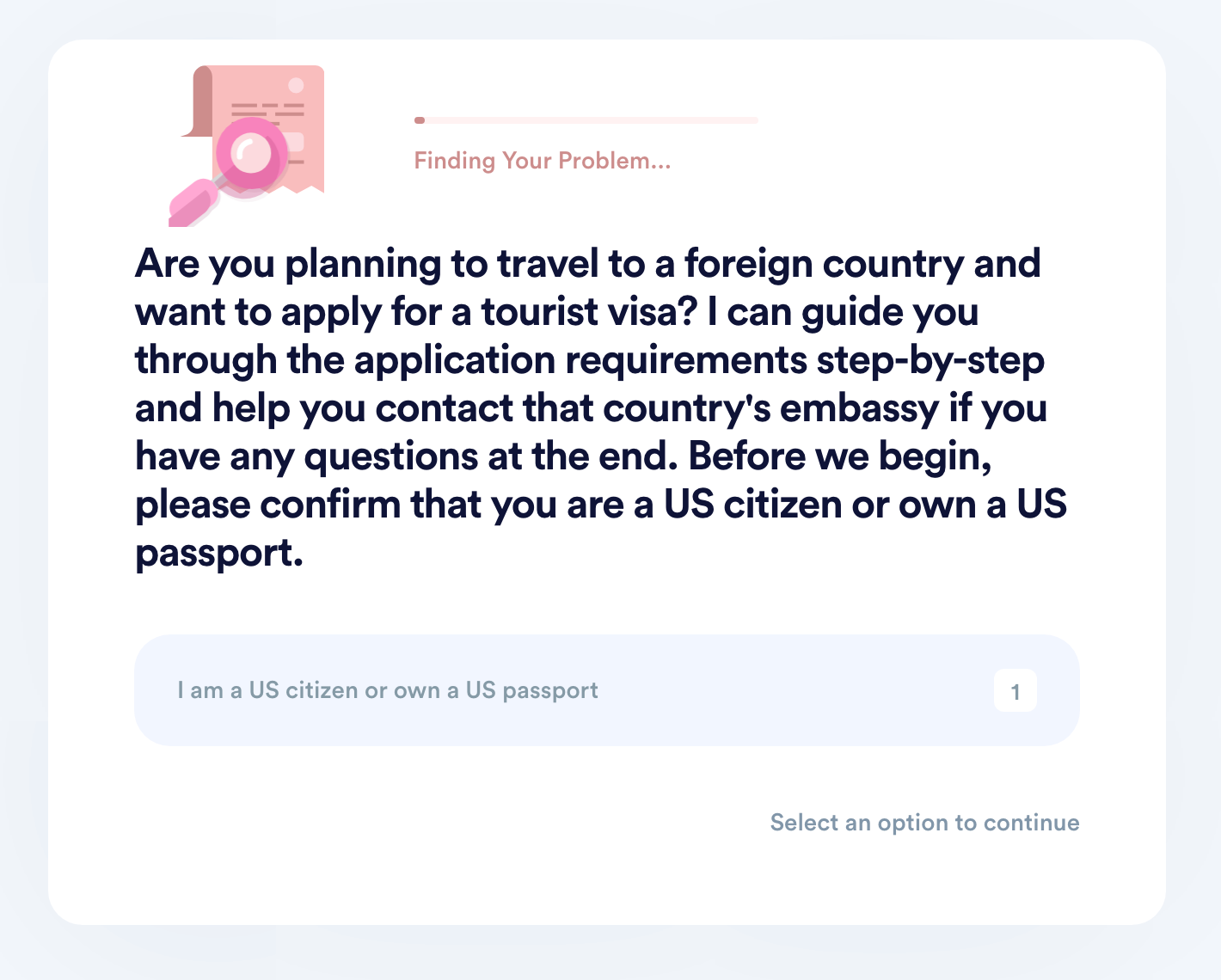 DoNotPay Can Help You Lessen Your Worries About Visas During Your Getaway to Europe
Worrying about visas when traversing Europe can spoil your mood big time! DoNotPay can make your trip a bit smoother by providing specific visa guides for every European country. Take a look at the table below and consult our visa guides before your trip:
Explore DoNotPay's Vast Database To Handle Administrative Issues Head-On
Dealing with administrative issues is never a fun experience, but you can save yourself from unnecessary hassle with our app! Once you sign up for DoNotPay, there is little you can't do. Aside from helping you deal with everyday tasks, such as reaching customer services, you can also use our app to:
Make Your Legal Troubles Disappear
Is a company giving you a hard time? Don't fret! DoNotPay can walk you through the process of suing it in small claims court and help you get the justice you deserve!
The best part is that assisting you take companies to court isn't all our app can do! We can also help you with: