Create a Demand Letter Without Wasting Your Energy and Money
A breach of contract is common in business deals and can happen for different reasons, but it does not mean that you should give up on what you have agreed on in the contract.
Resolving an issue without going to court is beneficial to both parties. You should explore various remedies and warn the other party by sending a demand letter before starting litigation.
This article explains how you can prepare a demand letter without spending a lot of time, money, and energy.
What Is a Demand Letter?
A demand letter is a document used to request the recipient of the letter to take or end a particular action. The purpose of a breach of contract demand letter is to:
Why Should You Create a Legal Demand Letter?
You should create a demand letter because it:
Explains to the other party—i.e., a prospective defendant—that:

Their chance of success in litigation is low (unless the other party raises affirmative defenses)
Litigation is expensive, inconvenient, and time-consuming

Creates a paper trail that:

Proves you have tried to mitigate the harm caused by the breach
Can serve as evidence for your small claims court case
A demand letter usually states the:
Keep in mind that according to some statutes, you have to send a demand letter to a prospective defendant before you can claim a viable cause of action.
Benefits of Writing a Demand Letter
Even if your state's statute doesn't require making a demand letter before filing a lawsuit, you should consider writing it since this document:
Accelerates case settlement—A solid and clear demand letter can make the other party understand that you:

Will invest energy, money, and time to resolve the issue
Are ready to defend your case even if it means taking it to court
Have a good chance of winning the case

Helps you gather evidence—Drafting a demand letter makes your position clear and provides:

Evidence for court
Data and legal and other aspects you will need to justify your position in court
How To Write a Demand Letter
To create a demand letter, you should follow the tips presented in the following table:
How To Write a Legal Demand Letter
Specifics
Present the facts
While you might believe that the recipient of the letter is already familiar with all the data, you need to remind them about contractual terms and conditions since they:

Support your case
Will be used as evidence in court

Keep in mind that you should make a list of all steps you have taken to try to settle the dispute with the defendant, including, for instance:

Phone calls
Unanswered or refused calls

Be formal and polite
Regardless of how angry you might feel, you should keep a polite and neutral tone throughout your demand letter to:

Avoid provoking the opponent
Show the confidence you have in your position
Present your arguments and yourself in a professional manner to the judge (if your case ends up in court)
Should You Rely on a Demand Letter Sample When Creating Your Letter?
While you can find numerous demand letter templates and samples online, you should keep in mind that most of them are too generic and might not fulfill the case-specific aspects and requirements.
To avoid confusion and potential delay, you need to include the following in your demand letter:
Your demands—You need to be precise about your requirements. It means you should:

List all losses you have suffered
Include the exact figure you are asking for

The deadline—A demand letter needs to set a deadline you are giving your opponent to pay the damages before you take them to court
Ways To Prepare a Demand Letter
To draft a demand letter, you can:
Hire a lawyer—While any attorney can prepare a demand letter, hiring one is probably the most expensive option
Head to a collection agency—If you decide to hire a debt collector, they will charge you between 25 to 50 percent of the total collected amount
Do it yourself—If you do not have enough knowledge, you could:

Omit some important parts
Cause additional problems instead of resolving the issue
You do not have to spend a lot of money on an attorney or debt collector. There is also no need to spend time or energy trying to understand state laws—register for DoNotPay to create a reliable demand letter efficiently and smoothly.
Use DoNotPay To Generate a Watertight Demand Letter
DoNotPay is familiar with state laws and good practices, and we make sure your demand letter:
Meets legal requirements
Covers all necessary points
Suits your specific case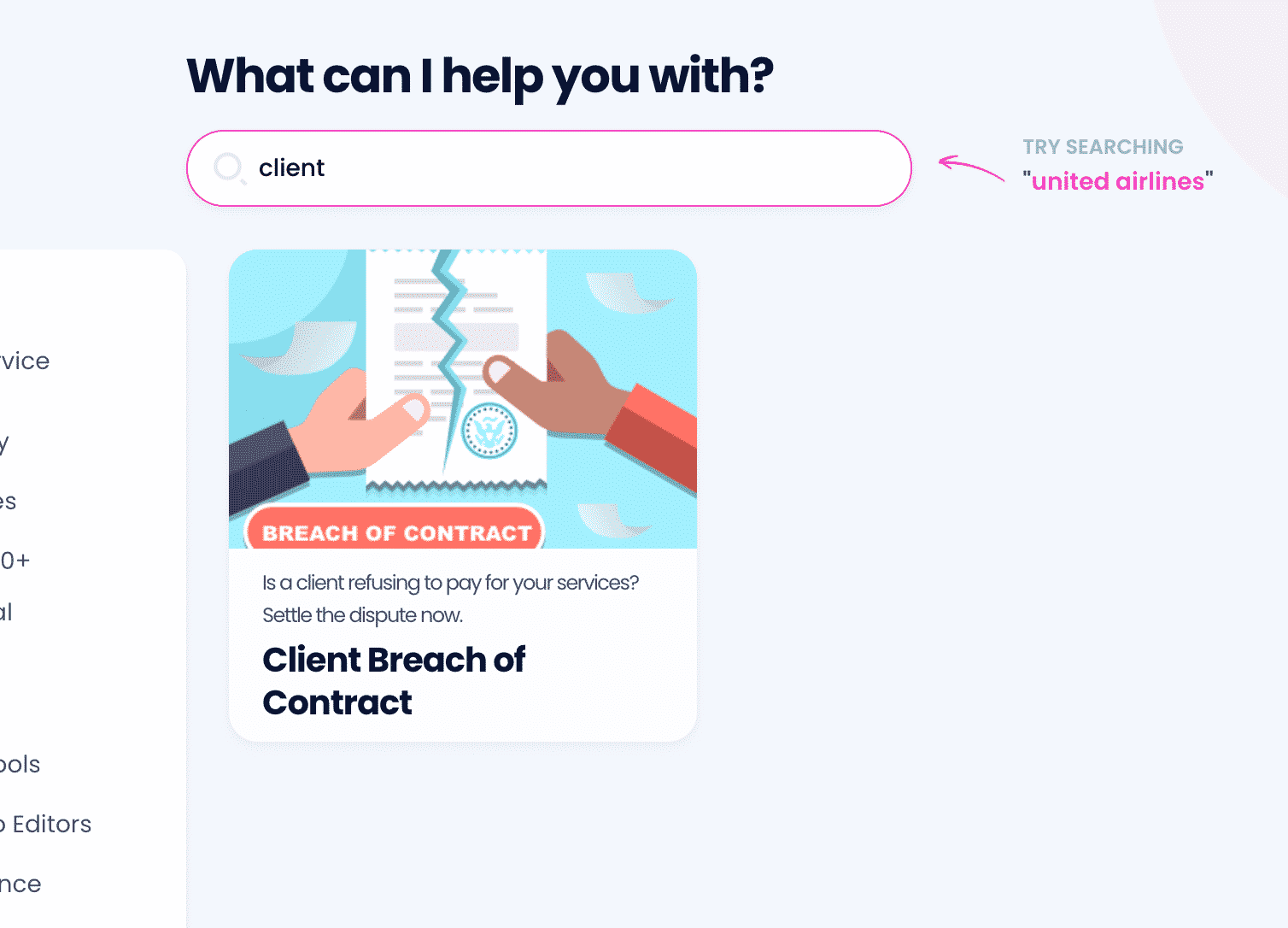 To receive a trustworthy demand letter, subscribe to DoNotPay and:
Access the Client Breach of Contract product
Answer our chatbot's questions and provide information about your contract, i.e.:

Name of your client
Terms of your service agreement
The deadline for payment
The amount other party owes you

Select the final due date for the payment before you take further legal action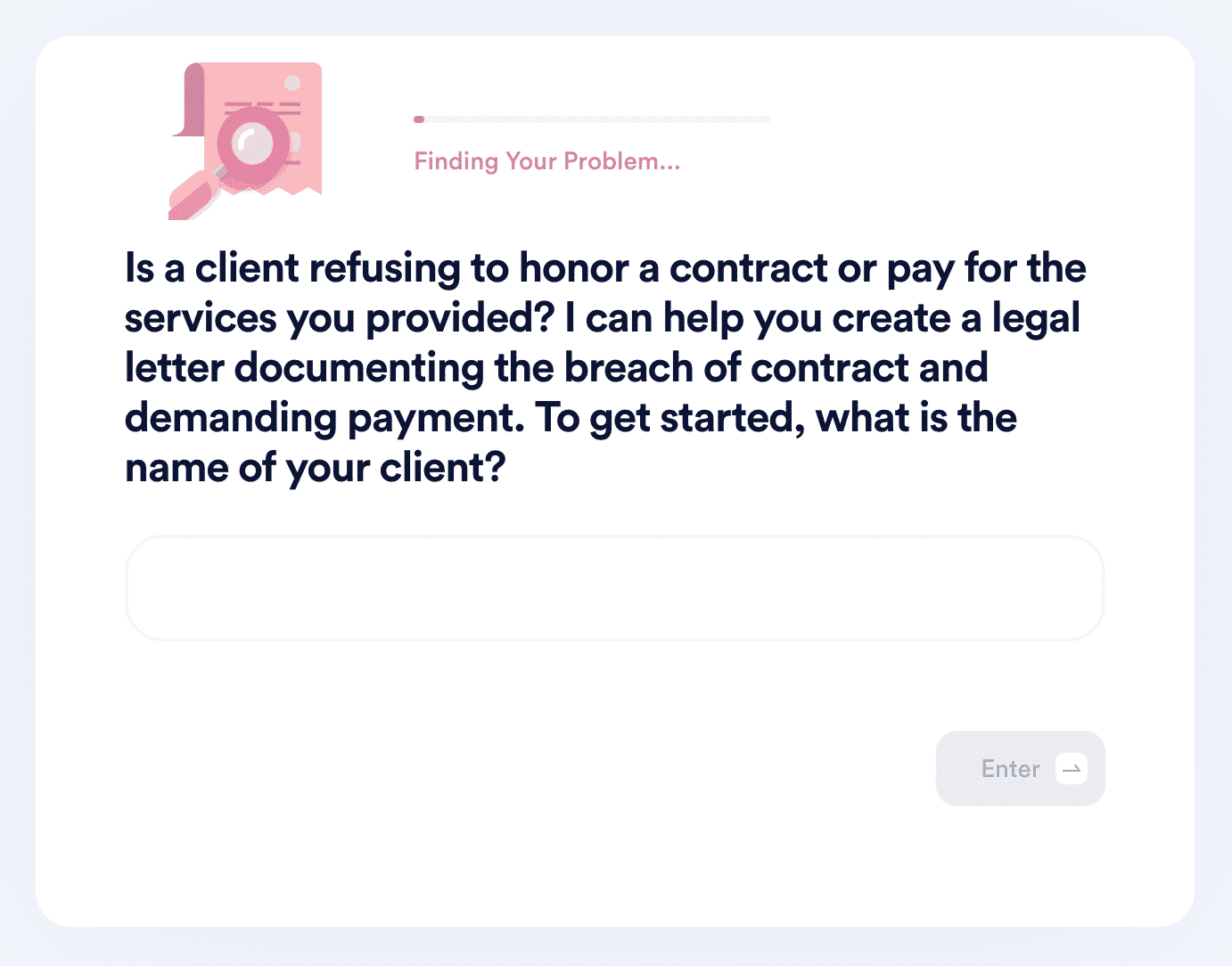 Once you have provided the above-listed data, DoNotPay generates your demand letter automatically to help you collect payments as soon as possible.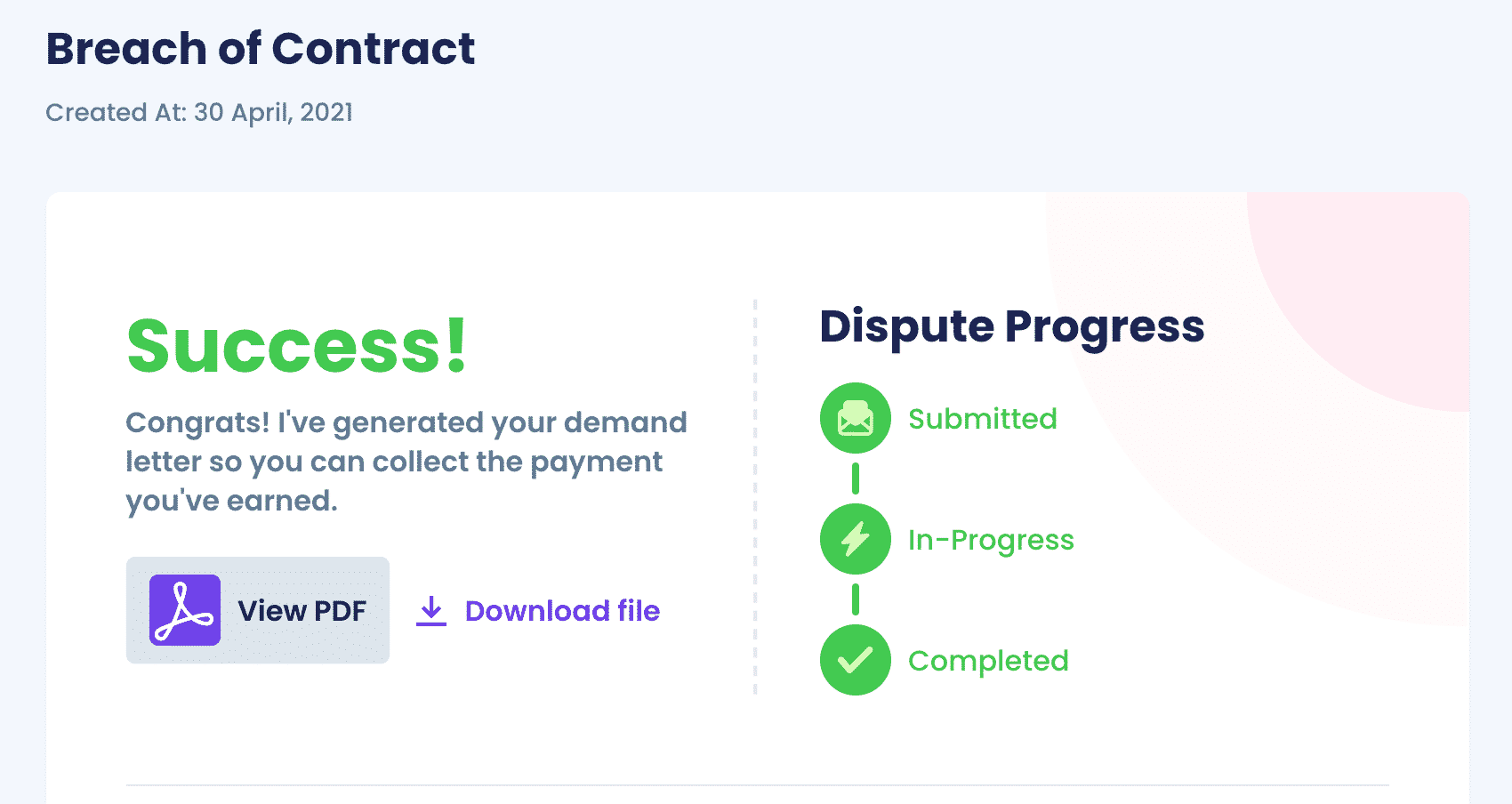 Find Out About State-Specific Laws on Breach of Contract
If you want to explore the breach of contract topic further, you should browse through our website. DoNotPay provides some useful guides and answers questions, such as:
You might find the following table helpful if you would like to learn about specific regulations in different states:
DoNotPay Offers More Help for Your Business
Running a small business is no small feat. When you're drowning in red tape, DoNotPay is here to lend a helping hand. Whether you need to register your trademark or protect it later on, we have got it covered. With our help, you will keep your logo, slogan, and business name safe.
Are you also yet to register for an Employer Identification Number (EIN)? Not to worry—our app can file the IRS SS-4 form in a few clicks. With the world's first robot lawyer at your fingertips, you will also be able to create your 83(b) election forms with ease—ready for your employees to sign them right away.
In case you are struggling financially, we can assist you with a business loan application.
Communication Has Never Been Easier With Our App
Keeping up with clients can be challenging, especially if each has a preferred method of communication. Luckily, our multifunctional app makes it easy to both fax and mail contracts, letters, and documents.
You can also count on our assistance when you need to:
Fight fake negative reviews online
Deal with a client regarding a breach of contract
Dispute fraudulent chargebacks
Thanks to DoNotPay, there is no need for back-and-forth communication. We will handle the necessary demand letters and forward them on your behalf.
We can also help you manage your DMCA agent registration and Privacy Shield program self-certification.