Find Out How To Prepare a Demand Letter in Texas
Finding yourself in a breach of contract situation is not only unpleasant but can also cause serious problems. What should you do—forgive and forget, try to reach an out-of-court settlement, or sue the breaching party?
If you have to prepare a demand letter in Texas, DoNotPay offers information that can help you resolve the problem as soon as possible.
Why Preparing a Demand Letter Could Help
While not required by Texas laws, sending a breach of contract demand letter is one of the most useful tactics to getting:
The other party to fulfill their end of the deal
Paid for the obligations you have performed under the contract
The letter is a good way to:
Remind the other party of contractual terms
Give them another chance to honor their commitment to the agreement
What Can Be a Result of a Demand Letter?
If you decide to send a demand letter before taking legal action, the following scenarios are possible:
Creating a Demand Letter Could
Explanation
Spur the other party into action
The purpose of a demand letter is to:

Let the breaching party know you are not going to give up on the agreed-upon services, goods, or payment
Motivate the other contractual party to perform their end of the deal

If you do not send a letter, the breaching party might hope you have decided not to pursue the matter further

Lead to a lawsuit
A breaching party could decide to:

Claim they have performed their contractual obligations
Provide affirmative defenses trying to justify why they have not been able to fulfill the originally agreed-upon terms

Regardless of the reason they provide, you should be ready to take further action
How To Prepare a Quality Demand Letter in Texas
You can try to avoid lengthy and expensive legal proceedings by creating a convincing demand letter.
To ensure the breaching party takes you seriously, here is what you should do:
Stick to the facts and be polite—Keep in mind that what you specify in the letter and how you do that could harm you if it is not true or seems aggressive. If you do not want to find yourself in legal trouble, you should not use threats or anything else but the facts
Avoid presenting all evidence—While you should make the breaching party understand that you have evidence to support your claim, you might keep certain elements for a potential lawsuit. By stating all evidence, you could give the defendant material to help their case and hinder yours
Register for DoNotPay—Our AI-powered app knows all the state laws and will include the elements of your breach of contract to create an airtight demand letter
DoNotPay Generates Demand Letters Efficiently and Quickly
There is no need to use expensive lawyers, debt collectors, or unreliable templates to draft a demand letter, regardless of the type of breach (e.g., a material or anticipatory one). Instead, you should let the world's first robot lawyer do all the work for you. As soon as you enter the info about your specific situation, DoNotPay will provide you with a watertight demand letter.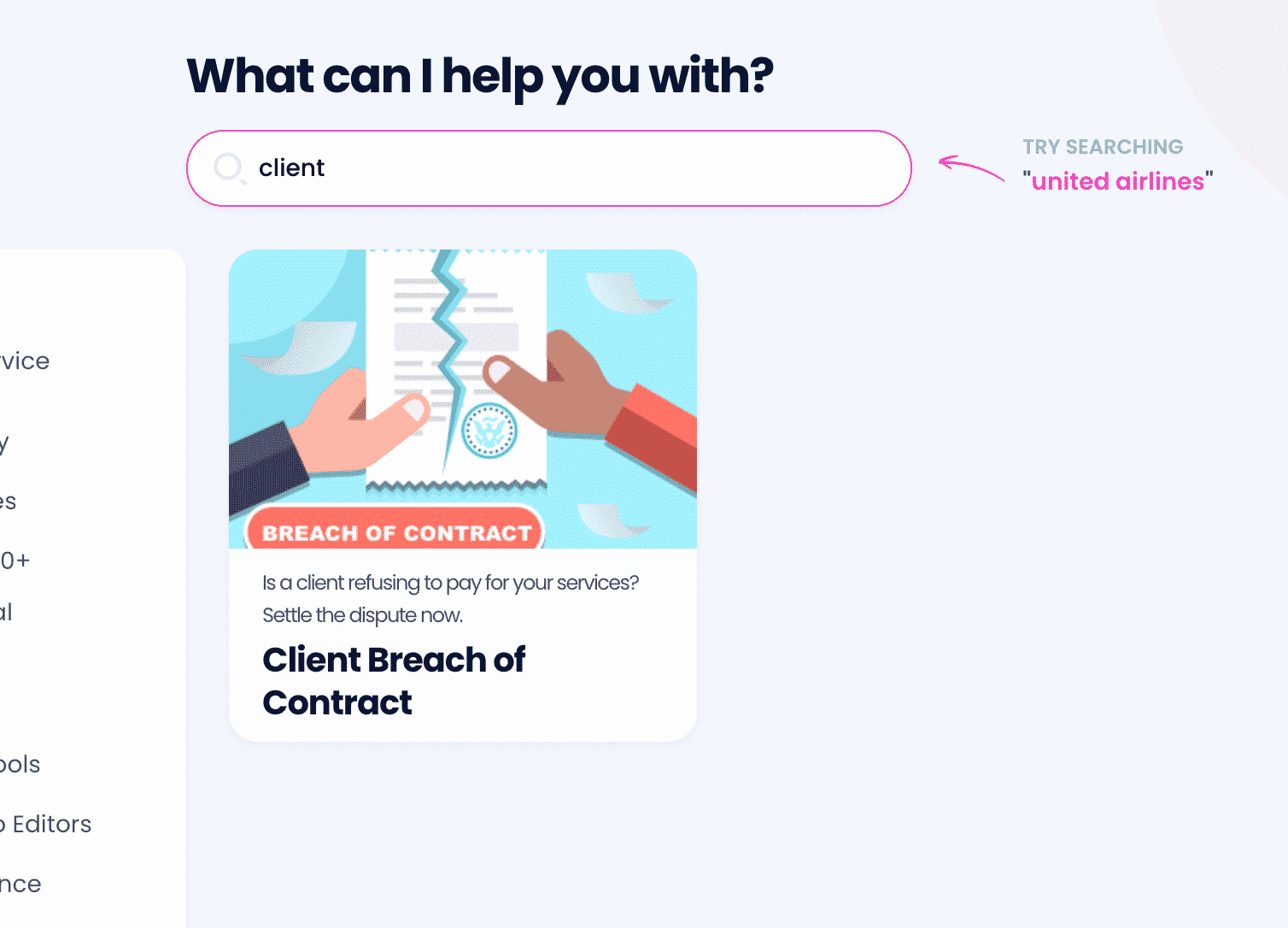 Sign up for DoNotPay and:
Access the Client Breach of Contract feature
Answer some questions about the other party and agreement
Select the final deadline for delivery or payment
Describe the performed services
Provide additional evidence to back up your claim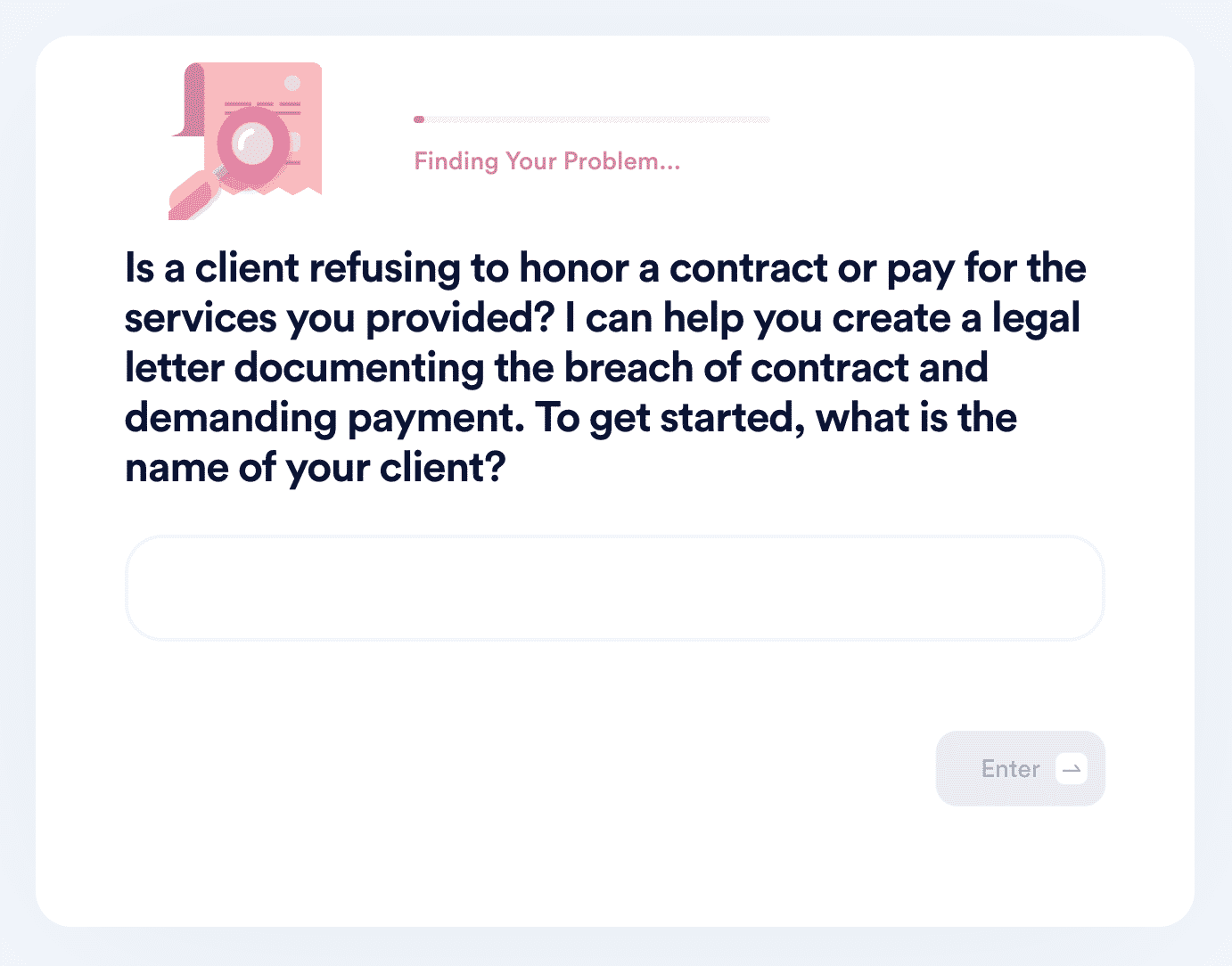 Keep in mind that even if you choose to send a demand letter and hope for an out-of-court agreement, you should get ready to take legal action.
If you decide to sue the other party, you should:
Texas Statute of Limitations for a Breach of Contract
If you would like to initiate a lawsuit for a breach of contract, you need to check the latest statute of limitations, i.e., the deadline by which you can file a claim in your state.
In Texas, you can file a breach of contract claim within four years from the date when the breach happened. If this time has expired, you lose the right to take legal action against the breaching party.
Keep in mind that while a four-year time limit is a general rule for breach-of-contract situations, there are two exceptions to this rule:
Fraudulent concealment—You can sue the breaching party when you discover the breach—regardless of when it occurred—if:

You did not know that the breach happened
The other contractual party concealed the breach from you

Discovery rule—The statute of limitations starts once you discover injury or loss (caused by the breach) you should have otherwise learned about through reasonable diligence
DoNotPay Offers More Help for Your Business
Running a small business is no small feat. When you're drowning in red tape, DoNotPay is here to lend a helping hand. Whether you need to register your trademark or protect it later on, we have got it covered. With our help, you will keep your logo, slogan, and business name safe.
Are you also yet to register for an Employer Identification Number (EIN)? Not to worry—our app can file the IRS SS-4 form in a few clicks. With the world's first robot lawyer at your fingertips, you will also be able to create your 83(b) election forms with ease—ready for your employees to sign them right away.
In case you are struggling financially, we can assist you with a business loan application.
Communication Has Never Been Easier With Our App
Keeping up with clients can be challenging, especially if each has a preferred method of communication. Luckily, our multifunctional app makes it easy to both fax and mail contracts, letters, and documents.
You can also count on our assistance when you need to:
Fight fake negative reviews online
Deal with a client regarding a breach of contract
Dispute fraudulent chargebacks
Thanks to DoNotPay, there is no need for back-and-forth communication. We will handle the necessary demand letters and forward them on your behalf.
We can also help you manage your DMCA agent registration and Privacy Shield program self-certification.