Demand Letter Template—What To Include in the Document
When a breach of contract occurs, people tend to rush to iffy demand letter templates attempting to fix the issue as soon as possible, but dealing with legal matters without proper knowledge is not a good idea.
DoNotPay will present crucial information about these sensitive legal documents. We can also create a breach of contract demand letter for you and help you get the compensation you are entitled to.
What Is a Breach of Contract Demand Letter?
A breach of contract demand letter is a legal document used to start breach of contract disputes before the case moves to small claims court. If you have numerous contracts with a high risk of being breached, you should understand how legal remedies work and how to demand them. A letter of demand is the first step in the process and requires attention and expertise.
When Do You Need a Breach of Contract Demand Letter?
A contract can be breached in various situations and under different circumstances. Depending on the parties involved and the agreement type, there are several breach types, including:
Material breach—It happens when one party does not honor a relevant term of the agreement. People usually start lawsuits due to material breaches of contract
Anticipatory breach—Applicable when it is evident that the agreed job will not be done on time
Minor breach—Since the violation is only partial, both parties can make necessary changes and avoid taking the case to court
Fundamental breach—If the terms are not respected, you have the right to sue for damages should the violation cause financial or other significant losses
Demand Letter Format and Required Info
A well-written demand letter sends a clear message to the recipient that you want to fix the situation and avoid taking legal actions against them for the breach. It is important to present details of the document in the correct order and form. These are the key elements of a valid demand letter:
Contact information of the party who breached the contract
Introduction
Dates and events of the contractual breach
Laws and contract provisions the sued party broke
Damage description, including line itemizations
Response date
Your plan for further action should they choose not to respond
Signature
You should also attach photocopies or scans of your evidence to support your claims.
The Most Common Contractual Breaches
You should create and send a demand letter if:
Business partners fail to meet obligations
Vendors do not finish projects on time
Insurance companies do not follow policy terms
Customers do not process invoices
Commercial retailers refuse to replace a faulty product
Why Is a Demand Letter Template Not a Good Idea?
You might be tempted to find a free demand letter template online and use it to draft the document yourself. Although it is a quick and cheap solution, it might be counterproductive because online samples and templates are generic and may fail to meet the requirements of your case.
Hiring a lawyer is a wise option, but it can be expensive. If you want to save some money and get a rock-solid demand letter tailored for your case, you should use DoNotPay.
Rely on DoNotPay To Create a Demand Letter With Ease
DoNotPay helps you get an ironclad demand letter in no time. We will make sure to include the necessary information in the legal document and protect your interests. All you have to do is follow these steps:
Choose the Client Breach of Contract product
Answer our chatbot's questions regarding your client and the agreement you had
Include a payment deadline for the client before you take further legal action
Add photographic evidence if you have any
We also have the required information about various related issues, such as the affirmative defenses to breach of contract.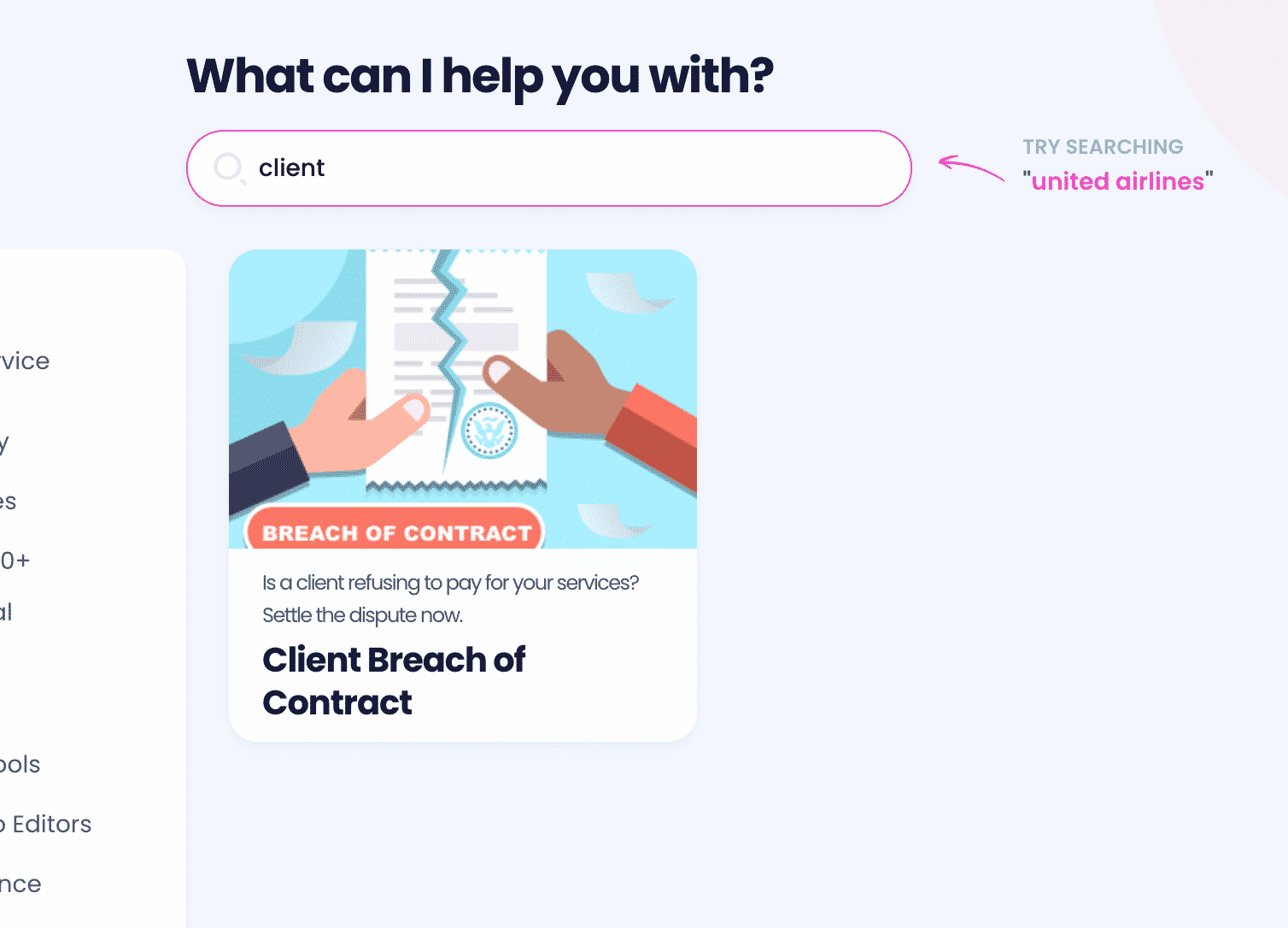 If you want to see the requirements for demand letters in specific states, you can check out the table below:
What Are the Breach of Contract Lawsuit Requirements?
To ensure you have the grounds for a breach of contract lawsuit, the judge will check the terms of the agreement to find out whether the:
Contract is valid
Plaintiff demonstrated a breach
Is the Client Still Not Cooperating? Use DoNotPay To Take Them to Small Claims Court
If the client ignores your demand, you can take them to small claims court. DoNotPay is here to help you take further legal action. We received the Louis M. Brown Award for Legal Access in 2020, so we are proficient in dealing with unfair businesses. Here is how we can help if you have to go to court:
Compose a demand letter
Collect the paperwork required for the lawsuit
Complete all the necessary court forms
File the complaint
Create a script with strong argumentation you can use during the court hearing
Build Your Business From the Ground up With Your Reliable Pocket Assistant!
To make the running of your business less stressful, DoNotPay has created numerous handy products that can help you deal with any issue right from the start. With our assistance, you can:
Get the perfect letter requesting a loan for your business
Handle the Employer Identification Number and DMCA agent registration procedures in a few clicks
Manage Privacy Shield program self-certification to make sure your clients' privacy is protected while on your website
If you are considering completing trademark registration, DoNotPay will be your trusty companion and help you finish the whole process in no time! We can even make sure no one uses your trademark as their own by performing routine checks and sending cease and desist letters to the offenders instead of you.
Resolve Pesky Business Issues With DoNotPay
Our app boasts many other useful and easy-to-use products that will help you resolve an array of business-related problems. Whether you need help filing 83(b) election forms as effortlessly as possible or wish to communicate with your clients and business partners without heading over to the post office, we have got you covered!
DoNotPay can also help you remove bad, fake online reviews that could harm your business reputation, deal with clients who avoid paying for your services, and contest unjustified chargeback requests.
Rely on our app and stay on top of your work while we deal with business issues on your behalf!