Demand Letter in Florida—When and How To Write It
Why would you want to give up on the agreed-upon goods, services, or payment if the other party has decided not to honor contractual terms? If you have experienced losses due to the breach of contract in Florida, you need to find a way to request compensation.
Are you asking yourself whether creating a demand letter in Florida might help in any way?
In this article, DoNotPay will provide the answer and other helpful information about a breach of contract claim.
Should You Prepare a Florida Demand Letter?
You should send a breach of contract demand letter if you would like to give the breaching party a chance to fulfill their contractual obligations and avoid:
Involving expensive lawyers or collection agencies
Going through lengthy and pricey legal proceedings
Losing the case if the other contractual party presents solid defenses
To settle the dispute with the breaching party outside of court, you should start the negotiation procedure by drafting a demand letter.
If you create the letter carefully, there is a high chance the other party would come to realize:
You are serious
It might be less expensive and demanding for them to perform their obligations than risk being sued for the breach
What Should a Demand Letter in Florida Include?
To make your demand letter convincing, you need to ensure it includes elements presented in the following table:
Key Elements of a Florida Demand Letter
Details
Date
While it seems obvious to place an exact date in a formal document, you need to ensure you have done it since the date:

Creates a record of you notifying the other contractual party of the breach
Could serve as evidence if you end up in court

Explanation of the breach
A demand letter needs to contain information about how the breach occurred, e.g., the breaching party has:

Failed to honor their commitments under the contract by not delivering the agreed-upon services, goods, or payment
Refused to perform the obligations specified in the original agreement
Made it difficult or impossible for you to fulfill the contractual terms

Regardless of the reason, you should find and list what part(s) of the agreement the breach has affected

Suggestion of a solution
To avoid further delays or misunderstandings, you should propose a way to resolve the problem. Depending on your case, you could offer, for instance, to:

Extend the deadline
What To Avoid in a Breach of Contract Demand Letter
Since your demand letter might end up as proof in a court of law, you need to make sure it does not backfire on you.
It means you should try not to:
Present false information—A formal document can be used against you, so you need to check whether the listed information is correct and in accordance with the original agreement
Sound aggressive—While you might be angry with the other party for not respecting your agreement, you should avoid threats or any inappropriate and impolite language
Reveal all evidence—You should explain and back up your claim, but you might want to keep some evidence to yourself. In case you need to sue the breaching party, you do not want to provide the defendant and their attorney with enough time and material to prepare for the lawsuit
DoNotPay Can Generate a Demand Letter in Florida for You
There is no need to waste energy or time inspecting and adjusting online templates to suit your case and legal requirements. Instead, you should opt for a more reliable solution—DoNotPay.
Our AI-powered app is an affordable automated attorney that can generate a demand letter customized to your specific situation.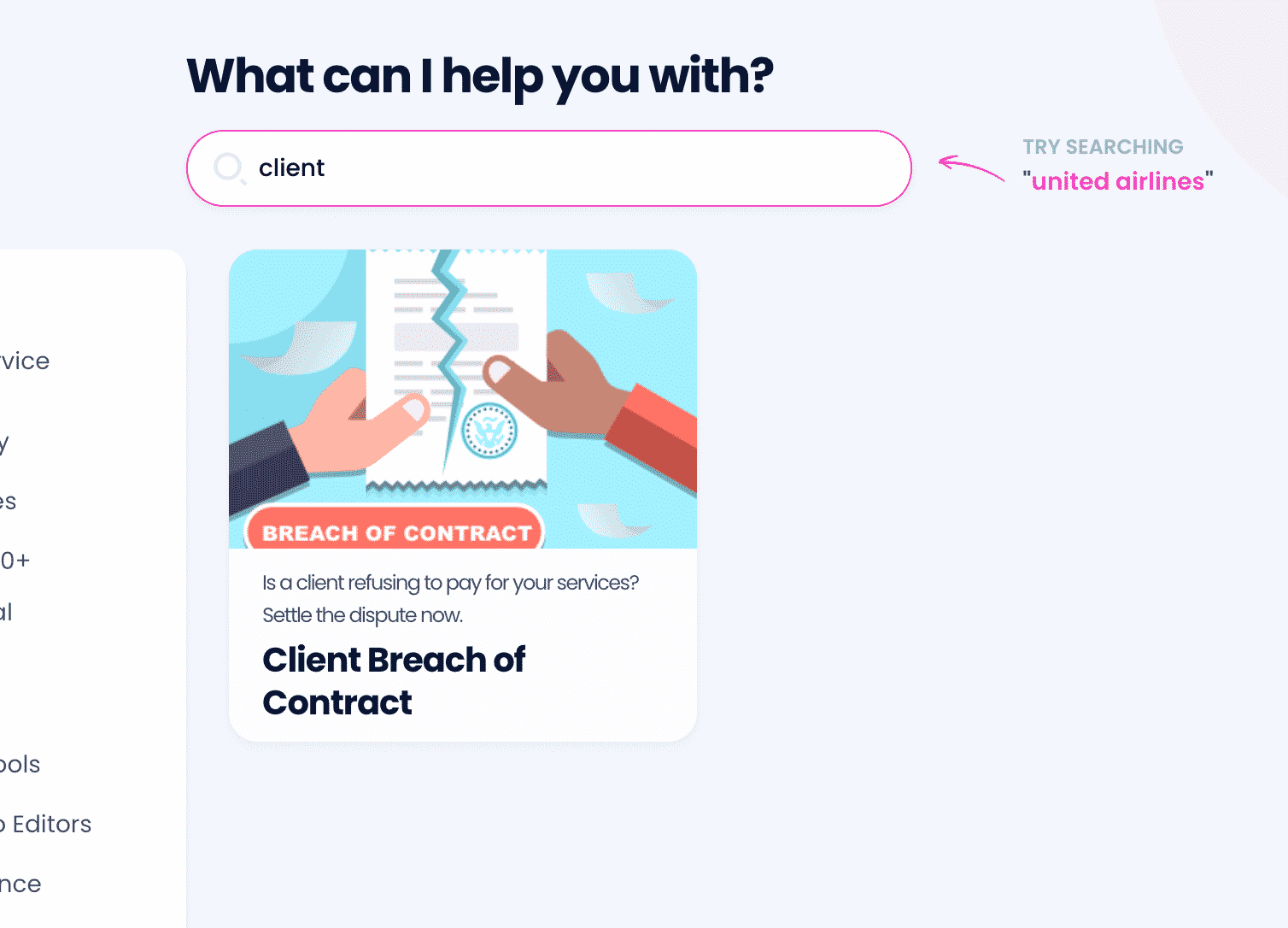 All you need to do is register for DoNotPay and follow these steps:
Access the Client Breach of Contract feature
Answer our chatbot's questions to provide data about the contract and breaching party
Indicate a new deadline for the other party to perform their obligations
Explain the already-fulfilled contractual terms
Upload any paperwork to back up your claim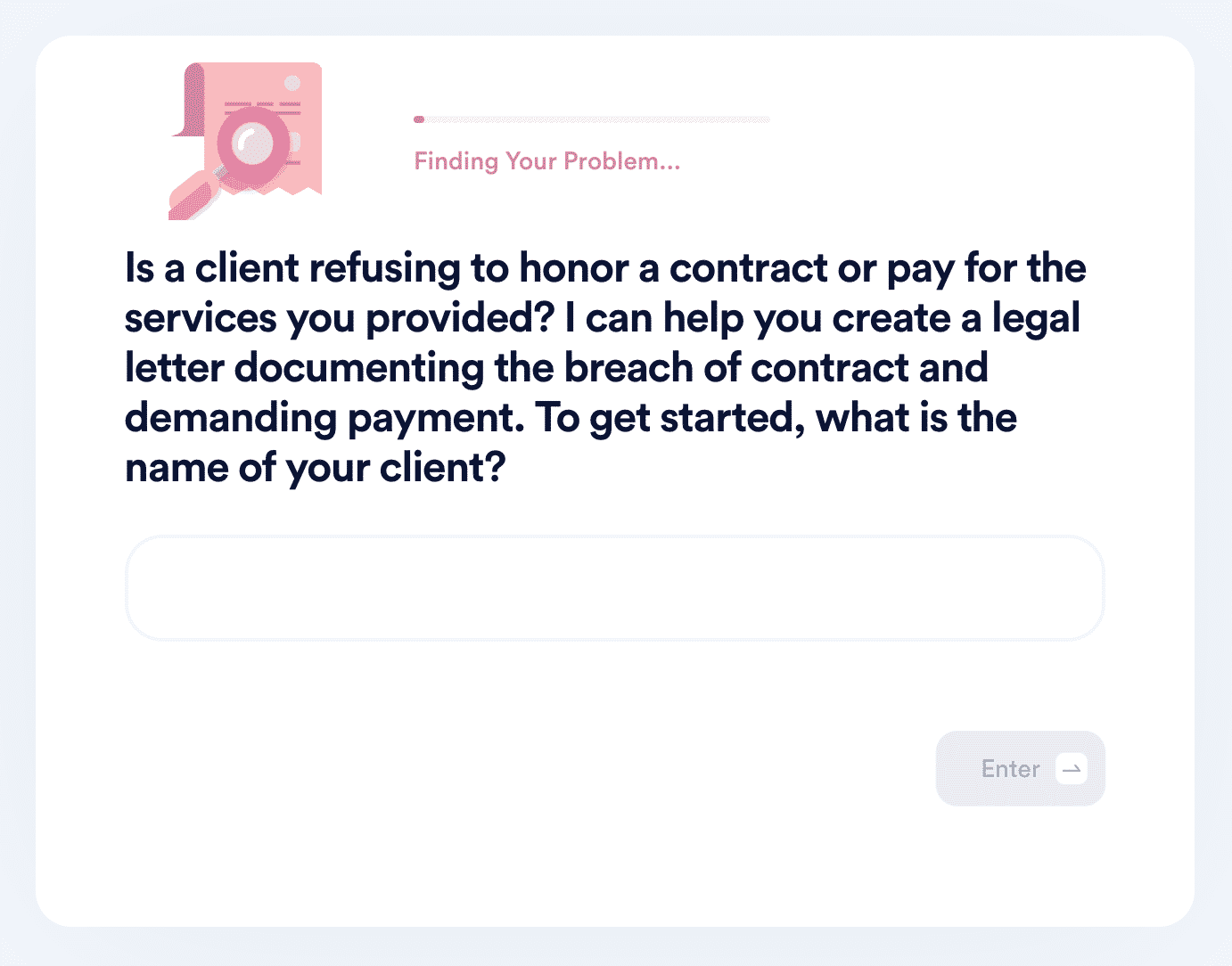 What is next? Once you have sent the letter, you need to be patient and wait for a response.
What Response To Expect
While you might think you have a clear idea of what you can expect of the other party, you could be wrong.
To prepare well for different case scenarios, take a look at some common responses to demand letters:
No reply—If you do not hear back from the breaching party, you could:

Send another letter
Initiate a lawsuit

Admits their mistake—If this is the case, you will likely be able to reach an out-of-court settlement
Agrees to discuss the matter—This is what you have hoped for once you sent the letter, and it means you can discuss the problem alone or with the help of a mediator
Refuses to negotiate—You should start gathering necessary documentation for legal proceedings. Aside from checking that the statute of limitations has not expired, you should make sure you can:

Explain what type of breach happened (e.g., a material one)
Use DoNotPay if you decide to sue the other party in small claims court.
DoNotPay Offers More Help for Your Business
Running a small business is no small feat. When you're drowning in red tape, DoNotPay is here to lend a helping hand. Whether you need to register your trademark or protect it later on, we have got it covered. With our help, you will keep your logo, slogan, and business name safe.
Are you also yet to register for an Employer Identification Number (EIN)? Not to worry—our app can file the IRS SS-4 form in a few clicks. With the world's first robot lawyer at your fingertips, you will also be able to create your 83(b) election forms with ease—ready for your employees to sign them right away.
In case you are struggling financially, we can assist you with a business loan application.
Communication Has Never Been Easier With Our App
Keeping up with clients can be challenging, especially if each has a preferred method of communication. Luckily, our multifunctional app makes it easy to both fax and mail contracts, letters, and documents.
You can also count on our assistance when you need to:
Fight fake negative reviews online
Deal with a client regarding a breach of contract
Dispute fraudulent chargebacks
Thanks to DoNotPay, there is no need for back-and-forth communication. We will handle the necessary demand letters and forward them on your behalf.
We can also help you manage your DMCA agent registration and Privacy Shield program self-certification.